We all know that the iPhone is the most sold phone both used and new ones. If you are about to sell a new iPhone, you need to reset iphone for sale because there are tons of important data that need to be erased so the new owner doesn't have access to them.
Resetting the iPhone before selling is extremely important. No body would want his/her iTunes account to be used by another person. Also, the contacts, data, apps, photos or videos also need to be deleted and transferred on the new device. Before selling any type of iPhone it is important to completely delete all data permanently. In that way you will only be sure that your data will not be comprised by the person buying it. Identities may get stolen, contacts and privacy data maybe used for wrong purposes and credit and payment details may be used. Here is how you can reset your iPhone.
How to Erase Everything on An iPhone
Go to "Settings" then tap "General".
Go at the bottom and find "Reset".
Choose "Erase All Content and Settings". Type password required and tap "Erase iPhone" to confirm.
Note
"Reset" iPhone is easy but not safe enough for sale. There are small disadvantages of "Reset". The problem is that it doesn't completely destroy all data. Portions of the data or all of them can be restored using software. That is why you need to use software that will completely wipe out everything to reset iPhone for sale.
---
Top 3 iPhone Erasers to Reset iPhone for Sale
Because the iPhone manual reset is not enough and it will not delete the data permanently, you need to use software that will take care of the deleting the files permanently. In order to offer you more options we will present you 3 of the best ones.
Top 1

iMyFone Umate Pro

iMyFone Umate Pro or iMyFone Umate Pro for Mac has proven over the years as the best solution. This is because it offers multiple features. It can easily save iPhone space by deleting all the junk files and data that is slowing your iPhone. More importantly,it can also scan and erase your data completely, 100% unrecoverable even with the latest recovery tools. Apart from the existing data on your iPhone, it can help you find out the previously deleted files which are still possible to be retrieved and completely destroy them. It is a great software to totally delete your privacy data , which is necessary especially to reset iPhone for sale.

Like we said, before you sell your iPhone you need to completely delete all of the data on your iPhone. In order to do that you can use the iMyFone Umate Pro Erase All Data tab. In order to do that you just need to follow a simple 3 step process:

1. Install the software and open it while your iPhone is connected to the computer.
2. Open the "Erase All Data" tab and hit "Erase" button.
3. Type "delete" into the box to confirm and tap "Erase Now" button to begin the process.
Top 2

iSkysoft Data Eraser

iSkysoft Data Eraser also offers the "Erase All Data" to reset iPhone for sale. It can securely erase messages, login information, browser history, photos, videos and more personal info with 100% unrecoverable. You can recycle, donate or sell your iPhone without worrying about exposing your privacy. However, iSkysoft does not provide security levels for you to choose.
Top 3

Coolmuster iOS Eraser

Coolmuster iOS eraser guarantees that it will permanently all of your data. It works with both Mac and Windows and there are 3 available modes for deleting files and apps on your iPhone. The Coolmuster reportedly uses unique technology that can easily delete everything you want, like contacts, photos, messages, contacts, etc.!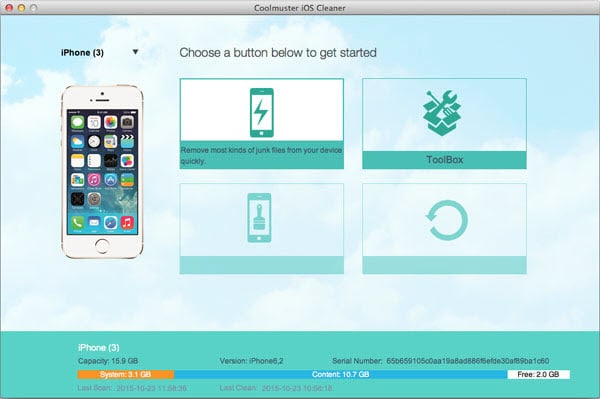 ---
| Apps and Metrics | | iSkysoft Data Eraser | Coolmuster iOS Eraser |
| --- | --- | --- | --- |
| Thorough deletion of data on iPhone | | | |
| | | | |
| 1-Tap Process | | | |
| Boost iOS performance | | | |
| Erases all data | | | |
| Selectively erase private data | | | |
| | | | |
| Erase Deleted Files | | | |
| Clean photo cache | | | |
| Delete bookmark | | | |