Spring cleaning your iPhone from time to time is a very effective technique to make your iPhone last longer and work better. It is a simple to way to retain the performance of the device.
Spring cleaning is nothing but deleting unwanted files such as apps that you do not use or junk files etc. Games, photos and videos that are unnecessary can be deleted in order to spring clean your phone. Not only will it save a lot of storage space but will also boost the iPhone's performance. App caches, temporary files and other types of data can really slow up your iPhone.
3 Tricks to Keep Your iPhone Clean
There are various ways in which you can keep your iPhone clean.
The first thing you need to do is turn off access to your location by various apps and websites. You can also disable various systems services such automatic app updates. Such techniques will help you prevent a lot of unnecessary cache files and other junk files that accumulate as a result. You can do so by going to the Setting app on your iPhone. Not only will it help you save space but will also improve performance and make your battery last longer.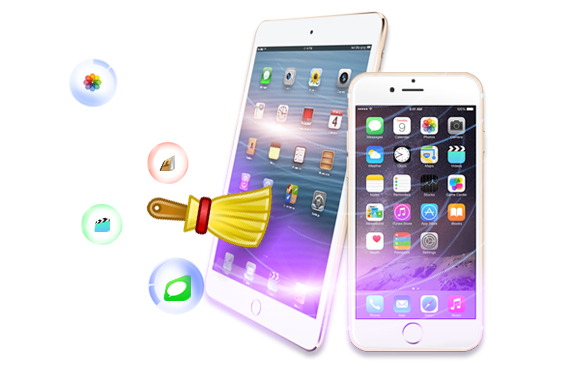 Secondly, you can turn off things like Wi-Fi, Bluetooth etc. This is because with these open, a lot of data is received by the phone which again accumulates and takes up valuable storage space. You may consider turning on airplane mode when you do not need the internet or any other wireless connection.
Lastly, keep deleting files from time to time that you do not need. You may use iTunes to back up large files or videos and then delete them from the phone. This will ensure that all your files are backed up while giving you a lot of storage space on your iPhone.
Best iPhone Spring Cleaning Tool – iMyFone Umate Pro
If you have decided that your iPhone needs some spring cleaning, then there is no better tool to do so than iMyFone Umate Pro. Designed specifically for the purposes of removing unwanted files and redundant data, iMyFone Umate Pro or iMyFone Umate Pro for Mac will make your life a lot easier.
Its advanced data erasing functions can help you spring cleaning your iPhone with just one click of a button and provide you with the peace of mind that you deserve. Additionally, the tool comes with other useful features that allow you to save storage space without even deleting any of the important files.
How to Delete Specific Files to Spring Clean iPhone?
If you are thinking of deleting certain apps or files, there listed below are the steps that you need to follow in order to spring clean your phone.
Step 1: Connect your device to the computer and launch iMyFone Umate Pro.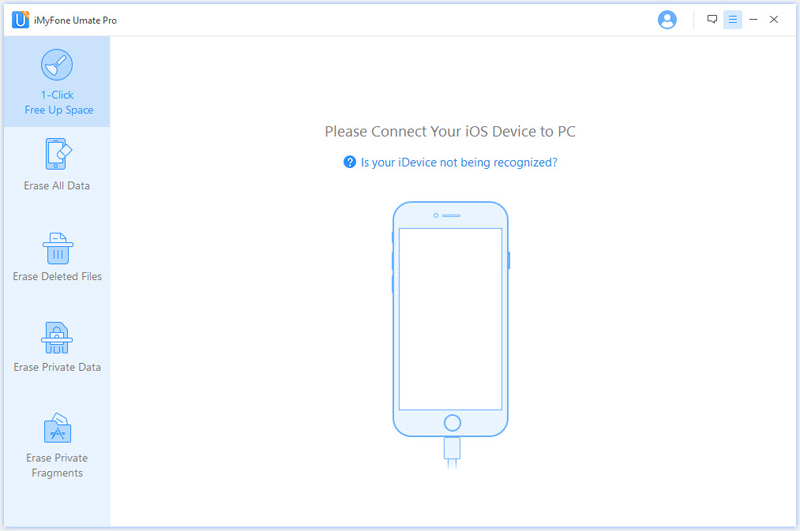 Step 2: Click the "1-Click Free Up Space" option. Below you can see the various categories of files that you may delete in order to save space. Select the category that you want to delete.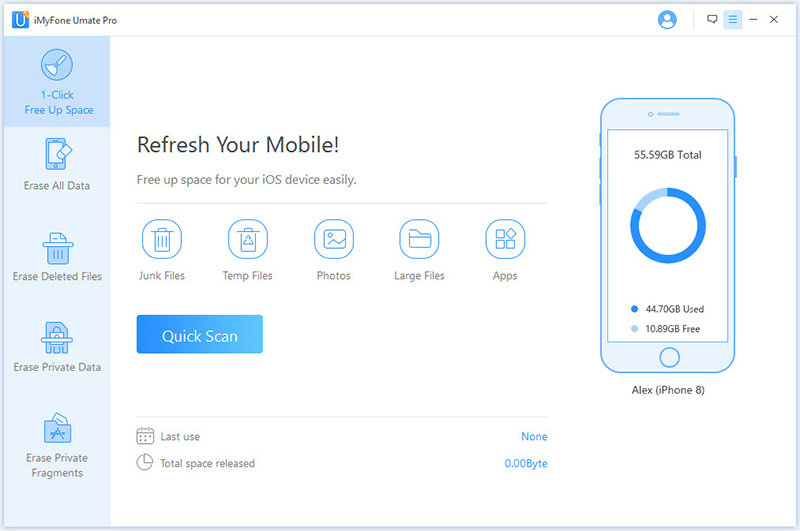 Step 3: Select the Scan option. Once your device has been scanned, you can select "Clean" to delete all the unwanted files.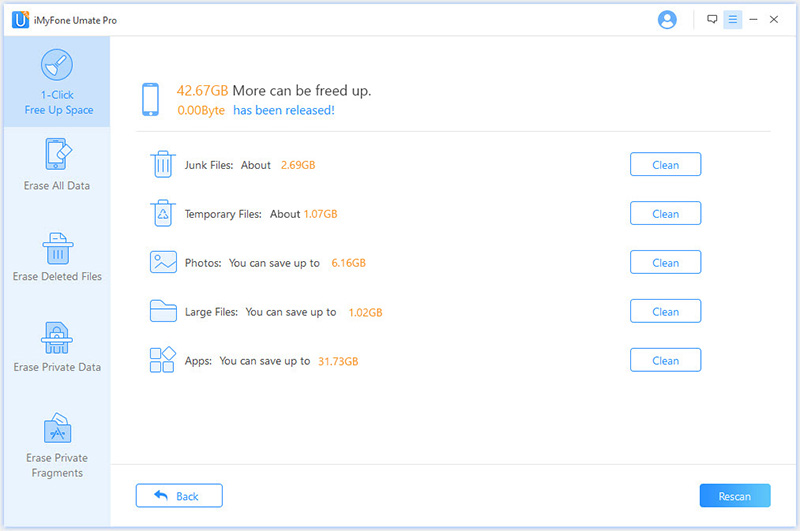 Now let us have a look at the key feature of iMyFone Umate Pro.
Basic Clean-up for Free: It allows you to get rid of some unnecessary files such junk and temporary files with just a click of a button. These files have no use and simply consume a lot of storage space.
Storage Optimization: It allows you to save storage space by letting you compress photos or mass delete photos/videos/Apps, and all your original photos and videos will be backed up on your PC before compression and deletion.
Deep Cleanup: With the feature of "Erase Deleted Files", the software allows you to erase permanently your previously deleted files and all erase data are cannot be recovered even by the most modern data recovery tool.
Privacy Protection: iMyFone lets you permanently erase private files. This means such files become 100% unrecoverable and cannot be recovered by any means, you can rest assured that you are protected and safe from any information leaks.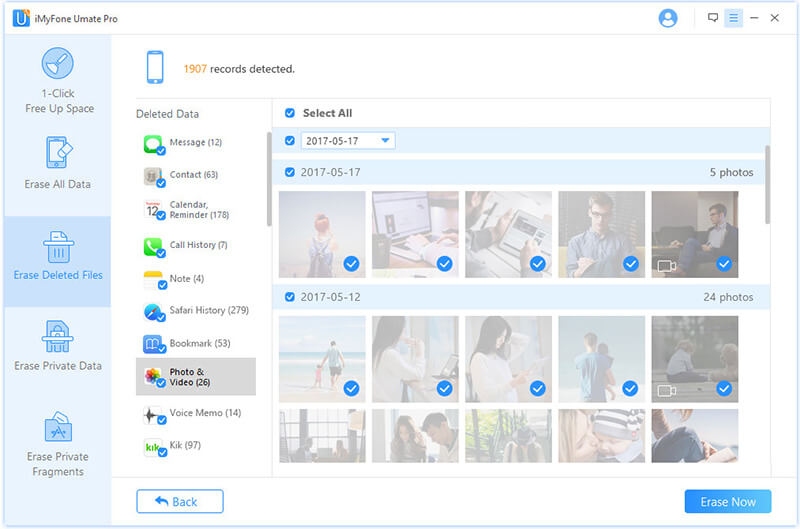 There are other data erasing modes as well such "Erase All Data" which allow you to completely wipe you iPhone with just a click. It is very useful if you are planning to sell your phone or are facing performance issues.