iPhone users can relate to some unsolicited ads rolling on their screens now and then in the process of using their devices. These sometimes are a turn off as it becomes too much for comfort. The webs ads are even becoming more daring and hence it is important to look for ways to check the menace from media companies. This is why you need an iOS 15 ad blocker so as to keep these ads in check. It is also important to note that the presence of these ads slows down devices and ad blockers improve the user experience by clearing them all.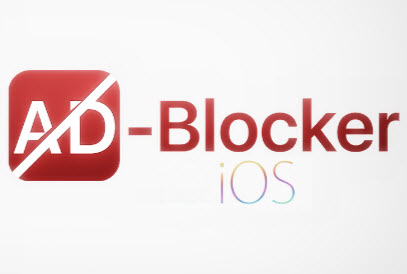 5 Key Features an iOS 15 Ad Blocker Should Have
When you start getting annoyed with those in app advertisements and probably feeling the irritation of the pop up arising from those ads on your iOS 15 device, then you need an iOS 15 ad blocker. The following are some of the key features any iOS 15 ad blocker should have.
Instantly Block in app ads on your device: There are a lot of in-app ads that pops up on your device and is in the habit of interrupting the flow. The ad blocker will instantly block these ads on your device so as to prevent these intermittent irritating pop up interruptions.
Remove Ads from Popular Apps: Popular apps like the InstaWeather, YouTube and Pandora produce a whole lot of adds on your device. However, the ad blocker removes these ads.
Reduce Data Storage and Speed up Connections.
Should have a simple interface with some impressive ad blocking capabilities. This should be also easy to use.
It should support a wide range of iOS 15 devices like iPhone, iPad, iPod Touch and the latter versions of the iOS 15, like iOS 15.
3 Hot iOS 15 Ad Blocker Software
There a lots of ad blocker software available. While some are seems better than others, we are going to look at 3 hot iOS 15 ad blocker software below.
1. Blockr
This is one of the hottest ad blockers ever designed. It simply allows users to block or shut down ads, cookies as well as some social buttons with a quick toggle. It also has an extension which allows user venture into the Blockr settings directly from their safari, giving them the privilege of choosing what to block on any site. Blockr is also good at stopping sites from issuing those annoying cookie warnings and it is also accurate.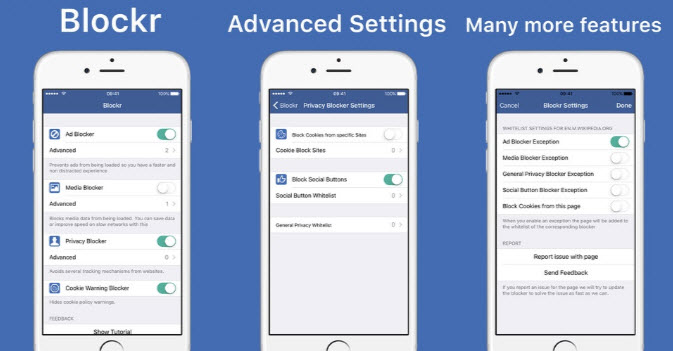 2. Purify
This is an ad blocker that works in such a way that it allows users block scripts, images and custom fonts that can download in your safari without the user's express permission. With is software, you can add sites to your whitelist of exceptions and you can even do it right from your safari.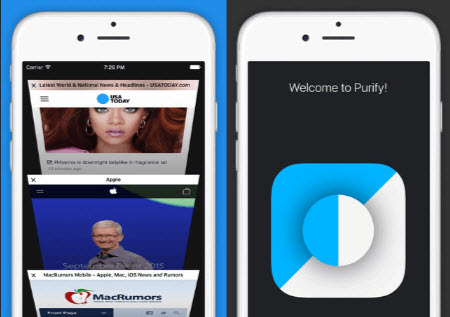 3. Crystal
This is probably one of the top ad blockers without whitelist but reporting any site for blacklisting is allowed. Crystal will block ads and user tracking so that your wireless data usage can be saved and your browsing can be sped up.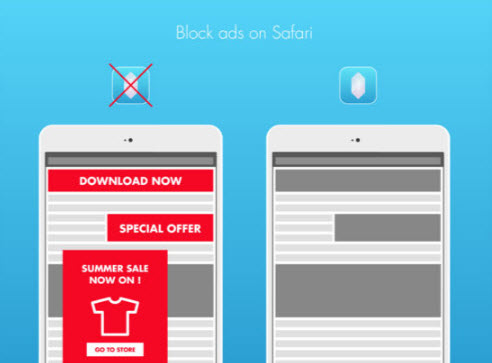 Comparing 3 Hot iOS 15 Ad Blocker
iOS 15 AD Blocker

Compatibility

Advantages

Disadvantages

Blockr

iPhone, iPad, iPad Touch

1. Works for blocking apps, cookies etc.
2. Can be accessed directly from Safari.
3. Can whiltelist sites.

1. Interface not every easy to use
2. Not entirely very fast.

Purify

iPhone, iPad, iPad Touch

1. Fastest blocker for safari
2. Easy to use
3. Has a clutter free preferences screen

Struggle when it comes to aggressive blocking

Crystal

iPhone, iPad

1. Blocks ads and faster browsing
2. Enhance user tracking

1. Does not whitelist sites
2. Interface not very intuitive.