Using iPhone helps in many and accessing data on the go has become pretty simple. But, ios 13 not deleting website data is a bothering issue, as storage space is getting lost and private browsing also is an issue. It could be due to the filters installed that does not allow the history to be deleted as a parental control or sometimes due to any bug it becomes impossible to remove history. Few ways can help efficiently erase the website data.
Reasons Behind iOS 13 Not Deleting Website Data
Restrictions made in the settings to monitor the user browsing history especially when elders are concerned about their kids spending time on mobile phones.
When there is no history to delete. In simple words, no site has been visited or you activate the privacy mode.
Presence of any bug.
Useful-but-Easy Ways to Fix "iOS 13 Not Deleting Website Data"
1. iMyFone Eraser Helps to Delete iOS 13 Website Data Permanently
First, understand that by manually erasing the website data it is possible to recover. So, you must use iMyFone iPhone Eraser for Win/Mac to wipe the history from your iPhone forever and make a recovery impossible.
Options:
Preview and erase history, cookies and cache data of Safari browser forever, 100% unrecoverable.
Check for any website data erased manually that is recoverable and delete them permanently.
Support to erase any kind of private data or previously deleted data from iPhone.
Wipe chats from WhatsApp, WeChat, Viber, Kik and erase traces from Snapchat, Twitter, and 10+ more 3rd-party apps.
Lots of professional software review websites give test on iMyFone iPhone Eraser, and think highly of it, like getintopc.com, MacWorld, etc.
Steps Involved in Permanently Deleting Website Data on iPhone
Step 1. Get iMyFone Data Eraser Umate Pro iPhone on your computer and connect your iOS 13 device.
Step 2. Select Erase Private Data or Erase Deleted Files and click Scan.
Step 3. Preview and select unwanted Safari history. Click on "Erase" button.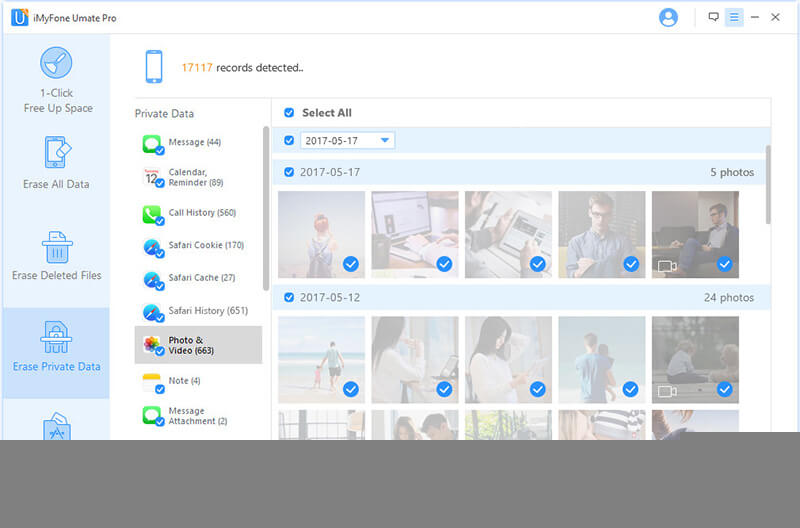 Importance Of Permanently Deleting Data from iPhone
It is important not to have any data on your iPhone under the following situation to protect your interest and let not others no about your safari history.
If you want to sell your phone or give it to someone else, then clearing records is mandatory.
When it is your office phone, and you have to surrender it.
To prevent thieves from stealing your data.
2. A trick provided by Apple Fan to Fix "iOS 13 Not Deleting Website Data"
There is a quick way to solve this issue. It works most of the time but sometimes slips when the reason for such occurrence is not known. When Safari can delete the website browsing data of few and not others, then you must try the following steps.
Step 1. Open the Setting page on your Safari browser and allow the cookies by going to Settings > Safari > Block Cookies.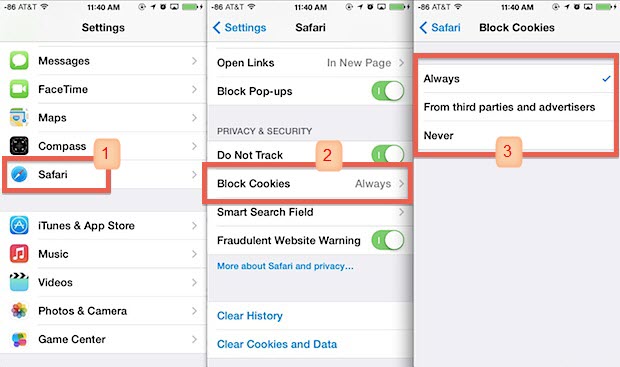 Step 2. Note down the sites that you cannot delete.

Step 3. Open those websites on Safari browser and keeping them open in parallel make changes in the Settings > Safari > Advanced > Website data. Do it for one site at a time.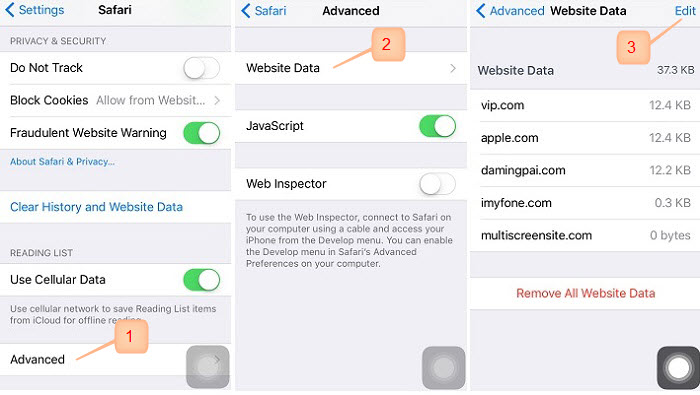 Step 4. Swipe the site that is opened and erase that and move back twice.
Step 5. Press Home button two times and close the Safari browser and the Settings.
Step 6. Repeat the steps for every site one at a time and erase all data.
3. Useful Tips to Fix "iOS 13 Not Deleting Website Data"
Or you can also try the following tips. They might not work but deserve a try.
Put Safari off in iCloud using the settings. Directory: Settings> iCloud > Safari.
Block the cookies to prevent data getting stored in your Safari settings. Directory: Settings > Safari > Block Cookies.
Hard reset the device to erase the cookies, cache, and the history altogether.
Use Private mode in Safari browser to stop saving website data.
Try "Setting > General > Reset > Reset All Settings" to see it helps or not.
Erase website data instead of manually deleting it. Consider iMyFone iPhone Eraser for help to wipe website data completely.