Lawsuits do happen. As you already know, to prove your point in court, you need solid evidence. Now, what if the solid evidence you could have provided in court was available in your text messages which are already deleted? Telling the judge that you had the evidence in your text messages but they got deleted won't work.
In order to make sure that you can prove your case in court, we will be guiding you how to print text messages from iPhone for court with two simple phases. After going through this article, it won't matter whether they are already deleted or not. We will show you how to retrieve the deleted messages.
Tip: Can Deleted Text Messages be Retrieved for Court?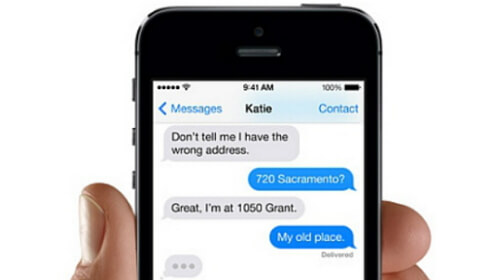 This is a question whose answer depends on whether or not your deleted messages have already been overwritten. When you delete files from your iPhone, they are simply moved from the allocated to unallocated space on your iOS device. This data will be available until when it gets overwritten by any new data you create on your iPhone.
To make sure that your deleted text messages can be retrieved, stop using the device immediately you realize that your court evidence messages have been deleted from the device. This will make sure that no data is created which can overwrite the messages. Currently, there is no technology capable of retrieving overwritten data.
After you have stopped using your iOS device, you will need to check whether you have a recent iCloud or iTunes backup. Both iCloud and iTunes have the ability to back up both deleted and existing data. The issue is, it is not possible to view the data available in the iTunes and iCloud backup files directly. Also, after restoring the backups to your iPhone, your current data will be erased and overwritten by the restored backups. However, with the help of a professional iPhone data recovery tool, it will be possible for you to view both the deleted and existing data available on your iTunes and iCloud backup.
So if you do not have recent iCloud or iTunes backups, you do not have to worry that all your court evidence is completely gone. All you need to do is to find a professional data recovery tool first.
Phase 1: Retrieve Deleted Text Messages from iPhone for Court
We have been going on and on about a professional iPhone data recovery tool. This probably had you wondering whether such a tool really exists. Yes, the tool does exist and it is called iMyFone D-Back.
iMyFone D-Back is created to work with all iOS versions and iOS devices which includes iOS 12 Beta, iOS 11.4, iPhone 8/8 Plus and iPhone X. This tool will not only allow you to retrieve your lost data from your iOS device. It will also allow you to retrieve your data from your iCloud and iTunes backup. iMyFone D-Back can allow you to recover your lost data via the smart recovery if you do not know which recovery mode to choose. You can recover many data type using iMyFone D-Back. This includes text messages, contacts, WhatsApp, WeChat, Viber, Line, Kik, Contacts, photos, notes, and more.
iMyFone D-Back does have a large number of features. However, that does not mean using it will be complicated. The following steps should help you learn how to retrieve deleted messages from your iPhone and iCloud/iTunes backups. Next, we will show you how to print text messages for court evidence after recovering them.
How to Retrieve Deleted Text Messages from iPhone for Court
Before you learn how to print out text messages for court, you need to retrieve them first. If you deleted these text message on your iPhone, you can retrieve them by following the simple steps outlined below if they are not overwritten:
Step 1: Launch iMyFone D-Back then select the "Recover from iOS Device" tab. Tap Start.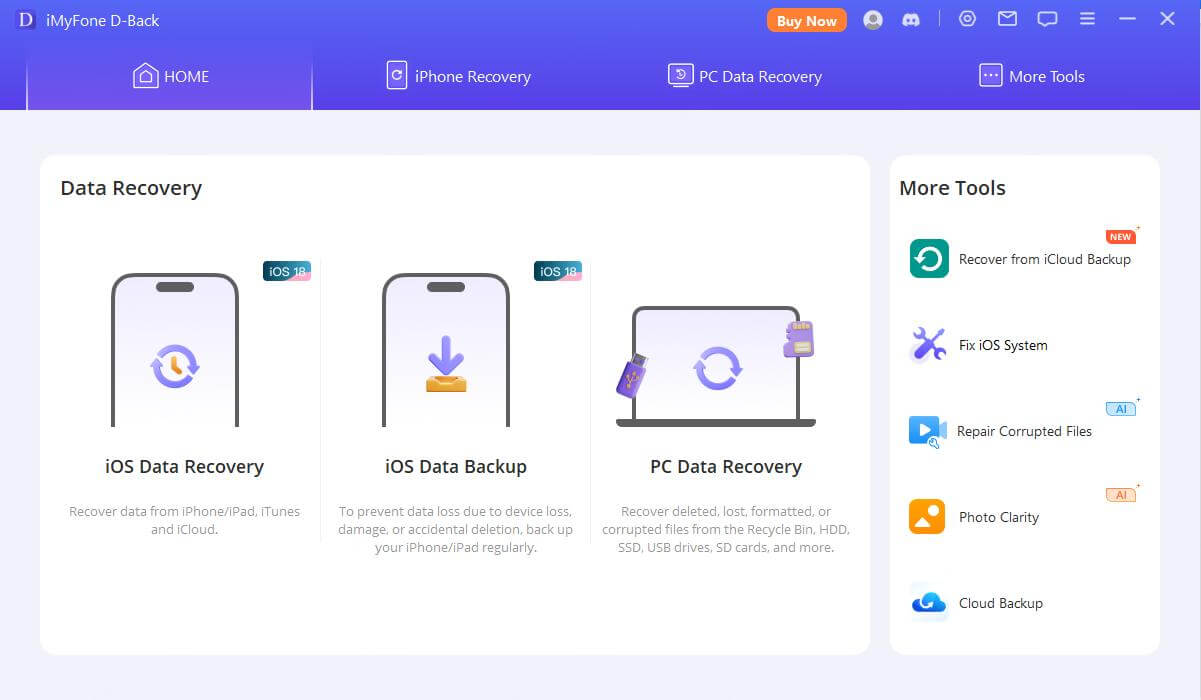 Step 2: Connect your iOS device to the computer and wait for iMyFone D-Back to detect the iOS device. Tap Next to proceed.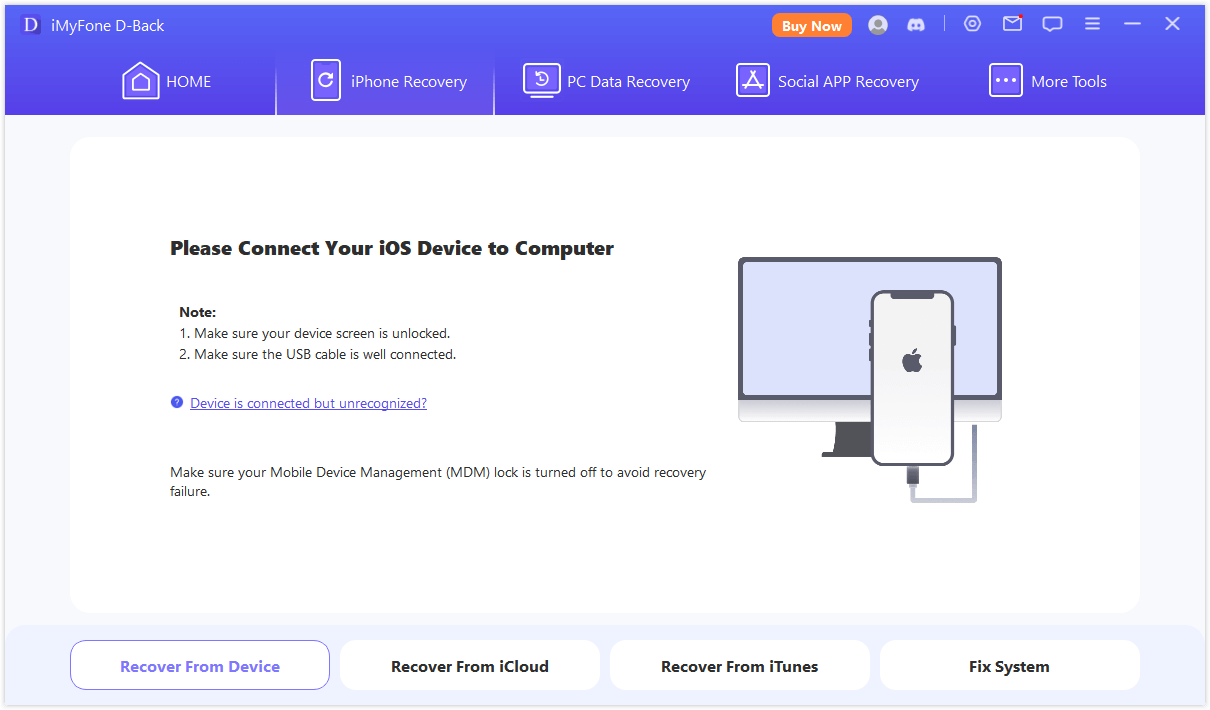 Step 3: Select the data you wish to recover. You can choose only the Apple official Message app data if this is where you had your messages or you can choose the third-party IM apps. You can also choose other data types you wish to recover. After selecting the data types, click Scan.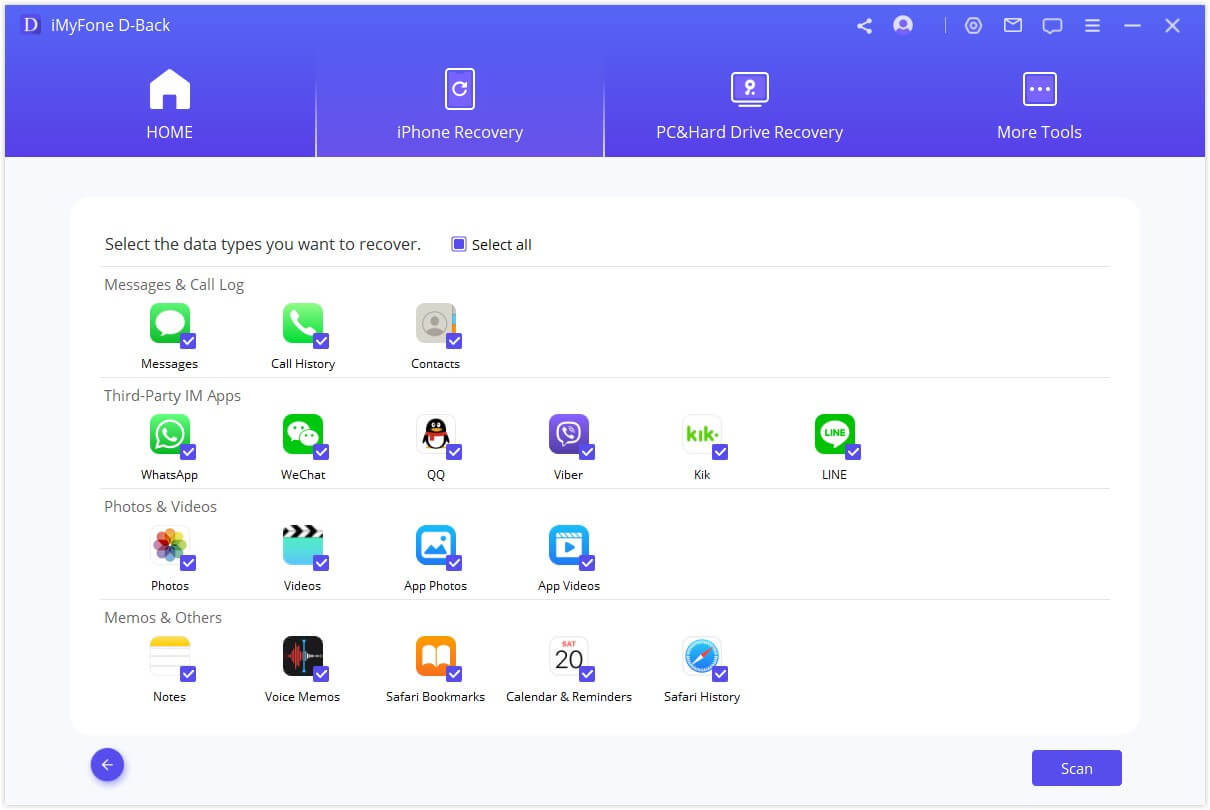 Step 4: After the scan is finished, iMyFone D-Back will display all your deleted messages and the other data types you had selected. Select the files you wish to recover and then tap Recover.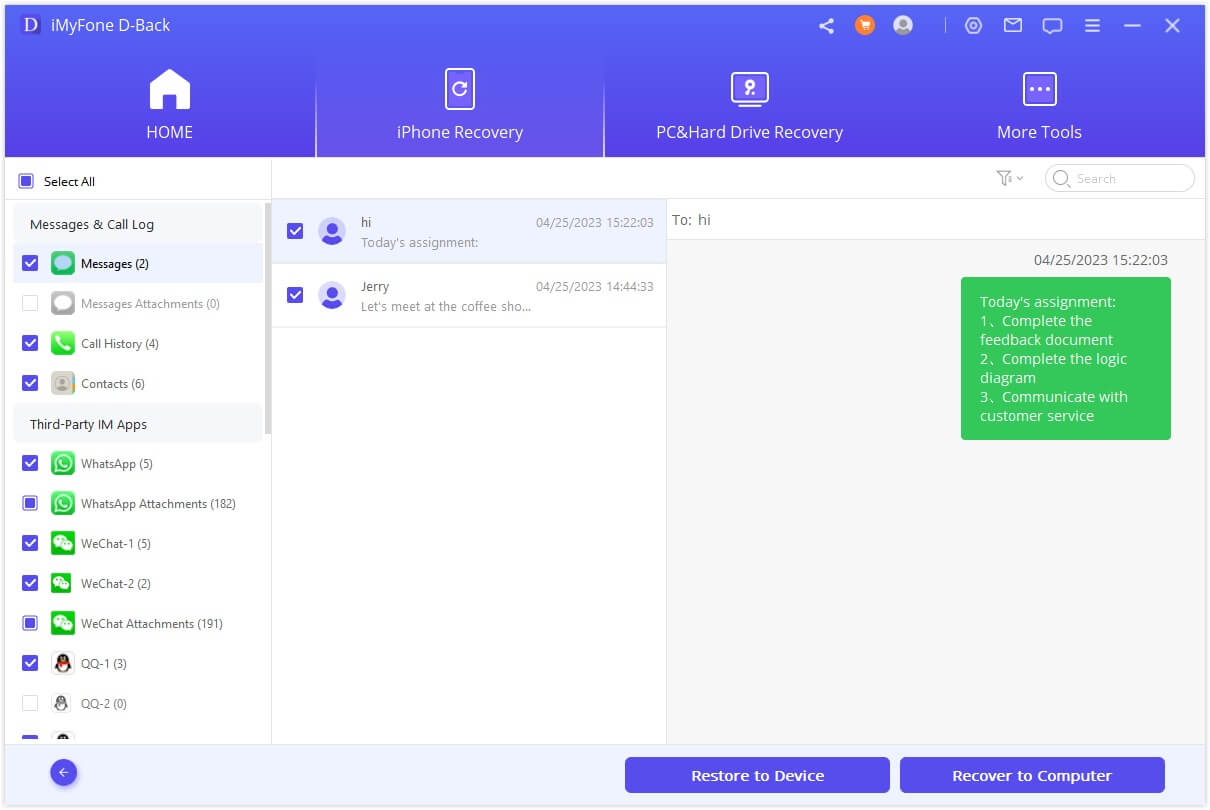 How to Retrieve Deleted Text Messages from iTunes for Court
If you have created a backup recently on iTunes, your deleted messages will be available in it. To retrievethem, follow the steps below:
Step 1: Choose the "Recover from iTunes Backup" tab and then tap Start.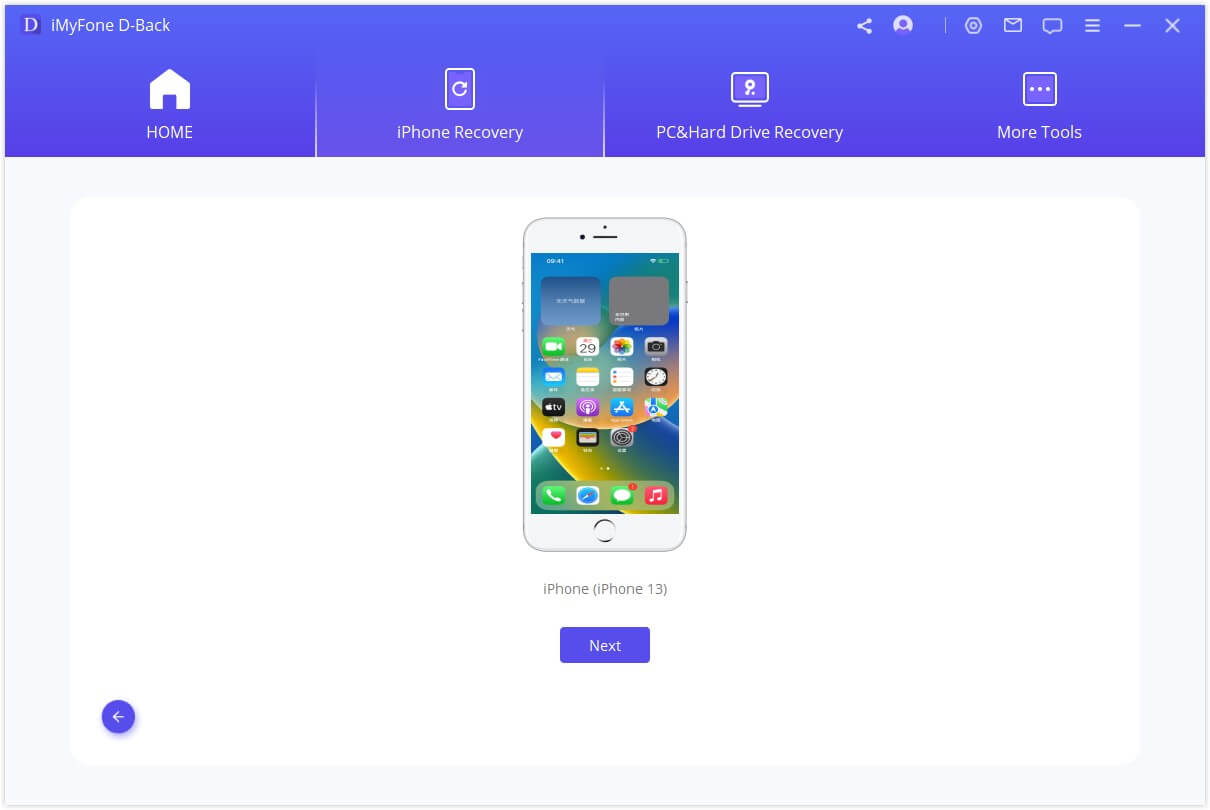 Step 2: Select the most recent iTunes Backup or the one you suspect might have your deleted Messages and then tap Next. If you selected a backup you have encrypted, a password will be required.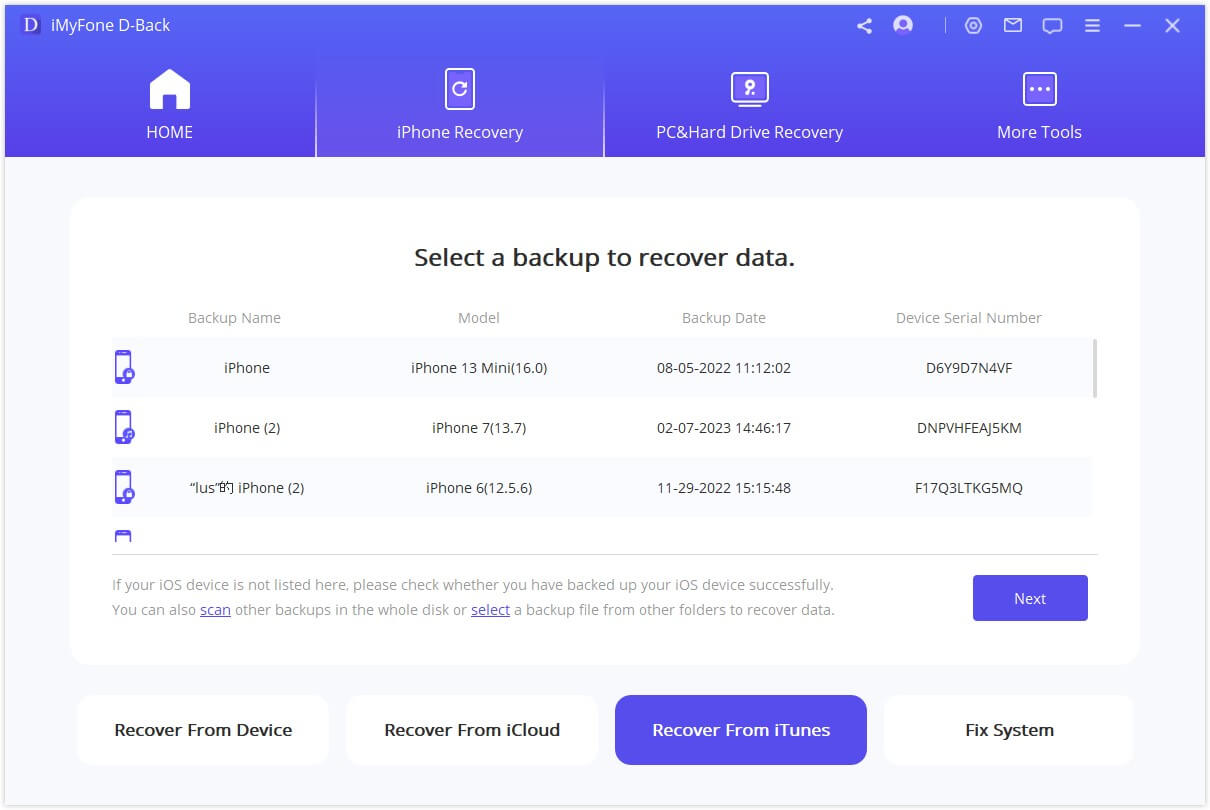 Step 3: Select the file types you need and then tap Scan. Allow iMyFone D-Back to Scan the backup. Preview the deleted data. Click Recover to recover the data.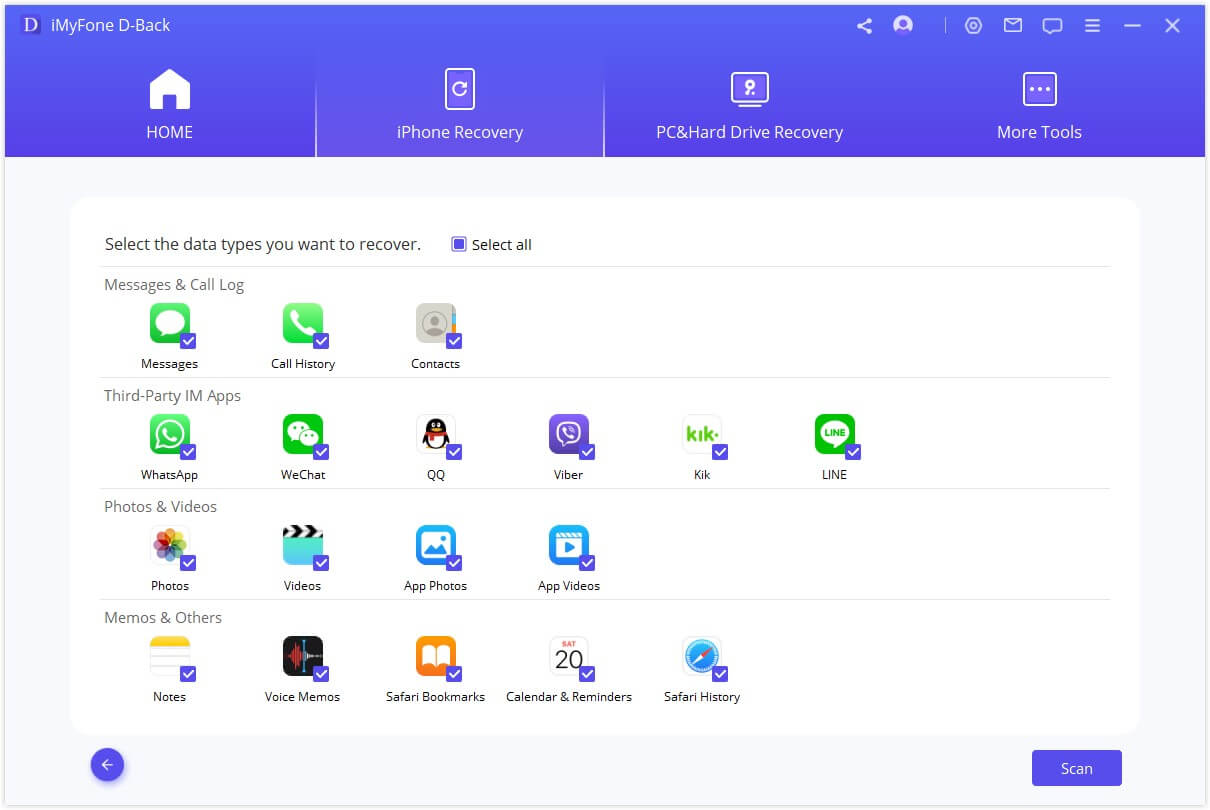 How to Recover Deleted Messages from iCloud Backup for Court
If you had used iCloud instead of using iTunes to back up your iOS device, there is a chance that your deleted text messages could be available in the backup. To use iMyFone D-Back to recover this data, follow the steps below:
Step 1: Launch iMyFone D-Back and then choose "Recover from iCloud Backup" on the left-hand column. Tap Start.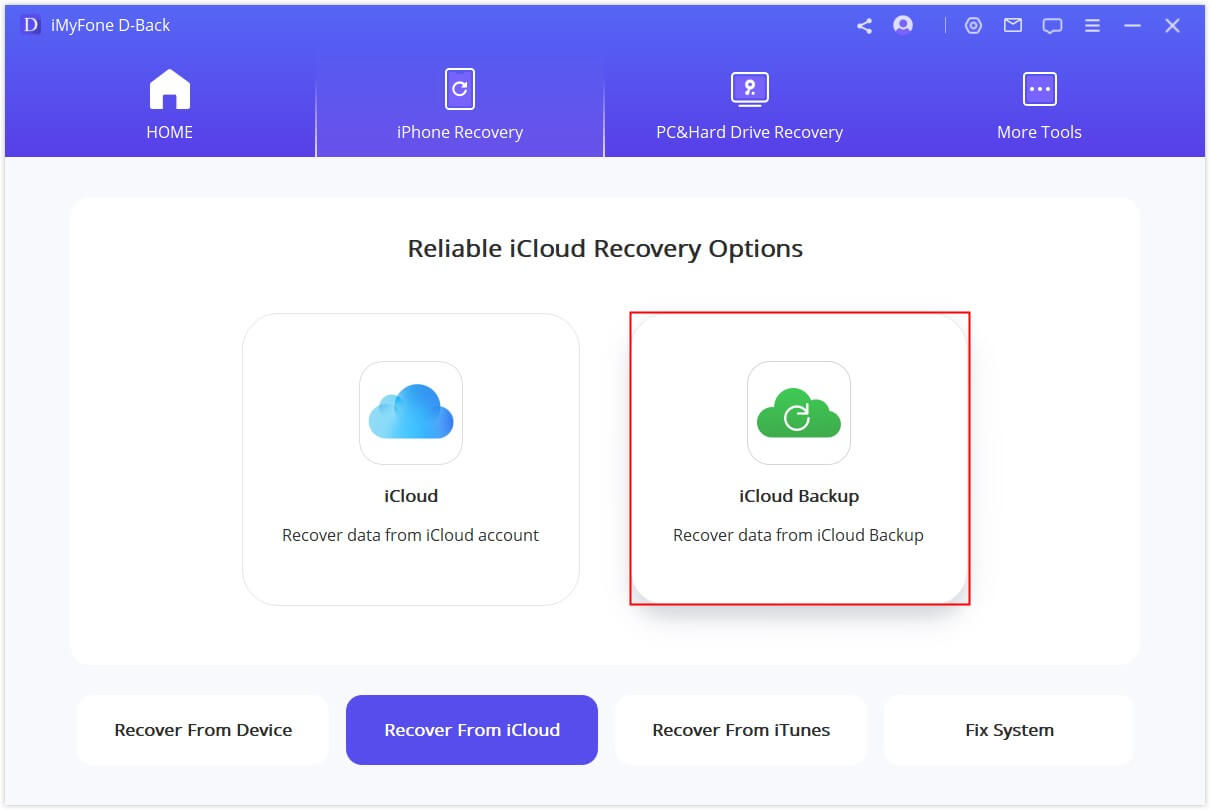 Step 2: Use your Apple ID and password to log in. iMyFone D-Back will locate all the backup files available in iCloud. Choose the most recent backup file or the one you think might have your deleted messages. Tap Next.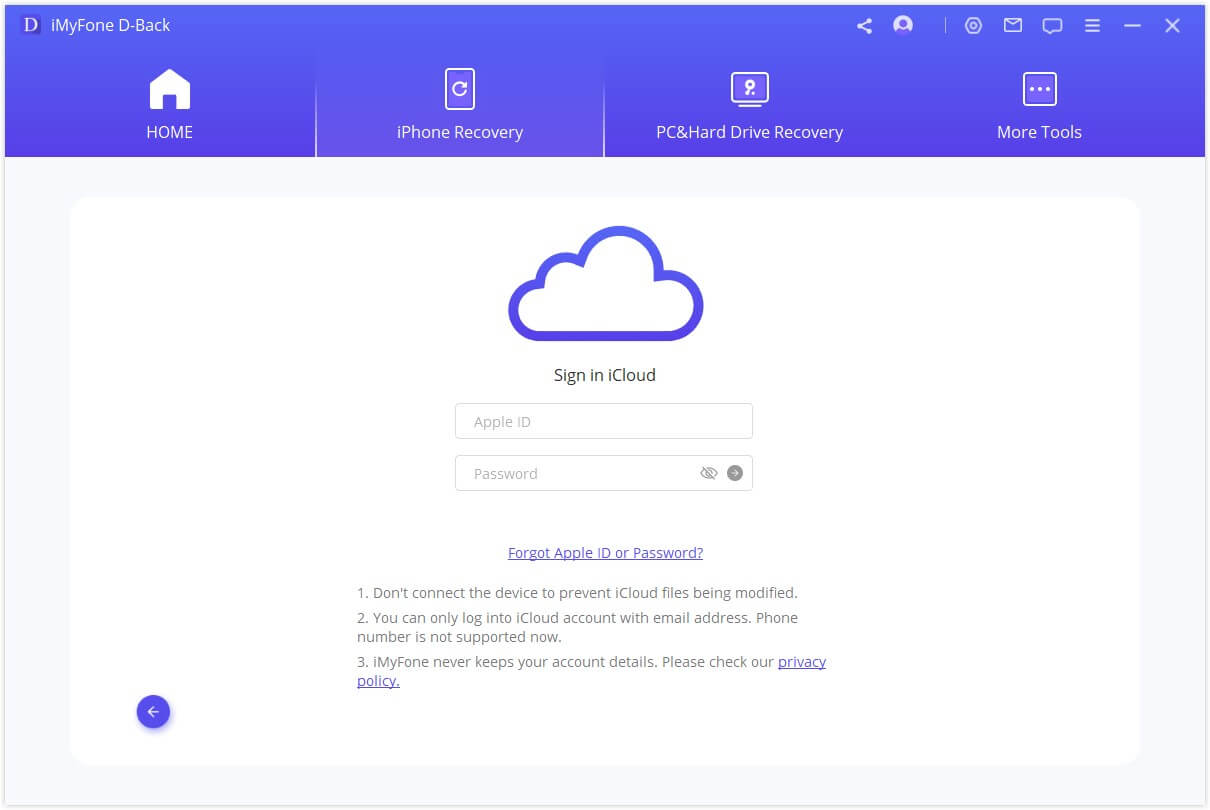 Step 3: Choose the files to recover and then tap Scan. After iMyFone D-Back has scanned your iCloud backup for deleted files, these will be displayed on your screen. You can preview the files and select what you wish to Recover. Tap Recover.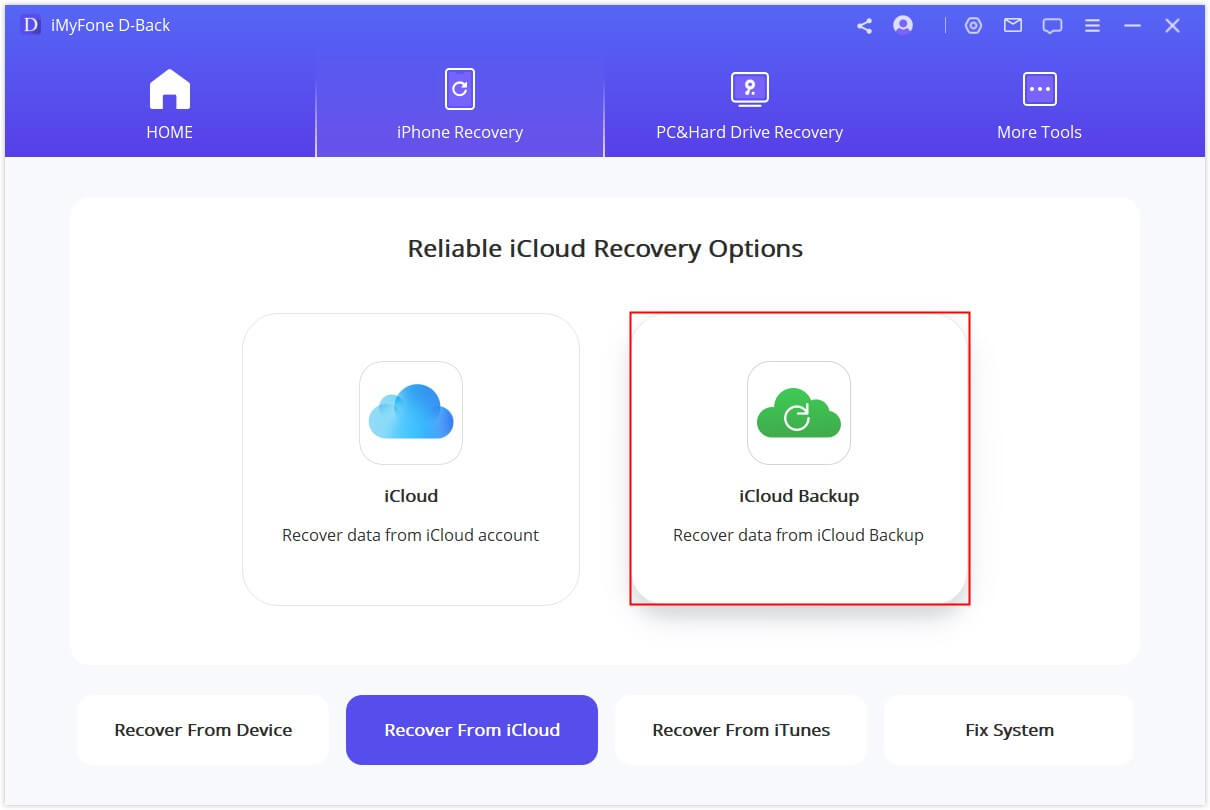 For all the three methods, after clicking Recover, you will need to choose a storage location for the recovered data and give D-Back some time to recover your data to your computer. If you need to restore only your text messages from your iTunes or iCloud backup to your device without data loss, you may need a professional bakcup and restore tool like iTransor.
Phase 2: How to Print Text Messages from iPhone for Court
After using any of the methods mentioned above to recover your evidence text messages in HTML or XSL format, you can print them quite easily. The data will be available in the folder you chose after tapping Recover. Then you can access this data and print them out via printer with one click.
Conclusion
This article shows you how to print text messages from iPhone for court. You are not going to lose in court because your evidence has been deleted. As long as you stop using your iPhone immediately you realize your text messages have been deleted to keep them from being overwritten, you will have the chance to recover the text messages. Recovering text messages is made extremely easy by iMyFone D-Back. This tool is available as a FREE trial version. You get a chance to see whether it works before investing in paying for it. We always welcome comments. Leave yours below.