With the introduction of iCloud, iOS device users no longer have to connect their devices to their computers to back up their data. But Backing up wirelessly on iCloud or on iTunes are significantly different and not being aware of the difference could led to data loss.
This is why, we will share with you the crucial differences between these two backup solutions and how each one works just to make it easy for you to choose which one is better for you.
Backup your iPhone or iPad to iCloud
With iCloud, you can wirelessly backup data to your iCloud account. All you need is a strong Wi-Fi connection. To back up your device to iCloud simply go to Settings> iCloud and then select Storage and Backup. Here, you will see how much storage space you have and ensure that iCloud Backup is activated to trigger automatic backups of your device.
While this method may seem easy and convenient, it is not without its shortcomings. Not all your data is backed up to iCloud. Only your "most important data" will be included in the backup including camera roll, accounts, documents and settings.
For this reason, backing up your device to iCloud should be your go-to solution when you have minimal data to back up on your device or you can't connect the device to your computer.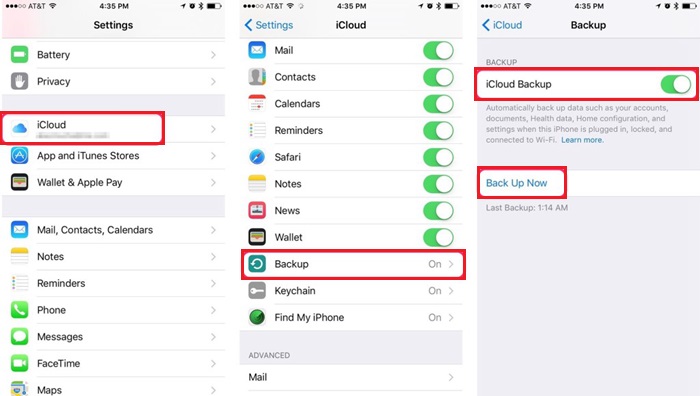 ---
Backup your iPhone or iPad to iTunes
Using iCloud may omit some of data from your backup. When you restore the iCloud backup, all the data purchased from an iTunes store will be redownloaded. But you will lose all the music and videos not purchased through iTunes and all the photos that weren't on the camera roll.
The best way to ensure that all of this data is backed up is to use iTunes. It is also the perfect solution if you have large files that won't work on a network backup. It also doesn't hurt that iTunes allows users to encrypt backups.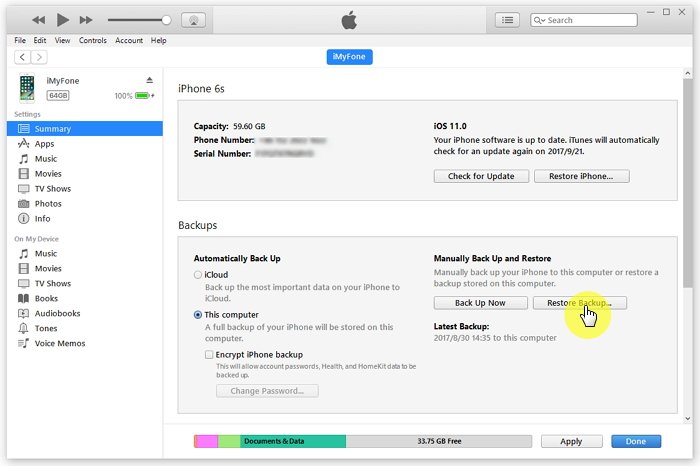 ---
Conclusion
Both iCloud and iTunes have their advantages and to be on the safe side, we recommend that you use both. This way, you will have a safety net should you lose all your data.
---
You May Need an iPhone Backup Viewer
Sometimes, it may be prudent to make use of an iPhone backup viewer to make sure that the data on your device has been fully backed up to either iTunes or iCloud. One of the best iPhone backup viewers to help you do that is iMyFone D-Back iPhone Backup Viewer for Win or iPhone Backup Viewer for Mac. It is as powerful as it is easy to use and the following are just some of its main features.
You can use it to view both iCloud and iTunes backups and extract data from both.
It is also ideal for data recovery and can be used to recover up to 22 different types of files including photos, music, calendar, contacts, messages and more.
It comes with a preview function to allow you to actually see the data.
Like we mentioned before, it user-friendly interface makes it very easy to use.