Photos can take up a lot of the space on an iOS device like the iPhone SE. It is therefore a good idea to keep on deleting photos that are of no use to you. However, emergency situations can occur at any time, requiring you to recover photos that you had just deleted from your iPhone SE. It can become a nightmare to get back deleted photos especially when you are in a hurry. You need to have a readymade solution available that can help in recovering your deleted photos quickly. The following are two solutions that can help you in getting back the photos you have deleted from iPhone SE (iOS 13/12/11 supported).
Method 1: Recover Deleted Photos using iCloud/iTunes
You can recover your deleted photos on iPhone SE by using the restore option. There are two ways through which you can do this, one by using iCloud backup and the other by using iTunes backup.
1

Using iTunes Backup:
Hookup your backup storage device to your computer.
Open iTunes. Navigate to the Restore from Backup option.
Choose the most relevant backup.
Click on the restore button and wait for it the sync to finish.
---
2

Find iTunes Backup files on PC:
iTunes will copy the data to the backup and use unique names.
Directory for Windows XP: C: Documents and Settings[username]Application DataApple ComputerMobileSyncBackup
Directory for Windows Vista/7: C:UsersUsernameAppDataRoamingApple ComputerMobileSyncBackup
There will be a folder for your device that keeps the backup file. Try to rename the file extensions to .jpg and they'll be the original images that you can view. If it is shown in thumbnails, they should change from the broken files to an actual image you can view.
---
3

Using iCloud Backup:
Switch on your phone and get to the Hello screen.
Using the iOS Setup Assistant get to the Set Up Device screen.
Sign into iCloud after tapping the option Restore from an iCloud Backup.
Choose the most relevant backup to start the transfer.
Stay connected. If you disconnect from Wi-Fi before the process completes, the restore process pauses until you reconnect. Give the process time to finish.
Restoring from a backup can take a while, depending on the size of the backup and the network speed.
Until the restore process is finished, don't turn off your Wi-Fi. Keep patience as it can take some time.
---
4

Check "Recently Deleted":
You can also check the "Recently Deleted" album on iPhone to confirm whether the deleted photos are there, if you don't clean this album often.
---
5

check "My Photo Stream":
If you have enabled Photo Stream in iCloud (you can confirm this by checking Settings > iCloud > Photos > My Photo Stream on your iPhone SE), maybe you can find the deleted photos by it.
Open Photos app on your iPhone SE.
From the menu on the bottom, tap on "Albums".
Choose "My Photo Stream" album to check whether your photos are here.
Cons:
The issue with solution 1.1 and 1.3 is that it will erase the phone's content first before you can restore your photos which is quite time taking. Secondly, it doesn't allow you to choose and preview the photos you want to recover.
---
Method 2: Recover Deleted iPhone SE photos using iMyFone D-Back
The second solution that can be used for recovering deleted photos from iPhone SE is using iMyFone D-Back or iMyFone D-Back for Mac. This data recovery tool allows you to preview and then selectively restore photos. It is a very handy software program to have if you have accidently deleted important photos and want to get them back quickly. The following is a list of the main features of this utility.
Key Features:
Restore your iPhone SE data irrespective of how you had lost it.
Supports the recovery of more than 22 file types such as contacts, WhatsApp messages, calendars and more.
Four recovery modes that can help you in recovering your iPhone data quickly.
Preview function to select only those photos, videos and contacts that you want.
Steps to Use iMyFone D-Back for Recovering Photos from iPhone SE
The following are the steps for using iMyFone D-Back to recover your deleted photos from iPhone SE. Follow them to the letter and you will have your photos recovered in a very short period of time.
Step 1. Choice of Mode
iMyFone D-Back offers you different modes to choose from when it comes to recovering deleted photos on iPhone SE. You can choose to recover the photos either from your device, iTunes backup or iCloud backup. So the first step would be to choose the mode you want.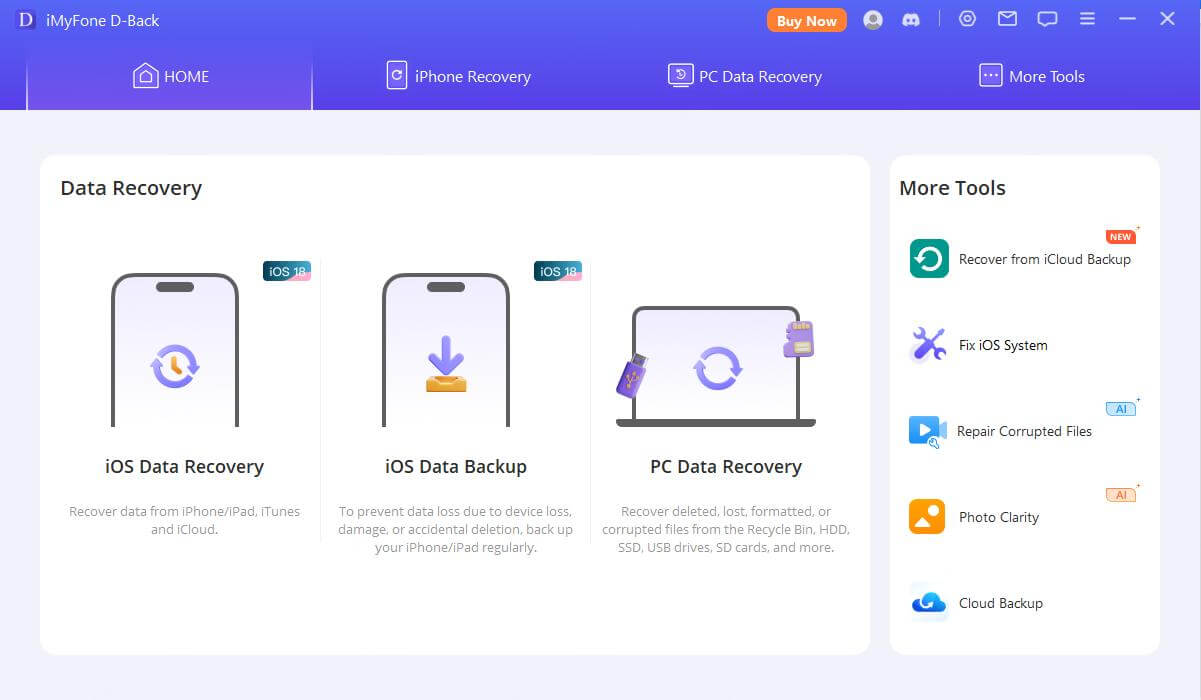 After that you will need to choose photos as the files you want to recover. And multiple selection is available so that you can recover data as much as possible.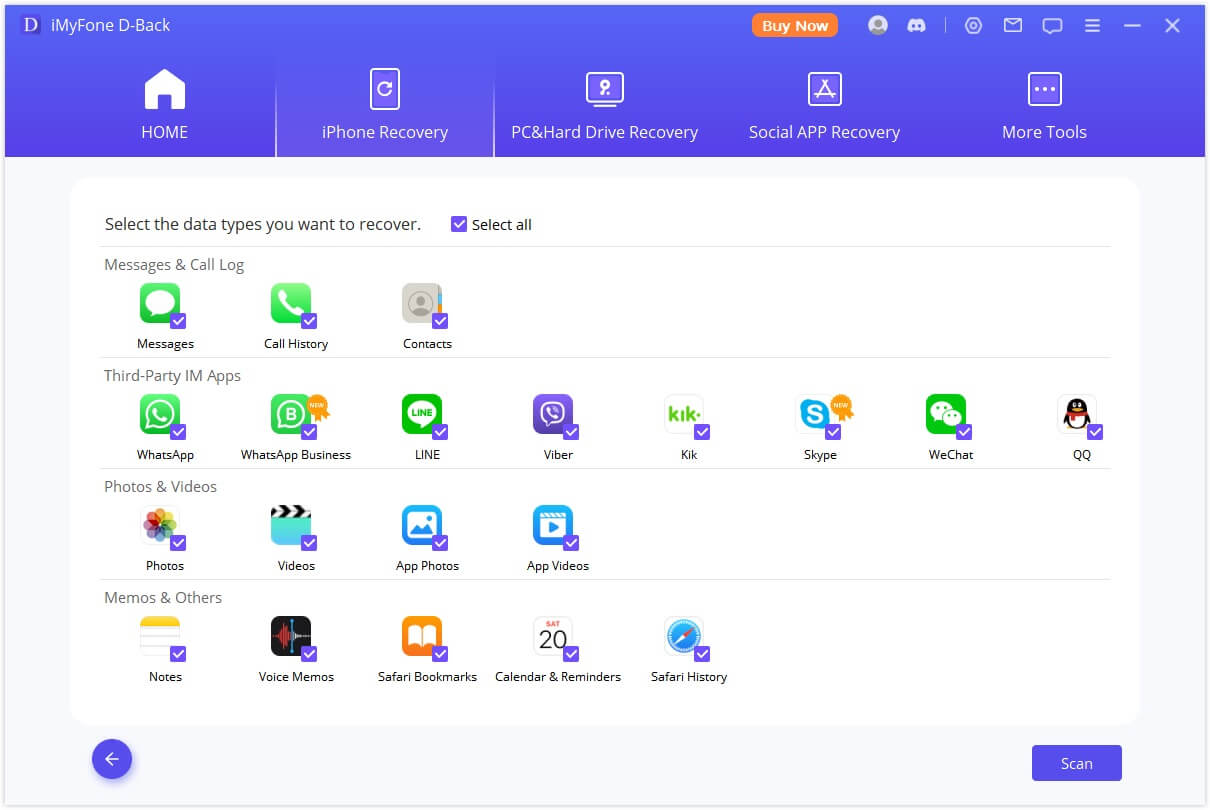 Step 2. Scanning the Device or Backup
You will need to connect your iPhone SE to computer and the software will scan the files on your device, if you have chosen recover from iOS device mode.
Note: You will be asked to select Backup file from which you want to recover the data after which the software will begin scanning the files present, if you choose recover from iTunes/iCloud Backup.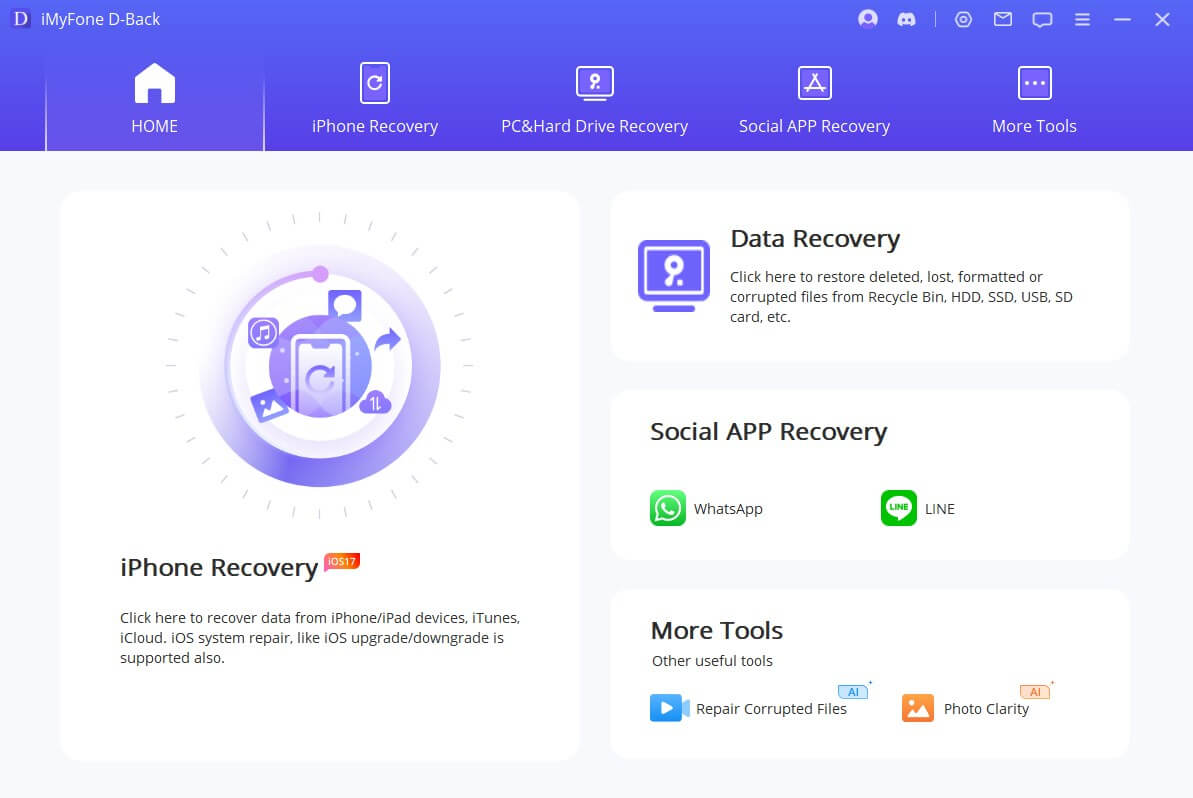 Step 3. Preview and recover deleted files
After you have chosen the mode and the scanning of the files is complete, the software will provide the results neatly classified into various fields. You will get the chance to preview the photos as thumbnails, thus making it easier for you to select the photos that you want to recover and discard the others that are of no use to you for the time being.
Recover Having selected the photos that you want to recover, Click on the recover button available at the bottom of the window. All your selected photos from iPhone SE will be recovered quite quickly.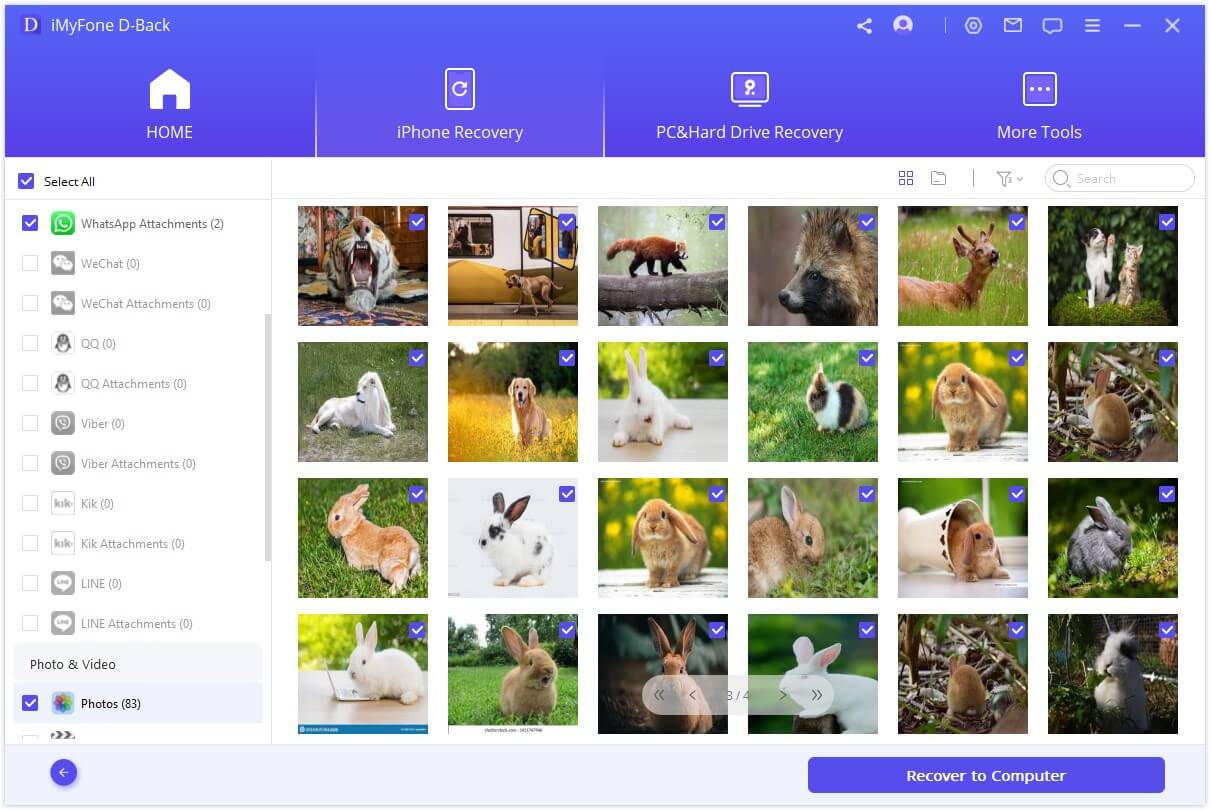 Download iMyFone D-Back Win/Mac (compatible with iOS 13) to recover iPhone SE deleted files now!
And if you have the need, Check how to Free up Storage on iPhone here to manage your iPhone SE storage better.