Out of various social media platforms, WhatsApp holds great importance in everyone's life. It has connected millions of people through a smartphone. People use it to share contacts, messages, and media files, do video and voice calls along with many other things. This cross-platform and encrypted social media messaging application is highly popular among iPad users too.
Imagine you are talking to your boss, and he shared an important message with you. Now, you are trying to delete some other messages but delete the conversation with the boss by mistake. This might lead to the loss of your long-term job too. Therefore, it is essential to learn how to recover WhatsApp messages on iPad. Even if you delete a text by mistake, restore WhatsApp messages on iPad/iPad Air/Air Pro, and so on, the ideal ways to recover whatsapp messages on iPad are given here.
Part 1: What Might Cause Deleted WhatsApp Message On iPad
Before knowing the methods of how to restore deleted WhatsApp messages without backup, you must know the exact reasons behind this issue. Most of the time, people delete the messages accidentally, but there can be other reasons too as shared below:
The water might have damaged your iPad, iPhone, or iPod.
When your iPad is stuck in the recovery mode, it is common to see deleted whatsapp message issue.
After upgrading your iPad or iPhone, it can cause the loss of all the WhatsApp data and text messages.
Accidental loss is the biggest and unavoidable instance. You can't realize when you tap on that delete button and regret later.
Another dangerous thing that can lead to WhatsApp message loss is a virus. If your device is infected with any sort of virus or malware, make sure to check on it and remove it to avoid loss.
Some kind of physical damages is enough to put you in a data loss situation. Make sure to use the device carefully.
Part 2: Restore WhatsApp Messages From WhatsApp Chat Backup
Using WhatsApp chat backup can be a convenient way to get your chats back. For this, WhatsApp web will come handy as WhatsApp has not designed its iPad version. WhatsApp web is basically a browser version of WhatsApp. When using the web version of the WhatsApp on your iPad device, some conversations might now show. You can access them with the Android device in which the WhatsApp application is installed. If you have turned on the chat backup option, all your chats and media will be uploaded to the cloud service. Thus, when the iPad is now showing any message to you, then simply restore WhatsApp messages on iPad/iPad air/air pro using the backup. Read the instructions below to know how you can do it.
Step 1: Unlock your iPad and open WhatsApp.
Step 2: Navigate to "Settings" > "Chat Settings" > "Chat Backup".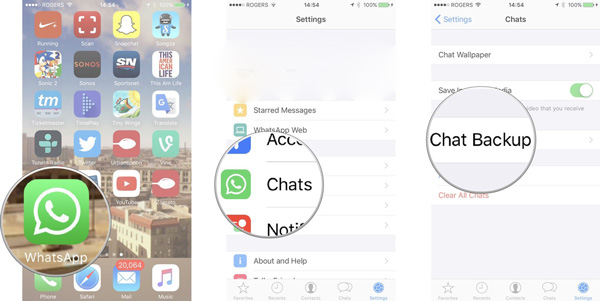 Step 3: Check if there is any iCloud backup with the date and then restore WhatsApp messages on iPad/iPad air/air pro.
Step 4: Now, you have to uninstall the WhatsApp app from your device and reinstall it.
Step 5: Make sure to verify with the same number as you have used previously.
Step 6: Keep following the prompts and instructions for restoring the chat history.
Step 7: At last, press on "Restore Chat History."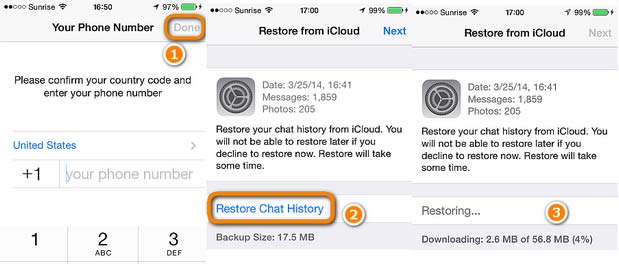 Part 3: Get Whatsapp Messages Back From iCloud Backup
Taking the regular backup of your iPad is great for future purposes. It will help in re-accessing your data. Suppose you delete a WhatsApp message, but it contained some essential data. After the deletion, it is possible to re-access it using the iCloud backup. Make sure you have backed up all the data of your iPad before performing these steps to recover WhatsApp Message On iPad.
Step 1: Run "Settings" app on your iPad and then tap on "General" > "Reset" > "Erase All Content and Settings."
Step 2: Press "Erase" once again for confirmation. This will force your iPad to restart.
Step 3: Go through the instructions as shown on the screen, and enter the "Apps and Data" interface.
Step 4: Select "Restore from iCloud Backup" and log in to your iCloud account.
Step 5: After logging in to your iCloud account, check the backup history from the list and select the one that fits your requirement. This process is a matter of a few minutes.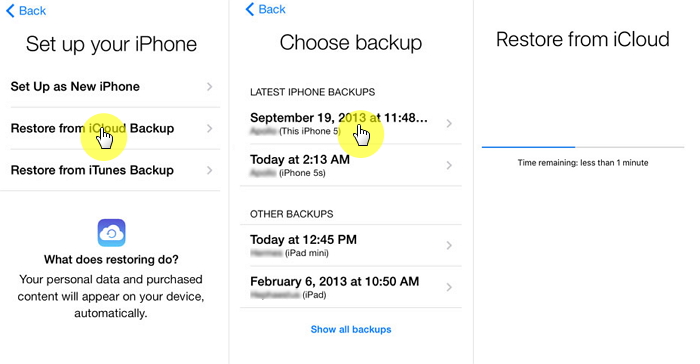 Note
This method requires you to sign in with the same email ID that you used to access iCloud and iCloud Drive.
To use this method, make sure to have enough free storage available on your iPad and iCloud.
Keep the same number on WhatsApp for backup and restore. It's impossible to restore chat history using another WhatsApp account.
Part 4: Restore Whatsapp Messages From iPad Without Backup
You know now what to do if you have kept the backup of your iPad and Whatsapp messages. Put yourself in the situation when you don't have a backup of any. In such a condition, you can feel helpless, but you do not have to as a third-party tool like iMyFone D-Back can come to your rescue for retrieving deleted WhatsApp texts.
Key Features:
Directly retrieve lost WhatsApp Messages without backup or from iTunes/iCloud backups.
It is compatible with more than 20 kinds of data so you can even recover Viber messages, deleted text, and photos.
Preview and read before recovering WhatsApp messages.
Powered with advanced technology to recover WhatsApp texts in just 3 steps at an impressive success rate.
It does not overwrite current data on your device.
iMyFone D-Back is fully compatible with the latest iPhone models and iOS version including iOS 12/13.
How WhatsApp Recovery Software Works?
The D-back WhatsApp recovery software helps in the recovery of deleted texts and media files with the deep scanning process. It searches the entire internal storage of your iPad to access the hidden WhatsApp chats, pictures, videos, documents, and many more. Now, let us learn how to restore deleted WhatsApp messages without backup using D-Back recovery tool through the following steps:
Step 1: Download the tool and connect your device
Start with downloading D-Back first from its official link. Once done, launch and connect your iPad to the computer via USB cable.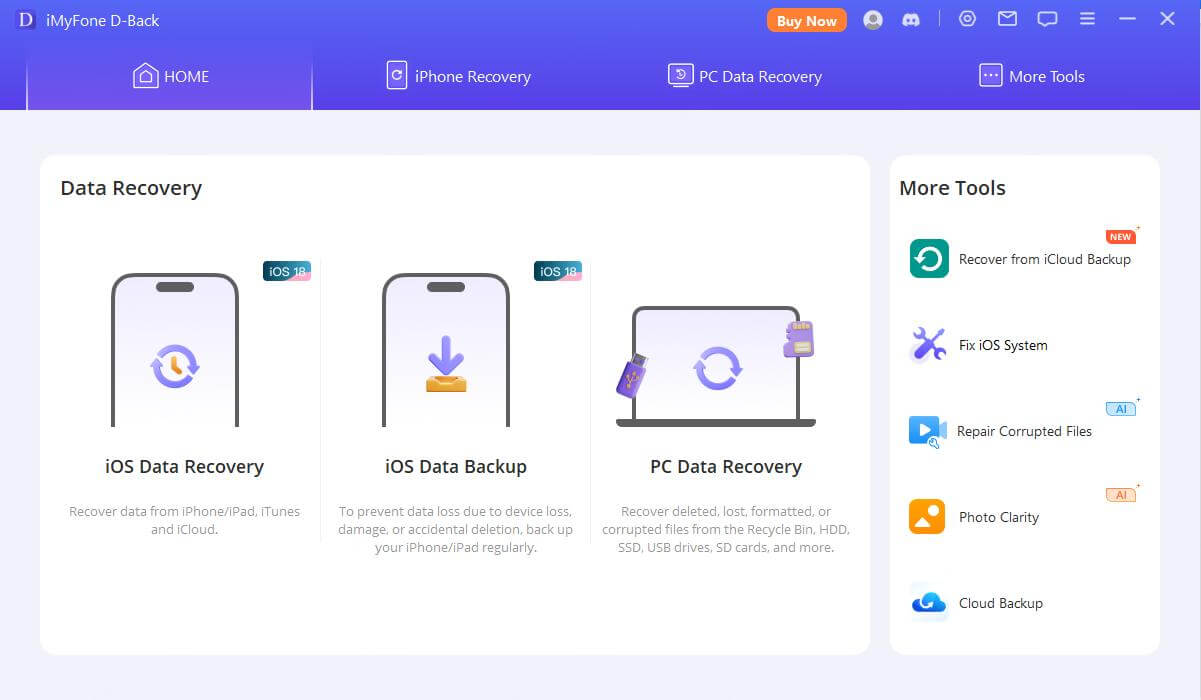 Step 2: Choose the tab
As the next step, you need to choose "Recover from iOS device" on the interface. Further, click on the "Next" button.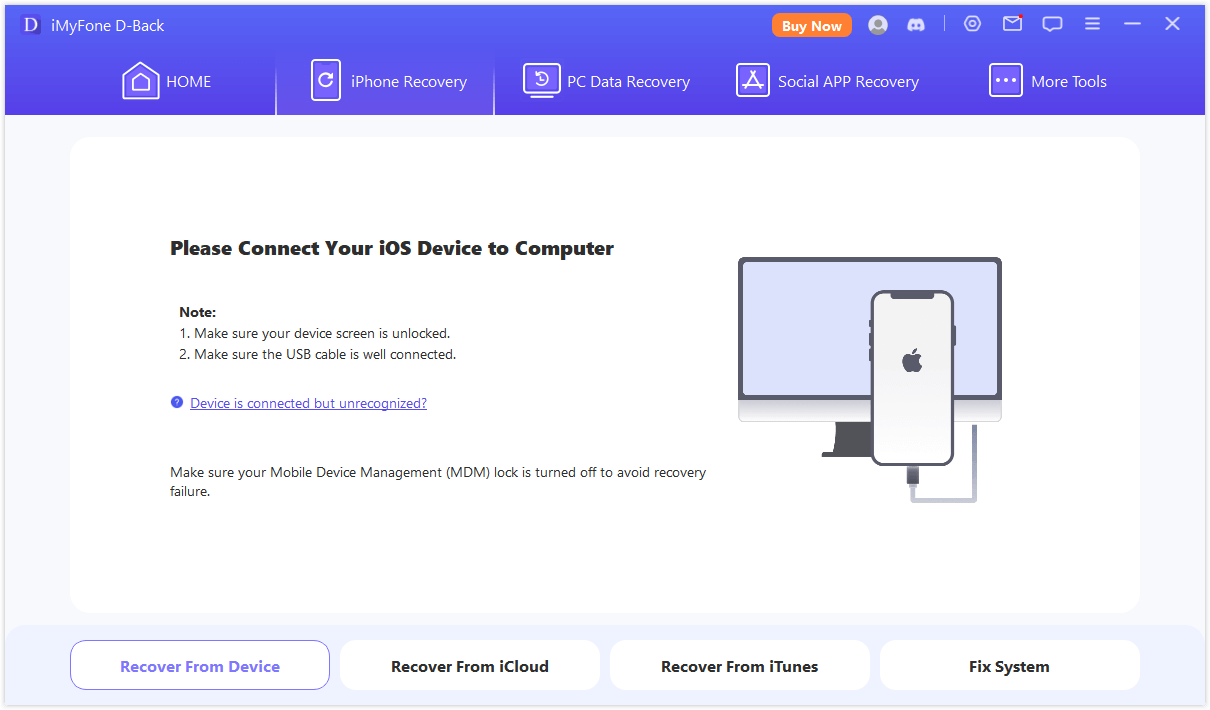 Step 3: Select and Scan the files
In the next window, choose the file types that you want the program to scan. As you want to restore WhatsApp messages, select "WhatsApp" by clicking on it. Click on the "Scan" key to start scanning. Wait until the scan finishes. After the scanning process ends, preview the files and choose which ones you want to restore.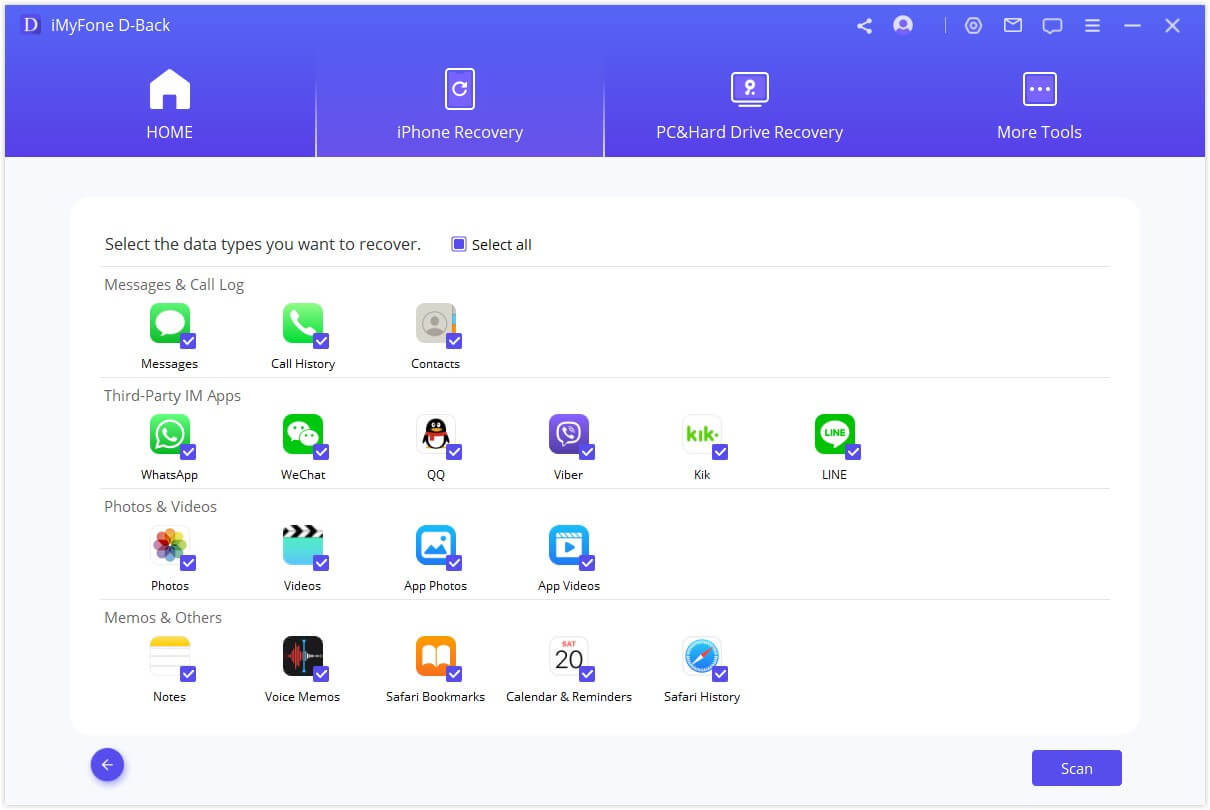 Step 4: Preview and Recover
The tool will allow you to preview the WhatsApp data. Select the ones that you want to preview and recover. After selecting, click on the "Recover" button.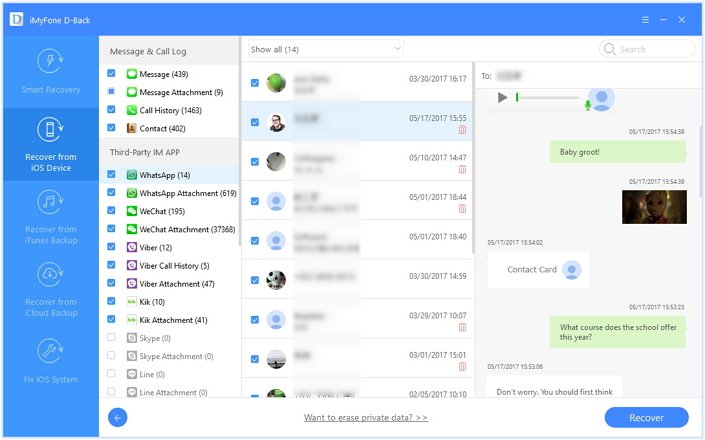 Bonus Tips: How To Get WhatsApp On iPad
Some of you are probably wondering how one can use WhatsApp on iPad. Indeed, WhatsApp is not available for the iPhone/iPad users, but they can still use it with the following tricks:
1. Access WhatsApp on iPad through Safari
Getting WhatsApp on Android is quite easy, but the same process for iPhone or iPad users isn't so simple. You can perform the following steps for accessing WhatsApp on iPad through Safari, but still, it is vital to have an old iPhone with WhatsApp installed.
Step 1: Run Safari browser on your iPad and open the link "web.whatsapp.com." This will redirect to the homepage of the WhatsApp homepage.
Step 2: Switch to the desktop version by holding down the "Refresh" button, click on "Load Desktop Site."
Step 3: On the smartphone in which you have created WhatsApp account, go to "Settings" > "WhatsApp Web" and scan the QR code to start using WhatsApp on Safari browser.
2. Install WhatsApp on iPad Through Third-Party Apps
There are a few reliable third-party applications for running WhatsApp on iPad. Two of the best software to run WhatsApp on your iPad are Messenger+ for WhatsApp and Chat with Whatsapp. Both these applications are completely safe to install on your iPad. Moreover, these two apps are secure, too, so you do not have to worry about data leakage or virus issues.
Conclusion
The users can effortlessly recover WhatsApp Message On iPad with the given methods and instructions. Whether you have done the backup of the previous chats or not, still, you can recover WhatsApp messages. So, feel lucky that such technologies like the D-back data recovery tool exist to simplify your life.