Those days are long gone when people used to carry printed information and gather photo albums to keep memories. With the advent of latest technology and the use of remote devices, people have changed the way they interact or store information. Instead of piling up thousands of documents, pictures, and contacts on the desk, we are most likely to store it on our mobile phones.
However, the unpredictable event happens, and one can lose certain information whether it was available in the printed or digital form on your mobile. When it comes to iPhone, users are always on the verge of losing priceless data due to a sudden update, forgotten password, and more. This is where iPhone data recovery software comes in handy.   
As this article talks about the best alternative to Gihosoft iPhone recovery, let's get straight to the point. But before we get to the alternative program, we'd like to discuss why people would want to skip the Gihosoft in the first place.  
What is Gihosoft iPhone Data Recovery?
Gihosoft is one of the best yet popular iPhone data recovery options. This data recovery software helps to recover the data lost due to accidental deletion, lost during the jailbreak, iOS upgrade, and more. The user-friendly and minimalist interface of Gihosoft doesn't need an expert for data retrieval – even a newbie to technology can get a hand of this at the first try.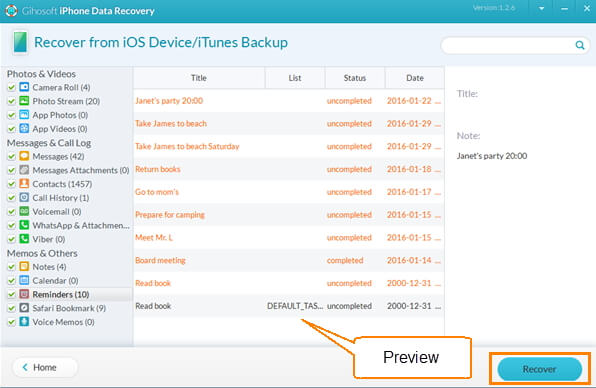 Functions & Special Features of Gihosoft Data Recovery
Gihosoft can recover up to 12 types of files including pictures, contact numbers, text, videos, Whatsapp files, Viber and more. You can recover data directly from the iOS device or from iCloud and iTunes backup. Though Gihosoft features outstanding functions, some special features of this data recovery tool are as follows:
Preview Feature: The Preview feature of Gihosoft data recovery provides a preview of the files after the scan. That means you will only be recovering necessary files after scanning the device. Gihosoft provides certain information labels to distinguish the existing files from the lost ones.   
Three Data Recovery Options: This feature lets you recover the necessary data files. You can either recover text files, photos, notes, Whatsapp, or all at the same time.
Safe Scan and Recovery: Unlike the majority of data recovery applications, using Gihosoft iPhone data recovery is safe and clean to use. Your system and data files remain untouched and the app cannot perform any unauthorized operation on the device.
Already impressed with the amazing Gihosoft data recovery software? However, Gihosoft also comes with certain limitations including longer scanning time.
Pros
Can recover up to 12 types of data.
Secure and safe scan; thus, ensuring data security.
Cons
Longer scanning time.
Only recover 12 types of data.
What if we tell you that there is an alternative to Gihosoft iPhone data recovery?
iMyFone D-Back - The Best Alternative to iPhone Data Recovery
iMyFone D-Back data recovery is certainly the best alternative to Gihosoft iPhone data recovery. This software recovers deleted or lost data on all Apple devices with ease,even the latest iPhone Xs/Xs Max/Xr/X. The multiple data recovery options available on the iMyFone D-Back makes it an outstanding choice besides Gihosoft.  You can recover the data directly from the iPhone, iCloud or iTunes backup, or using smart recovery mode.
iMyFone D-Back: Smart Recovery Mode
The Smart Recovery mode of iMyFone D-Back allows the users to recover specific data from the scanned files. It is the best choice if you do not know which recovery mode to select. All data is categorized under different labels as for how it was lost and is recovered while keeping the integrity of the files.
Recover iPhone Data via iMyFone D-Back
The user-friendly interface of iMyFone is easy-to-use and specifically made for newbies to recover data with ease. Follow the steps to successfully recover data via iMyFone D-Back.
Download, install and open the iMyFone D-Back on your iOS device.
Click the "Start" button.

You will automatically be checked into "Smart Data Recovery" option. Select the preference of how you lost data at the first place. Scan the device and recover data with ease.

Note that the iMyFone will analyze, scan, and preview the recovered data automatically. You can select to recover the data from the iOS device, iCloud or iTunes backup to computer in order to prevent data overwriting on your device.
Following these steps, you can recover any type of data from any iOS device including iOS 12 and iPhone Xs/Xs Max/Xr/X too.  
Pros
4 data recovery options.
Recovers 18 types of data.
User-friendly and simple interface for newbies.
Offers free trial version before purchase.
Secure to use.
Cons  
Free version has some limitations.
Why Choose iMyFone D-Back?
Just like Gihosoft, iMyFone D-Back also features preview mode, safe data recovery, and multiple recovery options. Then would you want to look for an alternative? This is because the scanning time of Gihosoft is much longer than D-Back. iMyFone D-Back is known for recovering the data in a moment while keeping the integrity of all types of files. Furthermore, you can also shortlist the scanned files per file type, size, and name.   
Differences between Gihosoft and iMyFone D-Back
The well-known Gihosoft iPhone data recovery comes in three versions. While the Gihosoft free version won't let you recover message, photos,  videos, contacts, call log, WhatsApp and Viber, the pro version is $59.95.
iMyFone D-Back comes in two versions i.e. free and paid. The iMyFone free version lets you scan the iOS device, view the lost data. The paid version of iMyFone D-Back is $49.95 which can bring back 18 types of data.
Overall, both the Gihosoft iPhone Data Recovery and iMyFone D-Back iPhone Data Recovery are the best recovery options for iOS devices. The utmost features, user-friendly interface, and multiple recovery options make them the top data recovery software.
However, iOS users look for perfection. Several users complain about the longer scanning time which is one of the main reasons why "the best alternative to Gihosoft iPhone recovery" exists. In case of further questions or suggestions, feel free to leave a reply below.