As one of the most recognizable iOS software, TinyUmbrella is revered for its ability to help users downgrade their iOS systems by bypassing the Apple Servers. In this way, it is also a good program to help you get out of some of the problems you may experience with your iOS device.
But TinyUmbrella is not without its own problems. In this article we are going to be looking at some of the most common ones and provide you with solutions. We are also going to show you how you can easily fix any issue with your iOS system (even the latest iOS 15) without using TinyUmbrella.
Common Issues with TinyUmbrella and How to Fix Them
The following are just some of the problem TinyUmbrella users face and how you can fix them.
1

Unable to Validate Libraries
This happens a lot. The program doesn't load or displays the "Unable to Validate Reticulating Splines" message. If this is what you encountered, here's what you can do to fix it.
Step 1: Open Windows Explorer and navigate to C: Users/Your User Name/. shsh/. cache/
Step 2: Delete the Lib-Win.jar file you find there and then download a new Lib-Win.jar file.
Step 3: Once the file has been downloaded, place it in the same place it was previously (C: Users/Your User Name/. shsh/. cache/) When you open TinyUmbrella, it should be able to work now.
2

TinyUmbrella Won't Open
If you try to open TinyUmbrella and it just won't launch, here's what you can do to fix it.
Step 1: Open the registry editor and click "Start" and type "regedit." Press enter.
Step 2: Go to HKEY_CURRENT_USERSoftwareJavaSoftPrefscomsemaphore and then double-click on "/S/A/V/E_/D/I/R/E/C/T/O/R/Y.
Step 3: Enter the path of your SHSH files (if you don't know it, delete the entry) and the program should launch just fine.
3

TinyUmbrella Won't Work on Windows
If TinyUmbrella fails to work on your Windows system, here's what you can do.
Disable your anti-virus and Windows Defender and then make sure that you have installed the latest version of iTunes and Java on your Windows system. You should also run the program in compatibility mode.
---
Alternative to TinyUmbrella: iMyFone Fixppo
As the above solutions clearly demonstrate, if you are unfortunate enough to experience problems when using TinyUmbrella, the solutions can be challenging for the average user. Therefore, if you simply want to fix your iOS system as quickly as possible, you may need a simpler alternative. This alternative is iMyFone Fixppo and the following are just some of the features that make it ideal for you.
Key Features:
It can be used to fix just about various issue you may be having including a device that is stuck on the Apple Logo, a device stuck in recovery mode or one that is stuck on a black or white screen.
It is easy to use. In just a few minutes and a few easy steps, you can fix your iOS device and have it working normally again.
None of the data on your device will be at risk of alteration by using the standard mode.
It is compatible with common iOS device and versions of iOS, including the latest iOS 15.
Fix iOS Issues and Restart iDevice using iMyFone Fixppo
Follow these very simple steps to have your device working normally again.
Step 1: Download and install the program to your computer and connect your iOS device to the computer. From the main window you will find 3 modes to choose: Standard mode, Advanced mode and One click to exit recovery mode mode. Select the standard mode to continue.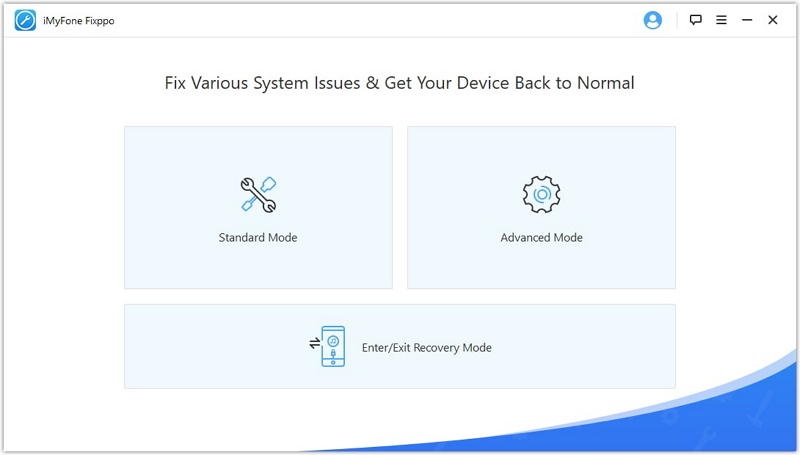 `
Step 2: You'll need to put your device into DFU mode or Recovery mode. Follow the screen to set it. Once your device has set into DFU or Recovery mode successfully, the program will recognize your device and proceed to "Download Firmware" screen automatically.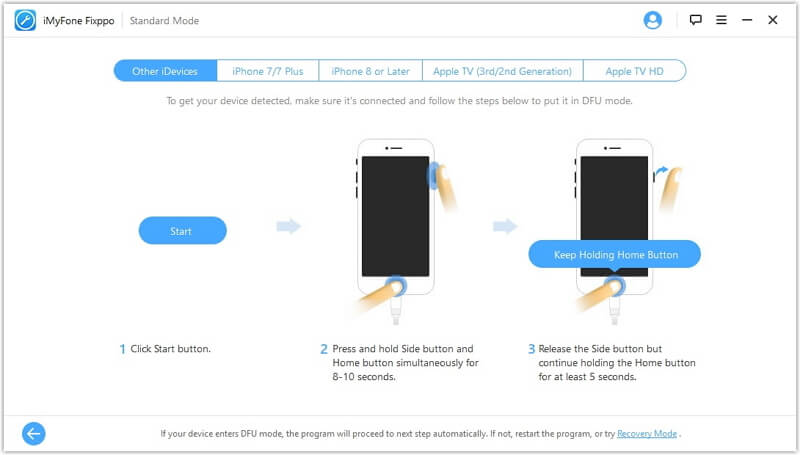 Step 3: You may need to download the latest firmware to fix the device. The program will detect the latest firmware automatically and offer it to you. You just have to click "Download" and then wait for the download process to be completed.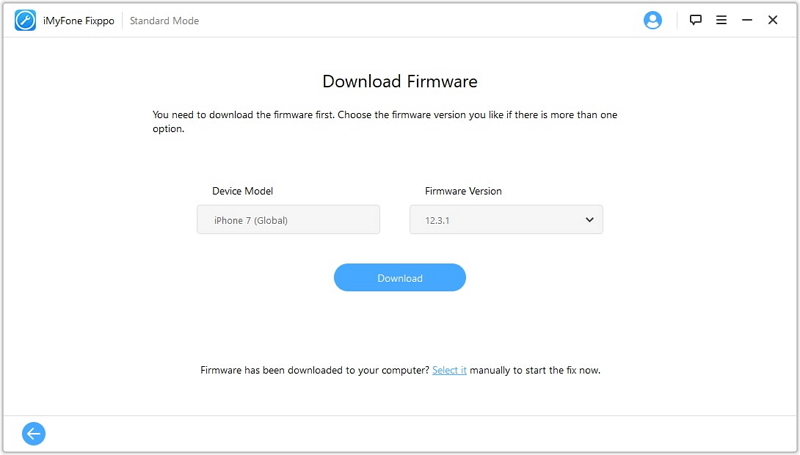 Step 4: Once the latest firmware has been downloaded, the program will proceed to fix the faulty iOS automatically. The entire process shouldn't take too long. Once it's done, you should see a message that the device has been fixed and is now working normally.