When it comes to opening large files, texting, multi-tasking and playing HD videos, Apple has always triumphed over the Android CPU in terms of performance, software parity and efficiency. Why? How can a device with an average of 3GB RAM perform better than one with an average of 4-6GB RAM?
The reason for this is because unlike Android, Apple designs both its operating system and its processor and can integrate both to work perfectly.
If iPhones can be so efficient with older processors, what happens when the iPhone X/8/8 Plus use the A11 Bionic chip?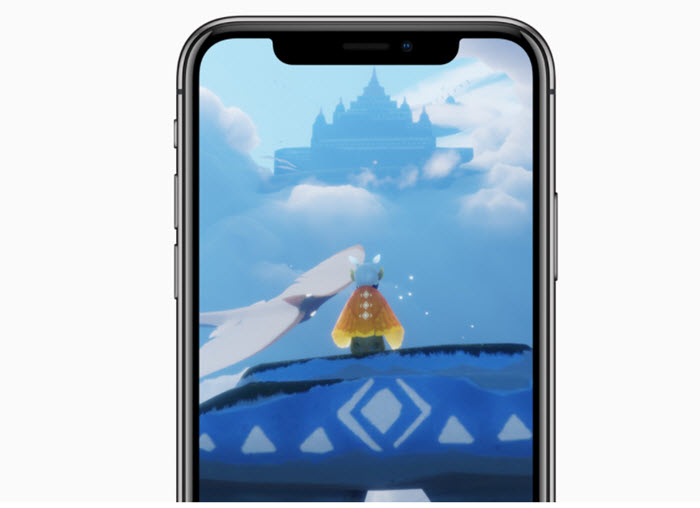 Features and Performance of A11 Bionic on iPhone X/8/8 Plus
TSMC is developing the A11 processor for the much awaited iPhone 8, iPhone 8 Plus, and the surprised iPhone X. It's much more advanced than the same fin filed-effect transistor process that iPhone 7, iPhone 6s, iPhone SE, and iPad Pro series use.
This amazing A11 Bionic processor would be a significant improvement on the existing 64-bit A10 processor in terms of CPU performance, speed and Graphics. Of course we all know that speed is a major advantage iOS apps have over android apps.
A11 Bionic on iPhone X/8/8 Plus: 20% increase in speed & 40% decrease in power consumption
Taiwan Semiconductor Manufacturing Company (TSMC) affirmed that A11 is built with a 10-nanometer technology. This means a 20% increase in speed and over 40% decrease in power consumption. A second-generation performance controller and customer battery design is applied in A11 Bionic that helps to last up to 2 hours longer between charges than iPhone 7. We expect that the transition to 10 nanometers would most likely mean that the A11 would have more features and functionality than its predecessor.
Of course, A11 Bionic chip on iPhone X/8/8 Plus is faster than the A10 and A10X as well.
This is not surprising because from antecedent, the new processor is usually a better version of the previous chip in terms of power consumption, CPU and Graphics performance.
Fillers from many quarters suggest that TSMC is poised to make 100 million of the A11chip this year. Will that number be sufficient enough for iPhone X/8/8 plus as Apple decides to release it this year? Will the company rake in as much profit with the iPhone X/88 Plus like it did with iPhone 7? These and more questions flood the minds of iPhone enthusiasts.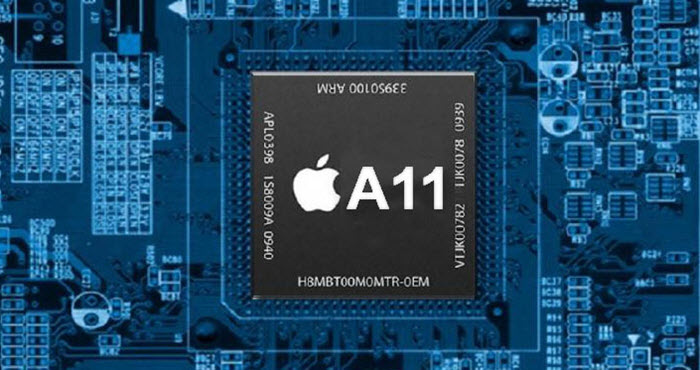 A11 Bionic on iPhone X/8/8 Plus: Test Scores
The A11 Bionic on iPhone X/8/8 Plus has already been put through Geekbench test and the result is mind-blowing. It scored over 4537 points in the Single core and about 89000 points in the Multi-core test.
The score is quite impressive compared to those of the Snapdragon 835 of Samsung Galaxy S8 which scored about 2059 and 6460 in the single and multi-core tests respectively. It even performed better than the A10 processor with 3505 and 5919 in both tests.
There has been some insight into the performance of the chip. It is being speculated that, the iPhone X/8/8 Plus A11 will also be running on a quad-core processor just like the A10 and would be powered by two high-performing cores running at 2.74GHz and two other energy cores to perform all kinds of tasks.
The trend has always been that the iPad version of the A series chip would have a better CPU performance on a core-to-core than its iPhone counter. For example, the A10X chip was better, and even had more cores than the A10. People wonder whether the A11 would maintain the status quo or change it.
Apple Tenth Anniversary: New Version of Processor
This year 2017 came with a lot of hopes. Apple lovers had predicted by their tenth anniversary, Apple releases a new version of its Processor. Apple was set to do just that. As a matter of fact, Apple designed the layout of the Chip and outsourced the fabrication of its component to TSMC.
TSMC have produced the A11 Bionic processor in April 2017. This didn't happen because of the back-end process issues. According to 'Digitimes', those issues have been resolved and the A11 Processor would soon be released.
TMSC started mass production of the iPhone 8/8 Plus Processor in June 2017 which would also be compatible with the new iPhone X.
The new devicse will come with a 3GB RAM and will be available between September and November. Howbeit, we believe that the iPhone X/8/8 Plus would be faster and more efficient than the iPhone 7. They would be a further improvement on the intuitiveness of 'Siri' and data security would not be compromised.
How to Deal with Old iPhone if Plan to Buy the New iPhones
Although all we hear are mere rumors and speculations, it is pertinent that all iPhone lovers brace up for the iPhone X/8/8 Plus and its A11 quad-core processor. Performance, storage and memory capacity as well as speed are a major concern for iPhone users and the reason for poor performance can be traced to the processor. If the test results are were not doctored, iPhone users have nothing to worry in terms of performance and power consumption.
Besides, we would like to introduce an amazing app that would permanently erase private data on your iPhone. If you want to buy one of the new iPhones and sell or recycle your old iPhone, then permanently wipe the old iPhone is necessary, in case to avoid privacy leak.
iMyFone Umate Pro or iMyFone Umate Pro for Mac erases private data, previously deleted files, and private fragments whenever you want it to. With it, you can preview every data on your phone and select the ones you want to erase. Whether it is messages, call history, contacts, photos and videos, browsing data etc.
What's more, the program is also an iPhone performance booster for your new iPhone X/8/8 Plus. Its '1-click cleanup' helps you clear up all kinds of irrelevant iOS files such Junk files, Temporary files, App Caches from third-party apps like Facebook, Whatsapp, WeChat, Viber, Kik, Instagram and many more that affect the performance of your device.
iMyFone Umate Pro supports all kinds of iPhones (iPhone 4 to iPhone 11/12/13), iPads and the iPod touch series.
Using it to erase your iPhone data is quite easy
Step 1: Connect your iPhone to iMyFone Umate Pro installed on your PC via a USB cable.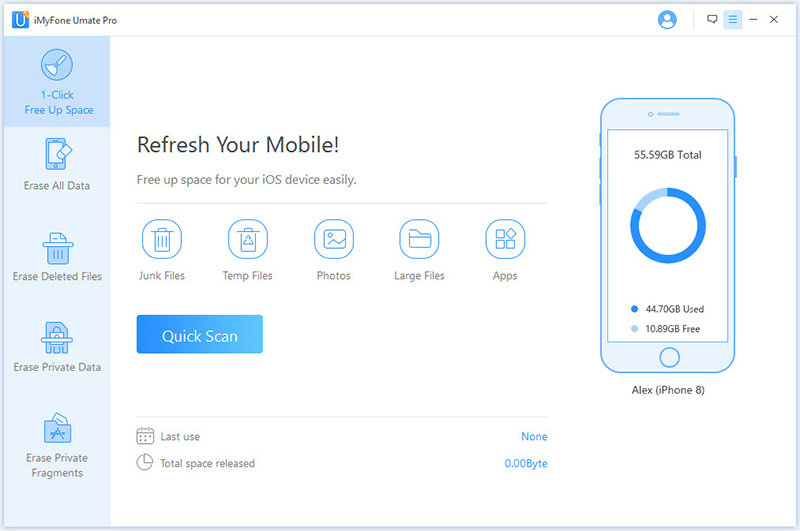 Step 2: Choose an erasing mode and scan your iPhone device for a full analysis of private data.
Note: if want to sell your iPhone, you're highly recommended to select the "Erase All Data" mode.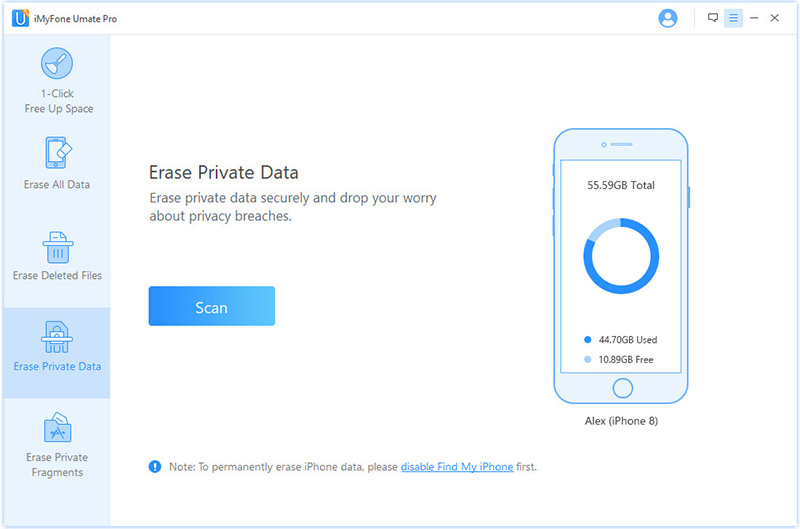 Step 3: Preview and select the files to erase and click on "Erase Now" button.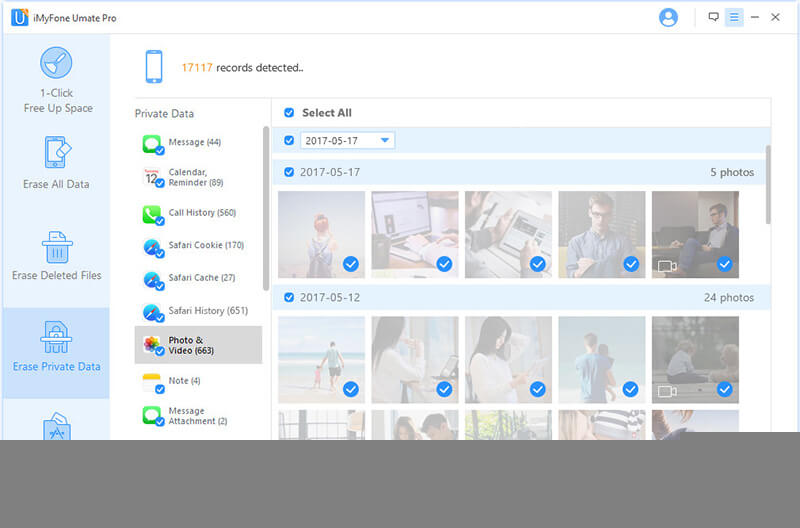 With this app, there is no need to be afraid of 'file recovery', because any file erased by Umate Pro on your device cannot be recovered. So, you can go ahead and sell your phone anytime you want and no one will steal your data.