Are you worried about "How to change the background on iPhone 13/12? If yes, then do not go anywhere for help because we are here to help you. Feel free to change the wallpaper of your new phone with this easy and simple guide. Read this full article very carefully so that you do not skip any steps while changing wallpaper. Following are some of the ways of changing the wallpaper easily.
1. How to Change the Background on iPhone Settings
Changing the wallpaper on your home display/lock screen is quick and clean by following the steps below:
Step 1. Open the Settings on your iPhone.
Step 2. To find the Wallpaper option and tap it to be taken to the current images you have set.
Step 3. Tap Choose a New WallpaperThen select a photo you would like to set as your background.
2. How to Set or Change the Wallpaper on iPhone from the Photos App
How to set wallpaper on iPhone? Right here's how you could use the pics app in iOS 15 to assign new touch photos, set a wallpaper, start a slideshow, or even show off your snapshots on your iPhone 12/13.
1. Launch the Pics app, and tap at the photograph you want to use to open it.
2. Tap on the Share button.
3. Discover and tap Use as Wallpaper on the lowest menu.
4. Tap Set when you're satisfied with the site.
5. Pick the display to which you'd like to characteristic this wallpaper.
6. Set Lock display screen to set the picture as your Lock screen wallpaper; tap Set domestic display to set it as your private home screen wallpaper.
7. Set both to make the image your wallpaper for both your property and Lock monitors.
3. How to Set Multiple Wallpapers on iPhone
This article will also tell about having multiple wallpapers on iPhone.
You can follow the steps below to set multiple wallpapers on your iPhone.
Step 1. Add a background image album.
Create an album called Wallpapers&quot in the Photos application. Then move the background images you want to rotate to this album.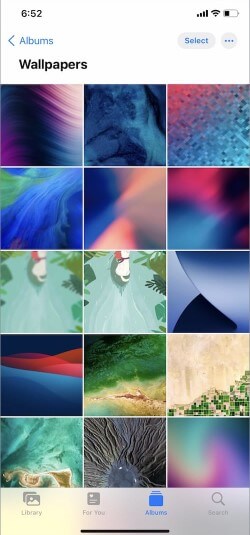 Step 2. Allow untrusted shortcuts.
Go to Settings→Shortcuts and enable Allow untrusted shortcuts. Click Allow and enter your password to change the settings.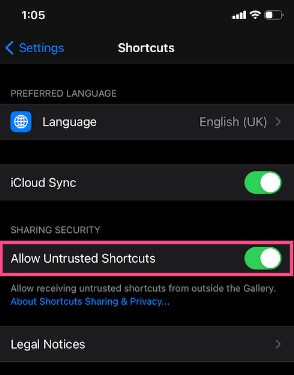 Step 3. Install the AutoWall shortcut.
1. Go to the AutoWall shortcut web page and tap Get Shortcut. Then scroll down and tap on Add Untrusted Shortcut.

2. Open the Shortcuts application and touch the My Shortcuts tab.
3. Tap the 3-dot AutoWall shortcut button.
4. Touch Allow access, then touch OK to give AutoWall permission to access your photos.
5. Touch the text Recent next to the album.
6. Select the album Wallpapers you just created from the list. You can also select any other album that has images that you want to rotate?
7. Touch done at the top right to save your changes.
8. The shortcut to change the background image is now ready. See the next step to configure automation.
Step 4. Configure Automation on Shortcuts
1. Type in Shortcuts on the Automation tab.
2. Tap Create Personal Automationor tap the + icon in the upper right corner and choose to Create personal automation.

3. On the New Automation screen, tap the Time of Day option.

4. Make sure to select Daily as the frequency and then tap Next.
5. Touch the Add Action button. Then select Run Shortcut.
6. Tap on Shortcut and select AutoWall from the list and tap Next.
7. Turn off the Ask before running switch and select Don't ask to confirm.

8. Touch Done. Your automation is now configured.
9. The home screen and the lock screen background image will now change at the set time. You will also receive a shortcut notification that the automation has run.
Bonus Tip: Recover iPhone Data with iMyFone D-Back
Are you nervous about losing messages, photos and the other kinds of data on iPhone? Accidentally delete the vital data that you need in a moment? iMyFone D-Back which is an expert in helping people recover iPhone and WhatsApp data can ultimately solve your losing data peoblem.
1,000,000+ Downloads
Key Features:
Supports to recover deleted/lost videos, photos, contacts, messages, WhatsApp/Kik/WeChat/Viber messages and more files from iDevice;
Allows you to preview and selectively extract data from iTunes or iCloud backup files;
Compatible with the newest iOS devices, such as iPhone 13/12/11/XS/XR/X/8/7/6s/6/5s/5C, iPhone SE, iPad Pro, iPod touch running iOS 15/14/13/12/11/10/9/8/7;
Add a new function - "Fix iOS System" which allows you to fix several common errors on iOS devices, such as iPhone stuck on Apple logo/black screen/white screen.
FAQs about Changing Wallpaper on iPhone
Q1. How do I Change the Background Color on My iPhone
1. Start the Settings app.
2. Tap widespread after which faucet Accessibility.
3. On the Accessibility web page, tap show lodges.
4. Tap coloration Filters.
5. Switch on shade Filters by way of swiping the button to the right.
6. Choose the shade filter out great suitable on your sight wishes.
Q2. Can I Set Video as the Wallpaper on iPhone
You can't put a video as your wallpaper on an iPhone, but you may use a live picture. Live pictures are pics that still capture pictures for a few seconds after you take a photograph.
Q3. How can I Make My Wallpaper Change Automatically
1. Open the Shortcuts app→tap Automation→tap Create private automation.
2. Subsequent, pick out the Time of Day alternative.
3. On the subsequent screen, set the time and frequency in your automation.
4. Now, tap subsequent accompanied via tapping upload action on the subsequent display.
4. Please search for the Run Shortcut movement and choose it.
5. Tap next. Now, disable Ask earlier than jogging to make certain that the automation is induced automatically.
6. In the end, the tap achieved to finish setting up the automation.
Q4. Can I Have a Different Background for Each Page on iPhone
Yes, we can choose as many as seven wallpapers for each interface page at the device. If it's far a Paranoma photo, you need to pick a massive photograph to convert each scene in every interface on every web page without breaking the image.
Conclusion
In this article, we offer you some ways to change wallpaper on your iOS device. Hope the methods that provided in this article can ultimately help you change the wallpaper on your iOS device. By the way, if you worry about losing iOS data you can free download iMyFone D-Back to have a try.