If you are an iOS device owner, you may have heard of iOS system repair tools like iMyFone Fixppo. Although each one is built differently, these tools are primarily designed to repair the iOS system and get your device working normally again after experiencing some iOS issues.
Here, we are going to take a closer look at iMyFone Fixppo, one of the best iOS system repair tools in the business. Does it work and how can you use it to ensure the best results?
Part 1. What is iMyFone Fixppo?
Let's begin with the most logical step: what is iMyFone Fixppo?
In the simplest terms, iMyFone Fixppo is an iOS system repair tool. It is the go-to solution when your device is unresponsive, stuck on the Apple logo, the black/white screen or stuck in recovery mode.
It is designed to restore the device to normal functionality by fixing the iOS system itself. To do this effectively, Fixppo uses the most advanced technology, compressing it into a simple program to use which has been trusted and recommended by a lot of media sites.

Part 2. Does iMyFone Fixppo Work?
One of this program's greatest advantages is that it will work to fix all iOS issues regardless of what caused them. But it would be very easy for us to tell you that it works. This is the reason why we have endeavored to provide a free trial version that you can use to test the program's ease of use and functionality.
The positive feedback we've gotten from previous users is also a testament to Fixppo's ability to repair an iOS system quickly and effectively. Our users vary across the world and each had a somewhat unique iOS problem that Fixppo help them with.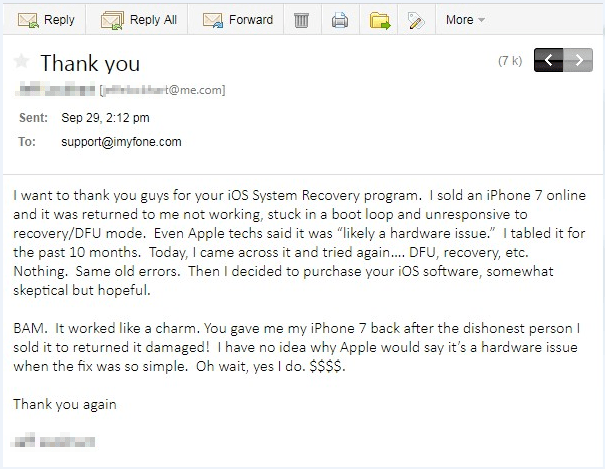 Part 3. Will iMyFone Fixppo Help Me? Various Scenarios Here
Like we already mentioned before iMyFone Fixppo can fix nearly all iOS issues. The following is a breakdown of just what Fixppo can help you with.

| iMyFone Fixppo | Standard Mode (No Data Loss) | Advanced Mode (Data Loss) |
| --- | --- | --- |
| All iPhone Stuck issues including iPhone stuck in recovery mode, Apple Logo, Spinning cycle, boot loop, black/white screen of death | Yes | Not needed |
| Unresponsive device problems including a device that won't turn on, a device that won't restore or an unresponsive screen | Yes | Not needed |
| All tvOS issues | Yes | Short |
| Fix errors when Standard Mode fails | No | Yes |
Part 4. How to Use iMyFone Fixppo
As you see, once you open the program, it comes with three main modes of recovery. Here's how to use each one of them.
The Standard Mode:
This mode is ideal for the repair of all common iOS issues. Follow these simple steps to use it.
Step 1: Open Fixppo and select "Standard Mode". Connect the iOS device to the computer using USB cables and unlock it.
Step 2: If the program is unable to detect the device, follow the on-screen instructions to put it in DFU/recovery mode.
Step 3: You will then be presented with various versions of firmware compatible with the device. Select one and then click "Download".
Step 4: Once the download is complete, simply click "Start" and the program will begin to repair the device. Keep the device connected until the process is complete.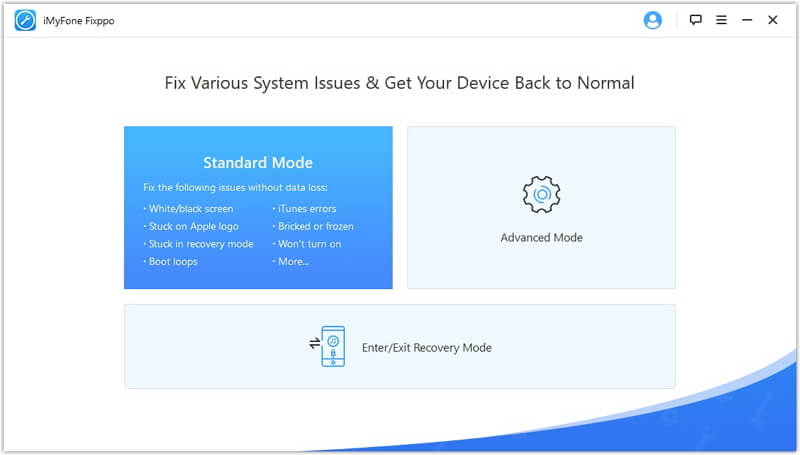 The Advanced Mode:
This is the mode you should choose if the standard mode fails to fix the device.
Step 1: In the main window, select "Advanced Mode" and then connect the device to the computer using USB Cables.
Step 2: Click "Download" to download the necessary firmware for the device.
Step 3: Click "Start" and the program will immediately begin repairing the device.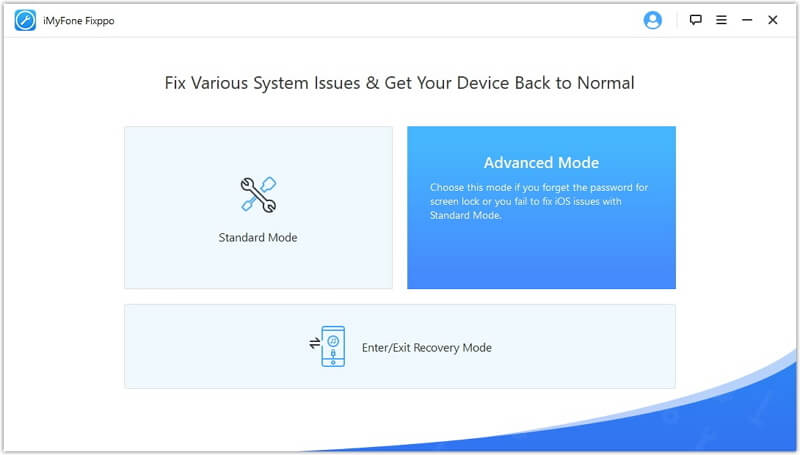 Keep the device connected until the process is complete and please note that the advanced mode will cause data loss.
Enter or Exit Recovery for Free:
Sometimes, to fix an iOS device, you need to put it in recovery mode. But since the procedure often requires several of your device's buttons, putting the device in recovery mode may not be easy if the buttons you need are broken. Fixppo can help you easily enter or exit recovery mode on your device.
Step 1: On the program's main window, click on "Enter/Exit Recovery Mode" and then connect the device to the computer using USB cables. Click "Next".
Step 2: Click on "Enter Recovery Mode" to put the device in recovery mode.
Step 3: Once the device is in recovery mode, "Exit Recovery Mode" will be clickable. Click on it to easily exit recovery mode.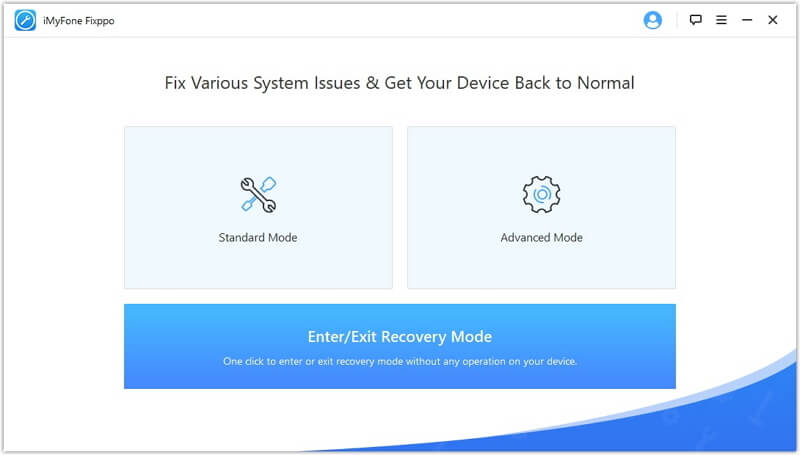 Part 5. Differences between iMyFone and iTunes
At this point, you may be wondering why not just use iTunes to restore the device? The following are some of the differences between iMyFone Fixppo and iTunes.
Data Loss
With iTunes, restoring your device will cause a total data loss even if you have a backup. That means you will lose all the current data on the device.
In sharp contrast, Fixppo is able to fix your device without any data loss. The only time you might lose some of the data on your device is when you use the advanced mode and most of the time, the standard mode is sufficient.
Ease of Use
Fixppo is very easy to use as you can see from the simple step above. Using iTunes, on the other hand, can be very difficult especially when you need to put the device in recovery mode if you are not tech-savvy.
Errors when Fixing the Device
If you have ever used iTunes before you've probably faced problems with iTunes errors or iTunes failing to recognize the device.
Fixppo doesn't have these problems. In fact, Fixppo is an ideal solution for some of these iTunes errors.
Conclusion
The next time when you have iOS problems on iPhone, iPad and iPad touch or iTunes doesn't work or you don't want to lose the data on your device, consider using iMyFone Fixppo. Not only is it easy to use, but it is also highly reliable and can be used to fix all iOS related issues with no data loss.