Question
Hi there, my iTunes is stuck on waiting for iPhone for hours and won't proceed at all. I was updating my device to the iOS 16. Unfortunately, it didn't succeed, and my phone started to show iTunes logo and asked me to connect to iTunes. I then try to restore the iPhone using iTunes, but it is stuck on waiting for the iPhone now. My iPhone is well connected and I have no clue about why this is taking this long to complete. It's been 2-3 hours now. I guess it won't finish itself! Please help!
Well, this issue may have cropped up due to a couple of reasons which we are going to discuss in the former part of the article. Then we will offer 4 most effective solutions for the problem too. For now, let's understand why you're iTunes is stuck on waiting for iPhone.
Basically, you're more likely to experience "iTunes stuck on waiting for iPhone" issue while updating or restoring your device (including restoring backup) and there is interruption or disconnection between the iTunes and your iOS device.
It could have happened either due to faulty USB cable/port, improper connection, obsolete iTunes version or some important device driver file on your PC that helps to detect your iOS device may have got corrupted.
Let's now understand what to do to resolve "iTunes stuck on waiting for iPhone" problem.

Here you can find a brief view of each method.
| | Difficulty | Required Time | Success Rate | What Can Be Solved |
| --- | --- | --- | --- | --- |
| iMyFone D-Back | Easy | Short | 100% | All system/software issues |
| Check USB Cable | Easy | Short | 10% | Only USB cable issues |
| Update iTunes | A little complex | Long | 50% | Only iTunes issues |
| Change a Computer | A little complex | Depends | 10% | Only computer issues |
1. Use iMyFone D-Back to Fix Your iPhone without Data Loss
If you are reading this article, we can understand the issue is still troubling you. Fret not! This solution will certainly help you to put an end on all your iOS related problems. Moreover, you'll be able to restore or update your iPhone in a hassle freeway. Yes, iMyFone D-Back is a one-stop solution that can efficiently fix all the iOS related issues prevailing on your iPhone with its 'Fix iOS System' feature.
Along with fixing up your device, this tool also automatically fixes your device and restores it back to its normal working state. On top of that, you also have the option to recover almost all your lost data with its data recovery feature. What's more, the 'Fix iOS System' feature can fix the iOS issue with your iPhone without data loss.
Powerful, isn't it? The common iOS problems it can fix are iPhone stuck on recovery mode, iPhone stuck on Apple logo, iPhone stuck on a black screen with white Apple, iPhone stuck on a white screen with black Apple, and more. Many users' experiences prove that it can fix the problems that iTunes cannot do.
It offers a 100% success rate for repairing the system issues.
It supports all iPhone models and iOS versions, including the latest ones.
It has already been trusted and recommended by many professional websites.

A Step-by-step Guide to Bypass "iTunes Stuck on Waiting for iPhone" Problem
Here's the step by step guide to fix your device without experiencing the issue "iTunes stuck on waiting for iPhone".
Step 1: Get iMyFone D-Back installed over your PC and then launch it. Now, hit on 'Fix iOS System' tab from the left panel menu. Now, get your iDevice established with your PC using a genuine lightning cable.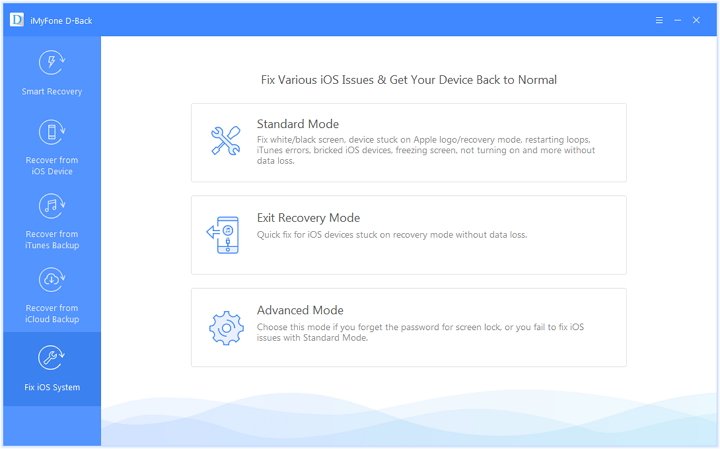 Step 2: Next, hit on 'Standard Mode' and you'll then be guided with on-screen instructions to put your device in Recovery/DFU mode. Follow the instructions properly.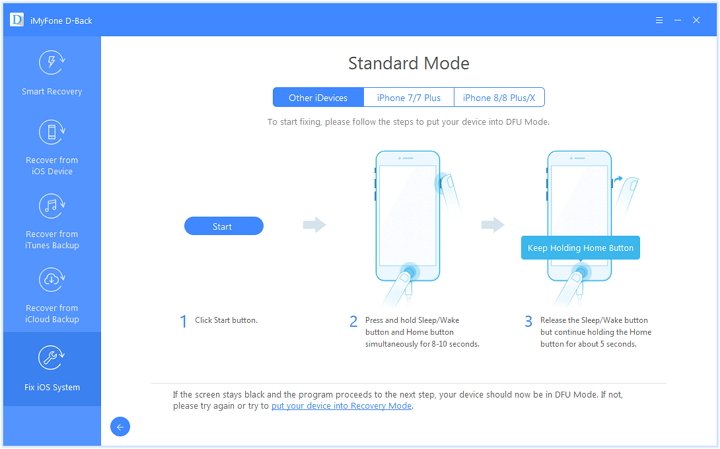 Step 3: Upon successful booting of your device in Recovery/DFU mode, the most recent and compatible firmware version will automatically be detected by the software. Hit 'Download' afterward.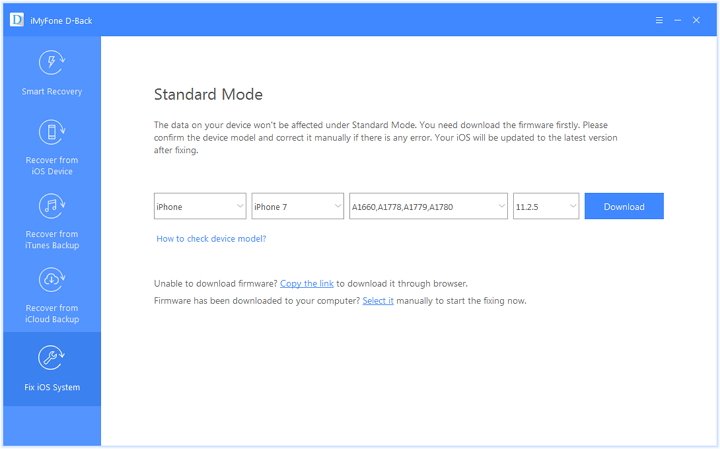 Step 4: Once the firmware gets downloaded, hit on the 'Start to Fix' button to initiate the fixing and the updating process.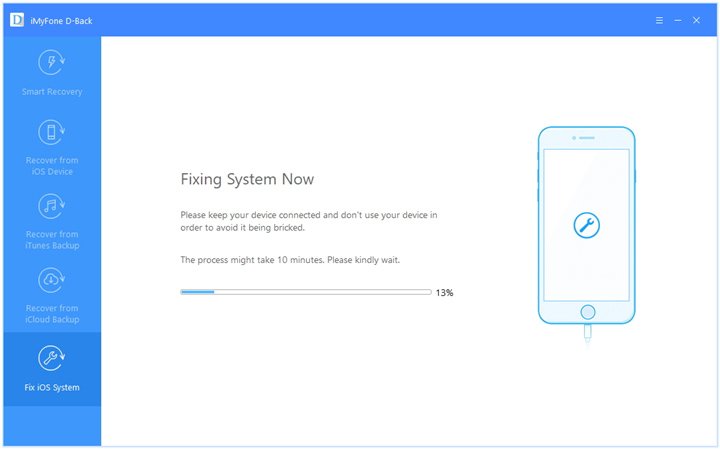 2. Check the USB Cable and Port
First and the foremost thing that you should do when iTunes stuck on waiting for iPhone is to check if the USB cable used to connect your iPhone to the PC is a genuine one. If it is already a genuine lightning cable, you must ensure that there is no dirt or debris in the 'Cable and USB port' that is halting the connection. Clean it properly and try again to check if the problem resolves.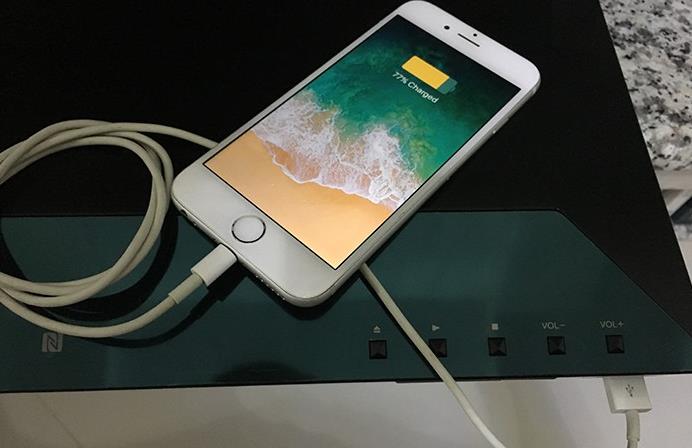 3. Update iTunes to the Latest Version
In case you're still experiencing the problem that your iTunes is stuck on waiting for iPhone, we suggest you ensure that the latest iTunes application version is installed on your PC or else. Otherwise, you're destined to face several unknown errors like iTunes stuck on waiting for iPhone. For Windows users, please open iTunes, go to Help, and then click Check for Updates. Finally, you can follow the on-screen prompts to finish the update.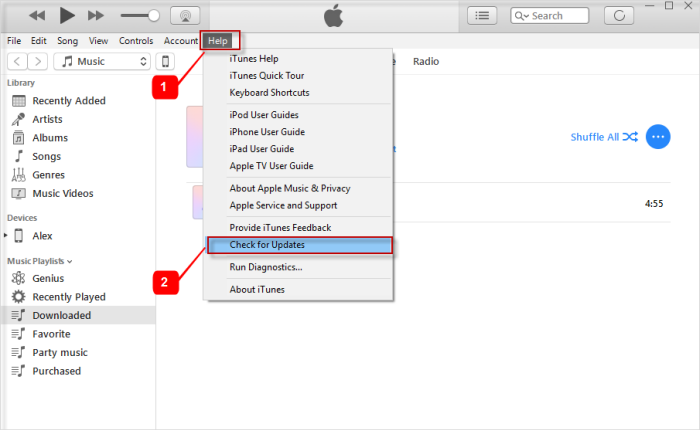 For Mac users, please go to App Store and check if there is a new version of iTunes. If there is, just click the Update button.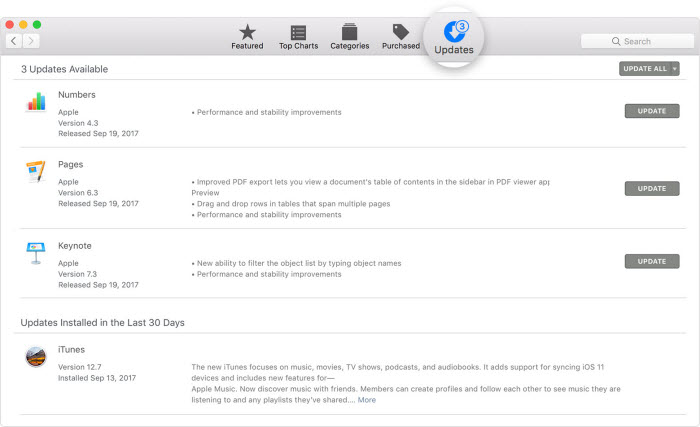 If you meet some problem when updating iTunes by checking for updates on iTunes, you can also completely uninstall the already installed iTunes application and its related components in the same order as describe below and then install the latest iTunes version.
iTunes
Apple Software Updates
Apple Mobile Device Support
Bonjour
Apple Application Support 32-bit
Apple Application Support 64-bit (if available)
4. Try Another Computer
The problem that iTunes is stuck on waiting for iPhone hasn't been resolved yet? Well, it is more likely that the problem is underlying in your PC. As discussed earlier some important driver file of your PC may have got corrupted and hence, you're experiencing this miserable situation. Try updating or restoring your iPhone using another computer to confirm if it is just your PC or some other problem is halting the process, eventually, iTunes is stuck on waiting for iPhone.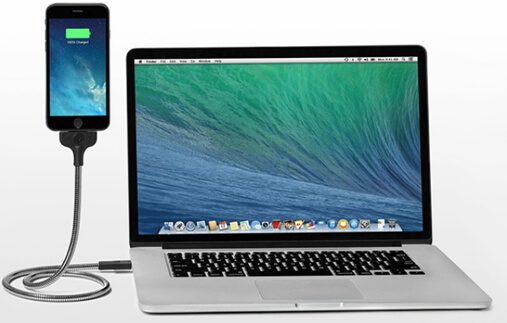 After checking all the details of each method, you may be able to make your final choice. Feel free to try the one you trust.