With more and more functions, iPhone is easier to run out of space than ever, especially when 4K video shooting is feasible on iPhone 6s and 6s Plus. It becomes urgent for iPhone users to free up space on iPhone every now and then.
How to Free up iPhone Space on iPhone
1

Tricks in "Settings" to Manage iPhone Storage
There are a whole lot of clever tricks to free up iPhone space from the settings button. We are going to look at 3 of them:
If you probably want to rent a film on iTunes that is bigger than the amount of space left on your iPhone, just click on "Rent" and a prompt appears saying not enough space available to rent the film with a choice of clicking OK or Settings. Now, tap "Settings" and it takes you to the settings menu where the amount of space would have considerably increased.
Another trick is to find out how much space you actually have left on your iPhone. Now go to your app "Settings", click "General" and select "Usage". This will show you a list of apps that are unnecessarily consuming space and help you take decision on them.
You can trick the camera settings of your iPhone so that it reduces the amount of space when taking photos and recording videos. Go to Settings > Photos & camera", then toggle and change settings for photo and record video to free up storage on iPhone.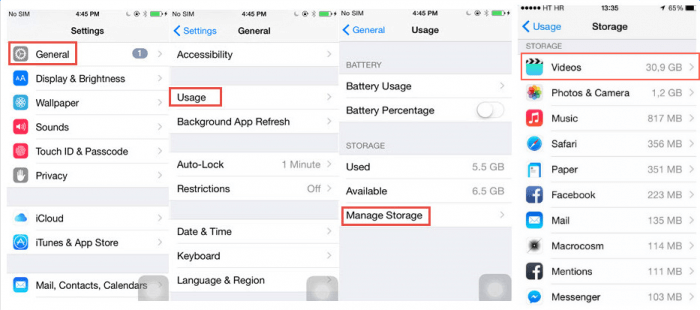 ---
2

Free Way to Clear up Useless iPhone Files
Accumulated caches, crash logs and temp files not merely take up huge storage of your iPhone, but also slow down the iPhone speed. Generally, such useless files include junk files, temporary files, app caches, corrupted files and some previouslty deleted files. And to remove these files, you can try the free trial version of iMyFone Umate Pro or iMyFone Umate Pro for Mac. The program can operate multiple space-releasing works to your iPhone, including removing junk files, temporary files etc.
Part 1: Clear up Accumulate Junk & Temporary Files
With more than 25 analyzing technologies, iMyFone Umate can perform space-saving analysis by clicking "Quick Scan" on home interface. After scanning your iPhone, how much space can be saved by the powerful functions of iMyFone Umate will be showed clearly on the interface.
By clicking "Clean" button on the right bottom corner, you can free up huge storage on iPhone by removing junk and temporary files. This is the free function of Umate Pro, it will cost your nothing!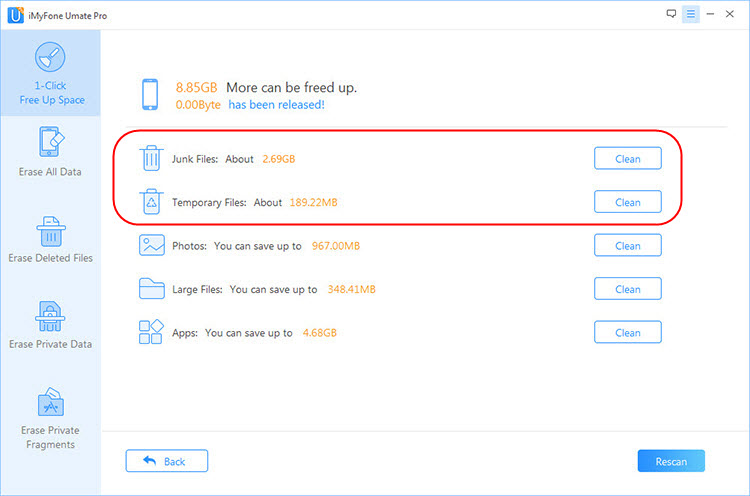 Part 2: Erase All Previously Deleted Files
We can delete easily unwanted files from iPhone. However, these deleted files won't leave your iPhone immediately, they still exist on the device before being completely overwritten, even though we could not see them. The deleted data not only eat up space but also will lead to privacy leak, as it can be recovered by data recovery software. So for freeing up space on iPhone and protecting privacy, we should erase also deleted files.
You can use the free trial version of Umate Pro to scan your iPhone and find out the deleted files, the program even give you the option to preview these files, to confirm if they contain sensitive data.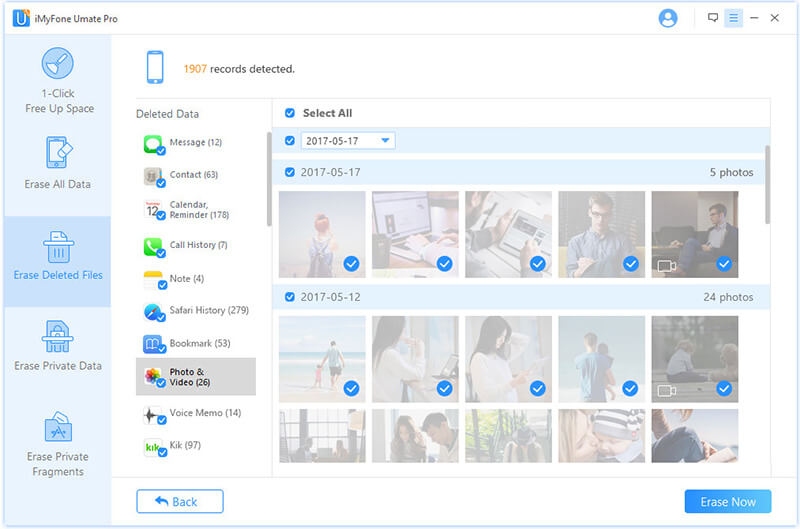 Other Powerful Functions of Umate Pro
Photo Compression : This is a double-gain process: releasing massive photo space and backing up your photos on PC automatically.It can release 75% of your photo storage by compressing them.
Large Files Deletion: The program can list all the videos over 5MB on your iPhone. You can filter those videos according to the size you want and then delete them to free up space on iPhone. Before deleting , all the selected large files will be backed up to your computer
Apps Management: It can list all your apps according to the space they take up, including the app itself and its downloaded files. And you can browse the app list to figure out which apps are seldom used, then delete them.
Permanent Data Erasing - Umate Pro can erase sensitive iPhone files, all iOS file types supported, and the erased data cannot be recovered by data recovery tools, it is 100% unrecoverable!
---
3

Delete Duplicate Photos & Optimize Photo Library
Do you know that when you use the HDR mode to click photos in your iPhone, there are two copies of every photo saved in your phone? This is true. After clicking a photo in HDR mode, you will see a normal version of the photo and an HDR version. To free up iPhone space, you can delete the normal version if you want to keep the HDR version to save space.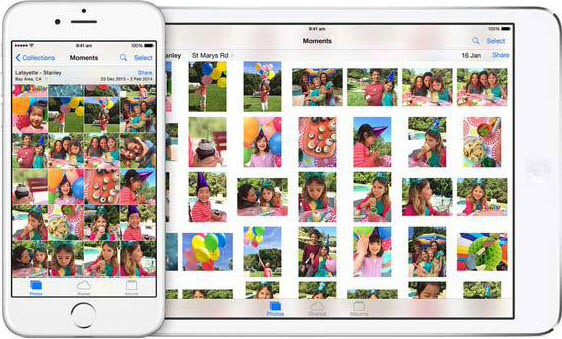 Other thing you can do with photos is to optimize photo library. You will be able to reduce the size of all your photos by having them displayed in device icons rather than high resolution images. All you have to do is go to Manage Storage from settings and look for the size of the photo library.