You can also read this guide in Français.

Apple has been stuck with 16 GB of storage, ever since it raised its standard level of storage in 2009, when it introduced the iPhone 3GS with 16 GB of storage. Like other devices, iPhone does not have unlimited memory and the iPhone 6/6s is not an exception. Let's have a look at the full of iPhone 6s:
16 GB: $649, so $40.56 per GB
64 GB: $749, so $11.70 per GB
128 GB: $849, so $6.63 per GB
If you have bought an iPhone 6s 16GB, the question is that: is 16 GB enough for iPhone, especially if you have to take many photos and videos? The answer is No!
16GB is nowhere near enough for iPhone 6s. But 100$ to get more storage is expensive! So, at some point, you will have to find a way to maximize your storage space, to get the best out of your device and this is what we shall see.
---
Method 1

Transfer Data to iCloud, PC, Dropbox etc

You can save a lot of space on iPhone by transferring data to iCloud, PC etc. It is one of the simplest ways to backup data and to make iPhone 16GB enough. iCloud backup are very handy and very easy to set up in such a way that once done, they automatically run at the background each time your iPhone is plugged in and is connected to Wi-Fi.

Creating and using the iCloud service just requires you to create an iCloud account which is normally done when you set up your device. To set up iCloud, go to settings > iCloud > Backup.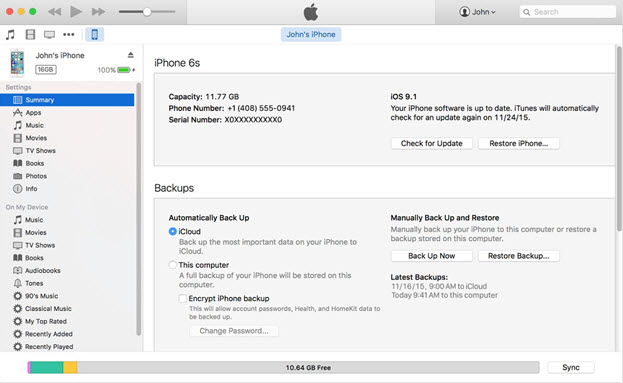 Your iPhone will automatically transfer your data without you being involved.
You can also move all iPhone photos and videos to a computer/Mac, as well as Dropbox, and keep it as a primary backup, then just delete all pictures and video from your iPhone/iPad/iPod Touch. This will also save you a lot of space.
---
Method 2

iMyFone Umate Pro – One Click to Free up Huge Space for Your iPhone

16 GB Storage is certainly not enough for your iPhone 6/6s, as it will prevent you from storing unused data on the phone. To make 16GB enough for iPhone, you will have to free up your iphone space. iMyFone Umate Pro or iMyFone Umate Pro for Mac is the world's no 1 iPhone cleaner to free up huge space for your iOS devices.
Junk files cleanup, including App caches, cookies, crashlogs etc.
Deletion of massive temporary files to make your iPhone run faster
Photo compression or deletion with back up for original photos
With an auto backup on PC, the program will delete all iPhone large files over 5MB
Mass remove unused Apps to recover huge iPhone storage space
To save space for your iPhone, just connect your iphone, scan your iphone and one click to release massive space and the problem will be solved.
---
3 Little Tips to Save Space for Your iPhone
If you do no want to choose the methods above, there are also some little tips t get iPhone storage back. The difference is that iMyFone Umtae can do all the following things by several clicks, but do it manually will be a little complex, and also it's possible that you won't get so much space back by do it manually compared with a professional software.
Tip 1. Delete Completed Games and Unused Apps
This could be one way to get space for your iPhone. It looks too common but it goes a long way to free space for your device. So many unused apps that eat up too much space. It is always better to uninstall these old and unwanted game apps to free up space for fresh iPhone content.
Tip 2. Use Standard Definition Videos
Compared to HD videos, Standard definition videos can save huge storage space. You can prefer standard definition videos via Setting App, so as to save iPhone memory space. This just works like a magic.
Tip 3. Clear Your Safari Cookies and Data
Safari reading list gives you the opportunity to save pages and articles in order to read them later. In fact, when a page is added to your reading list, what safari does is to temporarily bookmark the page in addition to making it accessible offline. Unlike Bookmarks, safari reading list can be discarded when we have read what you have saved on the reading list because they can eat up the storage of your iPhone. Clearing your safari cookies and data from time to time will help save space on your iPhone.