Apple shocked fans with the iPhone SE's low $399 price tag. Apple's decision to stick with 32GB as the base storage tier for new iPhones is related to its bottom line. The SE is an update to the former iPhone 5S bringing all the new features of the iPhone to an old form factor. One of those models is the 32GB storage one which is crazy this day in age given all the SE can do. This includes higher quality photos, 4K videos, and all the new gen apps for iOS 12GB of storage for this phone is simply not enough!
If your iPhone SE is limited to 32GB storage, you are surely to run into storage issues when taking photos, installing apps, or trying to capture that great moment on video. This means constant deleting of photos/videos & many other tricks just to free up space. 32GB isn't even an accurate representation as iOS in itself takes up several gigabytes & you'll need space for future software updates. So there's several things you'll need to do from manual management of moving media off your device or getting other physical devices to move your data to.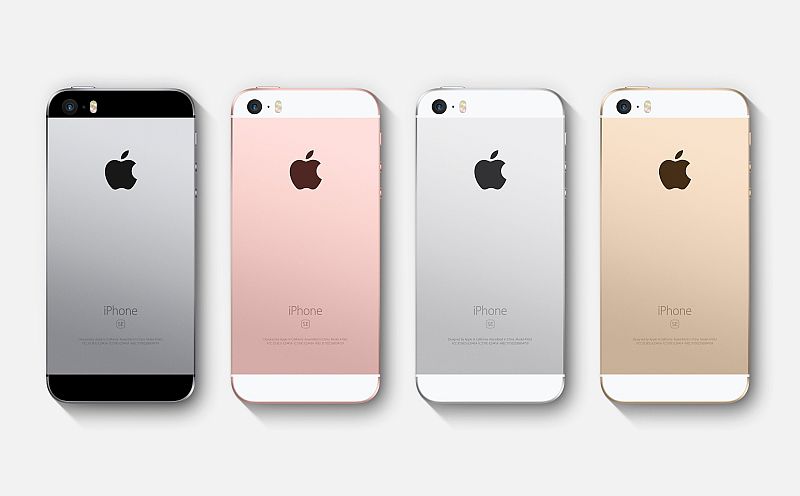 If your stuck with the 32GB SE then you have to make way with whats available to you.
What You Need to Do When You Get 32GB iPhone SE iOS 12
1. One-Stop Solution to Free up iPhone SE iOS 12
Another alternative to free up and maintain iPhone SE iOS 12 storage capacity would be to use some professional software -- iMyFone Umate Pro. Through iMyFone Umate you could easily save storage with several features. Be it getting rid of junk files, cleaning temporary files,compressing photos, deleting large files or removing unwanted apps just as simple as one click! This allows you to easily free up storage without any external hardware needed making it convenient and cost effective. You can even test out a free trial to see just how much space you can save on your iPhone SE iOS 12.
Key Features:
Clean 30+ Junk files to free up iPhone
Clean massive temporary files to clear up iPhone
Compress photos losslessly to save space
Delete photos or large files over 5MB with auto backup on PC
Manage and remove unused apps to release iPhone space
Completely erase all data from your iPhone, 100% unrecoverable
Seletively erase some private data with ZERO chance of recovey
Deleted files can be scanned out and completely erased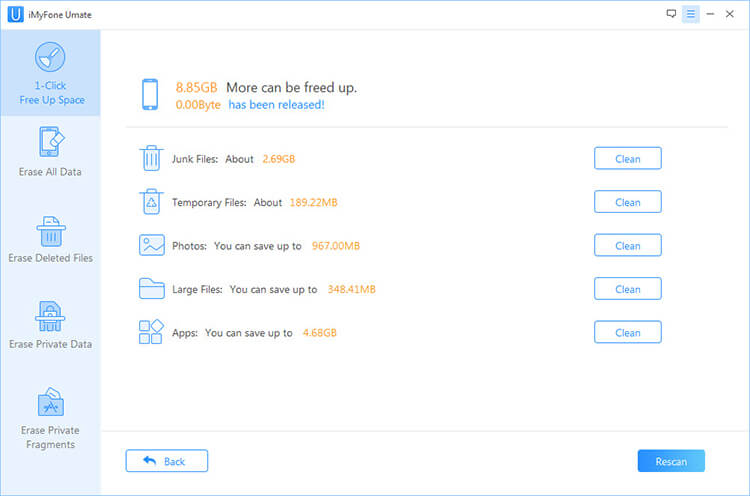 Furthermore iMyFone Umate allows you to keep those photos you love to show so much and your iPhone SE iOS 12 while reducing the file sizes. Never again having to worry about filling that iPhone SE storage space when you plug in & simply click through the app and do a full clean or specific area. Clearing junk files, temporary files, reducing photos, seeing all your large files, and biggest apps all in one application. Displaying all your space saving options and simplifying the process to a single click.
Don't Miss out the Software Review of iMyFone Umate >>
2. Use USB flash Drives to Expand Storage
You can use physical media such as a flash drive that can connect to your phone via certain hardware or exporting out to your phone. This can involve buying lightning to USB adapters or direct lightning to flash drive devices. This allows you to store data external onto a flash drive like you would a USB & a computer. Another alternative export would be to store the data on your computer via connecting your iPhone SE to your mac/pc. This frees up iPhone SE storage space while keeping your data backed up elsewhere.
By connecting a small and lightweight thumb drive directly to your iPhone SE, you can avoid limitations of onboard storage and cloud services and instead store and stream media like music, video, and photos using the drive's additional storage.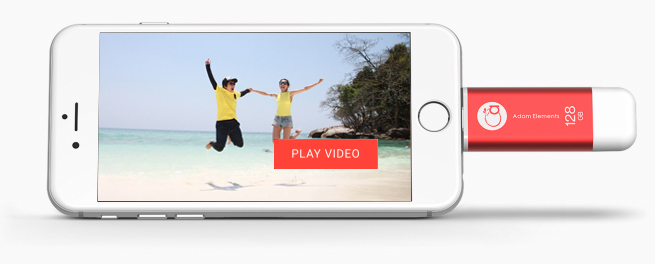 3. Some Other Tips to Save Storage on iPhone SE
Remove Unused Apps
Many iPhone users will download apps that they need for just a moment and like install many same types of apps on their device. Simply uninstalling all those apps you only use once every month and installing them when needed helps free up space on your iPhone SE iOS 12.
Delete Photos and Videos
Removing those photos or videos which take up space on your device. Because this is typically the most common factor when it comes to full iPhone SE iOS 12 memory. The higher quality photos & videos on the SE makes this even more common. So you can export it out to your computer & delete them from your phone to save a bit of space. Apple also offers an iCloud service that allows you to store data in the cloud which can also save quite a bit of space depending on how many photos/videos you take.
Clear Safari Caches
When you access the internet in Safari on your iPhone or iPad, the browser creates a history of the websites you visit that will take up much space on iPhone. You can clear browser history and data that will help in increasing privacy safety in Safari but retrieves some of the storage that these files occupy.
---
Conclusion
All in all the iMyFone Umate Pro is cheaper and easier to use. All you need is a computer and your lightning cable. Where as a solution such as a USB drive requires you to buy external hardware and once filled you required to transfer that data off adding an extra step. iMyFone Umate on the other hand makes saving space on your iPhone SE iOS 12 simple. Keep your files and get rid of unnecessary files that USB flash drives can't clear. The new great features on the SE deserve to be enjoyed at the fullest capacity regardless of storage space. While 32GB isn't enough on its own, iMyFone Umate make it manageable while allowing you to enjoy the high-def images, 4K video, and all your essential apps without hindering your experience. Plug, click, and save storage!