Threema and Signal are two of the best applications in the category of instant messenger. Open-source coding, encryption, AD-free, and iOS compatibility are some of the security features of these two instant messengers.
Even though both Threema and Signal have amazing features, you may only want to use one messenger. So which one is the better option for you?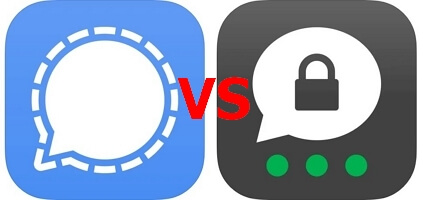 In this article, much emphasis will be laid on giving out well-detailed information on the difference between Threema and Signal.
Threema vs. Signal: Features
Let's have a look at the different features between Threema and Signal first.
Whether Free or Paid
The Signal is a free app while Threema is a paid app. It is glaring that most people always opt-in for free software packages rather than paid ones.
The fact that Signal is a free application is one of the main reasons why it has a far larger user volume than Threema. To put that into context, what you must do to utilize Signal is search for it on google play and install it. That's all! No need for subscriptions or payments.
Threema, on the other hand, costs up to $2.99, which is likely to drive customers away because other competitors offer free service.
Also, there is no free trial on Threema that permits users to check out their app before purchasing. While $2.99 isn't a large sum for most people, it can discourage many people from using the app.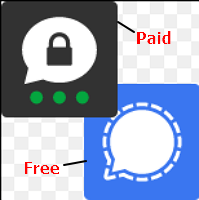 Available Platform
Both Threema and Signal apps are compatible with iOS and Anroid. However, the size of the Signal iOS App is up to 170.9MB, while the Threema desktop is 9.1MB.
You can use both messaging services on your PC. However, there are significant variations in how they operate and appear. The first dissimilarity between the Threema desktop and Signal desktop is that Threema is also accessible as a web browser. Before you utilize Threema on your desktop, you need to go to the webpage in your browser, scan a Barcode that looks just like Whatsapp scan code with your phone, and you're good to go. Signal is only available as an application.
Both applications appear to be ordinary messengers, similar to Whatsapp in terms of user experience and design. The desktop version of Signal, such as the mobile phone software, could appear slightly better if you love bright colors.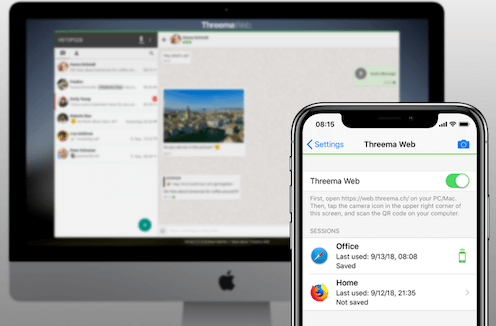 Anonymous Chats and Multiple Identities
Threema offers Anonymous chats feature while Signal does not. You will be able to communicate with other people on Threema without exposing your private details like email address, full name, phone number, and some other vital information.
Unlike Signal, you can use multiple identities on Threema. And this feature will give you the ability to use more than one identities on a single device.
File Sharing and Supported Formats
Before the release of the 4.5.3 version, there were just three file types you could share on Signal, and they are videos, images, and mp3.
However, with the upgrade that Signal made not quite long, clients will be able to share any file, such as PDF, mp4, Jpg, PPT, and so on.
GIFs may be up to 25 MB in size on Signal, whereas other files have a 100 MB download restriction. Irrespective of the file you send, your upload restriction on Threema is just 50 MB, which is not as favorable as Signal.
Group Functions
Users can create a group on Threema and Signal. One of the fascinating things is that you can create a group for almost 1000 people using the Signal application while Threema is quite limited, with a member limit of 256.
You can build polls in Threema, and that's not possible with Signal. Similarly, the ability to make a group video call is a much-desired group function that Threema lacks.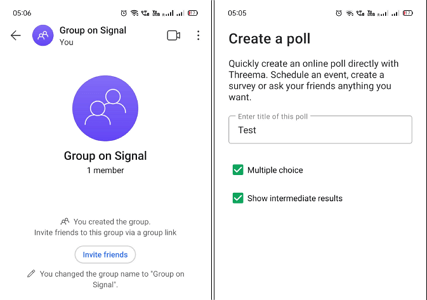 Chat Backups
Signal offers chat backups while Threema does not. Even though Threema provides backups for some particular files, chats, profile pictures, and media files are not included.
On the other hand, the option to generate cloud chat backups is one of the most important characteristics of WhatsApp that is presently lacking on Signal. Signal mainly allows for local backups of files.
Threema vs. Signal: Security and Privacy
Both Threema and Signal value security and privacy. However, there are slight differences in how they perform it.
Encryption
Both Threema and Signal apps provide encryption. Whenever it comes to both Threema and Signal, Tech professionals usually award them a positive reaction.
No one (including the service administrator) has the opportunity to see ordinary chats except the recipient because the chats are encrypted.
Chats are removed from the host instantly and irreversibly after the recipient has gotten the messages in both cases, thus there is no HTTP retention of chats or other delivered contents history.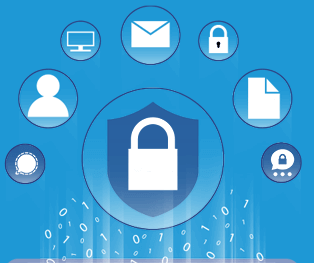 Whether Service Runs Its Own Server
Threema runs its own server, while Signal does not. All servers on Threema are managed and operated by the service supplier. There are no hosting solutions like Cloud Platform or Amazon Web services.
Data Collection
Both Signal and Threema gather very minimal information about their users. Whenever you sign-up on this platform, only your phone number is provided on their platforms. Signal is even trying to detach that from its platform by creating contact databases encryption.
Both Signal and Threema are not profit-making corporations, which explains why they don't engage in data collection. There is no marketing, thus there is no need to monitor people.
Threema prevents the person you are chatting with from taking screenshots of your chat while Signal does not. Both Signal and Threema allow you to save any file using the keyboard. You can use either a pin or passcode to lock your Threema and Signal app.
Another thing that differentiates the Signal app from the Threema app is the ability to send disappearing messages. Signal has a unique feature that allows you to turn on disappearing messages, which the Threema app is lack of.
Threema vs. Signal: User Experience and Reviews
Both Signal and Threema provide a similar user experience compared to other platforms like WhatsApp. Signal and Threema have a great design and a simple interface. It is one of the main areas where secure messaging apps frequently fail.
The access code is emphasized in most Signal encrypted messenger evaluations. It is the main reason why both signal and Threema are regarded as one of the best texting choices available.
Signal is regarded as the greatest secure messaging apps on places like Quora and Reddit. Threema has a rating of 4.5 out of 5 stars on the Google Play Store, indicating that it has received favorable feedback from its previous customers. It's commended for maintaining the privacy of clients and keeping data on their smartphones, but it's also chastised for lacking Signal's vanishing messaging function.
Threema vs. Signal: 2021 Conclusion
These two messengers have their own benefits based on what you are planning to achieve with them.
While the open-source technology and sophisticated security of Signal make it a secure alternative, it's not designed for group communication. With lots of functions and the Threema Work application, Threema advances team discussions a step forward. But it still isn't developed in this industry.
It's important to note that Signal is a free app, while the Threema app requires payment of a certain amount of money.