Question
"I backed up my iPhone 4 with my iTunes backup, and when I tried to restore my backup, iTunes is asking for a password. Which password is this?"
You too in a similar kind of situation? This is a common issue that the iTunes users face. The problem is really annoying as the users do not have any clue of what password is needed to restore iPhone backup. It ought to be! If you have not even used any kind of password, there is no space left to figure out what can be the password. But you have come to the right place. We will surely take you out of this head-striking situation. Scroll through and resolve the problem with us.
Part 1: Why iTunes Backup Asked for A Password?
The problem mainly arises after you update your iOS device. As we researched through different forums, we have found this is a bug from iTunes that the iOS users face. Whenever they try to access their iTunes backup file after an update, they left with no clue as the iTunes asked for a password. Apple does not have come up with any solution to resolve the issue. However, we have got some solutions for you. Hence, if you are in some sort of confusing situation like other iOS users thinking, 'What is my iTunes encrypted backup password?' Read our resolutions here.
Part 2: What Is iTunes Backup Password?
Your iTunes backup encryption does not have any default password. But iTunes can take a random password from your system and use it as your iTunes backup password on its own. Below are the combination that iTunes can choose as your password.
Your iTunes account password

The 4 digits or 6 digits iPhone unlocking code

Your iCloud account password

0000 can also be the default password

Your previous encryption password

Your computer login password
So whenever you are asked for a password to access your iTunes Backup files used the above-mentioned ones.
Part 3: How to Recover iTunes Backup Password
If you have tried the above possible passwords, but still failed. Please go through this part and we have 2 solutions for you.
Method 1. Try Commonly Use Password
You can try to unlock your iTunes backup with some commonly used password. With so many passwords to remember these days, many of us tend to keep the same password for various profiles and accounts. This is not a healthy practice because there are huge chances of all your accounts getting hacked if someone cracks the password. But in this case, if you have the habit then try the combination as your iTunes backup password.
Even there are people who tend to use similar characters in different combinations. For example, on several applications, I use my birthday as a password in day/month/year format, or year/date/month combination. You can try to check if you have used something similar as your password. Apart from these, here we have provided you with a list that includes 20 most used passwords try these out and check if it works.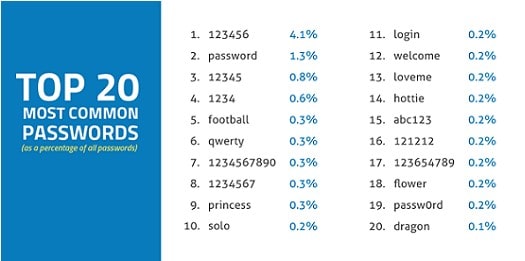 Method 2. Try Third-Party Password Recovery Tool
We recommend using KeyGenius password recovery tool from iMyFone to unlock the password. When it comes to unlocking your iTunes backup password, iMyFone KeyGenius is a true masterpiece. Have a look at the key features of the application before you use it.
Key Features of iMyFone KeyGenius
Equipped with 3 powerful attack modes, which ensure a high success rate.
The tool is simple to use. The password can be recovered within 3 steps.
iMyFone KeyGenius concerns about your data security, therefore, it won't cause any damage to your data by using this tool.
The program can also remove iPhone backup encryption settings within seconds.
KeyGenius supports all versions of iTunes and iOS devices.
The whole recovery process is very simple and easy to proceed with. Follow the steps below:
Step 1: Once the installation gets done, run iMyFone KeyGenius. Select Unlock iTunes Backup option on the main interface.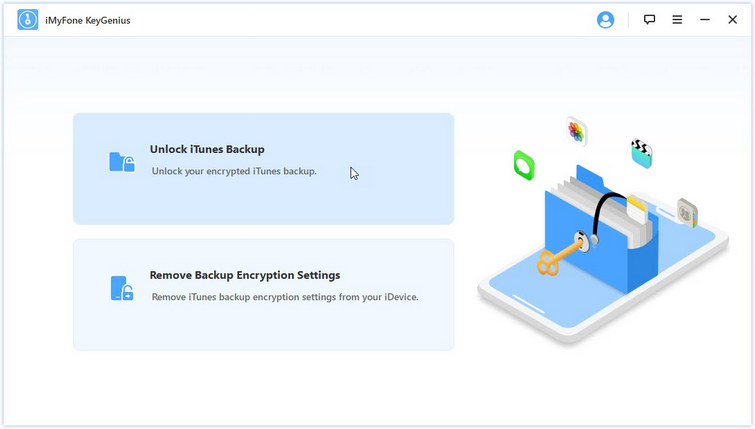 Step 2: All the backup files of your iOS devices will be listed on the screen. Choose the target file that you want to unlock. If your target file is not listed, you can tap on the "Select" button to choose it manually.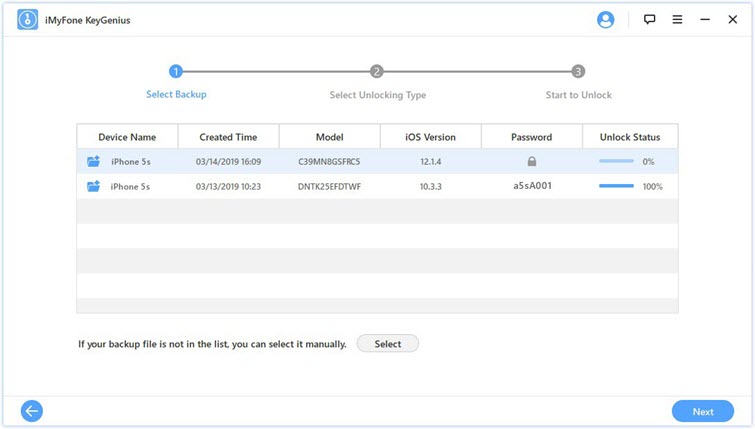 Step 3: iMyFone KeyGenius offers 3 attack modes to you. Please choose one according to your situation.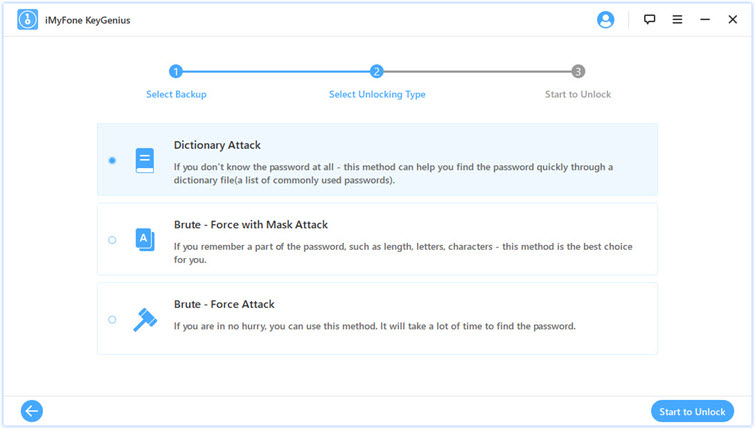 After selection, click "Start to Unlock" to begin the recovery process. Only after a while, the password will be recovered successfully. Now you can copy it to unlock your iTunes backup.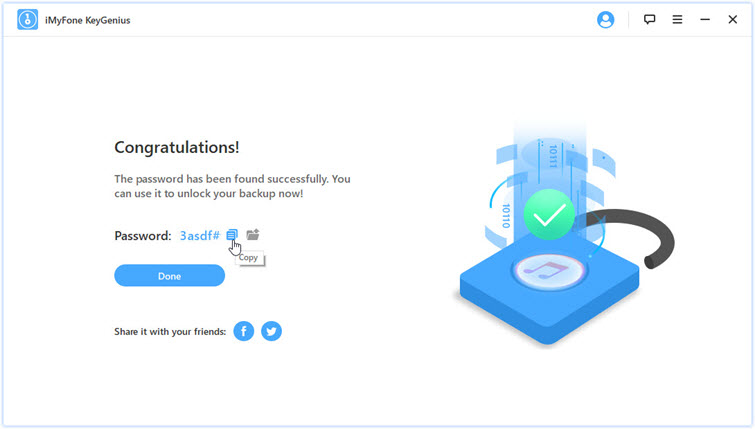 The Final Words
Now you can easily figure out what password is needed to restore iPhone backup after reading our guide. If you are left with any confusion, post your queries in the comment section. We can definitely help you to resolve that.