Have you plugged your iOS 13 iPhone into your computer and are trying to get iTunes to sync music, but it doesn't seem to work? Is only some of the music transferring over to your iPhone or—worse—none of it at all?
It's a common issue of iTunes. Before we go about fixing the problem, let's take a look at some of the reasons this may be happening: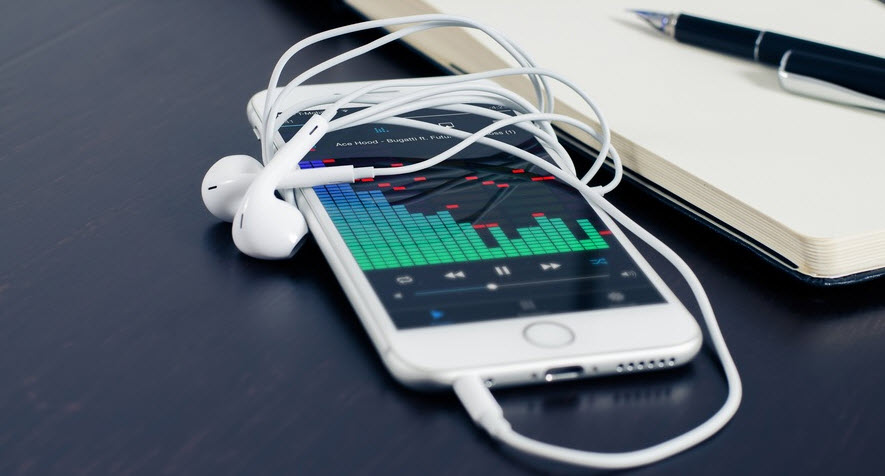 Why Can't I Add Music to My iPhone iOS 13?
There are lots of different reasons why you may not be able to sync music with your iPhone:
1. You have a hardware failure
It could be that somewhere along the line, your hardware isn't able to send the information to your iPhone properly. This could be an issue with your USB cable, your computer's USB port, or your iPhone itself.
Of course if your iPhone doesn't have enough room for your songs, it won't be able to take new ones. If the sync only partially worked, this may be the culprit. Partial syncing may also cause iTunes cache on iPhone.
3. You need to update iTunes
Sometimes iTunes can act weird if it hasn't been updated. Make sure that everything is up to date before you try syncing. Or you may need to completely uninstall iTunes and related software components and reinstall.
4. You need to update iOS
Similarly, if your version of iOS is too old, this may cause compatible problems.
5. You have a network problem
Is your WIFI network running properly? Any problems with the network may cause you to be unable to sync.
Your iCloud Music Library is interfering with the syncing
Sometimes if your iCloud Music Library is turned on, you may be unable to sync via iTunes properly. Go to "General > Music > iCloud Music Library" on iPhone to ensure.
How to Fix "Can't Transfer Songs to My iPhone iOS 13"?
If you find that you can't add songs to your iPhone at all, even after you've ruled out the issues above, you might want to just use a third-party application to sync your music. Software like iMyFone TunesMate is better that iTunes because it is less buggy and gives you the freedom to transfer any kind of music that you want. TunesMate well supports the latest iOS 13 and other versions.
Shining Points:
Bidirectional transfer, from computer/iTunes to iPhone and vice versa.
Add songs to your iTunes library from unlimited devices without even opening iTunes.
Transfer songs to iPhone without fear of losing music that is already on your iPhone.
Transfer songs that your both purchased and did not purchase in the official iTunes store.
Share music with friends or family even with different Apple IDs.
Restore iTunes library no matter how you loss data in iTunes.
1. I Can't Sync Music to My iPhone from iTunes, The Fix!
Step 1: Download and install iMyFone TunesMate, then plug your iPhone into your PC and launch the TunesMate software.
Step 2: Click Transfer iTunes Media to iDevice.
Step 3: Choose the kind of media that you want to transfer by selecting the boxes, then click Transfer.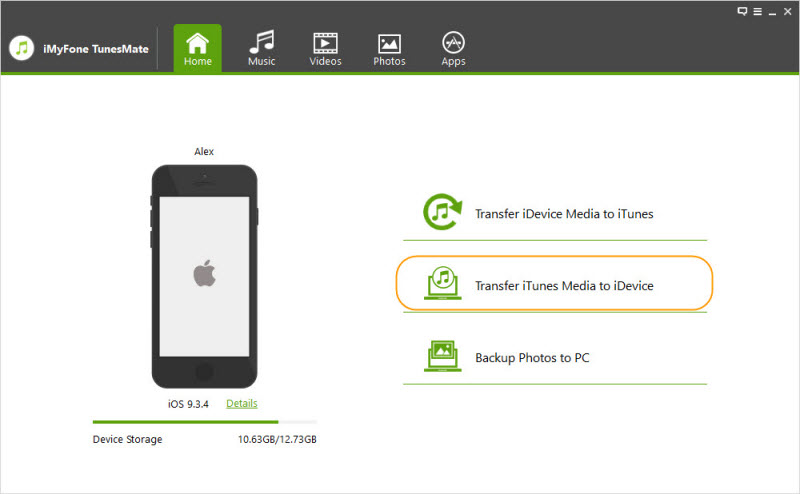 2. I Can't Add Songs to My iPhone from Computer, The Fix!
Step 1: Connect your iPhone to your computer and open TunesMate. (After installing it first, of course.)
Step 2: Click Music (near the top). Click Add > Add File / Add Folder. (Choose Add File if you just want to add one file, and choose Add Folder if you want to add a whole folder of music.)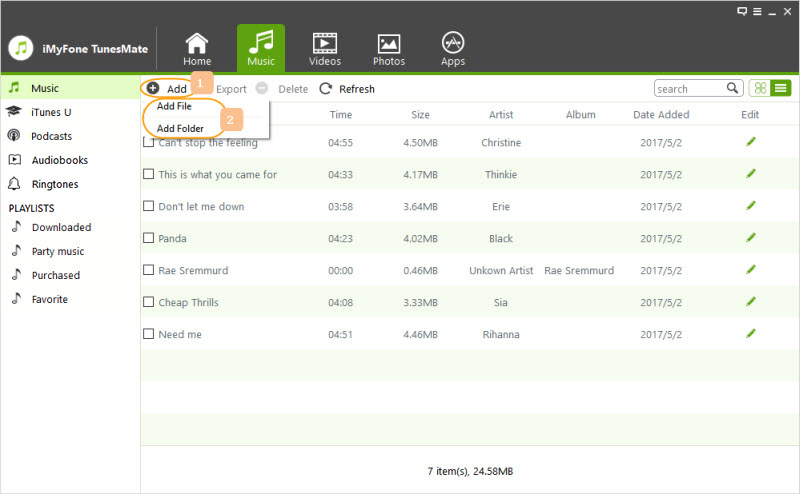 Step 3: Browse for the File / Folder that you want to add, then click Open.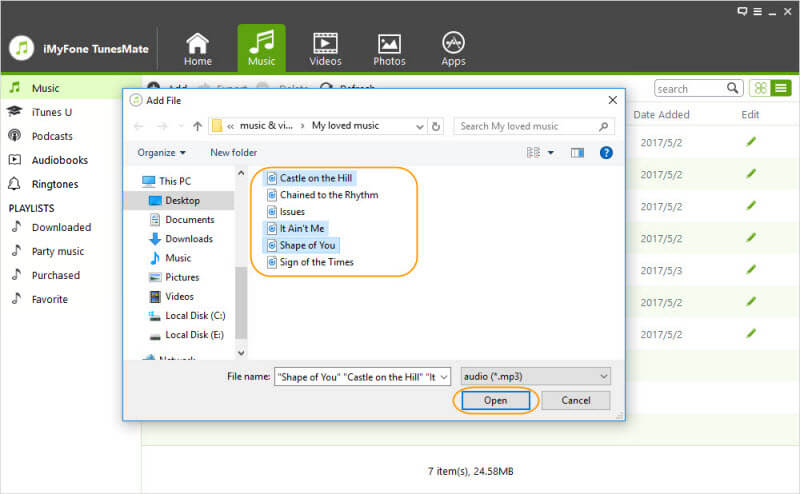 Also Read:
iTunes Won't Sync Music to iPhone 7? How to Fix
How to Fix "Can't Add Music to iPhone from iTunes"?
6 Tips to Fix "Why Can't I Sync Music to My iPhone iOS 13"
If you're still not sure whether you want to enjoy the benefits of a third-party app like TunesMate, here are some troubleshooting tips you can try when you can't add songs to your iPhone:
Swap out your USB cable with a new one—or at least a different one.
Delete some data from your iPhone to make room for the new music.
Check if there are any iTunes updates and update if you need to.
Similarly, check for iOS updates.
Check your WIFI router, then check your modem just to make sure that your Internet connection is good.
Turn off iCloud Music library. You can do this by going into Settings and then Music. There should be a slider to turn it off.
Conclusion
If you can't sync your music to your iPhone, there could be a variety of reasons. Make sure to troubleshoot your hardware and WIFI connection before you consider any software issues. It could be that you simply can't connect.
Or you can directly try iMyFone TunesMate. Not only is TunesMate more convenient, it also bypasses many of iTunes' restrictions and bugs.