When you visit a website on your Mac and search for something, your browser creates as well as records the history of your queries automatically. Deleting this information not only protects your privacy but also frees up the disk space on your Mac. And this guide will teach you how to clear search history on Mac, please keep reading!

Why Should I Delete Search History on Mac?
Well, it depends on you. This can be a matter of privacy, business confidentiality, OCD, paranoia, professional etiquette or just satisfaction to clean up the things.
It is strange to know that none of the websites you visited will be displayed in Google's search results as the websites already visited. When you give a Mac to someone or even browse the web with someone looking at you in the shoulder, there is a chance that he sees something he is not supposed to see. There comes the importance of deleting the search history on your Mac.
When Will Browsers Remember My Search History on Mac?
You should know that those main browsers on your Mac, including Safari, Chrome and Firefox won't remember what you've searched for in the past unless you are signed in with a account.
If you are signed in with a account in each browser, then your search history are stored locally automatically. At that time you'll need to know how to remove those search history on your Mac to avoid privacy leaks.
How to Delete Search History on Mac? [For Different Browsers]
Actually you can manually clear all search history on your Mac for each browser. We will focus on how to access your search history and also how to delete them on your Mac below. 
If You Are Using Safari
Safari is the most common web browser among Mac users, so we will guide you more details on cleaning search history on Safari. This browser includes a feature to clear the search history. Now, follow the steps below and see how to clear the Safari history on Mac:
How to Clear Safari 's Search History on Mac
Start Safari on your MacBook Pro / Air or iMac.
Click on history and clear history.
Set the date range you want to delete. For example, choose Full History to delete all of your Safari search history.
Click on the Clear History.
Or you can also clear recent search list in Safari to do a cleanup of searching history. Safari comes with a build-in feature - recent search list, which can review the search items on Safari in the past and allows you to return to past results easily. However, sometimes you may don't want to show any search at all on that list. Just remove this list by following these steps:
How to Clear Recent Search List in Safari on Mac
Launch Safari on your Mac.
Click into the URL bar, and you will see a list of recent searches.
Go to the bottom of this search history list and choose the option "Clear Recent Searches".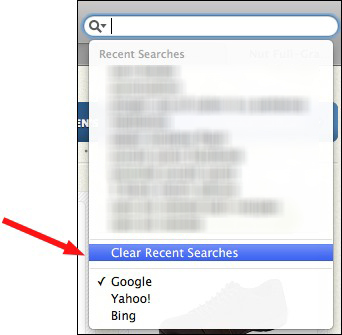 Note
If you don't want to delete these annoying search history every single time, you can also prevent them from being stored in Safari. Just choose the option - Private Browsing mode in Safari, which won't store local browsing data on your Mac. Then you don't need to delete search history in the future by using this way.
If You Are Using Chrome
If you use Google Chrome on your Mac and are considering how to delete Google search history on Mac, you can clear the history of your searches by following these steps.
Open Google Chrome.
Click Chrome and Clear Browsing Data.
In the pop-up window, check all items to delete. Click Clear Browsing Data In this way, you can permanently delete all Google records and remove search history on Mac 's Chrome.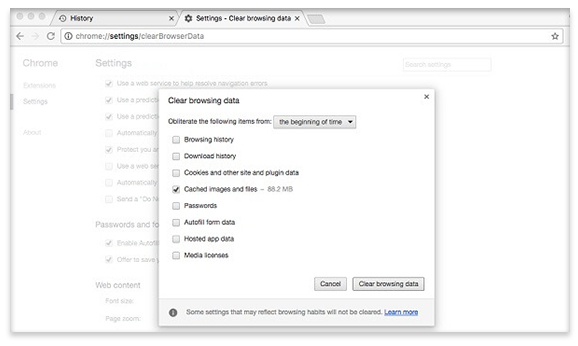 If You Are Using Firefox
You can also follow the steps below to clear the search history in Firefox. 
Open Firefox on your Mac.
Choose the option: Clear recent history.
Select your browsing history, download history, form and search history, caches, cookies, preferences and click Clear Now.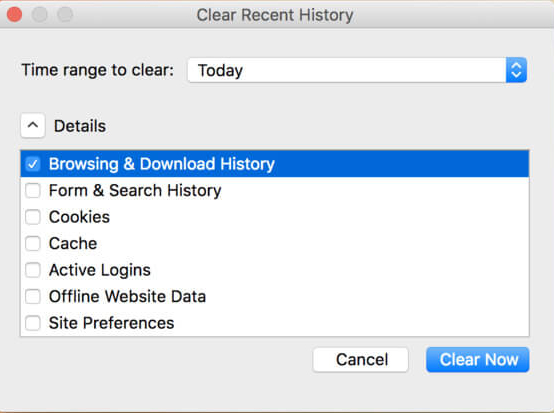 How to Delete All Search History on Mac in Seconds?
If you have installed many browsers on your Mac, you will find that it takes a long time to clear the search history of each browser, one by one. In this case, if you want to clean up your browsers full history on your Mac and save time, you can try a popular Mac cleaning tool - Umate Mac Cleaner to help you remove them in seconds.
Umate Mac Cleaner can permanently delete all archives from your Mac in one click. You can check all your web history on your Mac, including Chrome, Firefox, and Safari. You do not have to open each browser and delete the search history one by one. It is compatible with all Mac models, such as MacBook Pro, MacBook Air, Mac mini, Mac Pro and iMac. What's more, the app also works well on the latest macOS version - 10.15 Catalina.
As we mentioned above, you can delete search history on Mac manually or using Umate Mac Cleaner. And we recommend the latter way for you. Below are the reasons for that.
Time-saving clean up: Delete the target in seconds, greatly save your time compared to manual ways we have discussed above.
User-friendly interface and safe to use: No professional knowledge required when using this app.
Removes multiple types of junk files: Not only for cleaning online traces, but also remove 40+ junk files.
Also Available for 5 Mac Devices: The app is available for one Mac as well as 5 Mac devices.
Here is a step-by-step guide to clear your searched history on your device.
Step 1: Download and Launch Umate Mac Cleaner on your Mac.
Step 2: Select the Erase Private Data tab and click Scan. When you have completed the scan, all the history of your Mac is displayed in the Online Trace part, including your browsing history, cookies, download history, HTML5, and local storage, etc.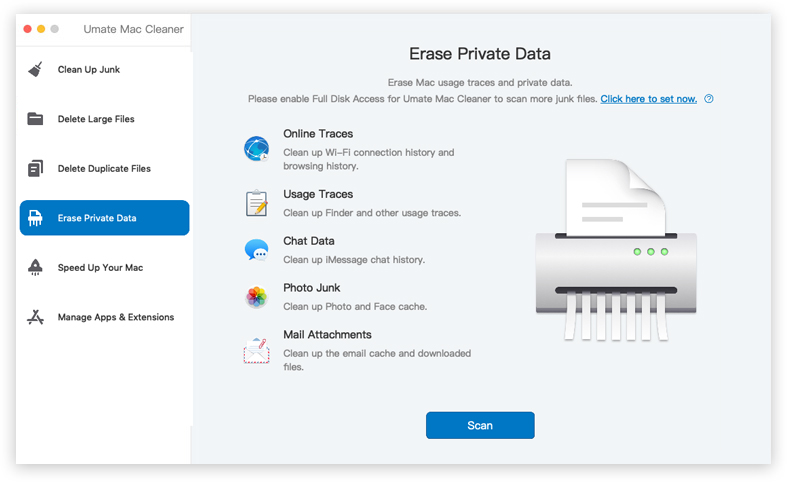 Step 3: Select all the searched data you want to delete and click to Erase. So easy!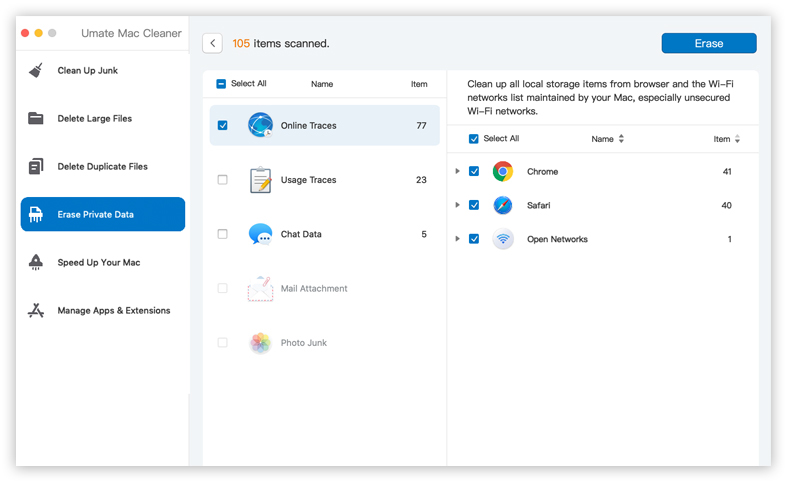 Conclusion
Your browser history can learn a lot about you. Therefore, it may be useful to store this information on your Mac, but you may want to delete it periodically. That's why many people search about how to delete search history on Google, Safari or Firefox. The ultimate answer to this is Umate Mac Cleaner. It helps you erase your online traces whenever you want with just one click.