Autofill is one of the efficient features in Mac. It allows you to save login details, including saved passwords for your favorite site or the application which you use frequently. As you can see, this feature makes your life easier; however; it is also a threat to your privacy. Saving all your passwords in one place also means you may lose them all at once.
You have no clue who's been looking for it so if you want to avoid any such mishap, you need to delete those passwords to avoid privacy leaks. Do you want to learn the ways on how to delete saved passwords on Mac forever? So here you go, let's look into this.
Reasons to Delete Your Saved Passwords on Mac's Browsers
Ever clicked the option at login sites that says "Remember me?" under the passwords tab? That is your browsers asking to remember your user name and password (and other login informations), so that you won't have to enter them again and again when you need to login in! The next time that you go onto the website using the same browser, it will autofill your login details for you.
While that may sound increasingly appealing, it is not the bestest of ideas to have all your passwords in one place and it is strongly recommended that you manage saved passwords. Lots of people, who refrain from deleting saved passwords on their Macbook, argue that these passwords are stored on encrypted files however, they can easily be accessed by a malware.
Moreover, if you give your computer to someone, they can easily open your browser and access it with ease. Therefore please delete saved passwords on Mac.
How to Check Your Saved Passwords on Mac's Browser
Looking for saved passwords on Mac's browser is not difficult. You can easily make it happen just have to follow these steps:
View Saved Passwords in Safari
Launch Safari, click the main menu, and select Preferences.
Choose the "Password" tab, or you can pick the "Autofill" tab and press Edit which is next to the "User name and password" line.
You will be asked to enter the admin password.
A window will pop-up, choose a website from the list to take a look at saved passwords.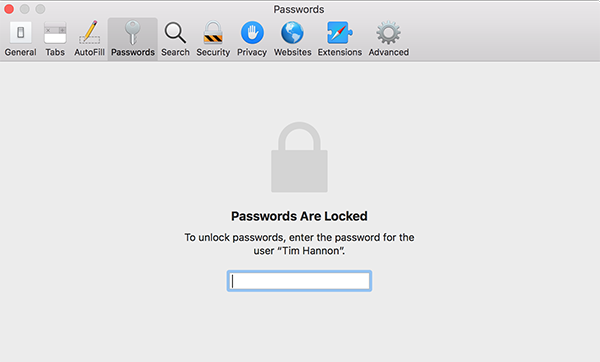 View Saved Passwords in Chrome
Launch Chrome and sign in your Chrome account.
Click the three vertical dots on the right side and select "Settings", then click "Advanced".
Select "Manage passwords", and then hit the three dots icon right of a password.
Press the icon that looks like an eye, then type your computer's password and press "OK".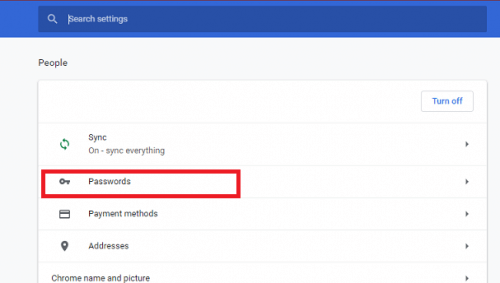 View Saved Passwords in Firefox
Launch Firefox browser.
Click the Menu icon in the top-right corner.
Select Logins and Passwords in drop-down menu.
In the window that appears, click the Show Passwords button.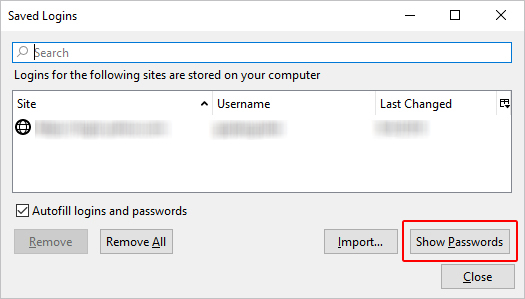 Keep this in your mind all the passwords won't appear at once you have to pick and choose them one by one.
This is a way by which you can view your saved passwords on Mac. There are many ways to look into them might be you can write them on a piece of paper, or you can save them on your phone.
Here We Go! Use The Easiest Solution to Remove Saved Password from Mac at Once
Here comes the most exciting part of this article. If you want to delete stored passwords on Mac, you are just one step back all you need to do is to use the third-party app, which is the easiest solution for that. And Umate Mac Cleaner is our recommendation for you when it comes to such Mac cleaning tools.
It has each and everything which is required. The app has a feature, which is called " Erase Private Data". It can wipe Mac usage traces and personal private data to protect your privacy. And autofill values is also one of the target files in this feature. You can delete all the saved passwords on browsers with just one click. Compared to clear stored passwords in each browser separately, this tool provides a more time-saving cleanup. Moreover, the app is very easy to use, and will give you remarkable results. Below are the simple steps to use the app. Let 's take a look together.
Procedure to Use Umate Mac Cleaner (3 Simple Steps, 5 Minutes Process)
Step 1. Download and install the software, then launch it.
Step 2. Choose " Erase Private Data" tab and click Scan to begin.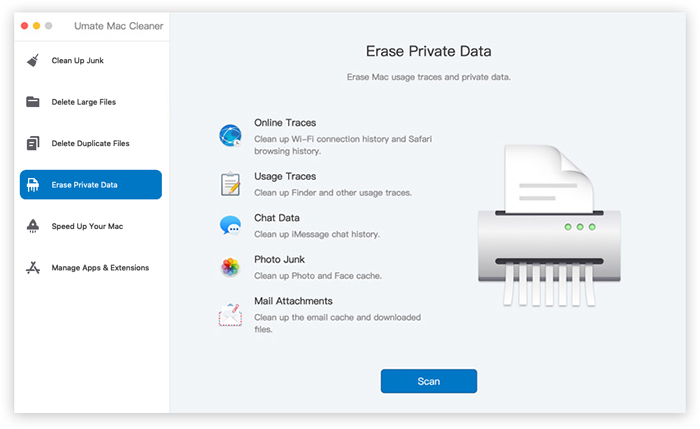 Step 3. After scanning, choose the "Online Traces" section and select the autofill values items only and click Clean button to confirm the request. Then the app will remove all the saved passwords on your Mac's browsers. So easy!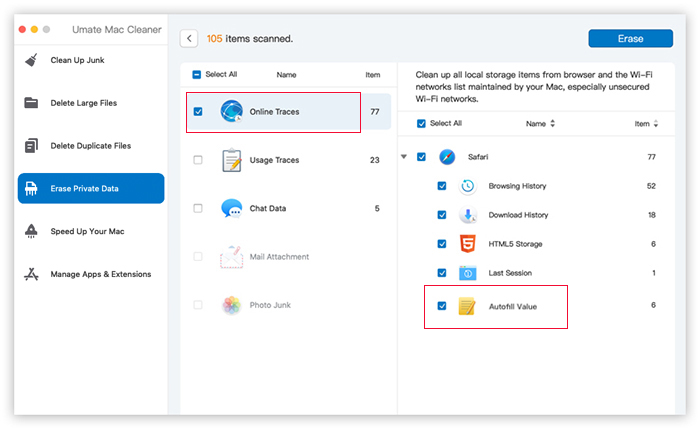 You Should Opt for Umate Mac Cleaner (Fast, Effective, Trustworthy)
In one click, you can mop up all saved passwords of Mac. It will greatly save you time and effort.
You don't have to select items on your own, for it detects all target files by itself.
Not just passwords removal! It also clean up more than 40 types of junk files in seconds. 
It is the most cost-effective Mac cleaner, which supports most of Mac devices running macOS 10.14 - 10.9.
The developer of Umate Mac Cleaner (iMyFone) is a leading software company that focus on developing utility products. You can totally trust it.
How to Delete Saved Passwords in Mac's Browsers Manually
This app is your best bet for the most hassle free password clearance. However, if you want to go about the longer way and delete saved passwords on Mac, then we have that panned out for you as well! Let's talk about how can you clear password from these site like Safari, Chrome, and Firefox.
How to Delete Saved Password in Safari
First, you have to launch Safari.
Menu bar will appear, choose Preferences.
Click the "Passwords" tab and enter the admin password.
Now select the password you want to delete.
Click the "Remove" button located in the lower right corner of the window.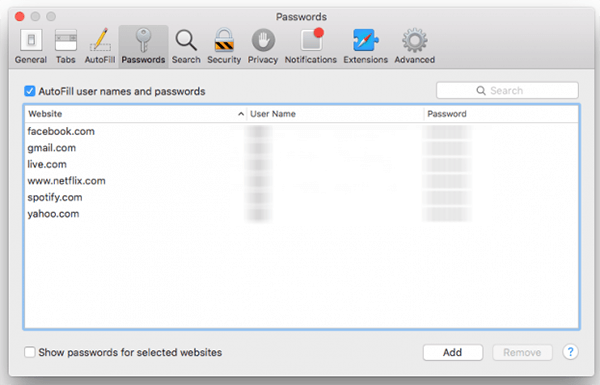 How to Delete Saved Passwords in Chrome
Mac user use Safari, but in case you need to delete the saved passwords in Chrome, these are the few steps:
First launch Chrome.
Choose "Settings" from the menu; three verticle dots are there in the upper right corner.
Press on "Advanced" to open the list of preferences.
Now click on "Manage passwords" in the "Passwords and forms" section.
Open the drop-down menu by clicking on three verticle dots which is next to the password you want to erase, just select and press "Remove."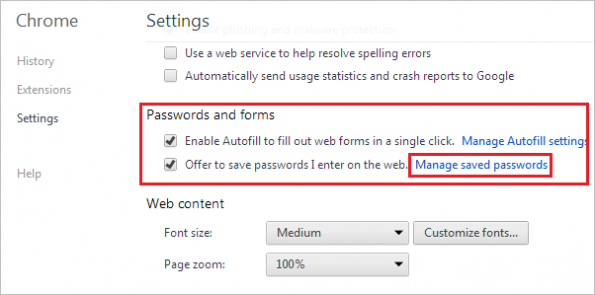 How to Delete Saved Passwords in Firefox
As you can delete passwords in Safari and Chrome. You can also remove password from Mac in Firefox. It is the third most important browser after Safari and Chrome. Here are some steps which will help you to delete saved passwords in Firefox Mozilla:
Open Firefox on your Mac.
Click the option "Setting" from the menu; three horizontal lines are in the upper right corner.
Go to the "Security" section.
Choose "Saved passwords".
A window will pop-up, remove separate passwords, or you can delete them all at once.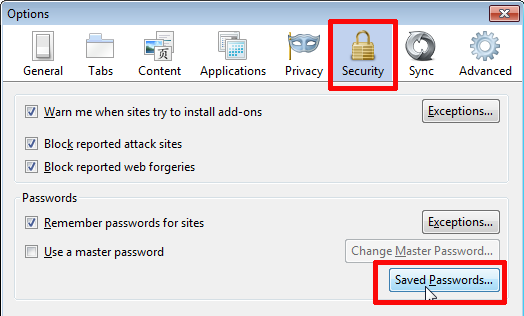 Tips
If you are thinking along the lines of "how do I delete saved passwords on Mac," then why not avoid this job at the beginning? Actually you can move a site from the "Never Saved" list, then the passwords from this site will not be saved on your browsers. Just change passwords preferences on every browser from your Mac.
Closing Words
As you can see, it's not difficult to delete saved passwords on Macbook. Rather than using multiple browsers, it can be a pain. Cleaning each of them one by one will make your life tougher. But Umate Mac Cleaner is already solving your problem in just one click. It removes your saved passwords, other junk files and also helps to speed up your Mac. You won't regret it for choosing this software!