Pinterest is a visual discovery engine to find ideas like recipes, home decor, and fashion inspiration. You can save links to your boards using the Pinterest browser extension. Pins can be moved in batches between boards. It helps to utilize the visual search function and access shortcuts by long-pressing the iOS app.
You can now run the app on your desktop efficiently, although the developer offers the app only for Android phones. Here we'll give you some awesome ways to play Pinterest on PC.
Part 1: Reasons to Play Pinterest on PC
Get out from behind the tiny cell phone screen and enjoy Pinterest apk on a much larger display instead of worrying about overcharging. Here are the features you can enjoy on the PC:
On a PC, you can send any content to Pinterest with one tap.
Using the URL to copy a pin in a pinch is convenient, but it is rather clunky. On PC, you can select Pinterest apk as a sharing or storing option.
You can take suggested pins out.

You can type what you are looking for on your search bar by clicking on your profile page. In addition, PCs are easy to clean. If you check the boxes next to the pins, you can instantly move, copy, or delete them.
A secret board can be created on a computer.
A secret board can keep you organized and keep you sneaky. If you want to hide stuff on secret boards that you'd rather keep hidden, that's fine - but with some creativity, you will be able to get even more out of them.
Part 2: Ways to Play Pinterest on PC via Mirroring Apps
As the Pinterest app is explicitly designed for mobile phones, it is not available on PCs. If anyone wants to play Pinterest apk for PC, they would need a mirroring app.
1

iMyFone MirrorTo
Features

It can easily share your Android phone's screen with your PC.
You can easily manage your phone from your computer using a large screen.
You can seamlessly play Pinterest, mobile games and manage social apps on your pc.
You can conveniently operate the keyboard while playing Pinterest on PC.
In simple steps, you can enjoy Android games and manage all social applications on your computer with iMyFone MirrorTo on a computer, you can also control your Android device with a keyboard and mouse.
Mirroring Pinterest from Android to PC via iMyFone MirrorTo
Step 1.Install iMyFone MirrorTo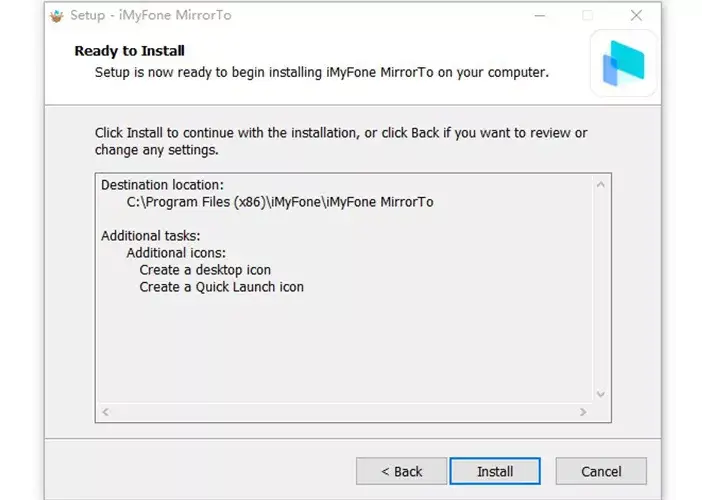 Step 2.Connect the device
Click on Pinterest on your Android phone and connect it to your PC. After selecting a USB connection, click "Transfer files".
Access the software information in Settings > about the phone. Click Build number seven times to reach Developer options. When connected to a USB port, turn on USB debugging on your Android device.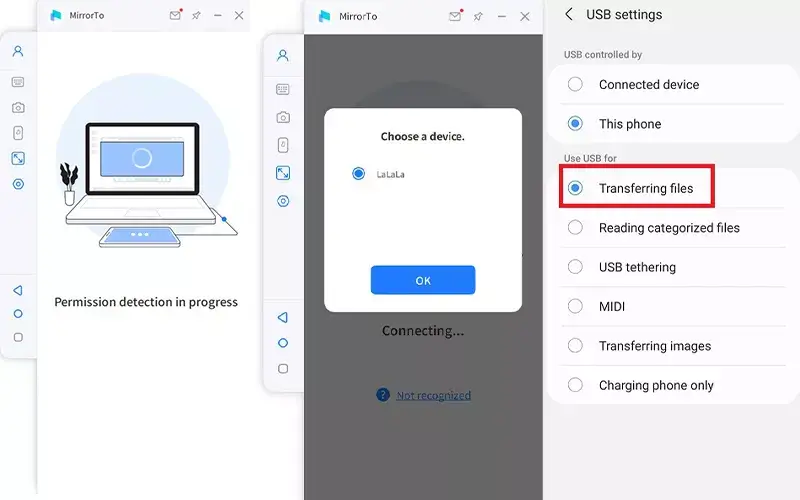 Step 3.Open Permission to iMyFone MirrorTo
MirrorTo should be granted permission to display items on top. Click the "Turn On" button. Your Android device will automatically download iMyFone MirrorTo apk.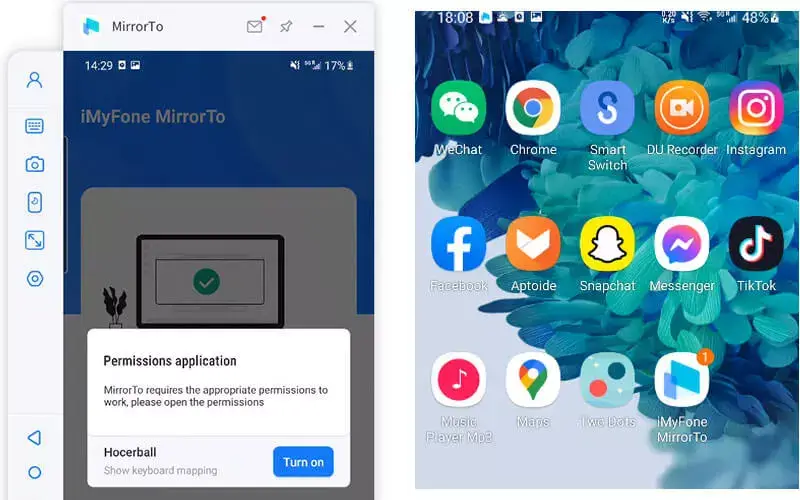 Step 4.Start controlling your Pinterest from your PC
You have now successfully mirrored the Android phone's screen to the computer. Using the keyboard and mouse, you can now play Pinterest apk for pc on a large screen.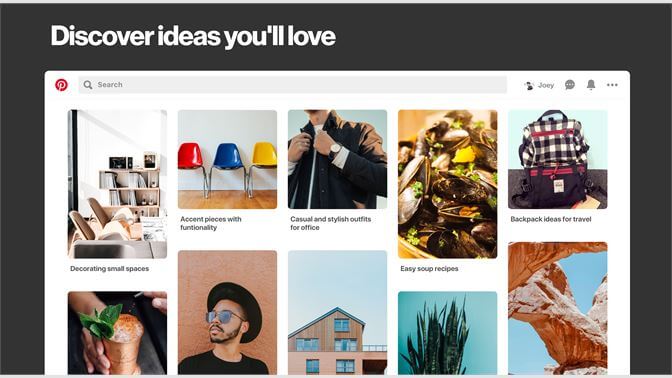 Try It Free
Try It Free
---
2

Letsview
You can use LetsView on your Android, iOS and PC. It is a free app that allows you to mirror your screen. The LetsView application will enable you to stream phone files to PC/Mac in real-time, including applications, v"new-step2">Step 2.Run the app on your PC and Android phone by connecting them to the same WiFi network.
Step 3.From your Android phone, select your PC.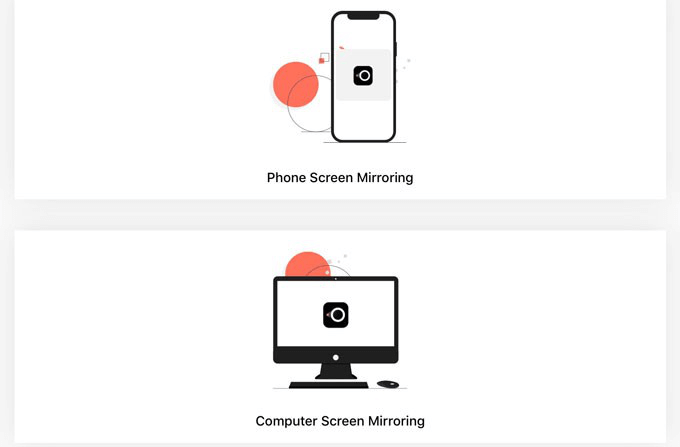 Step 4.If you want to mirror your phone screen to your PC, select "Phone Screen Mirroring". Alternatively, you can choose "Computer Screen mirroring" to display the screen of your computer on your phone.
Step 5.Tap the PIN code, and QR code symbols in the upper right corner of your device are not detected.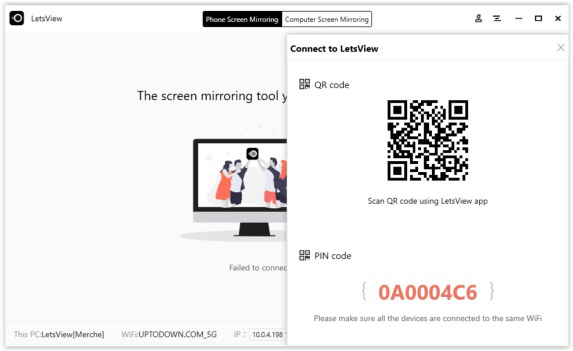 Step 6.Get LetsView and run it. You can enable the wireless display on your Android by swiping down and tapping Wireless Display from the quick settings menu or Settings. Next, search for the Pinterest that you'd like to mirror to your PC.
Part 3: Ways to Play Pinterest on PC via Emulators 
Using an Android emulator on your Mac, you can use the Android operating system on your Windows device. On your PC, you can run not only Pinterest but any smartphone application. On top of that, you can play a massive selection of Android games.
Among all Android emulators, BlueStacks, NoxPlayer, and MEmu Play are the top three. Installing Android apps on your PC can be accomplished by choosing one of these three emulators.
1

BlueStacks
How to Play Pinterest on PC via BlueStacks:
Step 1. Install BlueStacks.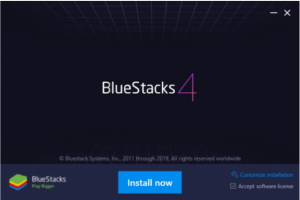 Step 2. If you don't feel like completing the Google sign-in immediately, you can do it later.
Step 3. Use the search bar at the top right to find Pinterest.
Step 4. From the search results, click on Pinterest to install.
Step 5. Install Pinterest by completing the Google sign-in process (if you skipped step 2).
Step 6. Play Pinterest by clicking the icon on your home screen.
---
2

MEmu
How to Download Pinterest on PC via MEmu:
Step 1. Complete the set up of MEmu by downloading the installer.
Step 2. Go to Google Play on your desktop and starts Google Play to search Pinterest.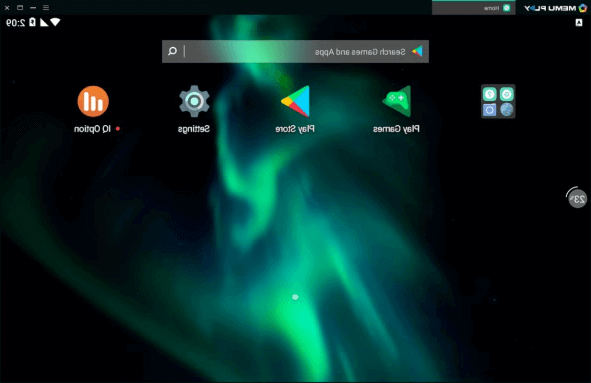 Step 3. Install the Pinterest application.
Step 4. Once the installation is complete, click the Start icon.
Step 5. Using MEmu, you can enjoy playing Pinterest on your PC.
---
3

Nox Player
How to Download Pinterest on PC via NoxPlayer:
Step 1. Download and install Nox Player.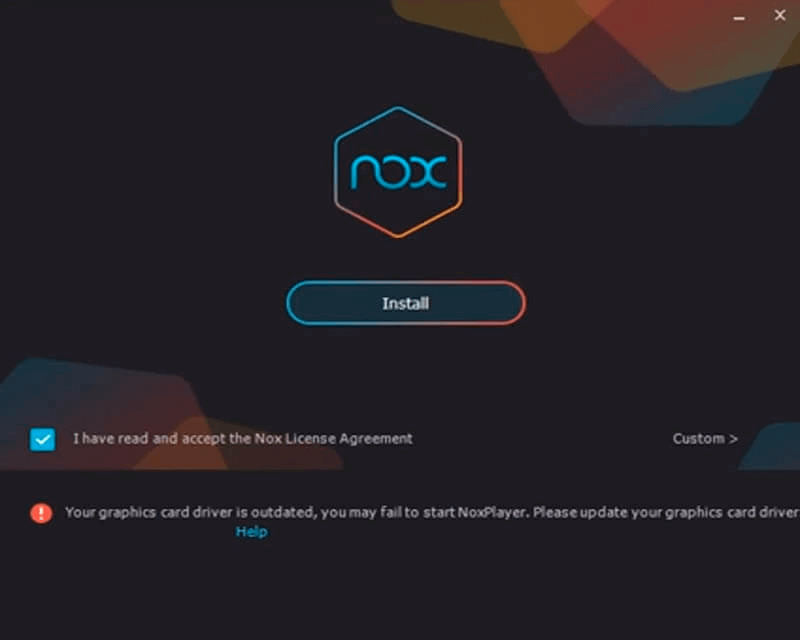 Step 2. Please log in with your Gmail or Google account to access the Google Play Store.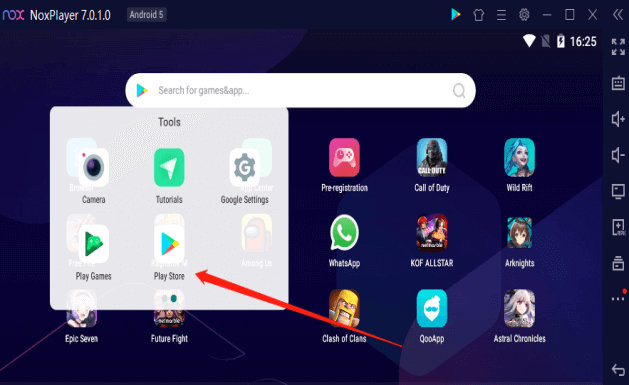 Step 3. To search for Pinterest, type "Pinterest" into the search bar and press Enter. You will now see "Pinterest" at the beginning of the search results.
Step 4. Follow the instructions. Please wait a few seconds while the app is verified and installed on your Mac.
Step 5. Using Nox Player for downloading Pinterest on Windows PC is the topic of today's tutorial. Pinterest can now be used on the PC without any delay.
Part 4: FAQs about Pinterest on PC 
1 Is Pinterest free on a laptop?
The app is free and fun. Create your customized folders to store your favourite ideas and photos. Registration is the only requirement for using Pinterest. There are currently apps for iOS, Android, Windows 10 PCs, and a web browser.
The Pinterest app is one of the most creative ways of sharing photos. It provides a simple way for sharing helpful ideas. It is easy to stay glued to your screen because there are many exciting images to choose from.
---
2 How to fix Pinterest not working on the computer?
The Web Filter blocks Pinterest based on its adult content by default. You might want to restrict access to 'adult' content on Pinterest to your students or your staff at times. This will require you to re-categorize Pinterest.
Use the browser button by logging into Pinterest using a standard browser window. Disconnect your extension and install it again. Delete all temporary files from your cache and cookies to resolve any issues.
---
3 Why is Pinterest so slow on pc?
Because Pinterest isn't designed for computers, it gets slow, whether due to third-party apps or several programs running simultaneously. First, decrease the number of programs running on your computer, and second, increase its memory and processing power.
---
4 Is there going to be any dark mode of Pinterest for pc?
No, there is no way to access Pinterest's desktop web page in Dark Mode. You can, however, convert this bright theme to a dark theme by using the free Turn Off the Lights Browser extension and enabling the Night Mode feature.
Conclusion
As time passes, Pinterest pc setup has become more and more popular. Although the developer only offers the app for Android devices, you can now run it efficiently on your desktop by following the above steps. We have discussed here the top ways to download Pinterest on your PC.
Using a third-party downloader is one of the most dangerous options since many sites share your data with others. The APK files take up extra storage when they are downloaded and stored. However, iMyfone is a trustworthy app; you can also use iMyFone MirrorTo to mirror Pinterest from your mobile to your computer.
Try It Free
Try It Free