You can also read this guide in Français.
HEIC gained popularity in 2017 when Apple decided to replace JPEG file in HEIC files in iOS 11. Images saved in the HEIC format have a relatively lower storage than images saved in the JPEG format without losing its image quality. However, the new formats do not support all devices, applications and operating systems. Before you can view or manage these files you need a HEIC viewer first.
Best HEIC Photo Viewer for Windows/ MacOS Sierra
If you want to view HEIC photo with no charge, then iMyFone TunesMate is the best option for you. It is special designed for media file manage (transfer/edit/delete) between iDevice to Computer/iTunes. This software supports all kinds of media files, the HEIC photos is included. What's more, with iMyFone Tunesmate you can sync iTunes library to your iPhone and also rebuild damaged iTunes libraries for quick functioning and backup from your iPhone.
Other Features
Enables a two-way transfer, that is, between iDevice and PC/iTunes and vice versa.
Supports all kinds of media file formats,including music, movies, playlists, podcasts, audiobooks, TV shows, iTunes U, photos, and 10+ more.
No Data Loss: Add files to iPhone without replacing the previous files on iPhone.
Bypass iTunes Limits: Easily bypass iTunes restrictions and unknown iTunes errors
How to View HEIC Images on iMyFone TunesMate
This is very easy. The following steps will guide you.
Step 1: On your PC, launch iMyFone TunesMate
Step 2: Go to photos. iMyFone TunesMate is compatible with any photo formats, including HEIC
Step 3: View the images you want.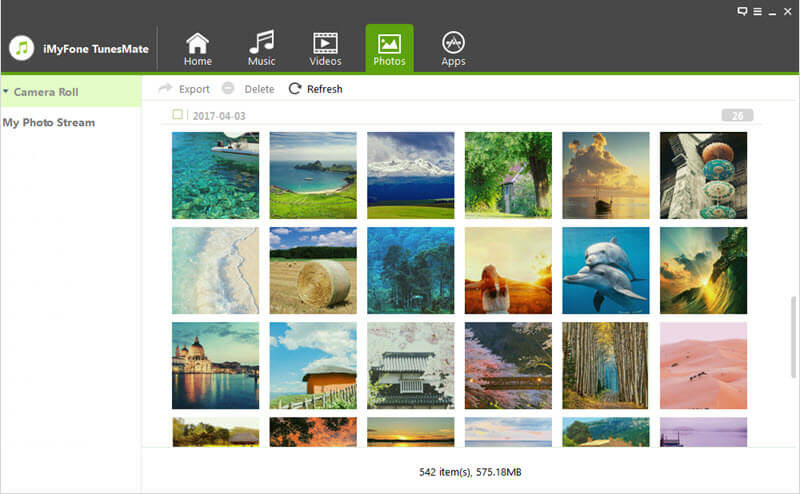 HEIC Viewer for Android
Dropbox can be used as a HEIC viewer to view HEIC image formats on your android phone. It is compatible with both HEVC encoded MOV and HEIC files. HEIC files can also be previewed on the Dropbox iOS app.
To view HEIC formats,
Step 1: Download, install and open dropbox on your Android device.
Step 2: Login to your account with your password. 
Step 3: Choose Photos at the home interface.
Step 4: You can preview the HEIC photos or tap on them to view the details.
Bonus tip: How to Convert HEIC Format Images into JPEG Format
1

Convert with iMyFone HEIC Converter
iMyFone HEIC Converter is a professional computer app for HEIC converting. It provides an alternative method for solving all compatibility related issues. With this app, you can convert HEIC photos in batch and adjust picture quality at ease. Besides, you can also view HEIC photos directly with this software.
View the HEIC photos one by one for free when use "Convert Single Photo.
Won't cause any privacy leak, as the converter is done locally.
Directly drop the HEIC photos to the converter or select files.
Convert HEIC photos to JPG, one at a time, or batch at a time.
No damage to the quality of converted JPG(can also adjust photo quality).
Convert faster than any other converters.
Convert HEIC Photos in Batch
Step 1: Click on Start button at the bottom of Convert Photos in Batch.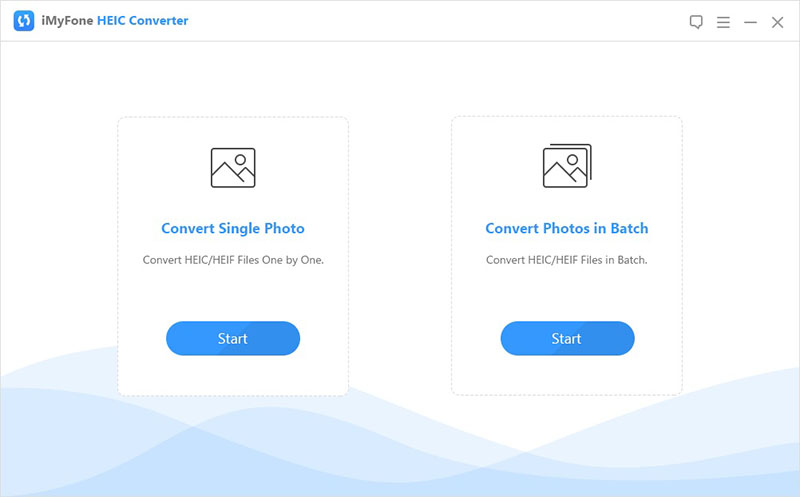 Step 2: Then click on "+" button to select files.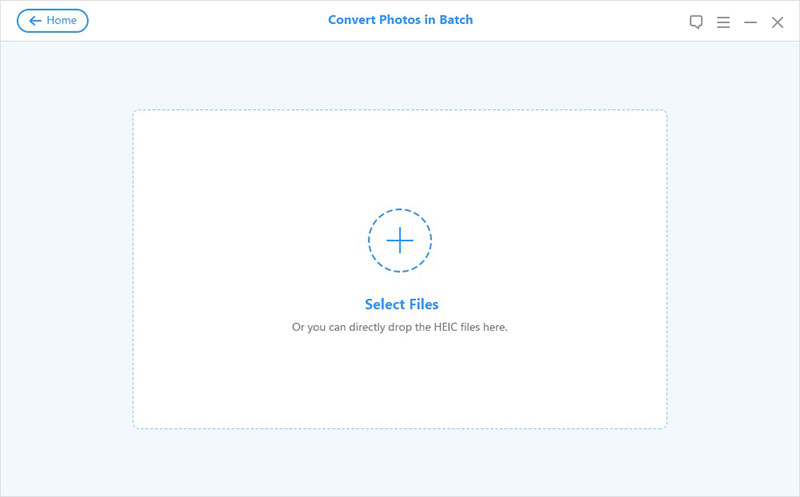 Step 3: Select the HEIC photos from your computer, then click on Open.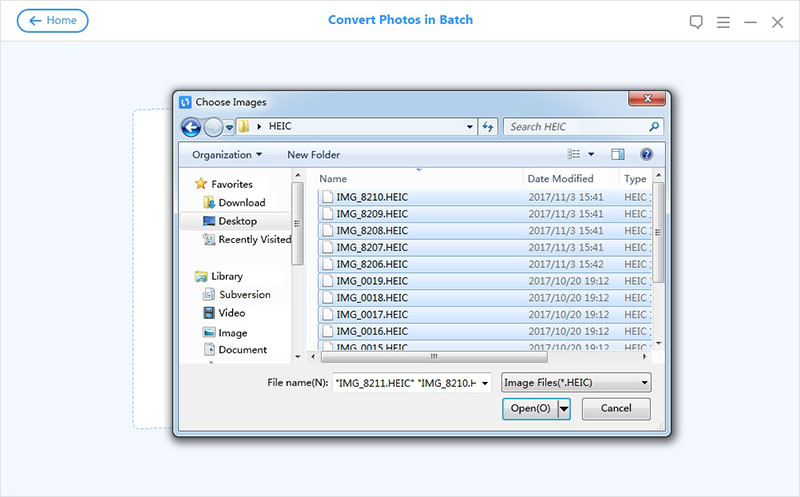 Step 4: The HEIC photos will be listed at the next interface, then click on Convert button.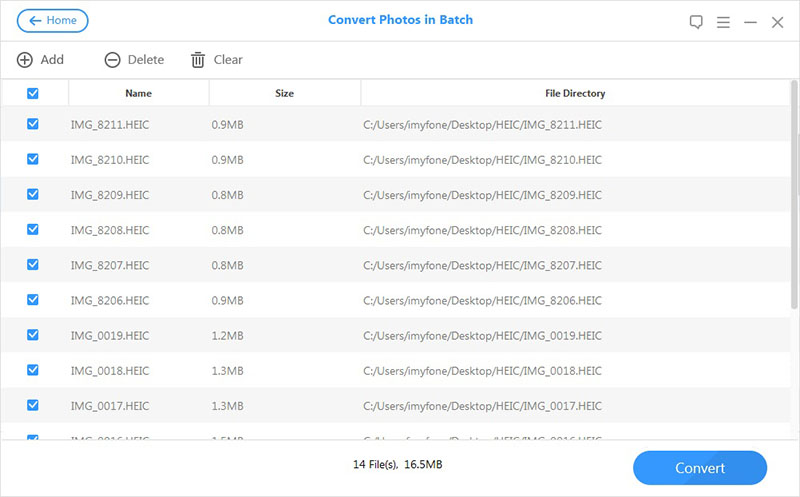 Step 5: You'll see a pop-up window to adjust the conversion settings.
Adjust photo quality.
Select location of converted files.
After finish the settings, click on Convert button to start converting.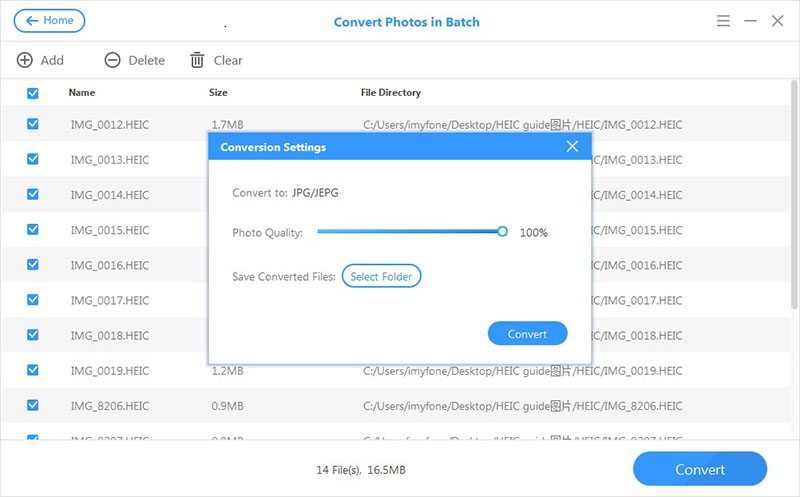 2

Automatic Convert on iPhone
If you don't want to install any HEIC image viewers, you can convert them on your iPhone. The HEIC format can be converted to JPEG on your phone automatically, just follow the step below:
Step 1: Go to Setting app and choose Camera.
Step 2: Then tap on formats.
Step 3: In the next interface, you will see two options, these are: High efficiency and Most Compatible.
High Efficiency: This is for images saved as HEIC files and videos as HEEVC-encoded MOV files.
Most Compatible: This is for images saved as JPG and videos saved as H.264 files.
Step 4: Choose Most Compatible.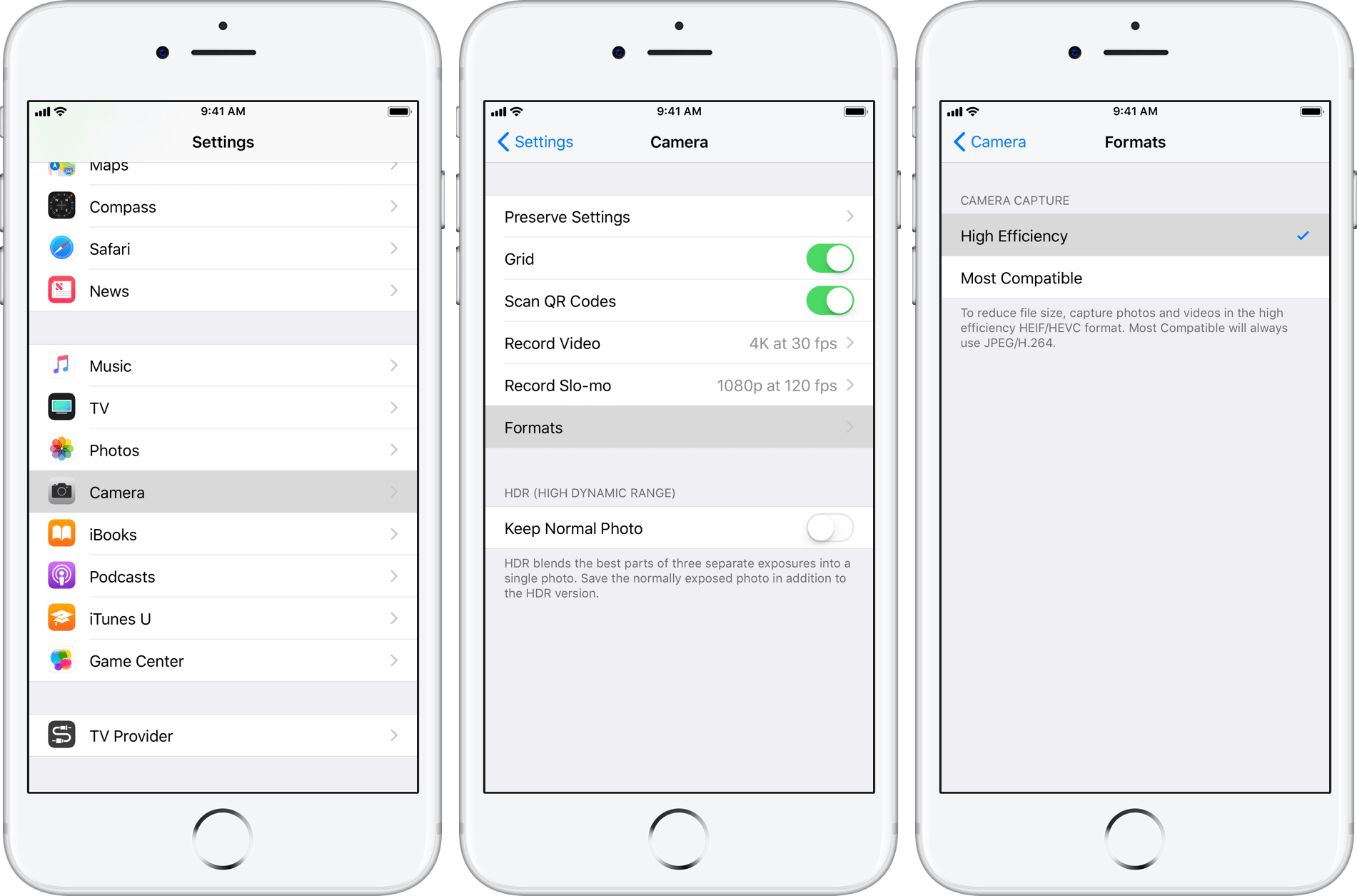 After you change it to the Most Compatible option, your photos will be saved as JPEG formats when you taking photos.
3

Convert Online
You can covert HEIC images to JPEG using a simple online converter (heictojpg.com) which can turn 30 HIEC images to JPEG at once. All you need to do is drag or drop the images in the box or click on them via the file dialog box.

Once the images are converted to JPEG, they are automatically optimized to JPEG mini. The sites cannot save the images online as the server delete the files after 30 minutes.
After several trials for the online converter, it was discovered that the conversion speed isn't that fast. Also, few errors are expected whenever you upload a lot of images on the online converter. It's not so good as HEIC image viewer. However, the optimization is a smooth process.
4

Send HEIC Images via Email
You can also convert HEIC to JPEG using the email. It will be automatically convert HEIC photos to JPEG.

All you have to do is follow the step below.
Step 1: Open your email app on your device.
Step 2: Tab on Compose to start a new email.
Step 3: Click on Attachment, and choose the HEIC images from your device. It will automatically convert the files to JPEG format, but this may take time if you are turning a bunch of files.