You can also read this guide in Français.
iOS 11 and 12 came with a lot of changes for iOS devices. One of those major changes was the switch to HEIC format for photos. This format has many advantages, but the biggest one is that it allows you to compress your photos to a fraction of the size of other formats, without losing much quality.
However, there can be many reasons why you may want to convert your HEIC photos to plain old JPG. Let's take a look:
HEIC vs JPG
HEIC and JPG are actually both highly efficient image formats, with JPG being lossy (meaning that it loses data and quality every time you compress). The main difference between them is that HEIC allows you to store a much higher quality image in a smaller amount of space. It is a relatively new technology that was developed by the same organization who created the MPEG format. HEIC works for static images as well as image sequences.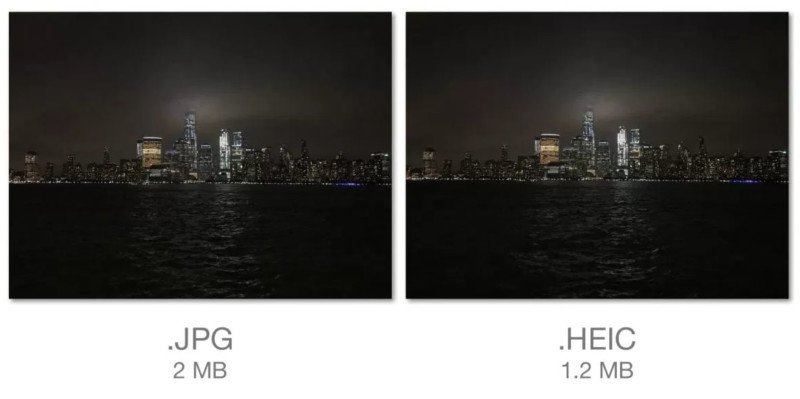 Why would you need to convert HEIC to JPG, then? Well, just like any fairly new technology, the HEIC format is not supported by a lot of software yet. If you have pictures in HEIC format, you could easily run into the problem of not being able to view them or edit them on various applications. Nowadays, only iOS 11 and 12 device (iPhone 7 and later) and MacOS High Sierra (10.13) can view HEIC photos.
JPG, on the other hand, is much more common. Pretty much all modern operating systems and all image software supports it. This means that if you are storing your pictures on a computer or some other device that does not support HEIC, it might be a good idea to convert it to JPG so that you can actually use it.
5 Ways to Easily Convert iOS 12/11 HEIC Photos to JPG
There are a few basic ways to convert HEIC photos to JPG. Most of them are pretty easy.
1. Convert HEIC to JPG Using Converter
The first methods here is the easiest one to convert HEIC photos without any limits. You can consider iMyFone HEIC Converter, which is specifically developed to solve the HEIC compatibility issues.
Key Features(iOS 12 Supported):
View iOS 12/11 HEIC photos on PC for free.
Convert new iOS 12/11 photos from HEIC to JPGs, both HEIC files on iPhone and computer. (Namely, the photos will be transferred to computer while converting.)
Convert single photos or in batch.
Adjust photos quality for the converted JPGs if you need.
Easy to use and fast to convert.
Simple Steps to Convert HEIC Photos to JPG
Step 1: Download, install and open iMyFone HEIC Converter. If you want to convert iPhone HEIC photos, connect your iPhone.
Step 2: Click on Convert Photos in Batch on the software. Then click "+" button above "Select Files" to choose the HEIC files. Select the HEIC files on local folder, or go to "This PCDevice NameInternal StorageDCIM" to select HEIC files in iPhone.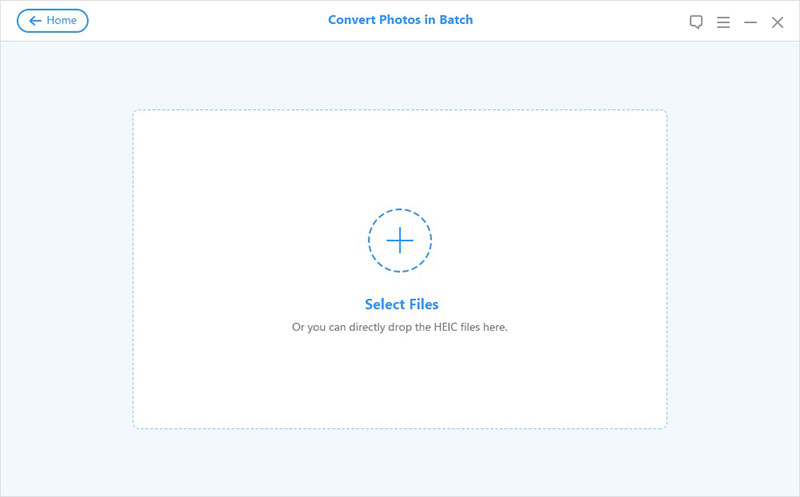 Step 3: All the HEIC files will be selected by default, click Convert. Then adjust "Photo Quality" and select folder to store the converted files. Finally click on Convert again to begin.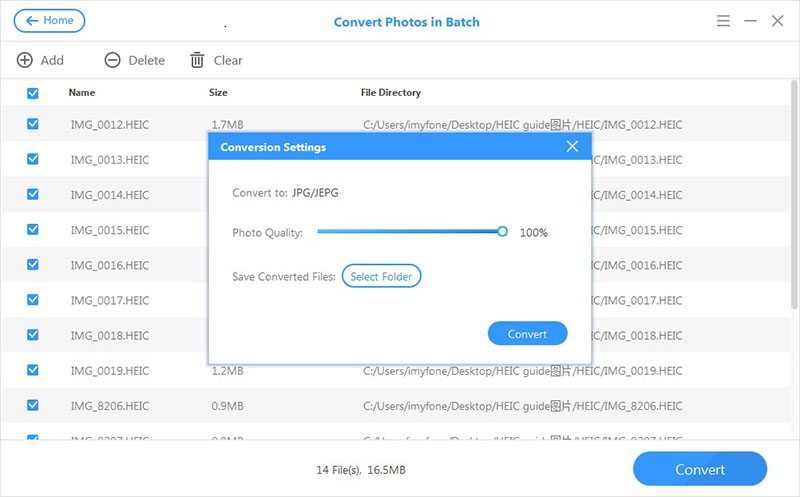 The converting speed is very fast and you just need to wait for a moment. Click "Open Folder" to access the JPGs.
2. Turn Off HEIC Formatting on iOS 12/11
The first thing that you can do is just prevent your iPhone from using HEIC in the first place. By doing this, your iPhone will just store photos in the familiar JPG format. You can turn this off by going to Go to Settings > Camera > Formats and then tap Most Compatible, so that there's a check mark there instead of next to High Efficiency.
Note: This settings only works for the photos shot later, but not for the existing HEIC photos.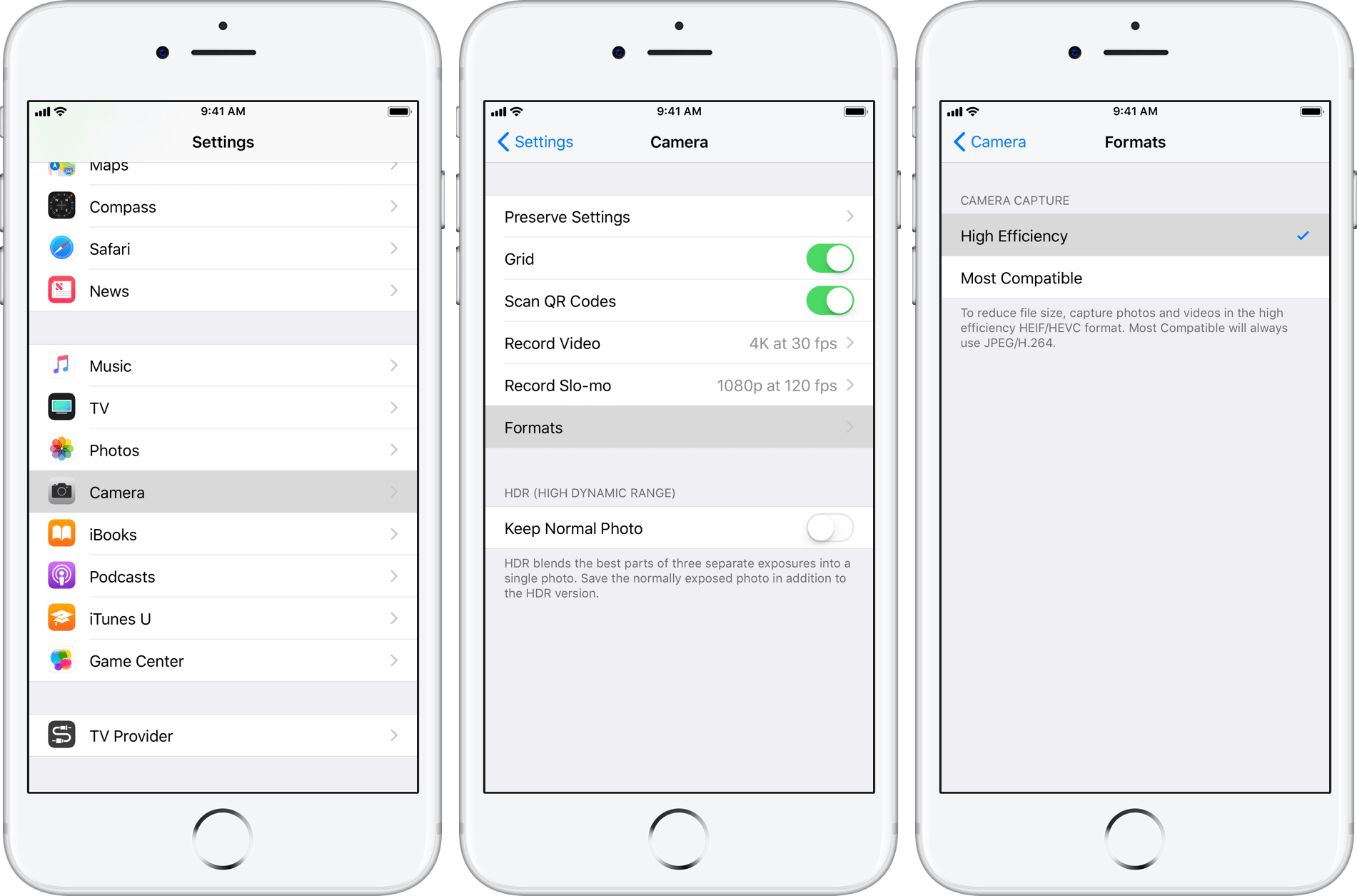 3. Turn on Automatic Transfer on iOS 12/11
If you want your HEIC photos to just automatically convert to JPG when you transfer them to your computer or some other device, then you can go to Go to Settings > Photos > Transfer to Mac or PC and then make sure that Automatic has a check mark next to it. You won't have to worry about manually converting after that.
Note: The same as "Turn off HEIC Formatting", it doesn't work for the existing HEIC photos, but for the photos that will be shot in the future. You need to use converter for the existing photos.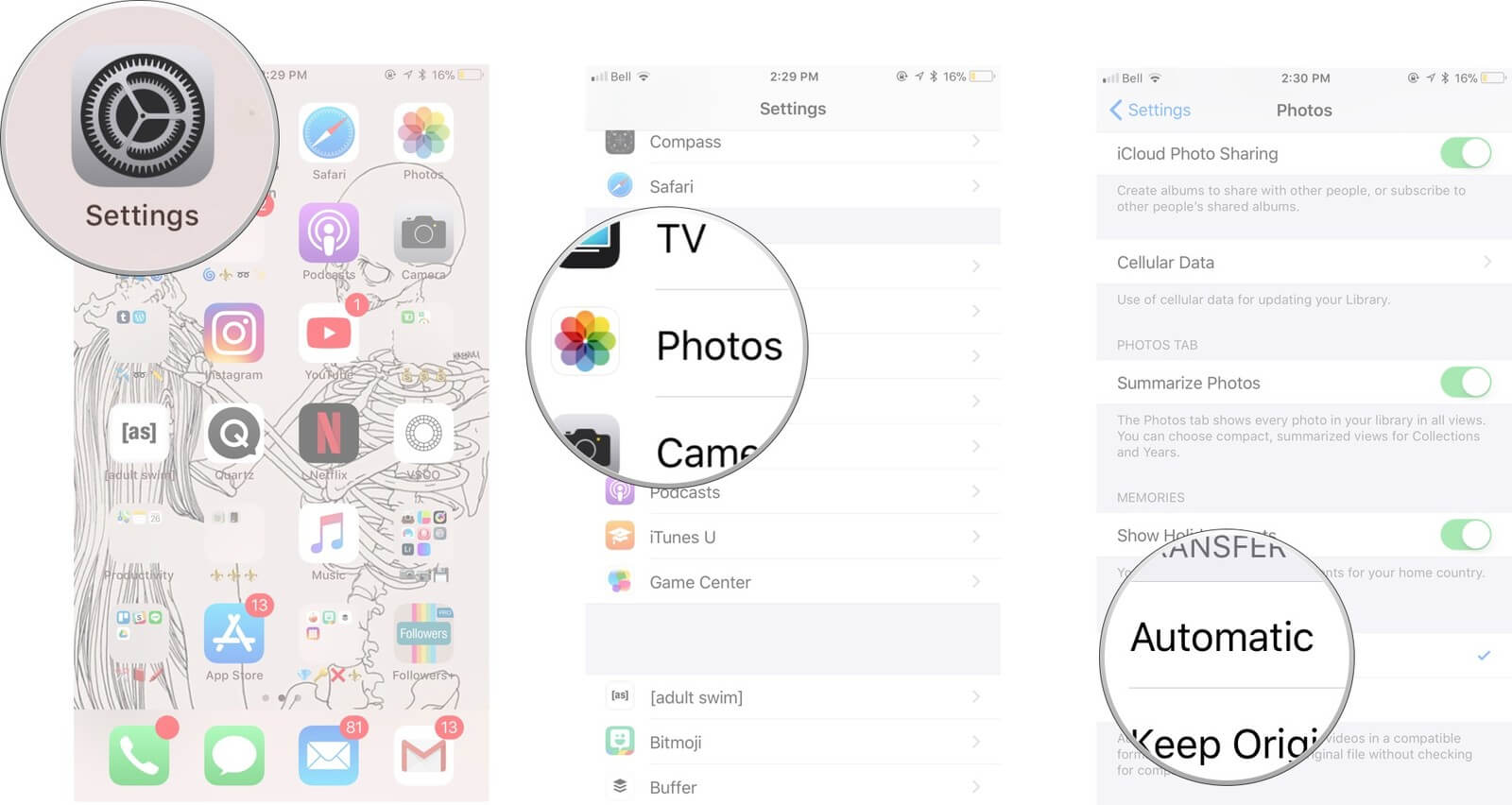 4. Access HEIC Photos via Cloud Services
You could also use a cloud service. Many cloud services like OneDrive will automatically convert your images when you upload them to the service. iCloud for its part will allow you to view your images on any browser without needing to convert them to JPG.
Note: If you download the photos from cloud server to your computer, it will be saved as HEIC. You should use converter to convert them.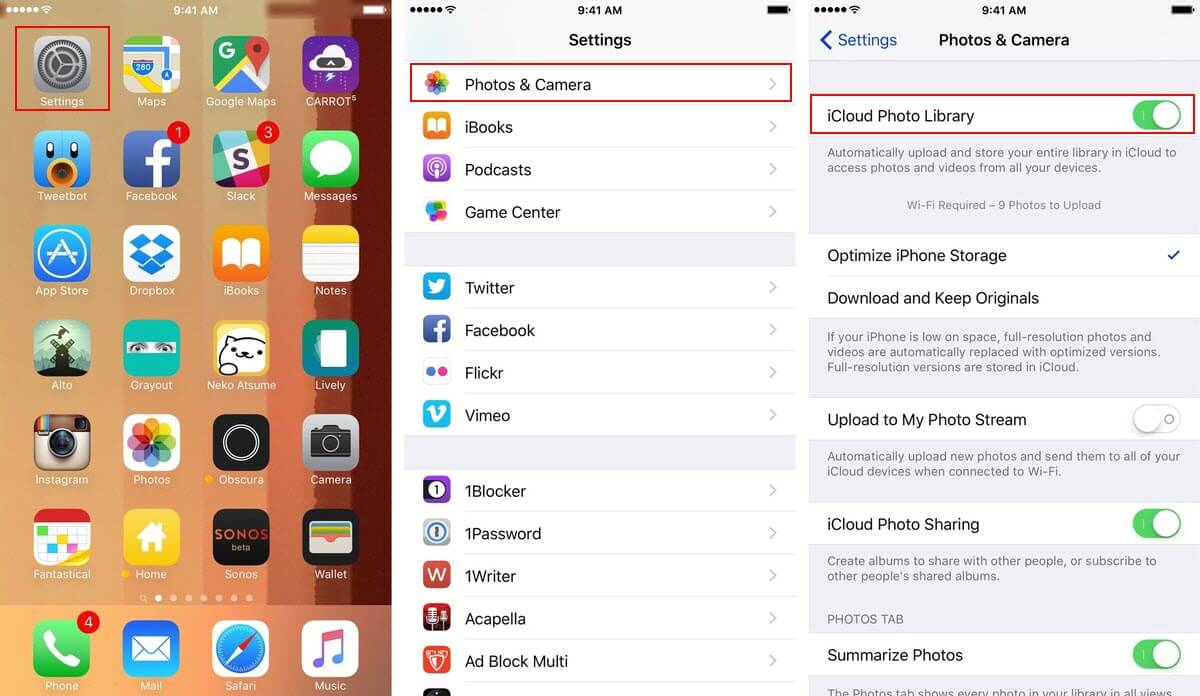 5. Convert HEIC to JPG Using Email
You can also simply use your email to convert your images. If you email the images to yourself using your iPhone, they will automatically convert to JPG.
Test & Review: It's more complicated. You need to downloaded one by one. Lots of users complain that they cannot receive the email for unknown reasons.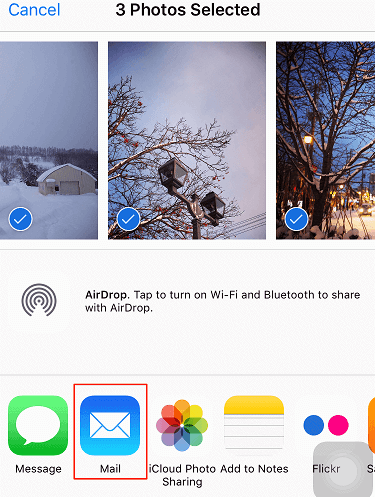 How to View/Transfer iOS 12/11 HEIC Photos for Free
You may find yourself unable to view the HEIC photos on PC or old Mac. It's true. Let alone transferring HEIC photos from iOS 12/11 device to computer. If you want to transfer any kind of photos, in HEIC or any other format, then you should give iMyFone TunesMate iPhone Transfer a try. It's fully compatible with iOS 12/11 and HEIC formats.
This is a third-party device manager that gives you a lot of freedom. It will convert your images and it will also let you store and export from whatever folders you want. You can:
Key Features(iOS 12 Supported):
Manage HEIC Photos: View, backup and delete iOS 12/11 HEIC pictures and HEIV videos on PC and Mac.
Transfer iPhone photos (from your camera roll or your photo stream) to computer/external hard drive.
Backup iPhone albums (not just photos) to computer and external hard drive.
Two-way transfer between iPhone and computer without any limits: music, videos, playlists, photos, albums, podcasts, audiobooks, etc.
Steps to Transfer HEIC Photos from iOS 12/11 to Computer
Step 1: Download and install TunesMate to your computer. Then plug in your device and launch TunesMate.
Step 2: On the mains screen, click Backup Photos to PC/Mac.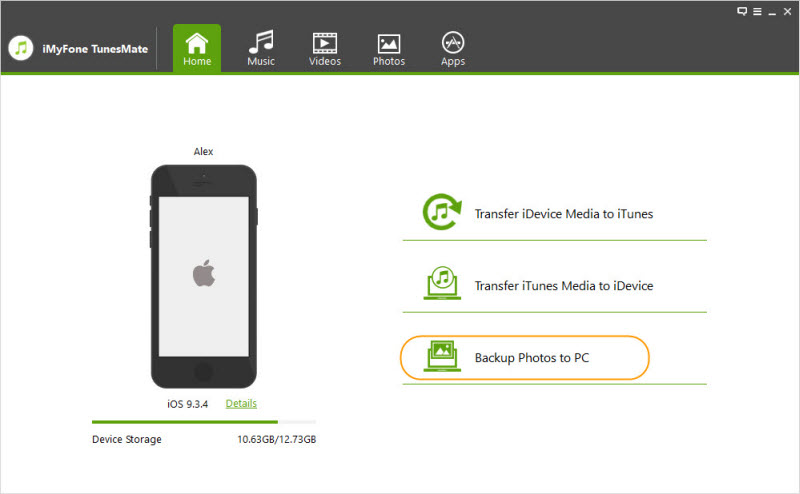 Step 3: Choose a folder and click Select Folder.
That's it. The transferred photos will be JPG formats on computer.
Steps to Backup Photo Albums from iOS 12/11 to Computer
Step 1: Plug in your device and open TunesMate as before.
Step 2: Click the Photos tab at the top. Choose either your Camera Roll or your Photo Stream from the left sidebar.
Step 3: You will see the albums that are listed under one of these categories. Right click the album you want and click Export to PC/Mac.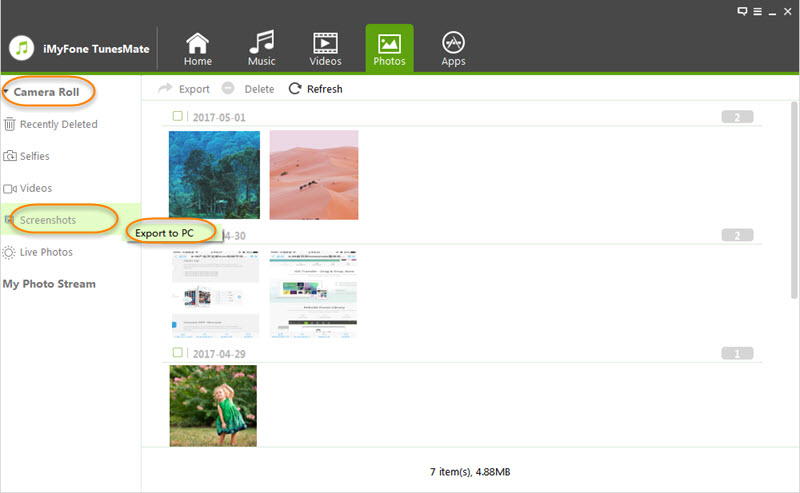 Step 4: Browse for the folder on your computer where you want to transfer the album and click Select Folder.