Any song you purchase on iTunes will have AAC as its default file format. You may want to enjoy the music you have purchased on iTunes on your iPhone/iPad/iPod or any other music playing device that does not support the AAC format. The fact that your iTunes music is in AAC format should not stop you from enjoying your music on your other music playing devices. In this article, we will focus on showing you how to convert iTunes music to mp3 so that you can enjoy it on any device.
Part 1. Convert iTunes Music to mp3 Using iPhone Music Manager
For those who want to convert iTunes music in an easier and quicker way, a third-party tool may be more helpful than you expect. The best iPhone Music Manager that can help you to convert your iTunes music to mp3 is iMyFone TunesMate. This music manager will automatically convert iTunes Music to a format your iPhone/iPad/iPod Touch can support including the mp3 format. TunesMate will allow you to convert your iTunes music both in bulk and selectively.
The features you get in TunesMate include:
Convert all your files during the transfer process to a format supported by the target device.
TunesMate ensures that no data loss occurs during the transfer process.
There will be no limitation on the number of PCs or iDevices when using this tool.
Have no limits for the devices you can use it with more than 5 iOS devices that iTuens supports.
TunesMate allows a two-way transfer. You can easily export and import your music and other data to and from any Apple device easily.
To learn how to convert iTunes music to mp3 using iMyFone TunesMate, follow the simple steps we have outlined below:
Step 1: After launching iMyFone TunesMate on your computer, connect your iOS device to the computer using a USB cable.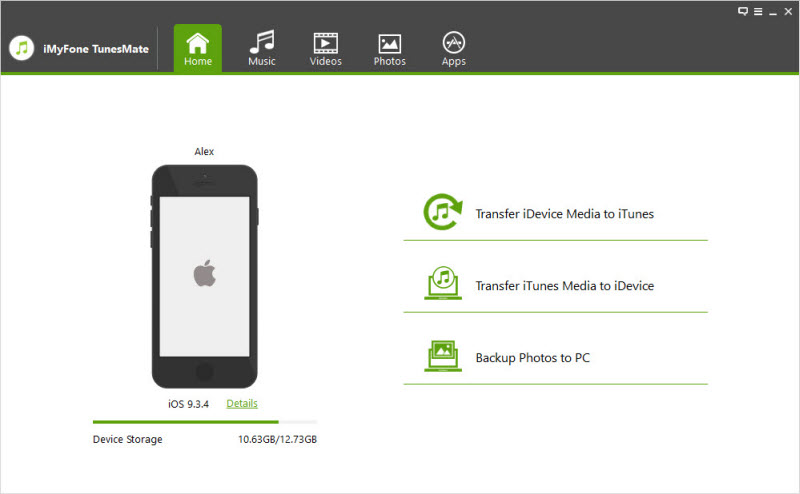 Step 2: Tap Transfer iTunes Media to iDevice. This option should be available on the Home tab. It will recognize all the media files you have in the iTunes library.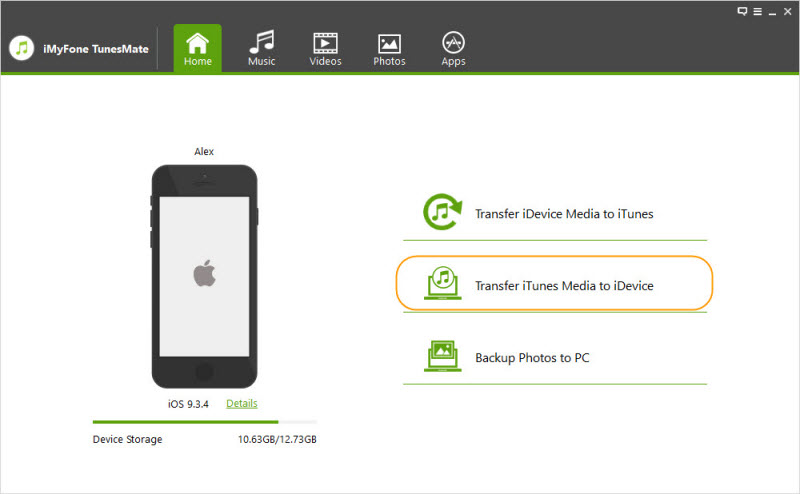 Step 3: TunesMate will have the Entire Library option ticked by default. You will need to select the specific files you would like to transfer. After selecting the files, tap Transfer to initiate the transfer process.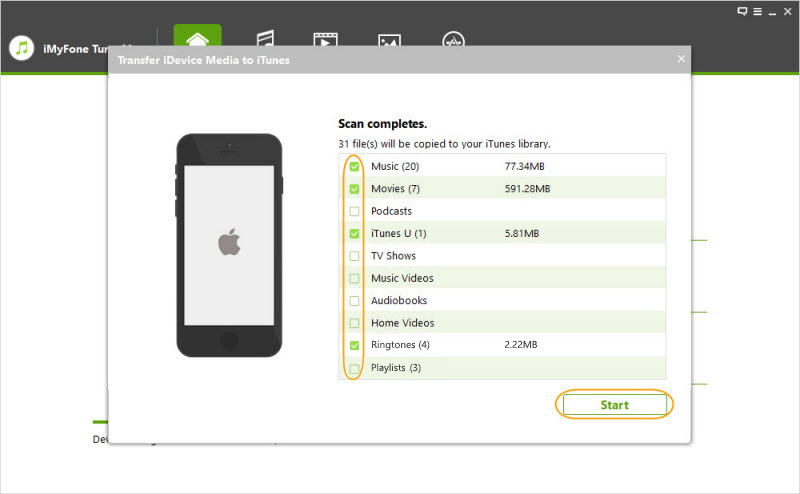 Step 4: After your iTunes media have been transferred successfully, click OK.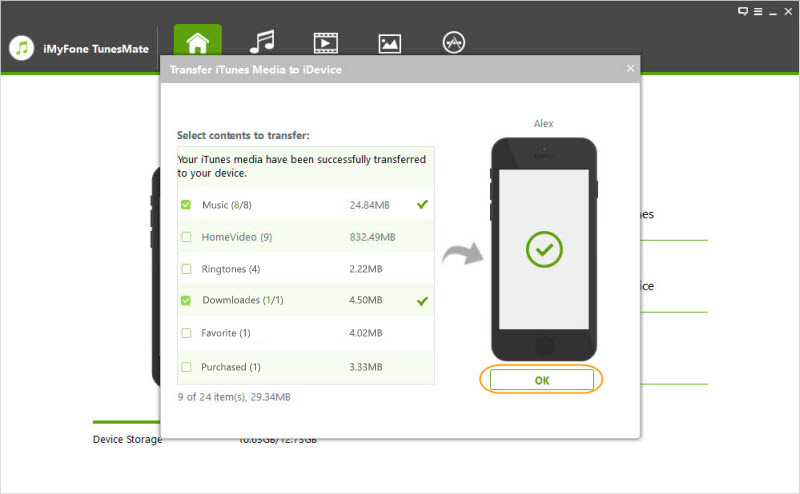 Note: One thing to note is that you have to keep your iOS device connected to the computer throughout the whole transfer process. Now you don't need to convert your iTunes music to mp3 before you transfer them to other devices, TunesMate will automatically convert the format for you.
Part 2. Convert iTunes Music to mp3 Using iTunes
If you really need to convert the iTunes music to mp3 format, then you can use iTunes to do that. However, this process is usually too complicated which is the reason a large number of people prefer using iMyFone TunesMate which converts iTunes music automatically in just simple click. Below, we show you how to convert an iTunes song to mp3 using iTunes:
Step 1: Launch iTunes and click Preferences on the left top iTunes menu.

Step 2: On the menu bar at the very top, for Mac click General > Import Settings > MP3 Encoder > OK. (For Windows click General >Edit> Import Settings > MP3 Encoder > OK.)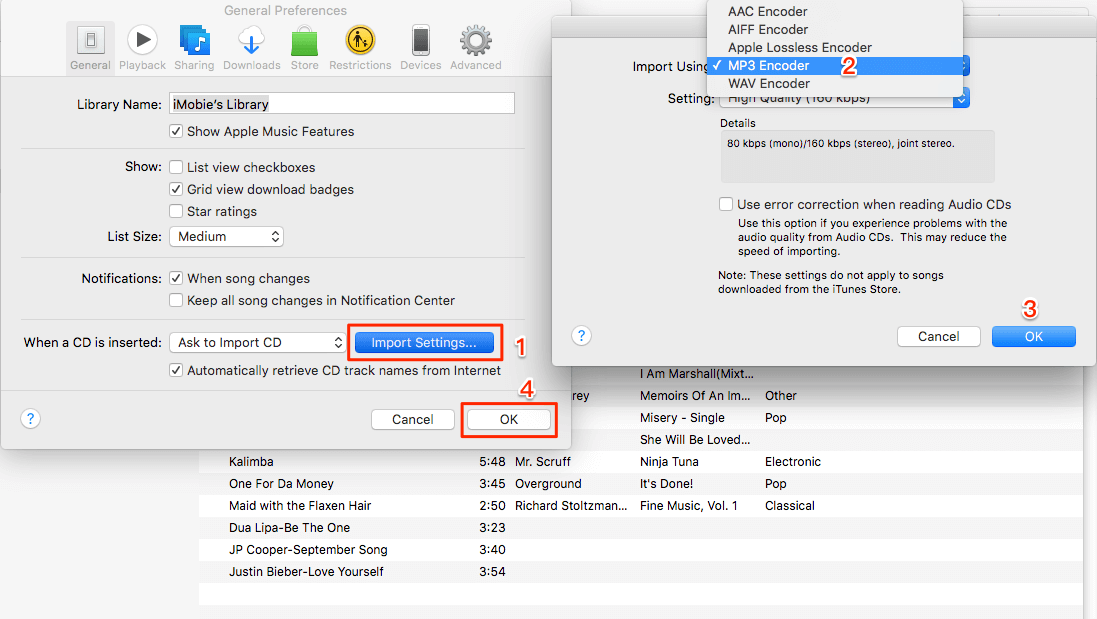 Step 3: Select the songs you want to convert to mp3 and highlight them. Then click on the File menu choose Convert >Create MP3 Version.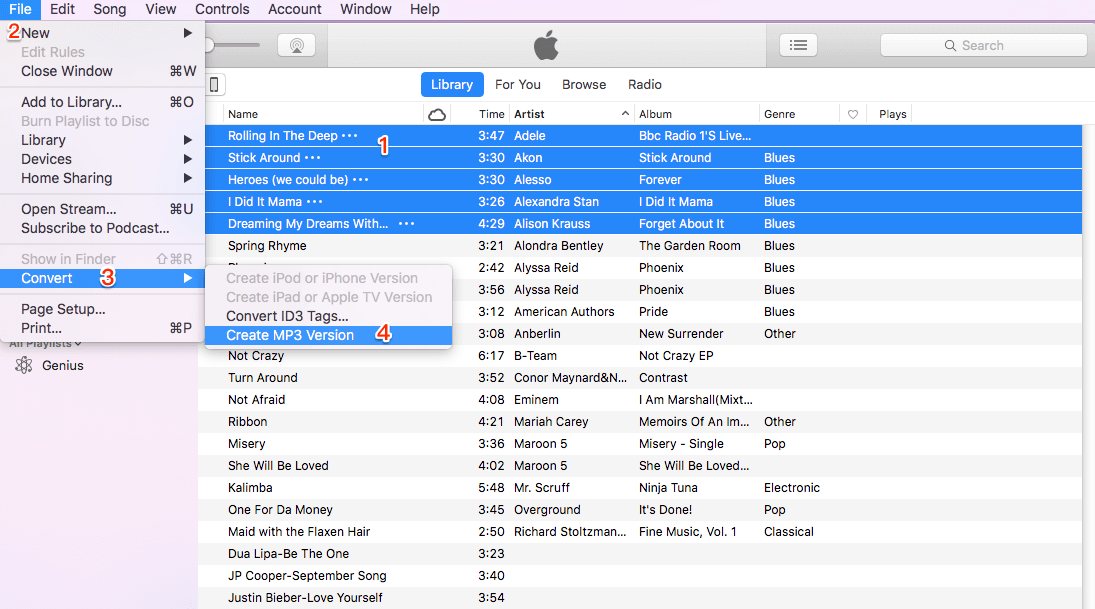 Tip: Using iTunes to convert a single iTunes song to the MP3 format will take too much of your time. If this is time you do not have, you can always opt to use iMyFone TunesMate which will help you convert iTunes music to mp3 in bulk.
---
After purchasing your music on iTunes, you will want to play it on another media player. The music you have on your iTunes is in the AAC format which is not supported by the majority of media players. Most music players including iOS devices will support the MP3 format. To make it possible for you to play your music on other devices, we have written this article which should help you learn how to convert iTunes music to mp3. You can use iTunes or the iPhone Music Manager TunesMate to help you convert your music.