If you're an avid music lover and you use Apple's products, you may be curious about how to transfer your iTunes playlist from one computer to another. In theory, this should be a relatively straight-forward process, but you can certainly run into problems sometimes if you try to use native software from Apple to do this. Unfortunately, Apple can be pretty restrictive and this can get in the way of your plans.
How to Transfer iTunes Playlist From One Computer to Another: 2 Methods
The first way to do it is of course through iTunes, but as you will see, this is not the only way. In fact, this isn't even the best way, since you don't really have a lot of freedom. Here's how you can do:
1

Copy iTunes Playlist to Another Computer with iTunes
Step 1: Back up your old iTunes playlist. You can do this by copying your iTunes folder onto an external drive.
Step 2: Download and install iTunes on your another computer.
Step 3: Copy your old iTunes folder and drop it in the location where your new iTunes folder would be. Note that this can overwrite any new files if you're not careful.
2

Transfer TunesMate Playlist to Another Computer with TunesMate
The much better option is transferring your playlist with the iMyFone TunesMate. This application gives you a lot more freedom than iTunes, and you can actually choose to edit your playlist or even pick and choose which songs you want to transfer without any restrictions. You can also back up your playlist extremely easily in just a few short moments.
Here you can see how to transfer your playlist from one computer to another. There are many ways you could do this, actually, but this is probably the most efficient. We're going to use your device as a middle-man:
Step 1: After installed TunesMate, plug in one of your devices.
Step 2: Click the "Music" tab, then wait for your music files to populate the screen. Click on the ones that you wish to select.
Step 3: Export this playlist of music files to your device by clicking "Export" and choosing a destination.
Step 4: Download and install TunesMate on your second computer. Again, plug in the device mentioned above.
Step 5: There should be a list of playlists available on your device towards the left of the screen. Right click on the playlist, then choose "Export to PC".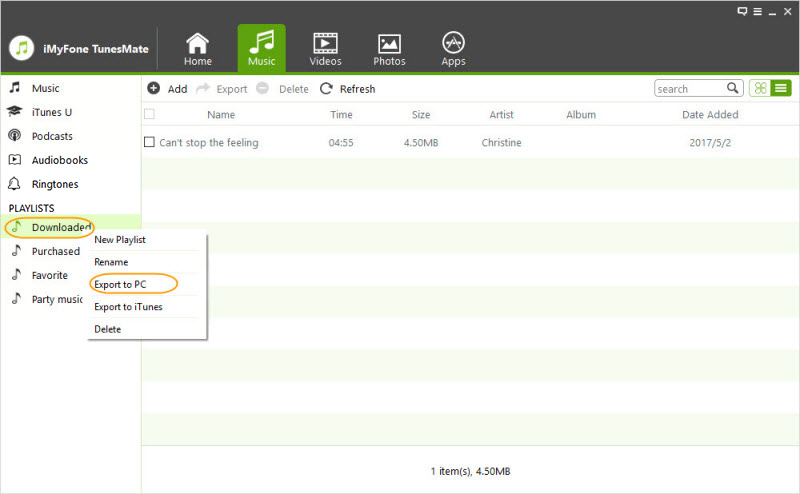 This is very easy—but more importantly, it can allow you to transfer various kinds of files that you want and share them with multiple computers. You just can't do this with iTunes.
iMyFone TunesMate can transfer your playlist from your computer to your devices, from your devices to your computer, and it can also help you transfer your playlist to iTunes itself. In addition, you can easily manage your playlist from right within the program, and there is no need to worry about any of Apple's restrictions.
While they're both really fast methods, sometimes you have to ask yourself: where do I have the most freedom? How to transfer iTunes playlists to another computer can be a very easy question to consider on the surface, but only third-party applications like TunesMate offer the kind of flexibility where you can transfer almost any kind of file. Editing your playlist is a breeze and the program is much more light-weight than iTunes.
So which method is better really depends on your goals. If you're fine with all of Apple's restrictions, then there's no reason not to just use iTunes. However, if you want to share your music and have it on more than one computer at a time, then you should get iMyFone TunesMate.