If you record a lot of videos on your iPhone, then you probably like to edit them on your phone too. There are numerous video editing and movie making apps available for iPhone, but some of them are paid. This article will help you learn about the 5 best video editing apps for iPhone that not only offer lots of amazing features but are also free.
5 Best Free Video Editing Apps for iPhone iOS 13/12
Following are 5 best free video editing apps for iPhone iOS 13/12/10/9, all these apps are also available for iPad:
1

Free Video Editing App for iPhone - PicPlayPost
PicPlayPost is an efficient and unique video editing app for iPhone that allows you to construct beautiful collages. You can easily pick out videos, photos, gifs, and more to combine them and make a collage. The app also has sharing features so you can quickly share your constructed collage with your friends.
Following are some features of PicPlayPost:
Add numerous items (up to 300) to construct beautiful collages.
High quality rendering of GIF.
You can create up to 10-minutes long videos with this app.
Options to slow down, speed up, and reverse videos are also available.
Automatic slideshow creating feature lets you quickly create projects. All you need to do is select the media.
Lots of stunning effects and transitions to choose from.
Share your constructed collages, slideshows directly from the app.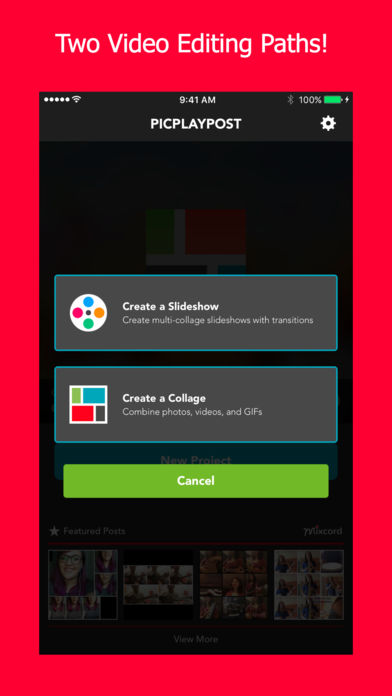 2

Free Video Editing App for iPhone - Splice
Splice is another powerful free video editing app for iPhone developed by GoPro; a reputed brand for video editing software and action cameras. You can sync your videos to the music beat with this app automatically. Furthermore, you can apply various attractive filters, adjust orientation, background colors, and much more.
Following are some features of Splice:
Plenty of different transitions to choose from.
Uploaded your edited videos to Instagram, Facebook, YouTube directly from the app.
You can import still images for editing as well.
Splice allows you to take advantage from its extensive audio library for free. The library has variety of royalty free music from genres like pop, hip hop, reggae, dance & electronic, and more. Furthermore, you can also add narration and sound effects.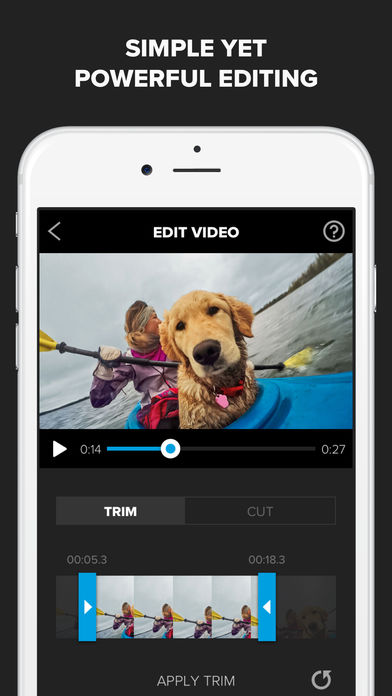 3

Free Video Editing App for iPhone - Worm
Worm is one of the few apps for iPhone that has been developed for slow motion video editing. The app is easy to use, fun, and highly useful. You can touch the screen in order to slow down video and use various other tools to create quality content with this app.
Following are some features of Worm:
Touch screen editing.
Import GoPro clips and edit them in seconds.
Share your edited videos directly from the app.
Discover new, interesting content as well as publish your created content to Worm platform that contains thousands of creative, enthusiastic souls.
Ad-Free app.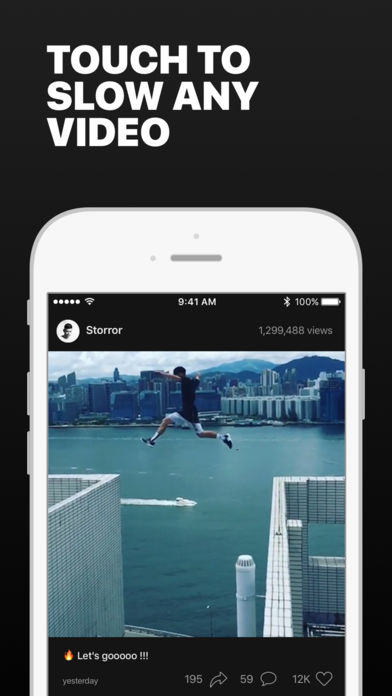 4

Free Video Editing App for iPhone - Magisto
Magisto is a popular video editing app for iPhone that has over 80 million users. Using this app is pretty easy; all you need to do is upload your video to Magisto and the app will edit it and automatically turn it into a movie. Furthermore, it will also add in music and effects for a total package.
Following are some features of Magisto:
Fully automatic video editing with separate analyze, trim, and edit sections.
Lots of attractive video effects and easy to use video editing app.
You can create music videos, video stories, and much more with Magisto.
Add stabilization, effects, transitions, and filters to your video
Once you have finished your video, you can share it directly from the app on Facebook, Twitter, YouTube, and by email.
5

Free Video Editing App for iPhone - iMovie
iMovie is another good video editing app that allows you to edit your iPhone videos using professional templates and customize it according to your preferences. You can choose from 7 templates and modify even the smallest details such as texts, fonts, etc.
Following are some features of iMovie:
Edit videos using 7 professional templates. You can customize the templates as well.
You can use this app to create announcements, intros, closing credits, and much more.
Export videos, preview your work when performing edits, as well as tutorial to use the app effectively are some additional features of iMovie.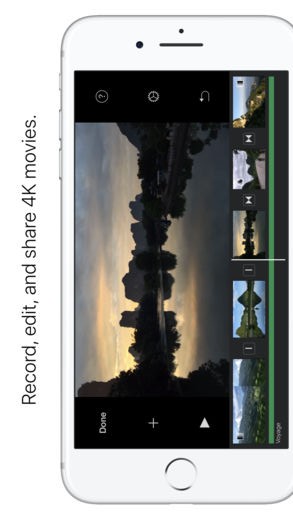 How to Transfer Edited Videos to Computer Within Seconds
Editing videos on iPhone can be a lot of fun and you would definitely want to transfer them to your computer so that you can keep them as backup. When it comes to transferring files, you can use iMyFone TunesMate. This iPhone file transfer tool makes transferring files between iPhone and computer a breeze.
Features of iMyFone TunesMate
Key Features:
Two-way Transfer - Transfer medie files from iDevice to iTunes/Computer and vice versa.
All Media Files Supported - The best all in one iOS 13/12 media file manager.
Best iTunes Alternative - Bypass many iTunes limits.(Erase Data While Syncing, Various iTunes Errors etc.)
Rebuild iTunes Library - Restore your damaged iTunes library with one-click.
Both Purchased & Non-Purchased - Manage purchased and non-purchased items without any limits.
Highly recommended by many professional software review webistes, such as Getintopc, Geekreply, tricksworldzz.com, etc.
You can easily transfer your edited iPhone videos as well as other types of files via iMyFone TunesMate by performing simple step.
Step 1: Click on Videos tab.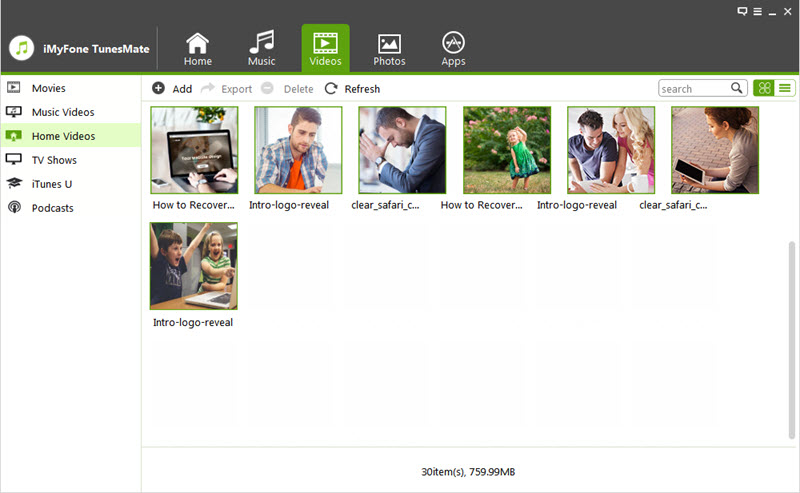 Step 2: Choose the edited video you want to transfer, then click on Export > Export to PC/Mac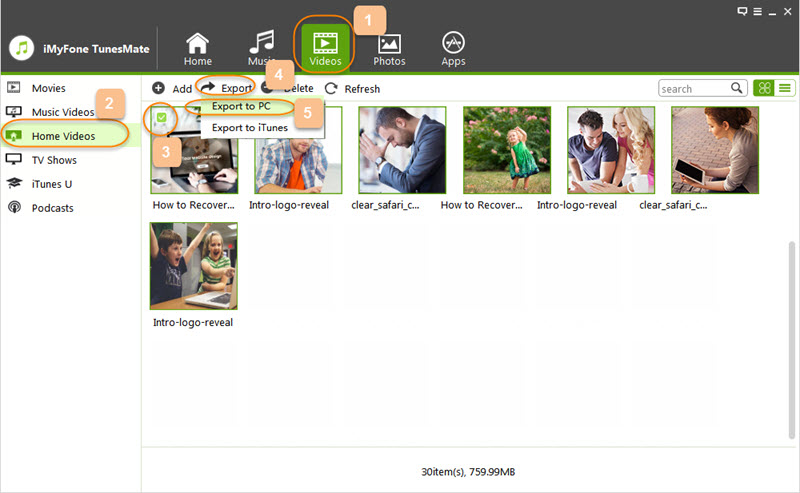 Step 3: Choose a location for your videos.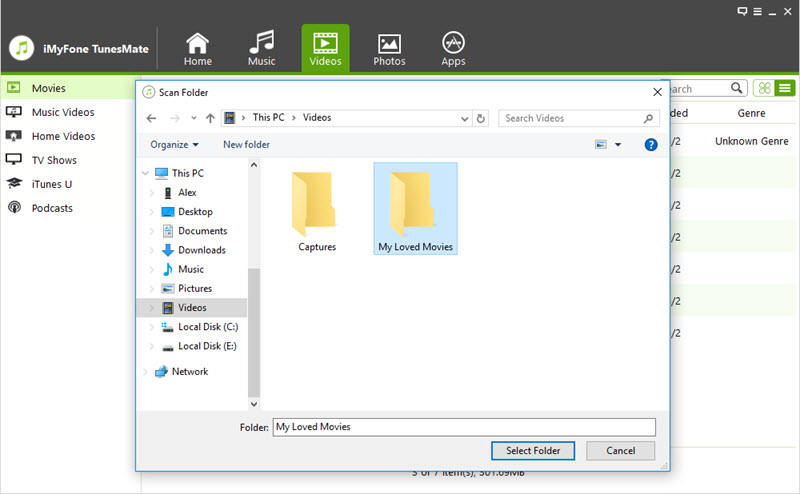 The software also offers many other useful features such as rebuilding iTunes library, previewing files before transfer, transferring non-purchased music, bulk uninstalling apps, and much more.