Are you aware that Apple unveiled on Monday at its 2016 World Wide Developer Conference (WWDC), that the Mac operating system will then henceforth be called macOS? macOS is a major upgrade to Apple's desktop operating system. This new operating system, which has a hand-full of exciting features will be officially released this fall. Some of the prominent features that will give macOS an edge over its competition will include:
Apple Pay
Auto Unlock with Apple Watch
Universal Clipboard
iCloud Drive
Tabs
Optimized Storage
Picture in Picture
Siri
Siri is one of the world's best digital virtual assistants. It gives users the best experience when carrying out things you normally do on your desktop every day. It can help you to search information, lookup documents, drag & drop search results or adjust system settings. iCloud Drive brings iDevice integrations to a whole new level. With Universal Clipboard, plagiarism is heading to a new dimension; you can copy an article from your iPhone and paste it on your Mac notepad with just a click.
The turnaround of this announcement came when Apple executives announced that Apple Pay is now available on Mac. You may be wondering, "What's the fuss about Apple Pay"? Yes! From the result of our studies on the benefits of Apple Pay to iDevice users since 2014, we believe it deserves all the attention it's getting. We shall be discussing the following benefits of Apple Pay and how is can be used on macOS.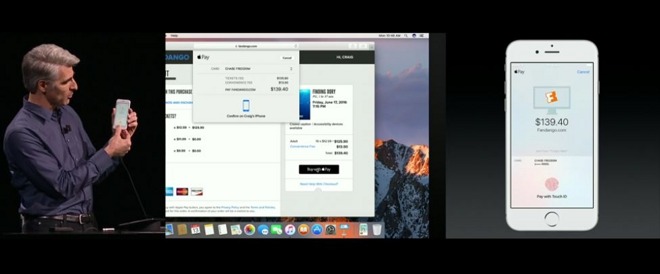 Benefits of Apple Pay on Mac
Apple Pay is one of the safest and easiest ways of making online payments by just taping your mobile iDevice in stores. With the introduction of the apple pay to macOS, Mac users are expected to reap the following benefits from using Apple Pay for e-transactions.
Security: With NFC technology, a new code is created and authenticated each time you want to make a transaction. Therefore, you will not need to worry over leaving your credit card information with a vendor because the vendor does not have it.
Mobility: Apple Pay is a good mobile wallet for every consumer. It helps you have access to fast and efficient payment option on the go.
Reliable verification: Your identity would be verified with your iDevice ID Touch finger print scanner. Therefore, no one can still from you without first cutting off your finger.
Acceptability: NFC mode of payment is becoming versatile and is equipped on several POS devices. Apple Pay therefore would be acceptable everywhere in the nearest future.
Privacy: Apple announced that they would not be tracking transactions made with apple pay to store the data. Also with Apple Pay, no retailer will be able to see your name or other personal details after shopping.
Now, with Apple Pay on Mac, online shopping can never be the same again. You can now shop with this securer and handier way. To be able to use Apple Pay on your Mac's Safari, you will see "pay with Apple Pay Button", which will prompt your nearby iPhone or Apple Watch for authentication when you click on it.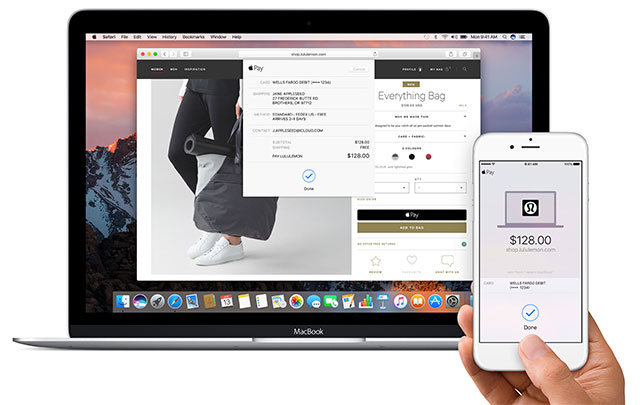 Apple Pay like every other tool has its unique disadvantages, some of which may include:
This payment options is not very acceptable everywhere. You may find few shopping outlets that have NFC enabled POS. when this is the case; Apple Pay would fail to be a legal tender.
It is only supported in 6 countries. This is a big limitation.
On macOS, it compels users to purchase iPhone or Apple Watch before accessing it.
No doubt, Apple Pay is better off than normal credit card in several different ways. What you need is just to tap your Touch ID on your iDevice, then that is smartness, convenience and security. Apple Pay makes e-wallet handy and fast, and would soon be a leading force in cashless transactions. With industry leading security protecting your transactions, all you need to do is to input your credit card details on your iDevice and store them up to make payment easier and faster. With apple Pay, every payment can be made on the go.