Find My iPhone is an amazing feature in all iDevices that keeps your iDevice's information safe in case it is ever lost or stolen. In case the device is lost, Find My iPhone feature can lock the device as well as track it.
But it also makes it tricky to unlock your own device when the Find My iPhone is on and you don't remember the iCloud credentials.
That being said, Unlocking iPhone with Find My iPhone on is totally possible.
There are various ways to do it, and today we will talk about some of the best ones.
Find My iPhone Unlock - without Password
If you want to unlock find my iPhone without knowing the Apple ID and password, then it is recommended that you use iMyFone iBypasser. iBypasser is a professional iCloud account removal tool that can quickly turn off Find My iPhone and remove the currently logged Apple ID. Apart from this, iBypasser is also a powerful iDevice iCloud activation lock bypass tool.
Unlock Find My iPhone with ease. You don't need to provide Apple ID or password.
After Find My iPhone unlock, you are assured that the previous owner of the device won't be able to track your iDevice.
You can use your own iCloud account in your iPhone without issues after the removal of Find My iPhone.
Powerful iDevice lock screen unlocking. It can remove all types of iDevice screen locks without activation restrictions, including Touch ID, 4-6-digit passcode and Face ID.
Steps for Find My iPhone Unlock without Passwords
Step 1. On your computer, download and launch iBypasser. Choose the "Turn Off Find My [device]" mode. Connect your device to the computer through a USB cable.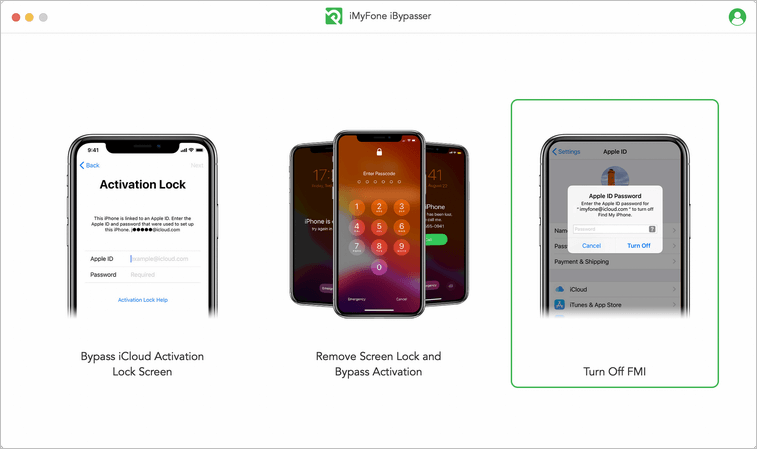 Step 2. Jailbreak your iPhone and click "Next" when jailbreaking is finished.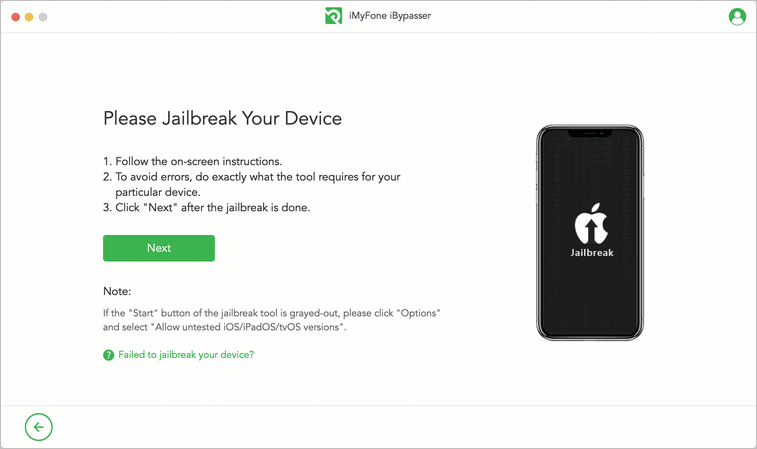 Step 3. iBypasser will start turning off Find My [devie].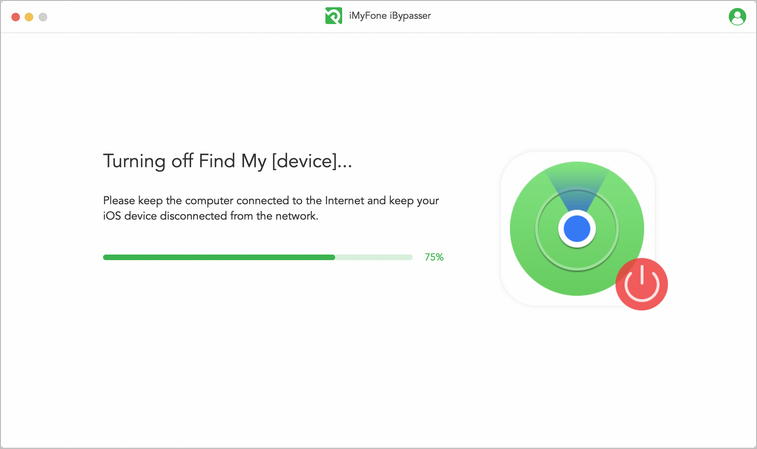 Note
Make sure the computer connected to the Internet and keep your iOS device disconnected from the network.
Step 4. Confirm the Find My iPhone status and enter "ON" or "OFF" , then click "Confirm" to continue.
If Find My iPhone has been successfully turned off, iBypasser will start removing the current Apple ID from "Settings".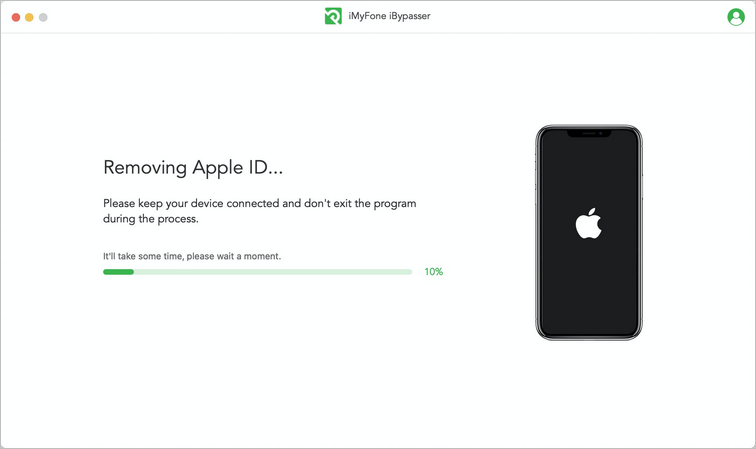 After the Apple ID is removed, please factory reset the device and then you can use it as brand new. Log in any new Apple ID and get full control with no limitations.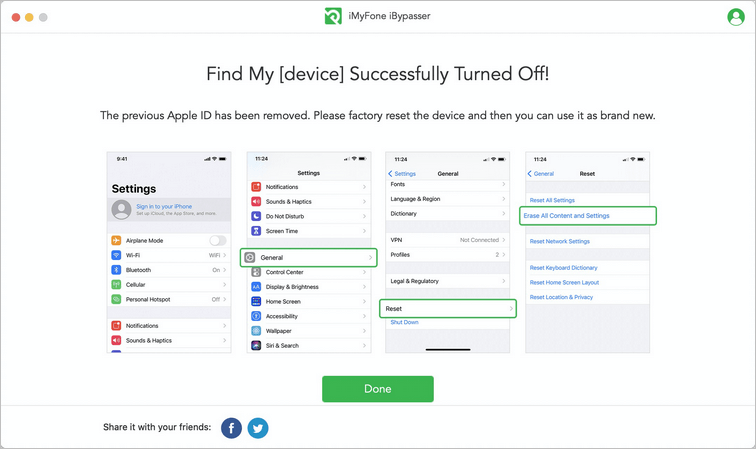 Find My iPhone Unlock - with Password
If You Forgot Apple ID Password - Find it Back
Find My iPhone unlocking requires you to provide Apple ID and password which was used to activate this feature. If you forgot Apple ID password, then you will first need to find it back so you can use it to unlock Find My iPhone. Resetting the password is easier as long as you know the email address associated with your Apple ID.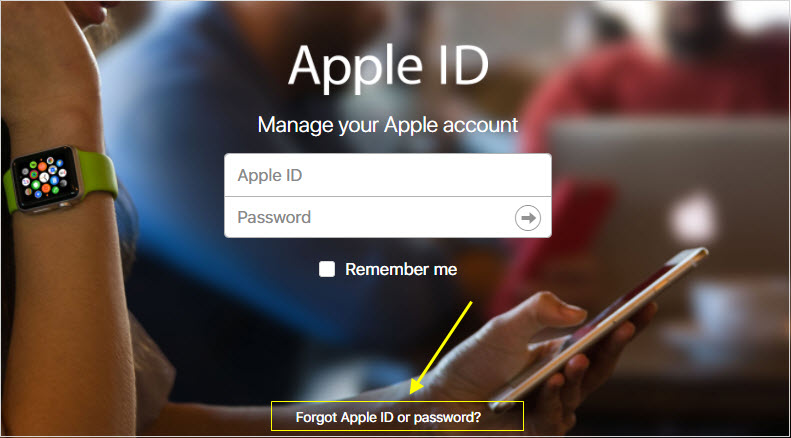 Visit your Apple ID account page and on the login screen, click on "Forgot Apple ID or password".
Input your Apple ID and then choose a method to reset your password. It is recommended that you select 'Answer security questions' method and then click Continue.
Now follow the on-screen instructions to answer the security questions. Your Apple ID password will be reset. You can then use the new password for Find My iPhone unlock.
Let the Previous Owner Remove
If you have purchased a second-hand iPhone and it is linked with Apple ID account of the previous owner, then you will need to contact the previous owner and ask them to remove the device from Find My iPhone.
If you cannot physically contact the previous owner of the device, then you will need to ask them to remotely remove your iPhone from their All Devices section of Find My iPhone.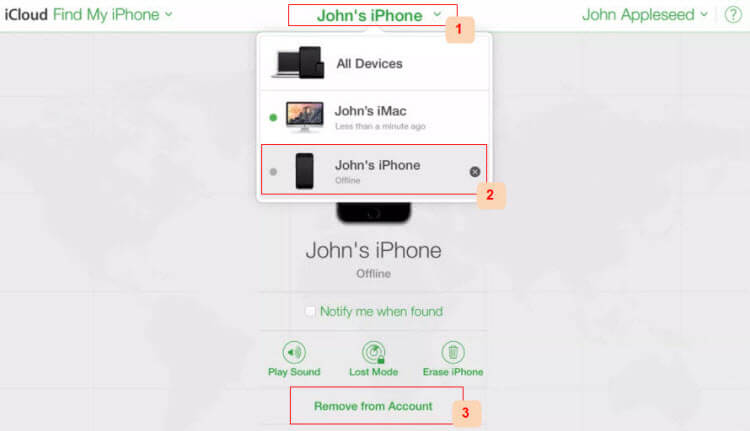 Log in to iCloud.com with their Apple ID.
Navigate to Find My iPhone > All Devices.
Choose your iPhone from the list of devices and click Erase [device].
Then click on 'Remove from Account' option.
Part 3: Conclusion - Unlocking iPhone with Find My iPhone On
The Find My iPhone feature could make it very tricky to unlock an iPhone without the password. But with  iMyFone iBypasser, you can easily reset the device and then use a new iCloud account.
Using a third-party Find My iPhone unlocking tool like iBypasser is the most straightforward way to solve the problem. However, you can also reach out to the original owner and seek for help, as an original owner is able to easily remove any device from the Find My iPhone list.