comments
"My wife uses my phone a lot, this will streamline things a bit."
"Great news! Can finally have my girlfriend be able to use Face ID. Definitely gets annoying having to type the password every single time."
"This is good for parents who like to have access in their children's phones."
Face ID has been an absolute joy to use since it launched with the iPhone X. The technology is fast, seamless, and highly secure - a major improvement over fingerprint-based Touch ID systems in use on iPhone 8, iPad and MacBook Pro.
Part 1. Does "Add Another Face ID" Literally Mean for One Or Tow People?
Face ID was first introduced with iPhone X in 2017. Before that, touch ID on iPhone 8, iPad and MacBook Pro allows users to add five fingerprints, which allows people to share their device with family members and trusted friends. However, Apple ditches the touch ID system on iOS 12/13 but replaces for the face ID recognition, so users of iPhone X/XS/XR/XS Max/11/11 Pro/11 Max/12/13 cannot use touch ID but Face ID to unlock. Apple says the Face ID feature can add an alternate face. But the real question is, does Apple mean the alternate face for one person or two different people?
For those with double lives, this is never a question. They can add the much different morning face as the alternate. For the spouses who use one phone, the good new is that they can add both their faces on the same iPhone. This is has been proven by a lot of people. Many users have added a spouse or special friend to their face ID so they can unlock the iPhone. So the "Add another face ID" feature can be used for two different persons. How to add another face ID on iPhone X/XR/XS/11/12/13? Read on and learn how to do this by following simple steps.
Part 2. How to Add Another Face ID to Unlock iPhone X/XR/XS/11/12/13?
If you have an iPhone X or later, or the 2018 model of iPad 11-Inch or later, you can use the face ID feature to conveniently unlock your device. If you want to share the device with your spouse, family, or trusted friend, you can add a second person to Face ID. The steps are simple.
First , you need to set up the main face. Most people set their own face on the device first. This is how to set up the first face on iPhone/iPad:
Step 1: Go to "Settings > Face ID & Passcode". You will need to enter your passcode to authenticate.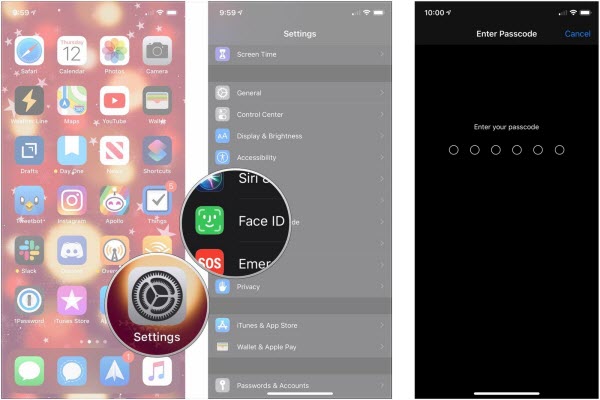 Step 2: Select the device or applications that you want the Face to unlock. Click on "Enroll Face".
Step 3: Position your face in front of your device, and tap on the blue button "Get Started".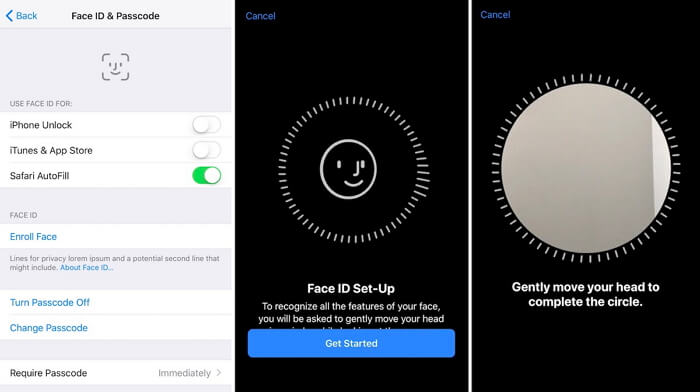 Step 4: The phone will start to scan your face. You will need to rotate you face in a circular motion while keeping your eyes focused on the front camera.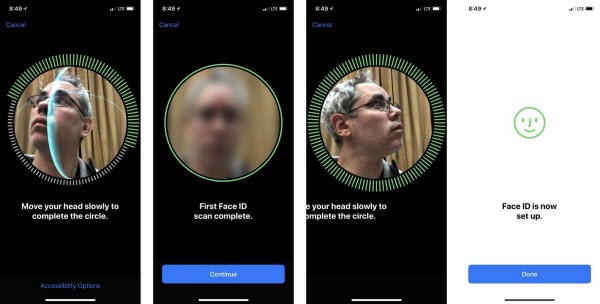 Step 5: When the first face ID scan completes, tap "Continue" to re-scan your face.
Step 6: You will gently rotate your face to complete the circle again. Then Tap "Done" to finish setting up your face ID.
Now you will need to add the second person on your iPhone or iPad:
Step 1: Go to "Settings > Face ID & Passcode". You will need to enter your passcode to authenticate.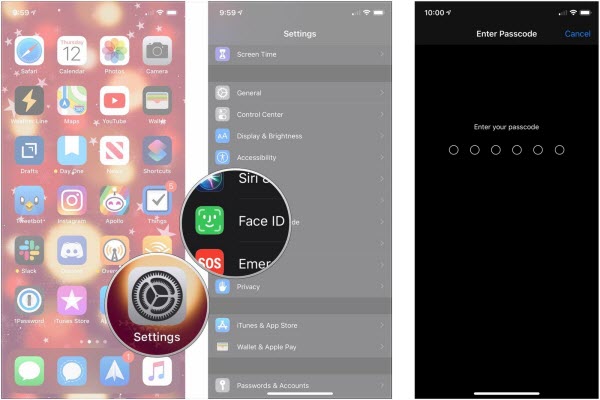 Step 2: Tap "Set up an Alternate Appearance".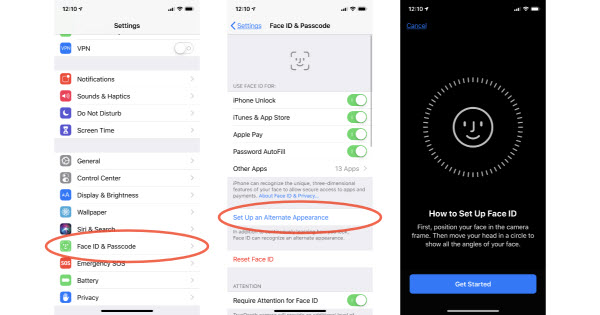 Step 3: The second person will need to position his/her face in front of the device and tap "Get Started".
Step 4: Same steps of the first person, the second person will need to rotate the face and have the camera scan twice.

After proceeding the whole process, both faces of the two different persons will be added to the same device. Now the second person can unlock your phone without entering the passcode.
Part 3. How to Set up A Different Face ID without Password?
If you got an iPhone X/XR/XS/11/12/13 without your face ID on it, and you do not know the passcode, how can you set up your own face ID to unlock it? This is easy to fix. All you need is an PC software called iMyFone LockWiper to help set up a different face ID without passcode. LockWiper is a wonderful unlocking tool to reset Face ID, Touch ID, and 4-6 digit posscode on any locked iOS devices.
iMyFone LockWiper: iOS Lock Expert
1. With iMyFone LockWiper, you can reset the Face ID on any iOS device without the passcode.
2. You can set up new Face ID on iPhone X/XR/XS/11/12/13 or iPad after unlocking the device.
3. LockWiper can deal with all types of screen lock, such as Face ID, Touch ID, 4-6 digit passcode.
4. You can remove the Apple ID from the iOS device without password completely without data loss.
5. LockWiper can reset the Screen Time/Restrictions passcode without data loss.
6. It is compatible with all iOS devices and versions, including the iPhone 13/12.
This is how you can reset the Face ID on your device:
Step 1. Download and launch the program on your Mac/Windows and select mode "Unlock Screen Passcode". Click on "Start" to begin.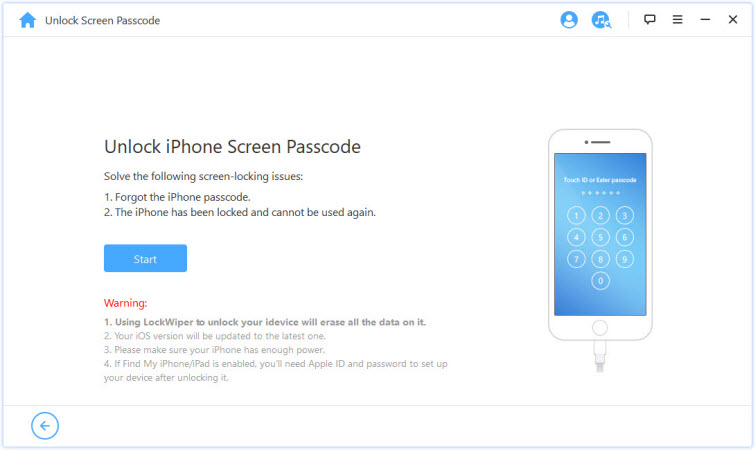 Step 2. Connect your device with the Mac/PC through USB. Choose the provided firmware version to download and unpack.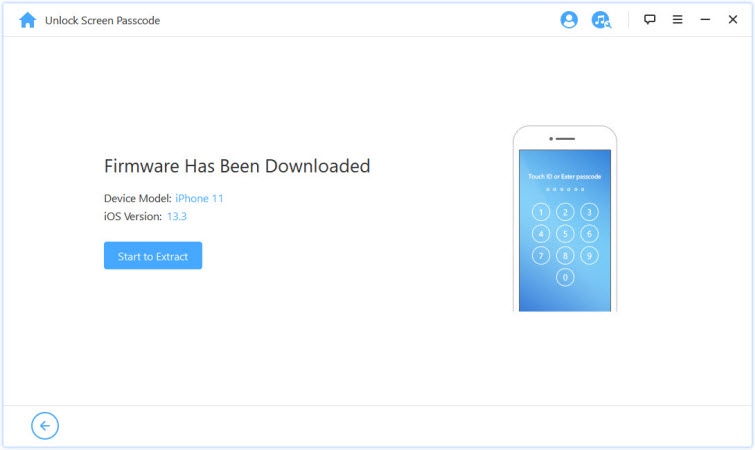 Step 3. click on "Start Unlock". Type in"000000" to confirm as the screen will require. Then the software begin to unlock your device.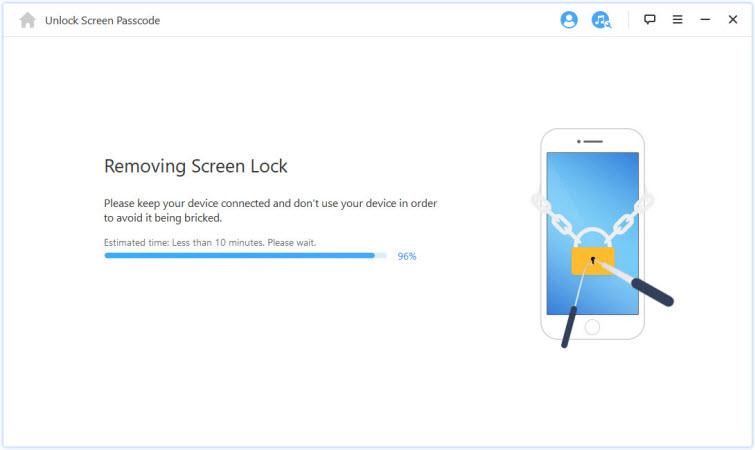 Step 3. Within few minutes the original Face ID and other screen lock will be removed from the device. Then you can set up and reset a different Face ID.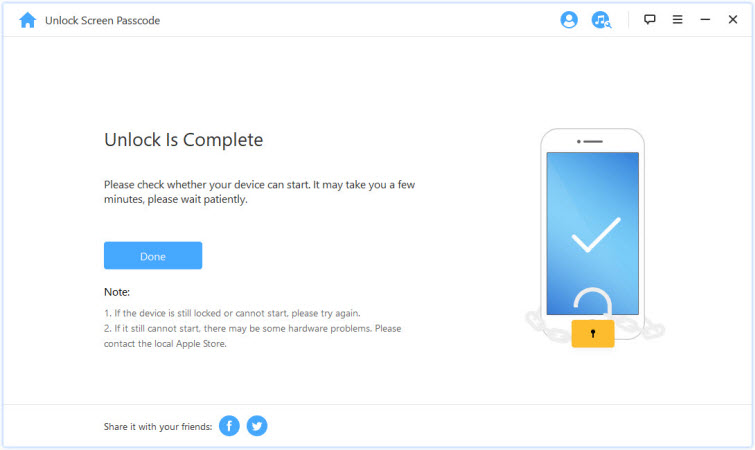 Part 4. Facts about Face ID on iPhone
Q: I am a nurse and wear the surgical mask. Do I need to add the mask to the second Face ID? And can I add multiple faces?
People may wondering if they have to add their face with glasses or mask as the second face. However, this is unnecessary. "In addition to continuously learning how you look," says Apple, "Face ID can recognize an alternate appearance." Every time when we unlock the device with Face ID, or every time when Face ID fails and requires the passcode, the system takes a snapshot scan to learn how the face changes, so next time it will unlock your new face. The front camera scans a face for depth mapping with 1mm beneath the skin, so if your face shape doesn't change, it will learn to recognize you. So the makeup, sunglasses and even surgical masks would have no incidence on face recognition. With the strong feature, you don't need to add your own face with glasses or mask as the second face any more.
Apple allows only two different faces on iPhone. So you cannot add more than two faces on the iOS device.
Q: Face ID on my device is slow. How can I make it work faster and more accurate?
You can turn off "Require attention for Face ID" for faster unlocking. If you use the phone in bed or somewhere else, you can also add angles in the alternate face ID for faster unlocking. For example, if you often use the phone in bed, you can choose to add one with your face squished against the pillow in bed. If you often have the phone on the desk, you can choose to add one with the device laying flat on the desk and scanning your face from the bottom looking up.
Q: I have an iPhone 8. Can I use the Face ID feature as well?
The iPhone 8 does not have the required hardware to enable FaceID. Only the iPhone X and later has such hardware. So users of iPhone 8/7/6/5/4 cannot set up Face ID but they can still use the Touch ID. Touch ID lets you add up to five fingerprints for authentication, and in theory these could come from five different people.