Looking for a smarter way on how to remove remote management from iPhone/iPad? Is it possible to do so? It's annoying that if you find that your phone is locked by the remote management and the device is supervised, you can't use it normally since some features are limited by the device management. Don't worry about it, we can solve all the questions for you.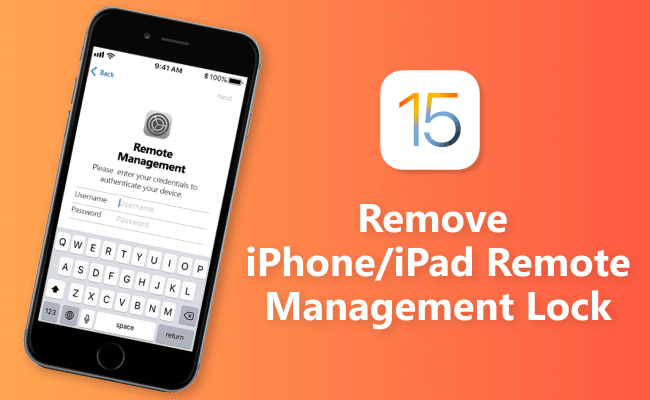 iMyFone LockWiper
Download now to bypass any form of MDM enrolled on your iOS device fast and easily.
Part 1. What is Remote Management Lock?
iPhone Remote Management Lock, in a nutshell, means you don't have 100% control over your phone. An administrator somewhere has access to your iPhone and with his MDM Configuration Profile and device management at will and can lock and unlock your device as he pleases. (MDM Configuration profiles are XML files that specify the device settings and the way it functions. The settings can manage Wi-Fi, passcodes, email accounts, and many other functions on iOS devices.)
Using this service, an administrator(Apple) can remotely lock, wipe, or reset your device without having to be physically near it. They are pros and cons of this nevertheless if you are in search of a way to remove remote management on iPhone, stay in this article.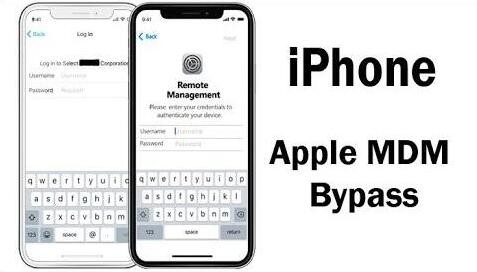 Part 2. How to Verify If My Device is MDM Locked/Supervised?
If you got an iPhone, iPad or iPod touch from your company or school, it's probably locked by the remote management that is to say that the device is supervised. So the device now is controlled and has many limits when using the features.
However, only when you set up a new device, the supervision can be turned on, so if the device isn't supervised now, the administrator needs to completely erase the device first to set it up. So how to tell if your device is being supervised?
1. Check the Settings on your device, the Supervision message should be found at the top of the main Settings page.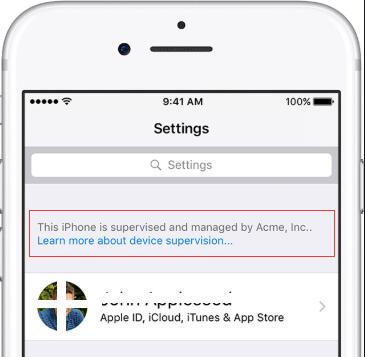 2. You can also find out what features has been modified by checking Settings > General > Profiles & Device Management. If there is a profile installed already, click it to see what kind of changes are made.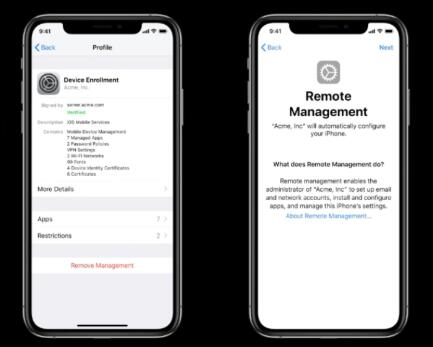 3. Or when you see a screen like this saying that "Remote Management and xxx will automaticaly configure your device".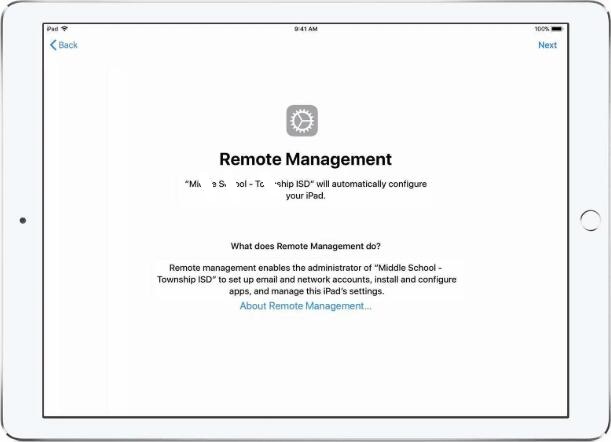 You may like: Delete Device Management on School iPad >>
Part 3. Is There A Way to Bypass Remote Management Lock?
Yes, it is. It's actually an easy problem for LockWiper.
With iMyFone LockWiper, you can work on iPhone remote management lock and be able to access your device, as well as bypass any form of MDM enrolled on the device. It is among the best solution created to remove MDM profiles and device management from the iPhone and iPad of any model. This program is user-friendly with easy to understand interface, so no matter your profession, navigation wouldn't be an issue.
Key Features:
Easily bypass remote management lock on iPhone/iPad in 1 click
Remove/bypass all kinds of MDM including Lightspeed MDM profile.
No user name or password needed in the bypassing process.
Compatible with all iOS device including iPhone 12/13, iOS 16/15/14.
It can also remove Apple ID, screen lock and Screen Time lock without passcode.
Here's the step-by-step process on remove/bypass Remote Management Lock using iMyFone LockWiper.
Watch Video Tutorial to Remove/Bypass Remote Management Lock on iPhone/iPad
You can check the guide in the following:
Step 1: Select the Bypass MDM unlock mode first on the main interface after you download the program on your computer.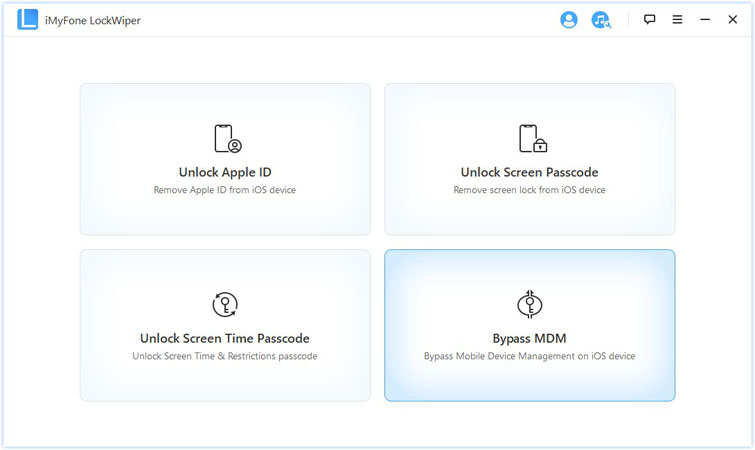 Step 2: Connect your device to the PC via USB cable.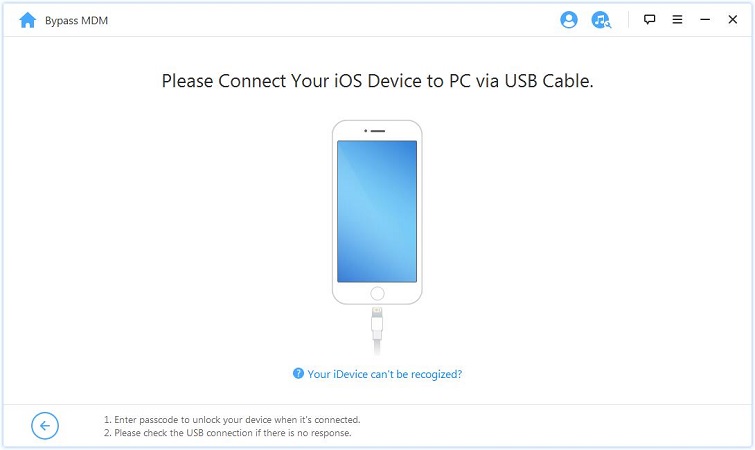 Step 3: Before the MDM bypassing, please make sure your device is on MDM Remote Management screen.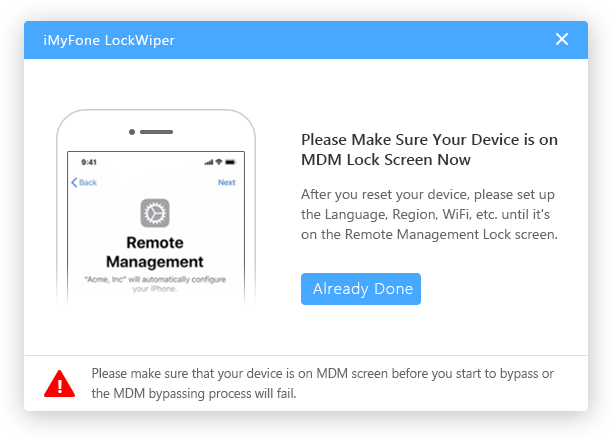 Follow the instructions onscreen to start directly or reset your device first.
Before starting the MDM bypassing process, make sure the device is on the MDM lock screen.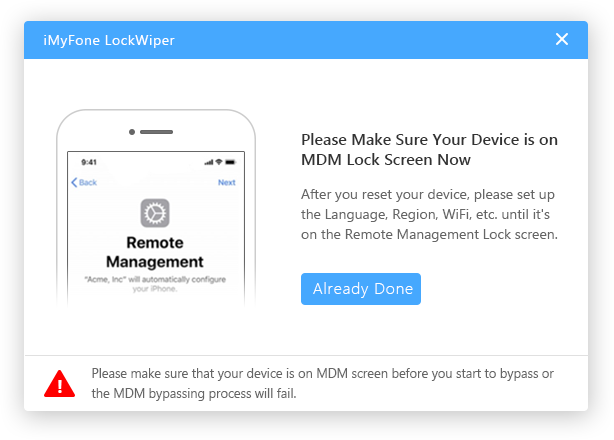 Then start the bypassing process.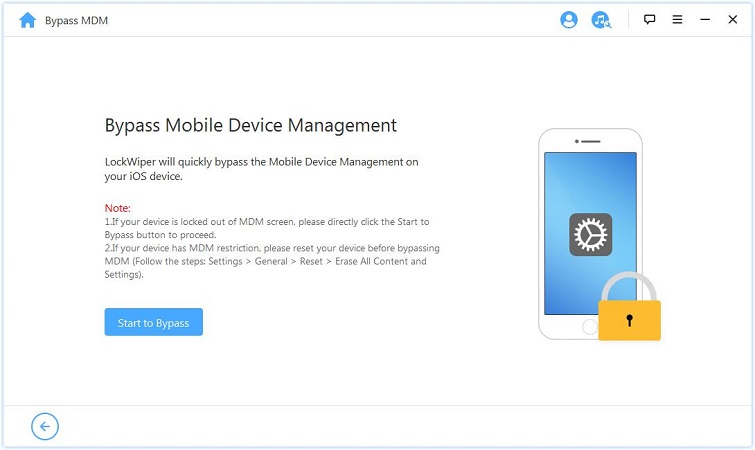 Step 4: Now LockWiper will immediately start to bypass the MDM on your iOS device.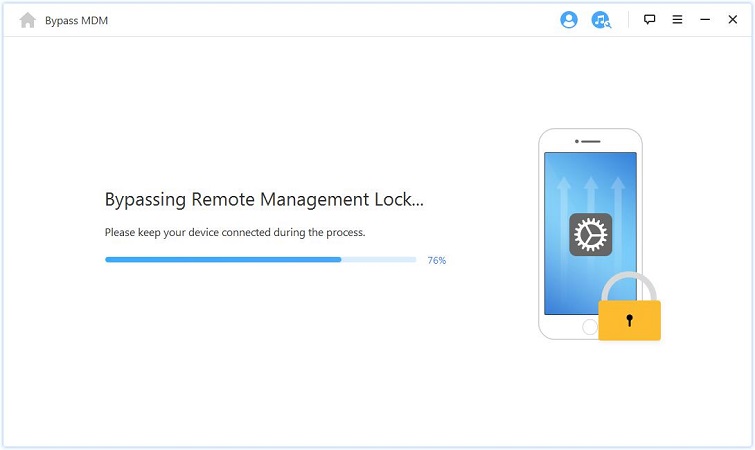 Step 5: It won't take much time to finish the process. Then you can use your device without any limitations.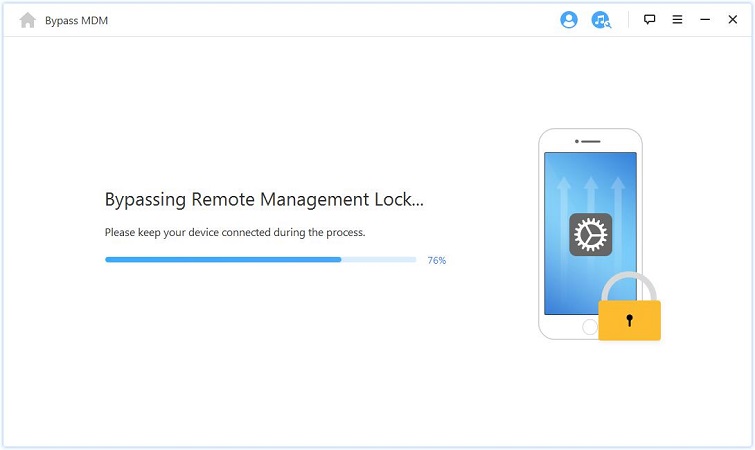 Can't Miss: New MDM Features on iOS 15/16 and How to Remove >>
---
Part 4. Hot FAQs about Remove/Bypass Remote Management Lock
1

What is Remote Management?
Remote management is the managing of a computer or any network from a remote location. An administrator doesn't require to be onsite, but can remotely manage all activities on the system, workstation, servers, etc of a customer from any location. The new feature of Windows Vista has made it possible to remotely manage any scripts by use of a remote. However, you will need the Windows server 2008 IIS on your Windows Vista, XP, or Windows 7 to support the program.
---
2

How do I set up remote management?
To set up remote management using the Window interface, first switch on the computer that you want to manage remotely. Then on the Windows taskbar, click on the "Server Manager".
On the Start screen, click on the "Server Manager" tile.
Go to "Properties" area of the "Local Servers" page and hit the "hyperlinked value" for the "Remote management" property.
Select the "Enable remote management of this server from other computers" check box. Your computer will now be managed remotely by the Server Manager or the Windows PowerShell.
---
3

How do you manage remote employees?
Remote employees need the right technological and collaborative tools such as remote management iPhone for effectiveness.
Promote dialogue and ensure they understand the organization's decisions and protocols.
Reinforce organizational values.
Have a tip sheet containing other remote employees's suggestions on matters of the organization.
Set aside sometime for team interaction.
Make efforts for effective recognition for motivational purposes.
---
4

How do I remove remote management from my iPhone?
You can remove remote management iPhone free.
First, open the "Settings" app and then go to the "General Section".
Then scroll to the "Device Management" option and click on it.
Next, tap on the "MDM Profile".
Finally, tap on the "Remove Management" button.
---
5

How do I get rid of supervision on my iPhone?
You can remove remote management iPhone supervision by resetting your iPhone to factory settings. This, however, works if the supervised mode was enabled via Apple Configurator. In some cases, this doesn't work, meaning your iPhone is automatically supervised using Apple Business Manager. You, therefore, have to perform configuration changes on "Miradore" and the "Apple Business Manager". Miradore shows you which devices are supervised. Supervision status is visible on the "Device" page.
To disable the supervision on your iPhone, go to Miradore page and hit "Enrollment > Apple DEP. Select your iPhone you want to unsupervised. Go to "Actions" > "Remove Enrollment Profile"
Conclusion
It is annoying if you ask me, knowing that your phone isn't entirely yours. Here, we've showed you the most effective way on how to remove MDM remote management from iPhone and iPad. The excellent tool called iMyFone LockWiper helps solve the MDM lock issue easily. Try it now and use your device like a brand new one without limits.