Are you suspecting that the secondhand iPhone you bought online may have been stolen from someone? The truth is that there is a high probability that your suspicion is true if the secondhand phone is screen locked or iCloud locked. However, if you're considering using the iPhone on the ground that you've already paid for it, then the next question that would come to your mind is, "can a stolen iPhone be unlocked?"
Is It Possible to Unlock a Stolen iPhone?
Yes, it is very possible to unlock a stolen iPhone. This article introduces solutions to unlock a stolen locked by activation lock, screen lock and Apple ID.
Solutions
Suitable for
Ease of Use
Time Needed
Success Rate
iBypasser
Activation Lock
Simple
High
Siri
Screen Lock
Complex
>30 mins
Low
Unlock Tool
Activated Devices
Simple
10 mins
High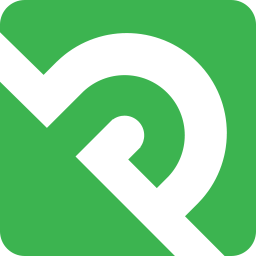 iMyFone iBypasser
iMyFone iBypasser can solve your iPhone stuck at iCloud activation lock issue easily.
How to Unlock Stolen iPhone Activation Lock via iBypasser
Recommended:





Suitable for: iPhone Stuck at iCloud Activation Lock
If an iPhone owner has turned on Find My iPhone, the one who acquires this device will be stuck on the activation lock after trying to reset it. Activation Lock is an iOS feature that prevents unauthorized control by requiring you to enter your Apple ID password before using an iPhone/iPad/iPod touch. This softwaredisables Find My iPhone and remove previous iCloud account without password in 5 minutes. You can easily switch to a new account and your device won't be tracked by the previous one.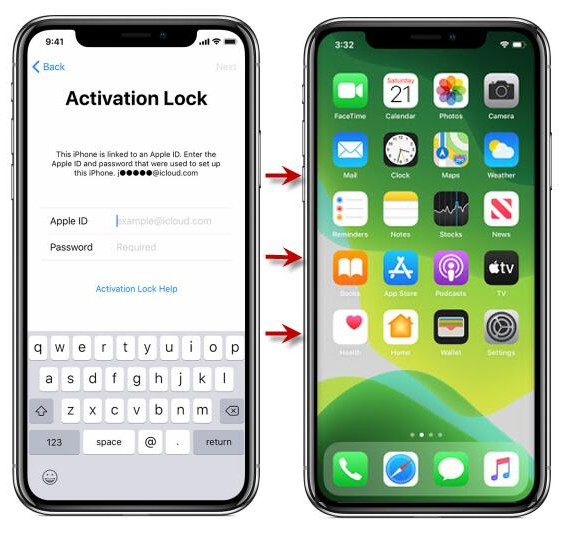 iMyFone iBypasser iCloud activation lock bypass tool is designed to get rid of the screen requiring previous owner's Apple ID and passwords. This software supports to bypass iCloud activation lock screen on iPhone/iPad/iPod touch in minutes. Most iOS models are supported.
Features of iBypasser:
Unlock stolen iPhone with activation lock without Apple ID or passwords.
Support iPhone 5S to iPhone X running iOS 12.3 and later versions, iOS 13.6 is included.
Access the iOS device and use iOS features except calls, cellular and iCloud.
Sign in with a new Apple ID after bypassing iPhone activation lock.
Disable tracking or erasing from the previous owner.
How to Unlock Stolen iPhone with Activation Lock via iBypasser
Make sure your iPhone can be regognized by iTunes. Here are the steps to unlock stolen iPhone with activation lock using iBypasser:
Step 1. Launch the software on your computer, and click "Start". Connect your iPhone to computer with a lightning cable.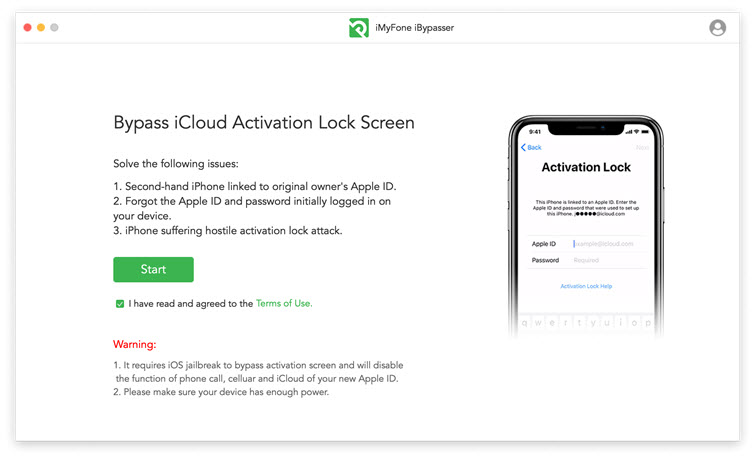 Step 2. Then the software will download a package which helps you jailbreak the iPhone.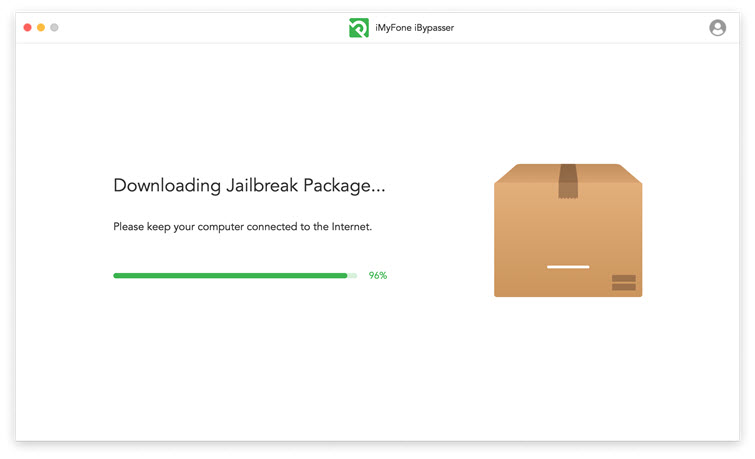 Step 3.Take simple steps given by the package and then click "Next" when jailbreak is done.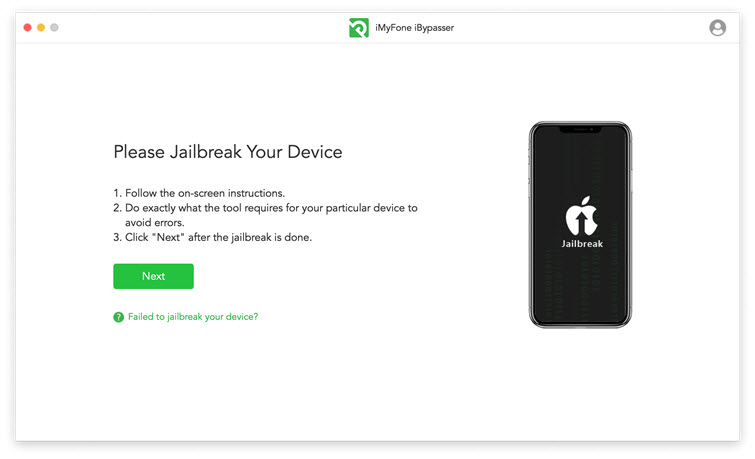 Step 4. Finally click "Start Bypass" and the program will start to bypass the iPhone activation lock screen. The bypassing process takes only seconds.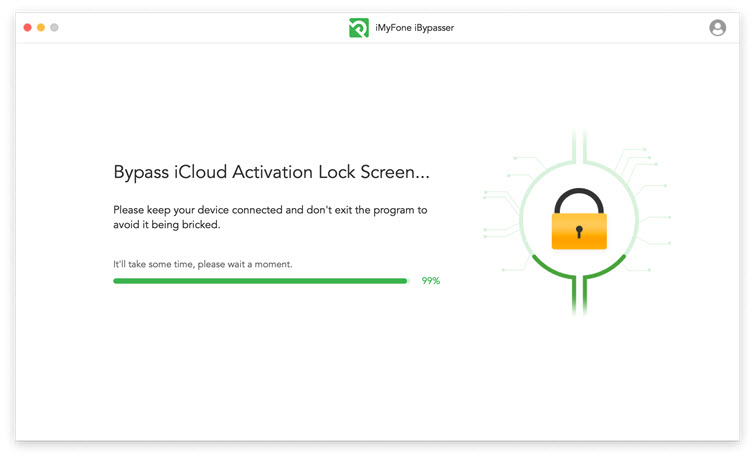 This is the video toturial to bypass icloud activation lock without password.
How to Unlock Stolen iPhone Screen via Siri - for Old iPhone
Recommended:


Suitable for: Old iPhone model running iOS 10.3.2 to 10.3.3 with screen lock
Bypassing locked screen on stolen iPhone via Siri does work on some older iPhone which is running on iOS 10.3.2 and iOS 10.3.3 versions.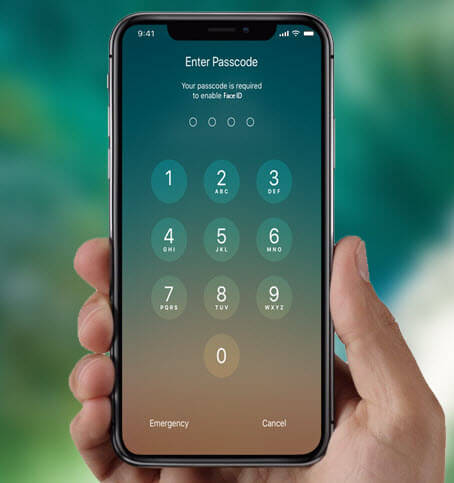 The Siri method hacks into your iPhone using a security hole that the developers of iOS 10.3.2 to 10.3.3 failed to cover. It hacks into the iPhone and helps you unlock the device easily without losing data.
Here are the steps to unlock iPhone via Siri:
Step 1. Turn on the iPhone. Click and hold the Home button to activate Siri.
Step 2. Now ask Siri "What time is it?" or any other command about time.
Step 3. When Siri displays time, click on the clock icon to open it.
Step 4. When it opens, click the "+" sign at the top right corner of the page.
Step 5. On the search box, type anything into it and long click on the typed word to display "Options".
Step 6. From the options you see on the screen, choose "Select All" button to get more option.
Step 7. Select "Share" and choose "Message" when the new pop-up appears on the screen.

Step 8. Type anything in the "To" field and click the return button on your keyboard.
Step 9. The text will be highlighted in green, tap the "+" icon again.
Step 10. Tap the "Create new contact" tab.
Step 11. Instead of adding the contact details, tap the photo icon on the screen and choose "Add Photo" option.
Step 12. Once you have done that, your device gallery will open for you to browse through the photos.

Step 13. Press the Home button and you will see the Home screen open. Now you have bypassed locked screen.
Cons: The unlocking is not permanent. When you're locked out of the stolen iPhone again, you need to repeat the 13 steps above to gain access.
How to Unlock Stolen iPhone Screen & Apple ID via Unlock Tool - For Activated Devices
Recommended:




Suitable for: Activated iPhone with screen lock and Apple ID
Since the Siri method has some limitations, you may need to permanently remove the locks from iPhone. You can make it with the help of third-party iPhone unlocker. The one most users recommend is iMyFone LockWiper Unlock iPhone Passcode. It is a better solution for unlocking stolen iPhones no matter your want to unlock screen locks or Find My iPhone locks without password. It's built for everyone that anyone can handle it without knowing tech skills.
Main Features of LockWiper:
iPhone Screen Unlocker: Permanently remove the digital passcodes, Face ID or Touch ID from iPhone when it's locked, disabled or even screen-broken. No passcode is needed.
Apple ID Unlocker: Be very efficient to remove previously used Apple ID from activated iPhone without passwords.
Restrictions Passcode Unlocker: Quickly recover restrictions passcode or erase screen time password without restoring or erasing iPhone.
1

Steps to Unlock Stolen iPhone Screen without Password:
Step 1. Download, install and launch iMyFone LockWiper on your Mac or PC. Then, choose "Unlock Screen Passcode" mode and click "Start" to begin.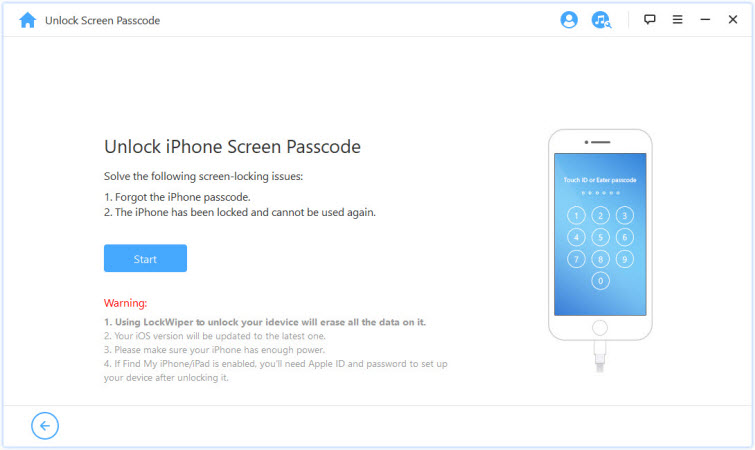 Step 2. Connect your iPhone to your computer using a USB cable. The program will detect your device model, choose the correct firmware version, and click "Download".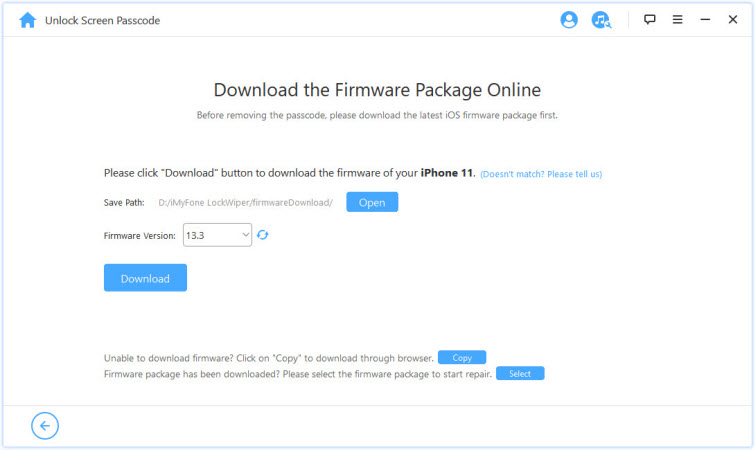 Step 3. When it succeeds, click "Start to Extract".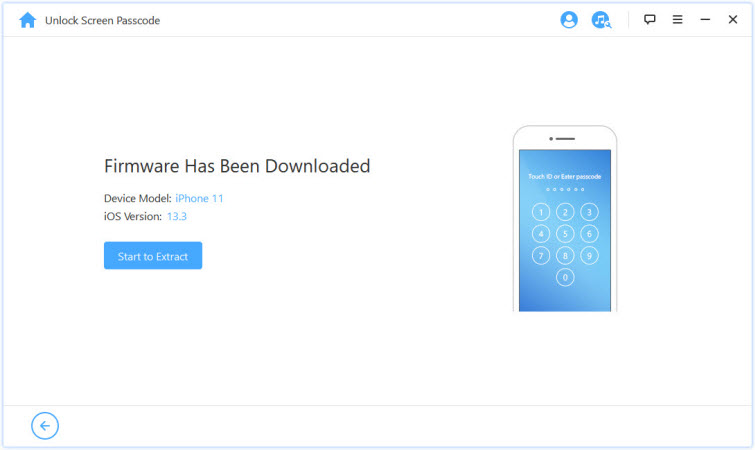 Step 4. Click "Start Unlock" then to start the unlocking process. Kindly wait for the process to finish.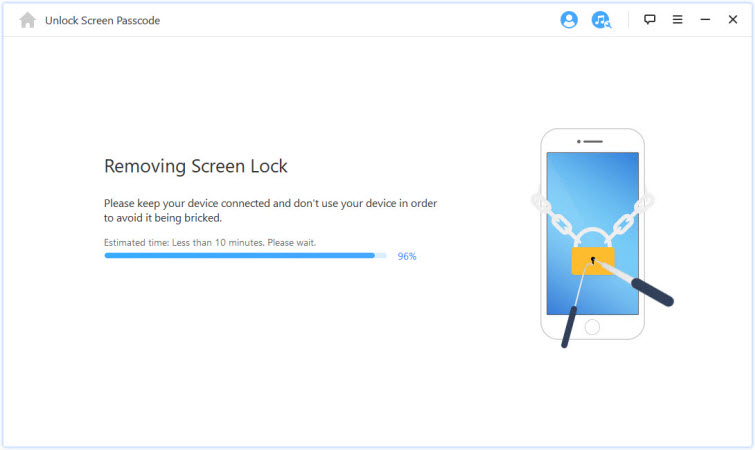 2

Steps to Unlock Stolen iPhone iCloud Account:
Step 1. On iMyFone LockWiper's main interface, choose "Unlock Apple ID" feature. Of course, link your iPhone to computer.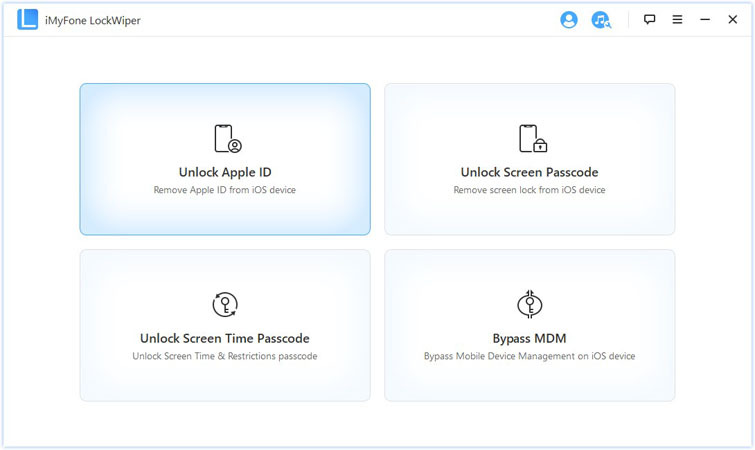 Step 2. Simply tap "Start to Unlock" to proceed.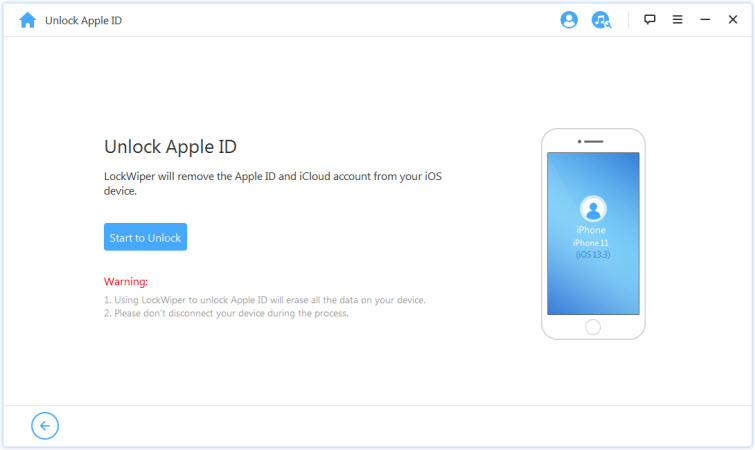 Step 3. Follow the onscreen instructions on LockWiper to reset all settings on your iPhone. When it's done, LockWiper immediately starts disabling the Find My iPhone.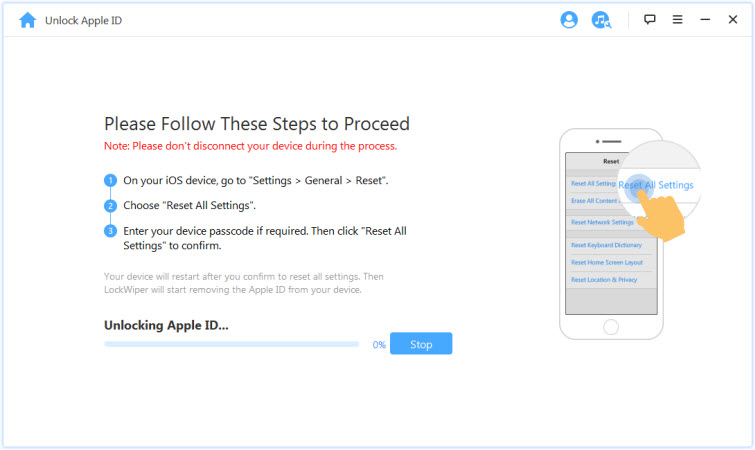 Cons: This feature won't unlock the previous iCloud account. If Find My iPhone was previously enabled, you will be stuck at "Activation Lock" after unlocking.
Hot FAQs about Unlock Stolen iPhone
1 If I find an iphone, is there a way to unlock the phone to contact the owner?
Unfortunatly, Apple does not giving out pre-ower's details due to users privacy. However, you can wait for an incoming call or type *#06# in the phone app and press call button to get the IMEI number, then call the Carrier and ask them to track the owner using this number or hand it to the local police station.
2 I bought a second-hand iPhone with passcode, can i remove the passcode and Apple ID first with iMyFone before activation lock comes on?
You can unlock the phone with iMyFone LockWiper. However, you may need to confirm with the seller if Find My iPhone is turned on. If it is on, you may get stuck in iCloud activation lock after unlocking.
3 What is an IMEI number and how do I find it?
An IMEI number is the unique identification or serial number of 15 digits. The IMEI number can be found on the silver sticker on the back of your phone, under the battery pack, or on the box your phone came in.
4 How do I know if the second hand iPhone I bought is lost or stolen?
"If you are buying an iPhone second-hand
, always make sure to check the IMEI number on the Stolen Phone Checker before you make the purchase."
5 What if i accidentally bought an lost iPhone?
Contact the seller and ask for an replacement, or hand it to the local Apple store or Police Station.You can also wait for an in-coming call from the previous owner.
Conclusion
Going through all the solutions offered above to unlock a stolen iPhone, you might have had a clear understanding of each solution and the situation it fits. If you happen to acquire an iPhone with activation lock, iMyFone iBypasser can bypass the activation lock screen and allow you to set up the device with a new Find My iPhone account. Its free trial enables you to check whether your device is supported or not. Why not give it and also give yourself a chance to check?