An iMyFone software user recently placed an inquiry with the question:
"What will happen when I sign out of iCloud? Does it delete everything?"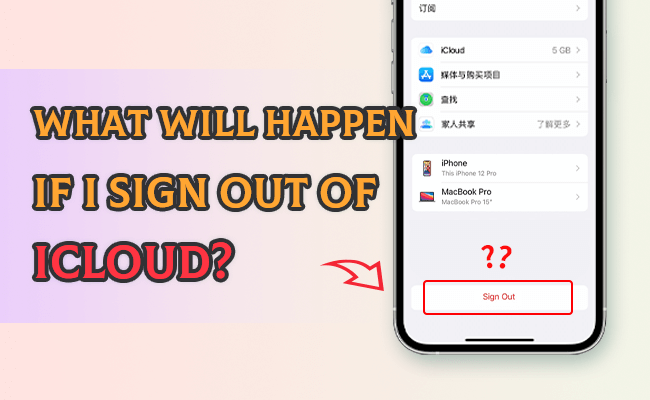 The answer to the above question will be stated in the following parts of this post, and we shall discuss how to sign out of iCloud without losing data.
If I Sign Out of iCloud on My iPhone Will I Lose Everything?
No, signing out of iCloud account doesn't remove all your iOS files. You can get to keep some of your data on the device such as contacts, notes, iCloud Photo Library, etc. This will depends on your choice.
For example, if "Find My iPhone" has been turned on, you should note that at the point of signing out of iCloud, Apple will offer you the choice between:
Deleting the data in your mobile device.
Keeping the data in your mobile device.
Your choice will not affect the data stored on the iCloud server but can affect the data in your iOS device. Furthermore, Apple services like iCloud Mail or iCloud Drive won't be available to you.
Therefore, signing out of iCloud deregisters your iOS device from Apple servers, and halts the synchronization of data between your iOS device and Apple servers. Moreover, all the data stored in iCloud will remain intact, and iCloud would continue to sync data on other devices that share that same iCloud account.
How to Sign Out of iCloud without Losing Data
From the above answer, you've seen that it's possible to sign out of iCloud without losing your personal data and information. Here are the steps to accomplish it:
For iOS versions running on 10.3 or above:
Step 1. Go to iPhone's Home screen and launch the Settings app.
Step 2. Click [Your Name] on top of the page.
Step 3. Scroll down to find the option "Sign Out" and click it.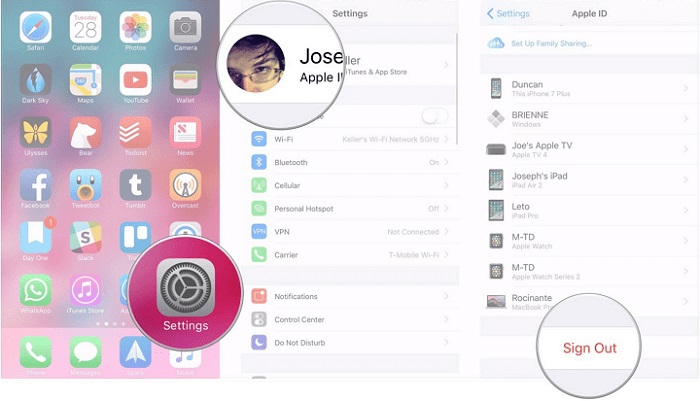 Step 4. Before signing out of the iCloud account on your iPhone, if you've activated Find My iPhone, the first pop up will request that enter your Apple ID password to turn it off.
Step 5. Enter your Apple ID password and then click on "Turn Off".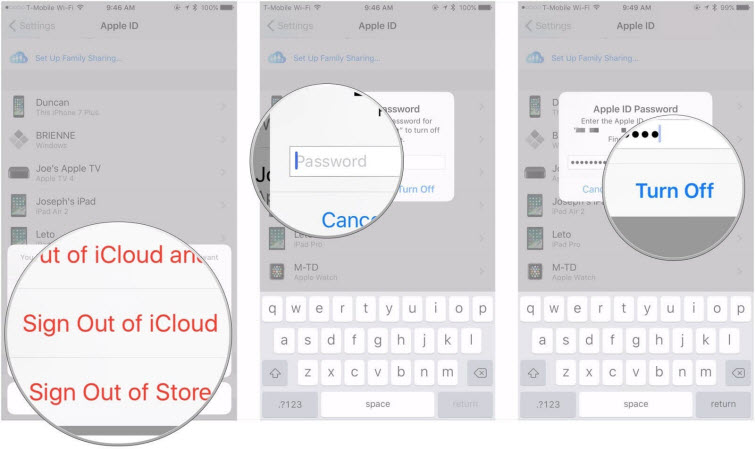 Step 6. Turn on the switch of the data you would like to keep on your device.
Step 7. Double click "Sign Out" to confirm your request.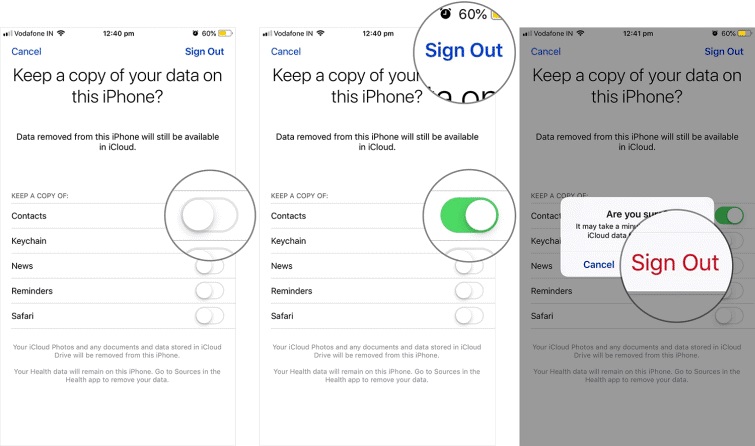 For iOS versions running on 10.2 or below:
Step 1. Launch the Settings app on your iPhone. Scroll downl and click "iCloud".
Step 2. Next tap "Sign Out" and confirm it again.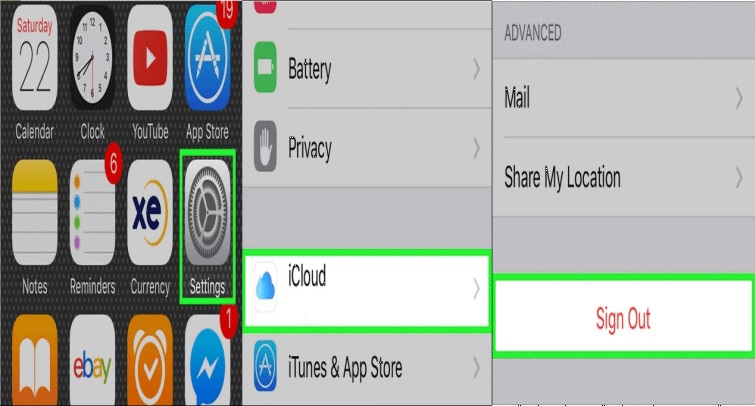 Step 3. A pop-up box will appear, click "Delete from My iPhone". This will delete the iCloud Notes from your iPhone. But your data will be intact on iCloud.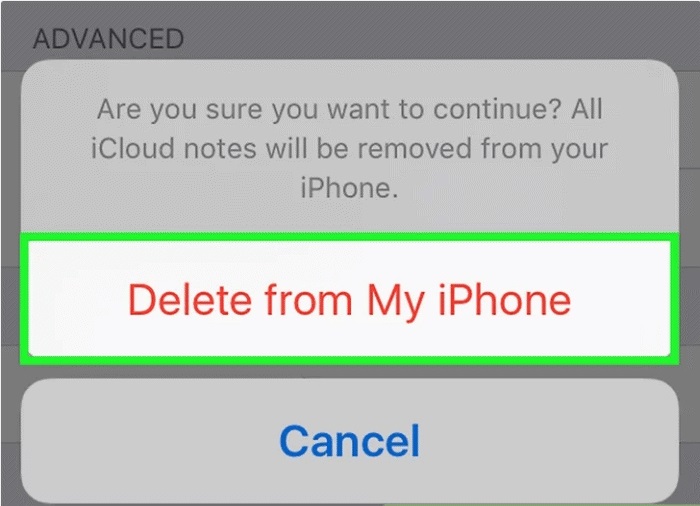 Step 4. Confirm it by entering your Apple ID and password. Then click on "Turn Off". After that, Find My iPhone will be disabled and you will sign out of iCloud.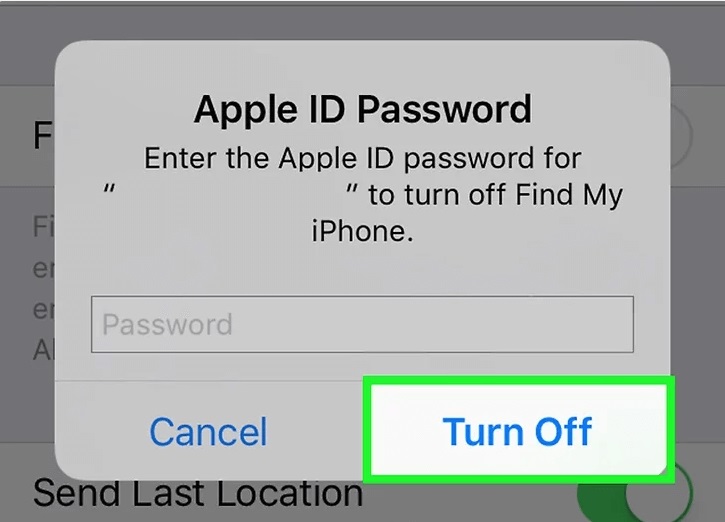 2 Tips You Must Know before Signing Out of iCloud
Before you sign out of iCloud account from your iPhone, ensure you've gone through this list of things you should know:
1. You should endeavor to back up your important files such as contacts, photos, emails, notes, etc.
Here is how to make a backup in iCloud before you sign out of iCoud.
Step 1. Choose a WiFi network to connect your iPhone.
Step 2. Navigate to Settings > [your name] > iCloud.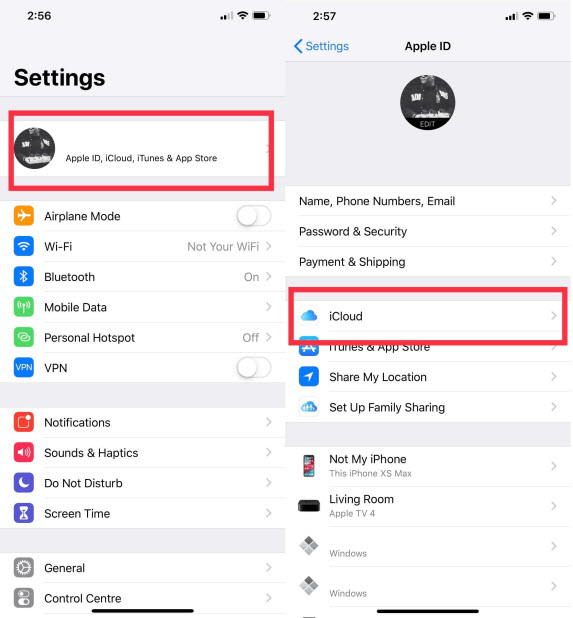 Step 3. Taggle on iCloud Backup. And click "Back Up Now". Your device will start to make a backup in iCloud. You can see the time of your last backup when the process finishes.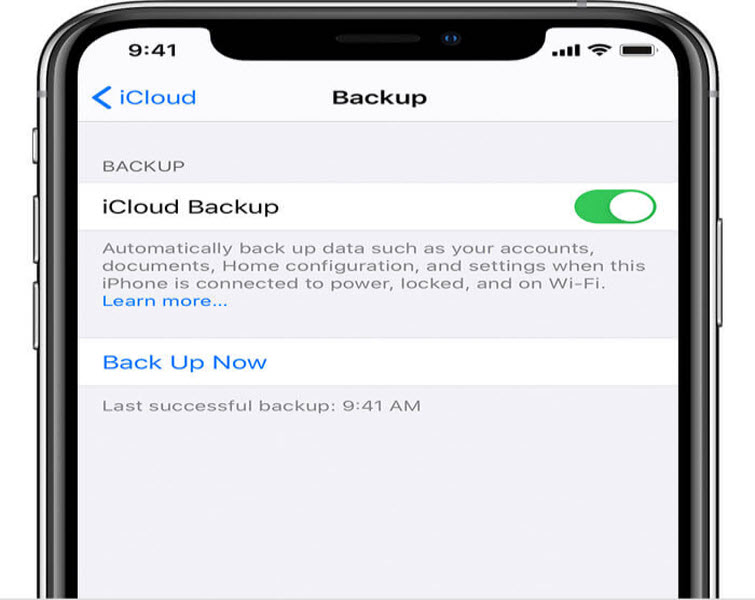 2. When you sign out of iCloud, you will also be signed out of the following Apple services and lose access to them:
App Store
Apple Pay or Apple Cash
Find My Friends
Find My iPhone or Find My Mac
Game Center
Home app to control your HomeKit devices
iCloud Backup
iCloud Drive
iCloud Keychain
iCloud Mail
iCloud Photos
Siri Shortcuts
Voice Memos
Shared Albums
Messages in iCloud
Shared Notes
Shared Pages, Numbers, and Keynote documents
Updates to your contacts, calendars, reminders, bookmarks, and Safari tabs
Continuity features like Handoff, Universal Clipboard, and Auto Unlock with your Apple Watch
App data for any third-party apps that you've installed that use iCloud
Hot FAQs about iCloud Signing out
1 How to sign out of iCloud on all of your devices?
Due to the deep integration of iCloud with Apple devices, whenever a glitch or security error pops up, you might need to sign out of iCloud on all your devices. There are ways through which you can execute this task in one click with no hassle.
Sign out of iCloud from all Browsers:
Step 1. On any of your Apple devices, browse to "icloud.com". Now, Sign-in with the required credentials.
Step 2. Now, under your Avatar on the Homepage, head to "Account Settings". At the bottom of the next page, click on the "Sign Out of All Browsers" option.
Following this method will have your iCloud signed out of all the Web Browsers.
Sign out of iCloud from all your Apple Devices:
If you want to sign out of your iCloud from all your devices such as iPhone, Mac, or other iOS devices in one click, then follow this method.
Step 1. Head over to your iCloud account through a web browser. Now, navigate to "Account Settings > My Devices".
Step 2. Now click any of the listed connected devices under the "My Devices" section, this will open a "Devices" window with all of your connected iCloud devices listed.
Step 3. You'll see an "X" in front of all the listed devices. Clicking on the "X" will logout your iCloud from that particular device. Hit "X" in front of all the devices to logout iCloud from all of them.
---
2 Can I sign out of my Apple ID and sign back in?
Yes, you can always Sign out of your Apple ID and sign back in. There is a huge misconception regarding data safety once you sign out of your Apple ID. Signing out of your Apple ID will temporarily terminate the iCloud sync with that particular device. You will not be able to access any of your iCloud data, App Store, Find my Features, Apple Pay, and any other services that require sync with iCloud.
However, take note of the fact that it doesn't mean your data is wiped-out. As soon as you will again log-in with your Apple ID on your Apple device, you will be able to access all your data including the Apple features.