Forgetting your Mac computer's password is nothing less than a drastic attack on your sanity. You may suddenly feel that you have lost control of your system. Fortunately, there are in-built methods in Macs to bypass Mac passwords effectively.
Part 1: How to Bypass Mac Password?
1. Set automatic login
If you have access to your Mac system and you want to bypass the Mac password because you find it a hassle to type in the password every time you enter your computer. You can set your computer to automatic login. Let us see the steps involved in setting automatic login.
Go to System Preferences>Users>Groups.
You will see a lock icon at the bottom of the window with the caption "click the lock to make changes".

You will be asked for the admin name and password.
In the "Login Options"and find the "Auomatic Login". You need to turn it on.

Click the name of your user from the list.
You will need to enter your username and password again to confirm automatic login.

Restart your Mac computer and next time you will be able to login without entering a password.
Note
It works when you still can access your Mac.
2. Boot into Recovery Mode
If you can boot your mac computer in recovery mode then you can easily bypass the Mac password and enter it into your system. Restart your Mac and enter the recovery mode. The keys to enter the recovery mode differ by the models and processor. Here is a quick overview of keys you may need to press while your system is starting.
For Mac with Intel processor, press and hold the Command and R keys and, then press the power button of your computer. Keep the keys pressed till you see a progress bar under the Apple logo.
For Apple's M1 processor (Macbook Air, MacBook Pro and Mac Mini), you will turn off your computer. Press and hold the power button till you see the options. Select Recovery.
In the recovery mode, go to Utilities>Terminal in the menu bar. In the next window, type in the command "resetpassword'"and press enter. Close the Terminal window and in the Reset Password Tool, follow the on-screen guide to bypass Mac password.
Note
This option will only work if FileVault and/or a Firmware password is disabled on your Mac computer.
3. Enter with Singer-User mode
This is a geeky way to bypass Mac password. People with basic technical skills can use this option as it involves writing the command on a terminal which is quite intimidating for novices.
Here are the steps to bypass mac password using single-user mode.
Power off your mac.
Turn your mac computer on.
Press and hold Command (⌘) + S keys to enter the single-user mode.
Type following commands.
 mount -uw
launchctl load /System/Library/LaunchDaemons/com.apple.opendirectoryd.plist
passwd **username**' where**username** is the username of the account you want to reset the password
Type in a new password, then press Enter
Confirm the password by retyping it again. Press Enter.
Type "Reboot" and click Enter
You have now successfully bypassed the mac password and can access your Mac with your username and the new password right away.
4. Use Target Disk Mode
Target disc mode is a boot option found in Apple computers. In this mode, you can access the data residing on your computer by connecting it with another Mac system. In the target disk mode, your computer will function as an external disk. Let us see how you can bypass mac passwords by using target disk mode.
Shut down your Mac computer.
Connect both your Mac systems using a thunderbolt cable or a FireWire cable.
Start up your Mac again.
Press and hold the T key to enter Mac target disk mode.
This will make your Mac appear as a hard drive in the other Mac.
Now you have access to your computer data and you can use it simply as your external hard disk.
Part 2: How to Prevent Someone from Bypassing the Mac Password If It Is Stolen?
No operating system is immune from 'read the disk' attacks. If your computer is in the hands of the attacker they have access to your data one way or the other. So, in short, you need to secure your disk too. Filevault ensures whole disk encryption on your Mac computer. FileVault encryption is now enabled by default on OS X Yosemite if you have default settings.
Filevault encryption means an attacker cannot use recovery mode and "resetpassword" command to bypass mac password on your computer. It means when Filevault is enabled, your system cannot be accessed without the password. Whoever has the password has the access only.
Filevault is also effective if someone has access to your disk using another operating system or target disk mode.
To check if FileVault is enabled, go to System Preferences>Security>Privacy, and click FileVault. Another easier option is to press Command+Space combination to open Spotlight search, type FileVault, and press Enter to reach it.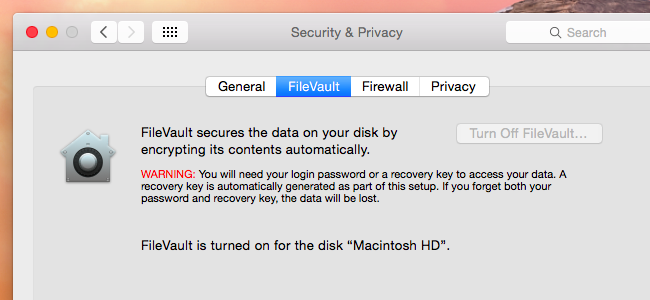 Bonus: How to Bypass iPhone Passcode? - Use iMyFone LockWiper
Mac and iPhones are the most secure devices in the market. However, these strict security measures can result in frustration if you forget the password in any case. iMyFone LockWiper is a robust and effective software that enables you to resolve the problems regarding Apple ID and iCloud ID and passwords.
iMyFone LockWiper can unlock iPhone screen passcodes effectively. You can use iMyFone LockWiper to bypass the iPhone screen passcode without any technical skill or background. It is a simple GUI based system that needs you to make a few clicks only to get the task done.
Note
LockWiper supports unlocking activated devices.
Steps to Unlock iPhone Passcode
Step 1.Download, install and launch iMyFone LockWiper software. Select Unlock Screen Passcode option.
Caution: All your data will be lost and the OS will be updated to the latest version. Make sure your iPhone is connected to the computer throughout the recovery process.
Step 2.Connect your iPhone to your computer. Click "Trust this computer" when prompted.
If DFU/Recovery mode is not enabled, you have to enable it manually.
Step 3.iMyFone can detect the device model automatically and it will show you the options for suitable firmware. Download or copy the recommended firmware.
Step 4.Click the "Start to Extract" button.
Step 5.Clicking the Start Unlock buttonexecutes the commands to bypass the screen passcode.
Step 6.Read the messages on the next screen carefully and follow if you agree.
Finally, you can unlock your iPhone.
Conclusion
Data is the key in recent times. You have your life captured in these bits and bytes. Your financial, personal and professional information is saved on your phone and computer. Therefore, keeping your devices secure and accessible is a key concern. But it happens very often that you forgot your password and you may feel disppointed. Luckily, the above ways can help you easily bypass Mac password to access your data. Besides, iMyFone LockWiper is a great software to unlock iPhone if you forget iPhone passwords.