Mac is a secure system and security is the main distinguishing factor of Apple devices. If you forget your mac password, then you are in big trouble as this security plays against you and you lose your productivity.
Fortunately, there are several ways that you can try to recover your password. The best solution depends on your settings and other circumstances.
Part 1: What to Do If I forgot my Mac Passcode?
1. Try Simple Solutions
There are numerous passwords that we use in our daily routine for performing several tasks like bank account management, phone password, computer password, email password etc. Therefore, it is easy to mix the password with other accounts. Simple solutions should be your first priority to solve the issue to avoid time wastage and data loss.
Check if the num lock and caps lock of your keyboard are off/on. Make sure you are using the right case for the letters.
If you have set a password hint, it is a fantastic way to recall. You will see a question mark next to the password field if the hint is configured.
Try to login without a password.
Try to use the Apple ID password for iCloud. Try the old password first if you have recently changed it. If it works, you will be able to use the new password from there on.
2. Reset with Apple ID
If you attempt your Mac password a few times and it doesn't work, you will see a message to reset your password with Apple ID. However, this only works if your account is set up with Apple ID. Once you have successfully reset your password, restart your system.
3. Reset with another admin account
In case you have another admin account set up for your Mac, then this is your key to enter the system and reset your password. Here are the steps to follow if you have forgotten your Mac password and want to reset it with another admin account.
Login with another admin account.
Navigate to System Preferences>Apple Menu>Users and Groups.
Click the lock icon and enter admin name and password again.
Select your name from the list of users and click the reset password button.
Follow the on-screen instructions from there on.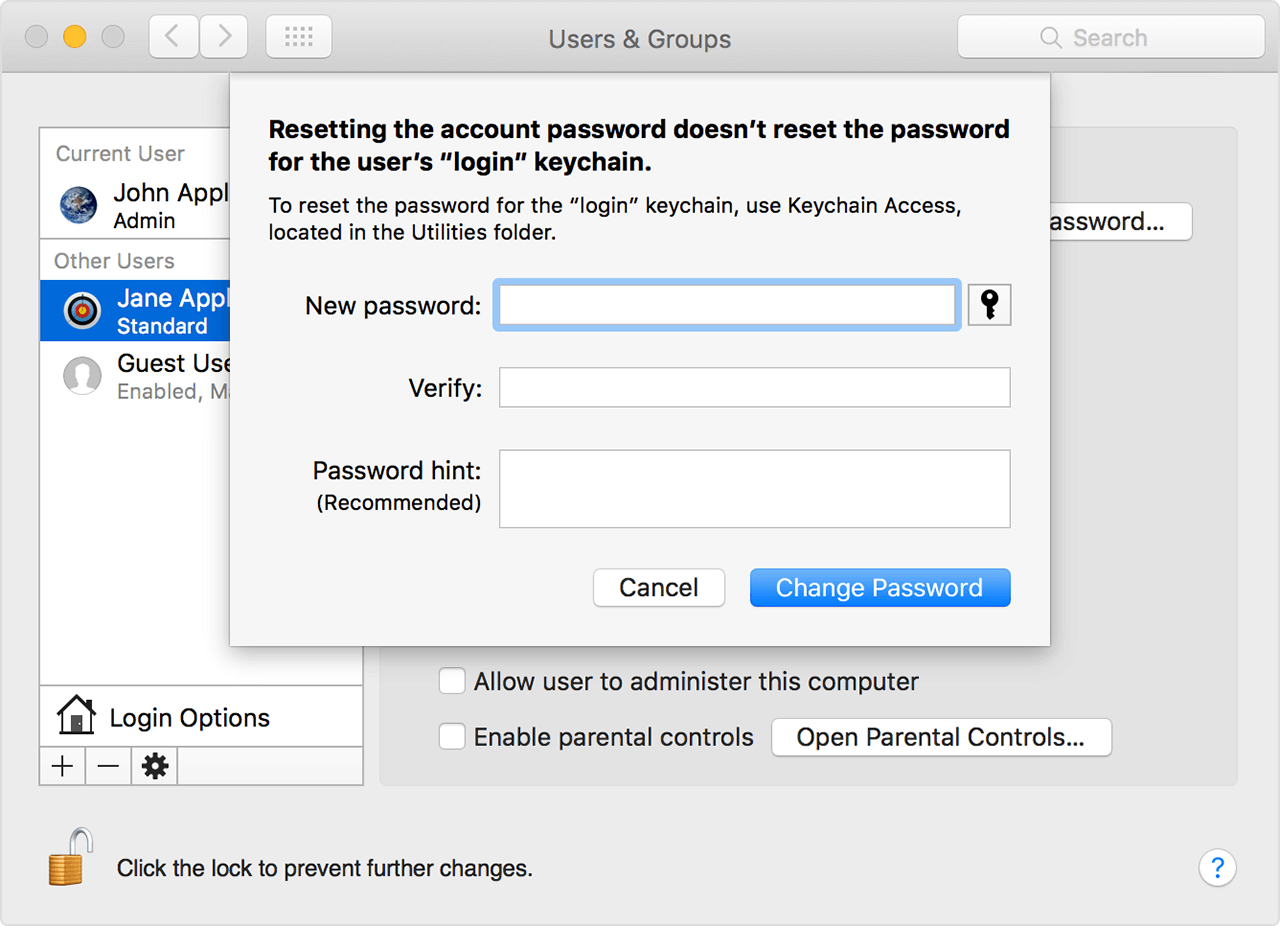 Note
This doesn't change the password for the Keychain and you will be asked when you log into the account if you want to update the keychain password.
4. Use Recovery Mode
Recovery mode is your best bet if you have forgotten your Mac password. To use this solution, restart your Mac and enter the recovery mode. The keys to enter the recovery mode differ by the models and processor. Here is a quick list of keys.
| Mac with Intel processor | Press and hold the Command and R keys and, then press the power button of your computer. Press the keys till you see a progress bar under the Apple logo. |
| --- | --- |
| Apple's M1 processor (MacBook Air, MacBook Pro and Mac Mini) | Turn off your computer. Press and hold the power button till you see the options. Select Recovery. |
In the recovery mode, go to Utilities>Terminal in the menu bar. Here a new window will show up, enter the command 'reset password' and press enter. Close the Terminal window and in the Reset Password Tool, follow the on-screen guide from here onwards.
Note
This will only work if you do not have FileVault and/or a Firmware password enabled in your Mac computer.
5. Recover with FileVault
If FileVault is turned on, you have two more solutions to resolve the forgotten Mac password issue. When you turn on the FileVault on your system, you get a recovery key. If you do not have the recovery key, you may want to contact Apple support for this.
Once you have the recovery key in hand, follow these steps.
Restart your Mac computer.
In the login window, since you have forgotten the Mac password, punch in any wrong password three times.
After three attempts, you will see help options. Select "Reset it using your Recovery Key" option.
Now,enter your recovery key.
In the next window, type in a new password and password hint. Click the'Reset Password' button to make the changes.
6. Use Target Disk Mode
Target disc mode is a unique boot option in Mac computers. A Mac computer can be connected to another Mac and it will act as an external disk. Here are the steps you will follow if you want to recover a forgotten Mac password by using target disk mode.
Shut down your Mac.
Use thunderbolt cable or a FireWire cable to connect both your Mac systems.
Start up your Mac. Press and hold the T key to enter Mac target disk mode. This will make your Mac appear as a hard drive in the other Mac. Once connected you can access your data as you would access data on any external disk.
7. Enter a Single-User Mode
This is a little complicated method to recover the forgotten Mac password. It is mostly used by users with some basic technical skills because it needs writing the command on a terminal which is somewhat intimidating for novices.
Here are the steps.
Shut down your computer.
Press the power button to turn your mac. Press and hold Command (⌘) + S keys to enter the single-user mode.
Type "mount -uw /"command and press enter. Command does not include the quote marks.
Type "launchctl load /System/Library/LaunchDaemons/com.apple.opendirectoryd.plist" and press enter.
Type "passwd **username**" where **username** is the username of the account you want to reset the password. Press enter.
Type in a new password, then press Enter
Confirm the password by retyping it again. Press Enter.
Type "Reboot" and click Enter
You can now access your Mac with your username and the new password right away.
8. Contact Apple Support
If nothing works for your problem then your last option is to contact Apple Support. You can find the contact methods and details at apple official website.
Part 2: Things You May Want to Know
How to change password for Mac?
1. Navigate to Apple Menu>System Preferences>Users and Groups.
2. Click the change password link.
3. Fill in the corresponding fields of old password, new password and confirm the new password. Click the key button next to new password field to get help choosing a strong password.
4. Enter a memorable hint that will help you recall your password if you forget your mac password.
5. Click change password.
How to create a new login keychain?
After resetting your password, you might run into issues regarding keychain. This is because your new password and your login keychain no longer match. If your system shows an alert about keychain or asks you to enter the old password then you should be creating a new keychain and here are the steps to follow.
Navigate to Applications>Utilities folder and open Keychain Access.
From the Keychain Access menu>Preferences, click "Reset My Default Keychain" button.
Once you enter your new password, an empty keychain with no password is created.
Logout from Apple menu to go back to login screen.
After logging in again, your keychain password and login password match again.
Part 3: Bonus: What to do if I forgot iPhone Passcode? - Use iMyFone LockWiper
Mac and iPhones are the most secure devices in the market. However, sometimes this security becomes frustrating if you forget the password and are locked out of your device. iMyFone LockWiper is a robust software that helps you to resolve the problems regarding Apple ID and iCloud ID and passwords.
Note
LockWiper only supports activated devices.
Steps to Unlock iPhone Passcode
Step 1.Download, install and launch iMyFone LockWiper software. Select Unlock screen passcode option.
Note
Be aware that all your data will be lost and the OS will be updated to the latest version. The device needs to be connected to the computer throughout the process.
Step 2.Connect your iOS device to your computer. Make sure you click "Trust this computer" if asked.
Tips
If the software does not recognize your device, consider putting it in DFU/Recovery mode manually.
Step 3.iMyFone will detect the device model automatically. Download the recommended firmware. In case you cannot download directly, you can use the "copy" option too.
Step 4.On the next screen, click the "start to extract" button.
Step 5.Now, the basic set up is done and you are ready to unlock your iPhone password. Click the Start Unlock button.
Step 6.Read the messages on the next screen carefully and enter "000000" to confirm if you agree to unlock your device.
If your device doesn't recovery mode automatically, you will need to follow the guide to put the device in DFU/Recovery Mode manually.
Finally, your iPhone passcode is successfully unlocked.
Conclusion
Your password is your key to enter your Mac. It is always advisable to choose passwords that difficult to guess for others but easy for you to remember. But if you forget your mac password or iPhone password, don't be concerned and you can still easily unlock Mac or iPhone by using the ways mentioned above.