A GIF stands for 'graphics interchange format.' It's a series of images compiled into a soundless video, contextualized to convey things in an amusing manner. They're part of online spaces, and you can make your own through the help of a GIF converter.
The purpose is to allow you to exercise your creativity regarding videos and clips. Have you ever felt like you couldn't find the right clip or image to incorporate in a conversation? Through the assistance of online gif converting tools or desktop editors, you can take any video or clip and turn it into a GIF. They're easy and fun to use. You can even make personal ones of your family and friends. This article endeavors to help you find the best video to gif converter software.
Top 7 Free Video To GIF Converters Without Watermark
As with all things, some of these require payment, and some are free. Don't fret over their price because you can easily find a free video to gif converter that will fulfill your needs. It's essential that you look for ones that don't leave a watermark on your work because that ruins their appearance. Therefore, you should look for the best free video to gif converter that doesn't make you pay to remove watermarks. The top 7 of these that we recommend are as follows:
The best part of Filme is that the free version fully supports video to GIF converters and aids you in producing them. Using Filme is incredibly simple and easy to do. The step by step process of using Filme are as following:
Step 1. After installing Filme and launching the application, use the File → Open Project option to upload your video file. There's also the alternative to drag it from Explorer and drop it into the interface. There's a new option in v3.0 that lets users import folders from the device. You can also do this through a connected phone.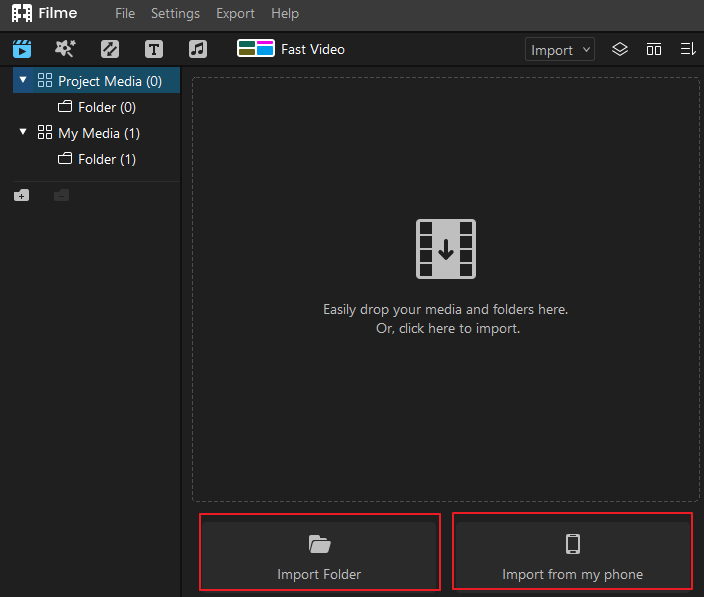 Step 2. Simply select the media (i.e., video) and add it to the timeline editor by dragging it to an available video track.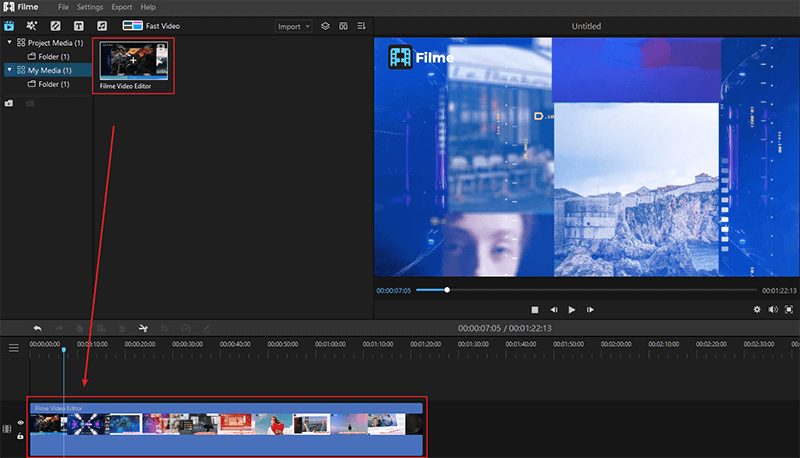 Step 3. You can now edit it whichever way you prefer. The standard editing features include cropping, trimming, speed control (fast and slow motion), and color balancing of the video. All these features are incredibly simple and require just a simple click or two.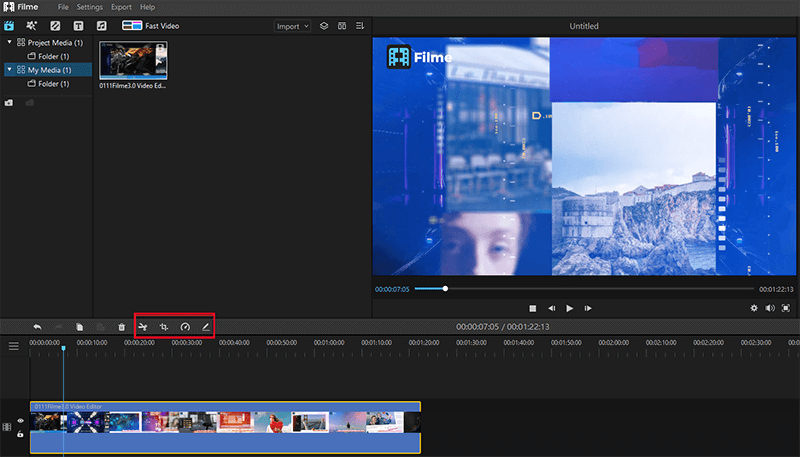 Step 4. Once the editing is complete, you can export the file. You can do so by clicking on the Export option and choosing the output format as GIF. After that, you will get a high-quality Gif converted from a video!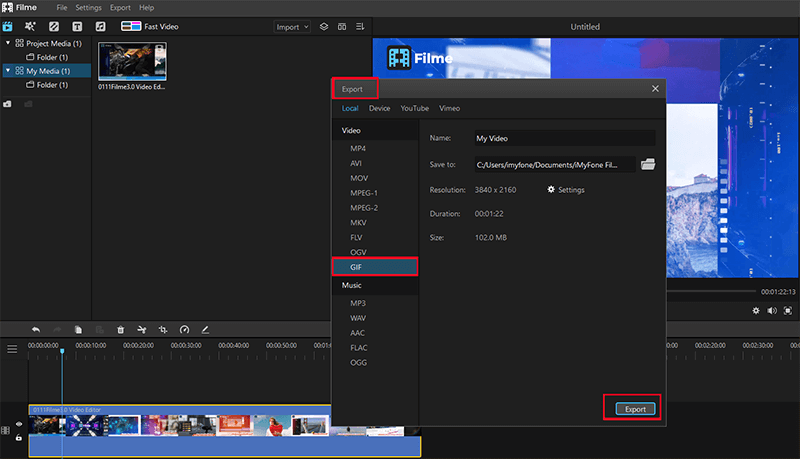 Pros:
It's super easy to use, which is really helpful for new users. People who aren't too familiar with the interface can still easily navigate it.
There is an abundance of effects, animations, and transitions at your disposal to put together a stunning creation.
It has a long list of advanced and refined editing features.
You have the option to share your videos to YouTube and Vimeo.
Its free version is available so that you can try it out without any cost.
It supports a myriad of different formats for videos.
Cons:
It's a relatively fresh product on the market. Therefore, it isn't as established as other editing softwares might be.
This software/application is another excellent one to revamp your videos into the format you desire. It's one of the oldest converters on the internet and basically introduced this concept. The step by step process of using this application is as follows:
Step 1. Sign up with your credentials and log into your account on GIPHY when converting a video through it.
Step 2. Click on the Video option to add a video file from your collection. You can always find some trending video sources from YouTube, Instagram and Reddit.
Step 3. Use the sliders to pick the Start Time option on the video. You can specify the duration you want your project to be.
Step 4. Then, you can edit or decorate it, however you want.
Step 5. Once you're satisfied with the way it looks, simply select the Create GIF button to finish.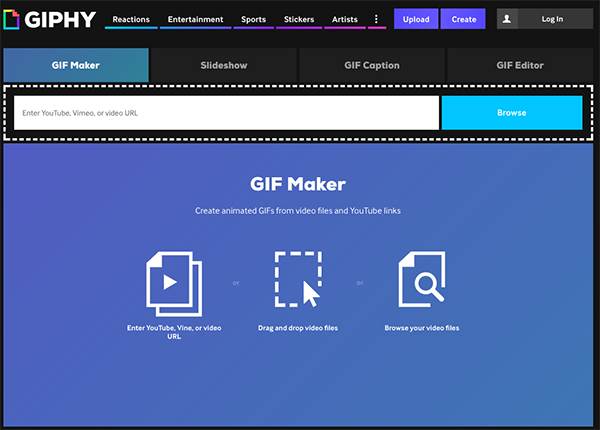 Pros:
It's an old and well-established app so that you can trust it without any worry.
It has a search engine to help you find exactly what you're looking for.
Its process is easy to follow.
Cons:
The search tags are quite varied, so you may find what you're looking for with unlikely words.
The search bar is not clear and accurate enough for every user.
MakeAGIF is another free application that presents you with the option to convert your videos. These features are free, and it specializes in projects for Facebook posts the most. The step by step process of using this application is as follows:
Step 1. Go to the application's website and select the Video converter pick at your disposal from the side tab.
Step 2. There are two ways you can go about it. The screens offer the choice of uploading a video directly from your collection or simply pasting its URL.
Step 3. Once the imported file is compressed, you can determine its end-result through editing.
Step 4. Choose the finish option to commemorate your creation and to officially use it.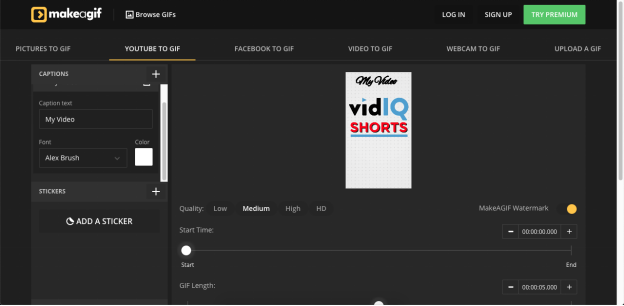 Pros:
The service is of no cost.
It's an extremely quick feature to utilize.
It's compatible with various file formats
It has a great minimalistic user interface that lets you concentrate on animation instead.
Cons:
It works more efficiently in the paid version as compared to the free.
This is yet another software application to utilize. It supports all kinds of file formats and is a viable option for many. The process of using this application's feature is perhaps the simplest and quickest one.
Step 1. Choose the converter option on their website and simply upload the file.
Step 2. Select the conversion button.
Step 3. Once it has successfully changed formats, you can click on Download and access it.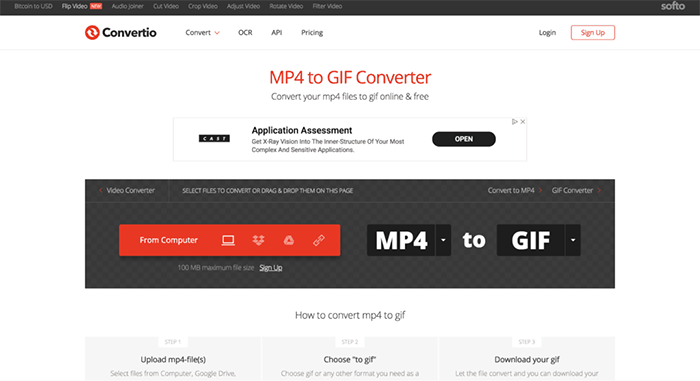 Pros:
It's extremely straightforward to convert.
No sign-in required.
There are up to 10 free conversions per day.
Cons:
PNGs with transparent backgrounds do not work properly.
This one is famously known as a free video service application. It's incredibly easy to use and recommended by a lot of experienced users. It adheres to and supports a large number of file formats. The steps for using this application are as follows:
1.Go straight to the application's website to get started.
Step 1. Go straight to the application's website to get started.
Step 2. Upload your file or simply paste its URL in the presented dropbox on the screen.
Step 3. Access your newly made creation from their Output section.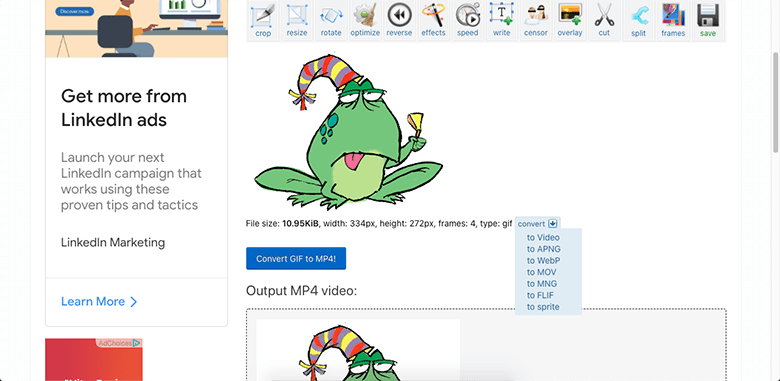 Pros:
It's high quality.
You can upload up to 100MB of files.
It supports nearly all file formats.
Cons:
The interface is old-fashioned.
It takes really long for the file to process and effectively converts.
This is another free application for internet users to utilize. It doesn't demand a sign-up and is efficient for quick use. The step by step process of using it is as following:
1.Go straight to the application's website: https://www.onlineconverter.com/video-to-gif to get started.
Step 1. Select the file that needs to be changed.
Step 2. Select the conversion button to begin uploading your video.
Step 3. Once it's uploaded, you'll be redirected to where you can see the end result.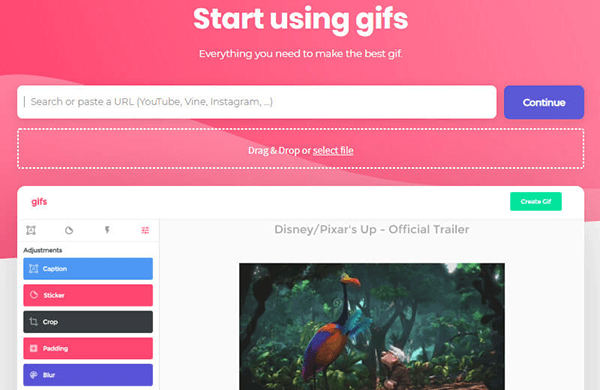 Pros:
It's completely free.
No registration is required.
Cons:
It doesn't support and adhere to every type of file format.
Clipchamp is known to have handy features for this type of video creation. It's an effective video one to go for, and the process of using it is as following:
Step 1. Sign up and log onto your Clipchamp account.
Step 2. Select the Create button to proceed and choose an aspect ratio for your file.
Step 3. Add/upload your files.
Step 4. Start editing on the dragged and dropped project.
Step 5. Once edited, export your creation in the format you want.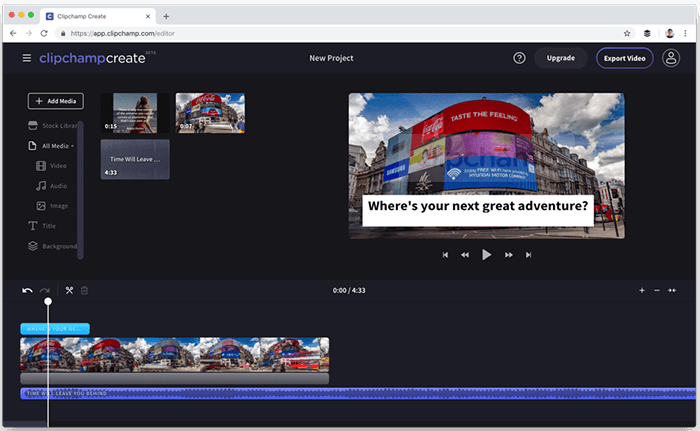 Pros:
It achieves content of high-quality.
The user interface is very easy to navigate.
Top 5 Free Video to Gif Converters on Desktop
In addition to the above 7 recommended video to Gif converters without watermark, we will also show you the best free video to Gif converters that are compatible on Desktop devices. They are as following:
1. iMyFone Filme
iMyFone Filme is compatible for Windows PC and Mac as well. And it is highly recommended by everyone that tries it. Below are the real reviews from Filme users.

As a comprehensive Desktop video to Gif converter, Filme comes with more advanced video editing features:
Other Features about iMyFone Filme
Create a remarkable video with Fast Video Mode. Just one click!
Easily trim, crop, split and rotate the video to make it more special.
Instantly preview the video while you are editing.
Abundant effects and resources that can be applied to create stunning videos.
Use the picture-in-picture effect to stun your social media audience.
Add refined music and text to your video and make it more eye-catching.
2. Movavi
Movavi is another great conversion application for desktop devices. It's compatible with both Mac and Windows. The steps for using it on Windows or Mac are as following:
Step 1. Choose and add files to the program.
Step 2. Cut the project into fragments with the Scissors icon and edit it until you're satisfied.
Step 3. Pick the format to adapt it into and determine the size.
Step 4. Simply click Convert and wait for the process to come to an end.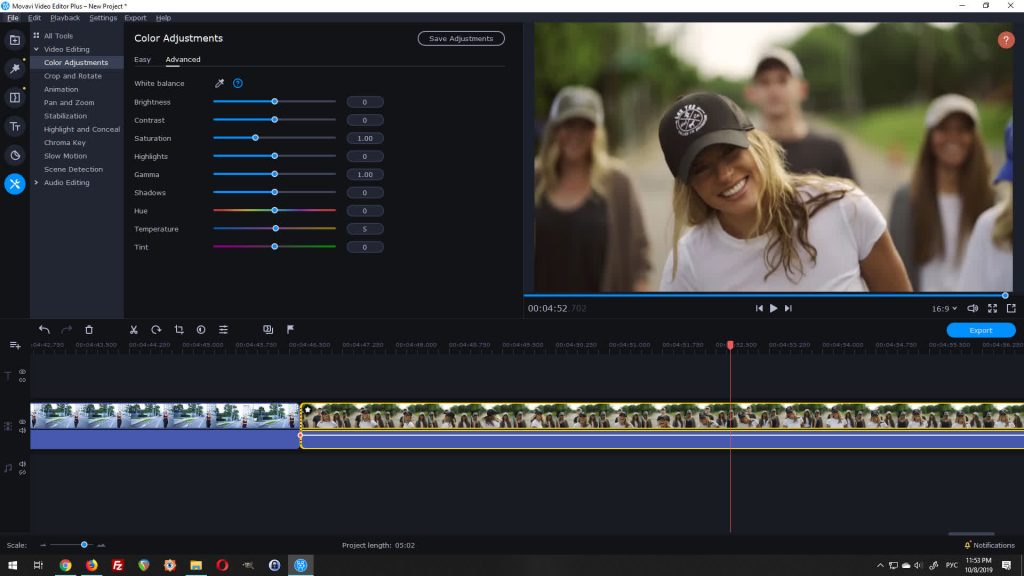 Pros:
A premium dashboard.
Very easy to understand for novices.
Cons:
The free trial isn't up to par in performance.
3. BeeCut
BeeCut is a viable option for both Windows and Mac. The steps for using it are as follows:
Step 1. Import the file you desire to revamp it into the post you want.
Step 2. Select the clip, choose the quality, and then click "Start processing.
Step 3. Click "Download" to save the generated creation after processing your file.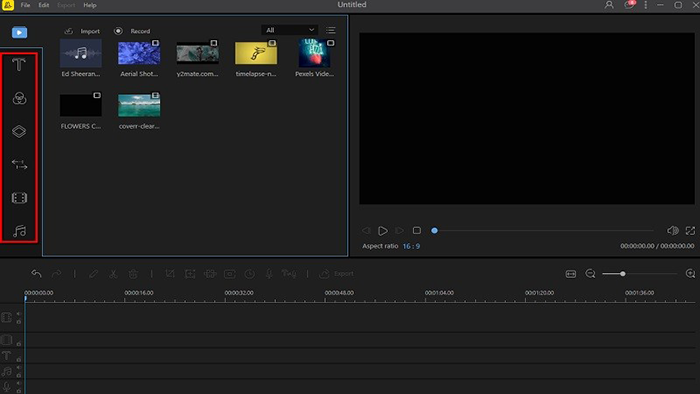 Pros:
It has a user-friendly interface.
The transformation of the file is fast and straightforward.
Cons:
There aren't enough professional features.
4. Any GIF Animator
This one is just for Windows only. The process of utilizing this application is as follows:
Step 1. Once it's installed, let the software's markers guide you and select the "Set Start" button.
Step 2. Click on "Play Clip" for a preview.
Step 3. Click on "Set End" after it's transformed into your desired project.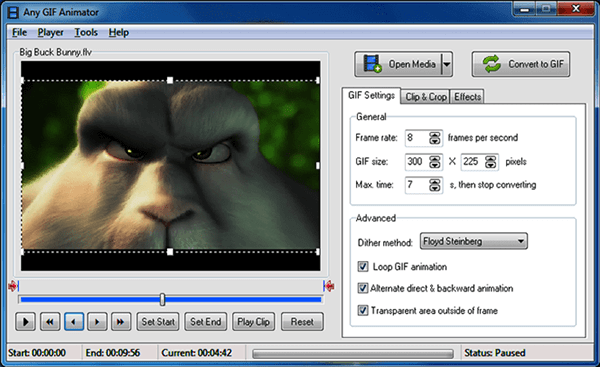 Pros:
It has a clean interface.
It supports any video file.
Cons:
Uploading the file takes too long.
It crashes sometimes.
5. Free Video to GIF Converter
This one isn't compatible with Mac but has a straightforward process which is as follows:
Step 1. Post your file to the software timeline.
Step 2. Revise settings for its start time, end time, resolution, frame rate, size, etc.
Step 3. Hit the transformation button, and within a few seconds, your creation will be ready.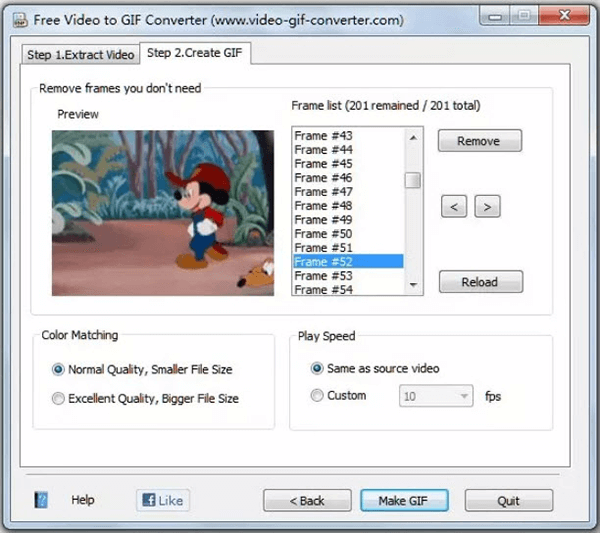 Pros:
It's lightweight (under 10MB).
It allows the adaptation of longer files.
Cons:
It's not compatible with Mac.
There's no option to add filters, texts, or stickers to your project.
Our Favourite Video to GIF Converter - iMyFone Filme
Our personal favorite one that we recommend is iMyFone Filme. Filme is exceptionally easy to download and use for beginners. It supports a wide range of formats and is compatible with all desktop devices, whether they're Mac or Windows. The GIFs produced through it are high-definition and easily shareable on social medias. All in all, Filme is an all-encompassing editor, and whoever uses it won't feel the need to utilize any other website's conversion or editing tools.