What are the best tools and ways to crop a YouTube video to GIF? For that matter, why would you want to crop a video before converting it into a GIF file? If you've ever had the need to convert part of a YouTube video to GIF and haven't found the right tools, then this article is for you. It explains everything you need to know about how to make a GIF from a YouTube video clip, what tools you'll need, and the steps required to complete your task.
Why Do You Need to Crop Just a Part of a YouTube Video for a GIF?

YouTube is an almost unlimited source in that regard, but cropping it and converting a portion of it to a GIF gives you more control over the subject of your GIF file. You can choose just the subject of a scene without using the surrounding imagery or background; extracting the main subject through cropping is the best way to do this.
GIF images are popular because they capture the essence of a video or image and lock it into an amusing or entertaining image that can either be dynamic or static. Dynamic GIFs, also known as animated GIFs, are very popular on social media and chat applications because they enrich the communication experience, just like emoji and other non-characters. They allow the user to express a sentiment that would otherwise require lengthy text. If a picture is worth a thousand words, an animated GIF is probably worth five thousand! Moreover, it's often hard to find the exact GIF you need to convey your thoughts; hence, this guide to cropping a YouTube video to GIF.
With that, let's proceed.
Methods to Cut YouTube Video to GIF

Before you start:
Step 1. The first step is to download the YouTube video you want to use. For this, you can use a free video downloader application designed to fetch videos from Google's servers. Once you have the video saved on your desktop, move to Step 2.
Step 2. In this step, we will describe two different methods to clip a YouTube video to GIF. The first is a purpose-designed desktop video editor for Mac and Windows which has rich functions and the ability to export video clips as GIF files. The second is an online tool you can access from your browser.
Method 1: iMyFone Filme Video Editor and YouTube Cropping Tool

iMyFone Filme is a professional video editing tool developed by iMyFone, which can help convert YouTube video to GIF easily. The first step is to download the Windows or Mac application.
After installing the application, launch it and upload your YouTube video by dragging it to the software interface and dropping it in the media panel.
Next, drag your media file into the timeline editor and place it on a new video track.

Filme offers a full suite of tools for trimming, cutting, and cropping videos, so use these features to get the source clip for your GIF.
a. First, use the sliders in the timeline editor to trim the left and right side of the video to select the exact portion that you need for the GIF file - you can see your selection and play it in the Preview pane on top
b. Once you have the clip selected, you can use the Split tool to cut the video at that place.
c. To use the Crop function, double-click the timeline to edit the video (or right-click and select Edit) and use the crop frame in the Preview pane to select your subject, then click the Crop icon to cut the video.

d. You can use the other editing functions for white balance, contrast, and other modifications to the video clip before you crop it; alternatively, you can do these edits after you crop the video file to choose what you need.
e. The new Filme version 3.0 brings several new features like panning and zooming that you can use to zero-in on your subject before you crop the YouTube video to GIF.
You now have the exact clip and portion of the video that you need for your GIF. As a final step, click on Export and choose GIF as your output format - save the file to your desktop.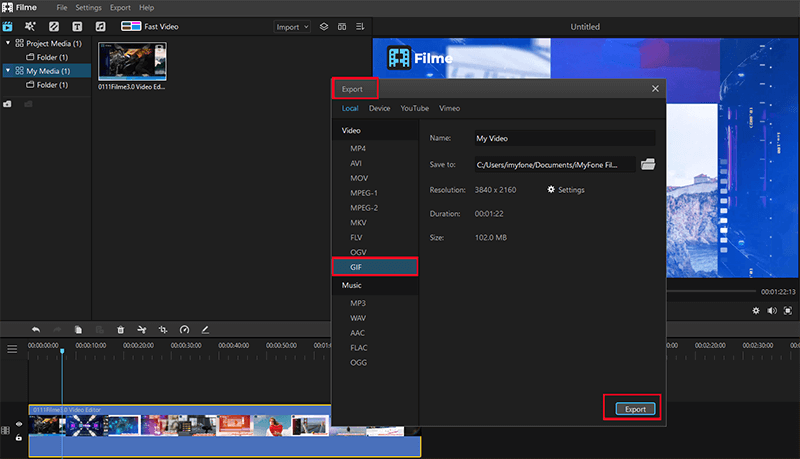 Filme 3.0 introduces several great new features, including:
Import folders and media files from your phone to the application.
Use the pan and zoom features to highlight a portion of the video, as shown in the example above.
Add text effects like captions, subtitles, and overlay text using the newly introduced font collections and text effects.
Animation and transition now have even more options.
Fast video mode has additional themes to create stunning video slideshows from your existing media files.
The new UI is vastly improved and highly intuitive, especially if you're a new user.
A new feature introduced to allow users to share video content directly to sites like YouTube and Vimeo - no need to export and then upload again - one-click transfer to your linked social media account.
Now, let's look at the second method to crop YouTube videos to GIF.
Method 2: Online Crop and Convert YouTube Video to GIF

There are two great websites that can do this easily and with very little effort on your part. Both are highlighted in detail below:
Tool #1 - Veed.io

Head over to the Veed.io website URL for YouTube to GIF conversion
Click Get Started and upload the video from your desktop or drag it to the browser window and drop it there

On the inside page, you'll see a Preview of the video on the right and the timeline editor at the bottom; on the left side is the control panel to choose the parameters for the conversion to GIF. First, use the sliders in the timeline to select the portion of the video for the GIF file.
There are several other settings and options you can use, such as zooming in on the center of the video, changing the brightness or color intensity, and much more.
The crop functionality is quite limited, but you can find it in the Edit Video section when you click on the Preview. However, Veed also provides various aspect ratios so your GIF output will be perfect for social sites like TikTok, Pinterest, Twitter, Facebook, and even LinkedIn - choose the aspect ratio in the Settings → Overview → Size section of the editor.
When you're done, hit Export on the top right to prepare the video for download.
In the next step, choose Download as GIF.
Supported File Types:
Veed supports all the latest video formats, including those used on popular social media sites like YouTube, Vimeo, etc.
Limitations of the Free Version of Veed.io:
Veed's free plan is quite limited in terms of options. Your video length cannot exceed 10 minutes, storage is capped at 2GB, and there's no chat support. There is also a watermark added to all output files in the free plan.
Price of Paid Version:
Veed offers two paid options -
$12 a month for Basic on the annual plan
$24 a month for Pro on the annual plan
If you want to pay monthly, the plans cost $18 a month for Basic and $30 a month for Pro
Tool #2 - EZGIF

Upload the video from your desktop to the Ezgif URL for video to GIF conversion.
In the text below your video, you'll see a link called 'crop the video' - click it - you can also go to that page using the Crop Video icon above the video, which is easier but you might miss it once the video is uploaded (scroll up to see the menu items).

To crop the video, either manually select the portion of the video, set manual parameters for cropping, or choose an aspect ratio.
After cropping, go back to the Video to GIF section and choose the start/end times for the clip.
Check the other settings and then click Convert to GIF.
You're done!
Supported File Types:
Certain video formats are not supported. Also, you may not be able to paste a YouTube video link directly when uploading a video. The better option is to download the file and upload it manually.
Limitations of the Free Version:
There are no limitations here because the service is absolutely free for any type of use. There are tons of options to choose from, including video resizing, video reverse play, effects, splitting, text addition, etc.
Price:
Not applicable - fully free
Other FAQs About Cropping YouTube Video to Gifs

Is there any tool to crop the YouTube video directly?

Yes, you can use some
best video cropping tools such as YTCropper and YTCutter to trim and crop your YouTube video using the link.
The process is as follows:
Open the corresponding URL for cropping or cutting
Enter the start and end time of the video to choose the clip, then choose a cropping parameter
Click on Crop! and the job's done
Are YTCutter and YTCropper Reliable?

Only if you're lucky! The tools don't work the majority of the time, so you'll be better off using the tools we've showcased here.
How can I reduce a GIF's size for sharing?

There are several ways to change a GIF's size. You can either crop it to make it smaller or you can resize the file itself. There are online tools for both these actions. However, make sure you don't resize it to a very small file size because it will affect the resolution when displayed on a larger screen.
What to do if I want to crop a YouTube video and turn it into an animated GIF?

Any video that has moving objects in it will be automatically converted into an animated GIF so you don't have to do anything extra. In fact, an animated GIF is nothing more than a short video clip that is looped over and over again infinitely. It's just the format that is different - a video will be in a video format like MP4 and so on, while a GIF is an image format.
Also Read: