Are you looking forward to getting a solution of not creating WhatsApp backup on Google Drive? Here you will find the details and the solution to your problem, which is you cannot create WhatsApp backup on Google Drive. WhatsApp backup google drive problem is common. Many clients report that it is impossible to back up WhatsApp to Google Drive. If you're one of them, take a look at the options we've provided below.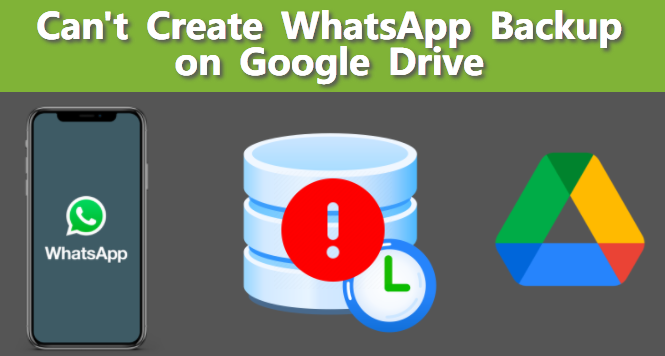 Part 1: WhatsApp Data Backup Problems
Data backup is essential for anyone who frequently talks via chat apps such as WhatsApp. Therefore any issues with cloud backup cannot be allowed. If you discover that your WhatsApp chats are not accessible from your Gmail Account, you must act quickly to remedy the problem.
You can establish automatic backup intervals to ensure that your conversation history is never lost. WhatsApp has a handy Google Drive interface that allows you to save your Chat backups without using any storage space. Here, we will tell you how to fix the WhatsApp backup google drive problem.
Part 2: Why Can't I Back Up WhatsApp to Google Drive?
For what reason would WhatsApp be able to rear up to Google Drive, and how would it be advisable for you to respond on the off chance that Google Drive re-establishes aren't working? Here are some reasons why you are unable to backup WhatsApp to google drive.
There is a problem with your network connection.
You don't have adequate storage space for backups.
Your WhatsApp has an excessive number of caches.
The data on WhatsApp or Google Drive may have been corrupted.
You don't have the most updated incarnation of WhatsApp or Google Drive.
Problem with Your Network Connection
Sometimes when you are doing a backup process, your network causes interruptions. Due to unstable and weak network connection, WhatsApp history fails to back up in Gmail account.
Lack of Required Storage Space for Backups
When your mobile memory is full or does not have enough space in which backup files can be placed, that's why due to less space, the back process does not start.
WhatsApp Has An Excessive Number of Caches
In your mobile setting, there are apps options. You need to clear the cache by selecting WhatsApp, and after years, many caches were gathered there; that's why WhatsApp backup stuck.
Corrupted WhatsApp Data
Sometimes your data become corrupted. It is one reason you cannot back up your WhatsApp information to google drive.
Don't Have Updated WhatsApp Version
When you keep using WhatsApp's old version and do not update WhatsApp when a new update comes, you get a backup problem.
Part 3: How to Solve the Problem of Unable to Transfer WhatsApp Data to Google Drive?
You can find everything you need to know about the problem of making a copy of the WhatsApp archive in Google Drive and reverting to Google Drive here. Now we will tell you how to solve the WhatsApp backup problem.
Examine your internet connectivity.
Activate Google Drive backups.
Delete WhatsApp Information and Caches.
Google Drive and WhatsApp Should have an update or new version.
Delete the Backups and Start Over.
Re-add WhatsApp access to an online Drive after removing it.
Examine Your Internet Connection
Google Drive is an Internet-based cloud storage service, therefore backing up to Google Drive necessitates reliable and efficient internet connectivity. Your recoveries may be affected if your internet access is not steady sufficient. Instead of using a cellular data network, you should connect your phone to a reliable Wi-Fi connection to establish a restore.
Activate on Google Drive Backups
If you wish to back up WhatsApp to Google Drive, you must first provide WhatsApp permission to your Google Drive account so that it may build a restore.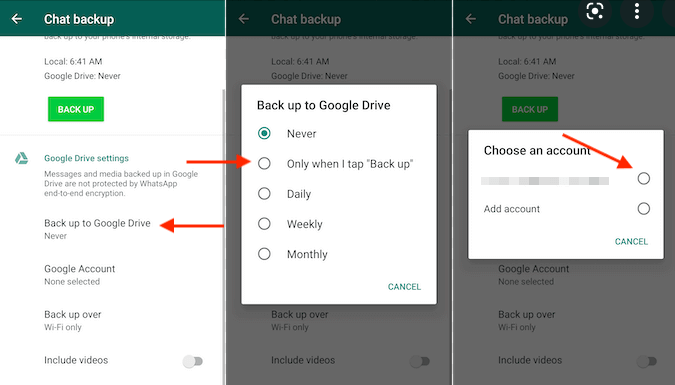 Delete WhatsApp Data and Caches
WhatsApp may gather a lot of caches and information after a lengthy time of use. A large number of caches and data can cause problems with the software's normal operation and the restore process to Google Drive.
Open Settings, then select a section of Application manager.
Choose All apps from the drop-down menu.
Go to WhatsApp > Storage > CLEAR CACHE.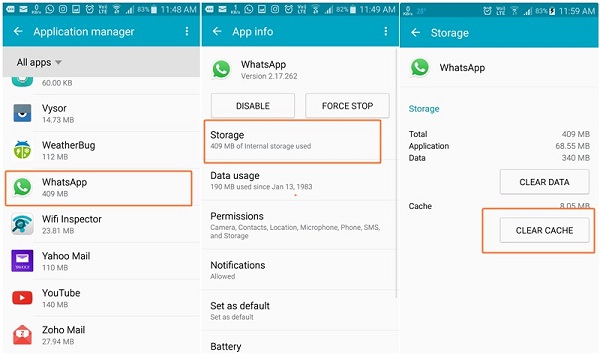 Google Drive and WhatsApp should have Updated Versions
The process of backing up WhatsApp to Google Drive may be hampered if your app isn't up to date. Go to the play store, type WhatsApp in the search bar, and press the update button. Your WhatsApp will start updating.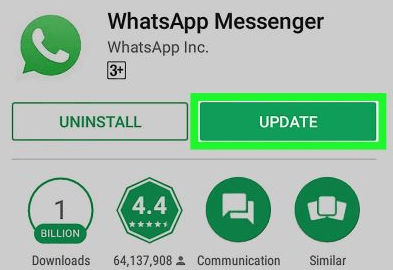 Delete the Backups and Start Over
If the restore task fails, you can delete something from your Google Drive and start with a new one. Start your Google Drive application and select Backups from the menu bar. Quit the Google Drive tool after deleting the WhatsApp backup by tapping the Remove backup option. Then again, open the app for a new backup.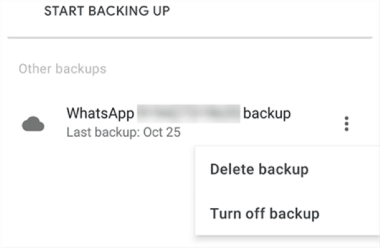 Re-add WhatsApp Access to An Online Drive after Removing It
The link between your WhatsApp and Google Drive could be the source of the problem. As a result, you can delete WhatsApp access from Google Drive and re-add it.

Bonus: An Effective Tool to Restore Google Drive WhatsApp Backups Alternatively
Since we have had WhatsApp backups on Google Drive, it could also be a problem for those who want to access the backups. As we all know that WhatsApp has its encryption protocols, we could never preview the backups from official way. Fortunately, iTransor for WhatsApp is a brandly new tool for you to directly access WhatsApp backups on Google Drive and preview them before restoring, In this process, you won't need any other tools and you won't lose any data.
Other Features about iTransor for WhatsApp
Step 1.Launch iTransor for WhatsApp on your computer, Choose Restore/Export WhatsApp Backup and then click on Import Google Drive Backups.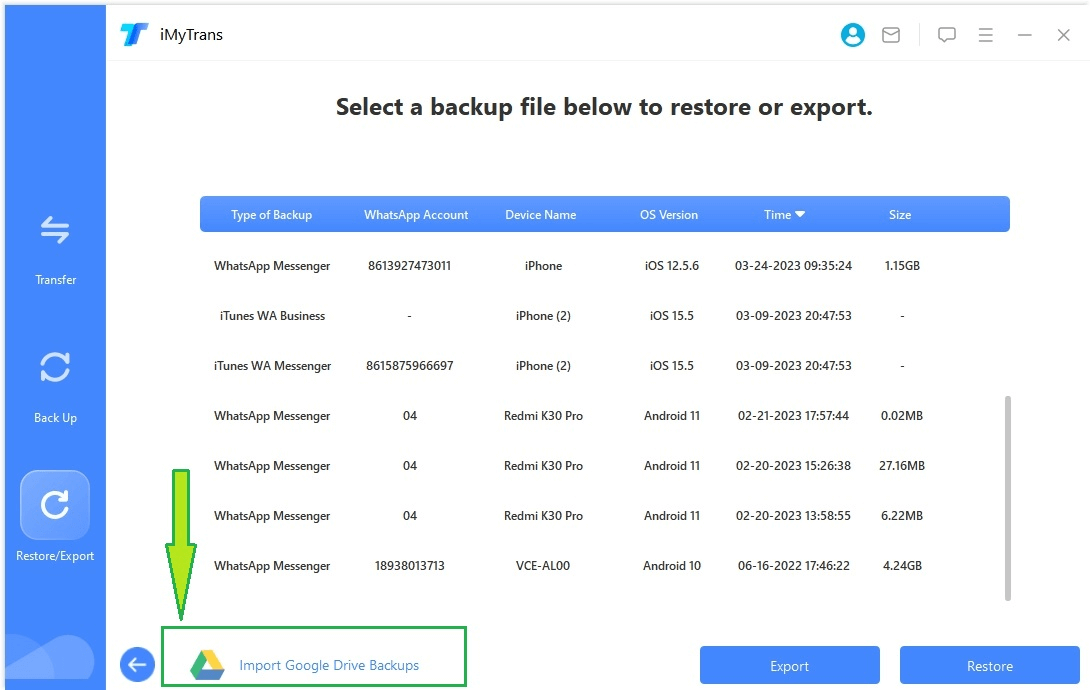 Step 2.Log into your Google account and you can see all the WhatsApp backups on Google Drive. Choose one backup you need and download it. Then choose Restore to Device.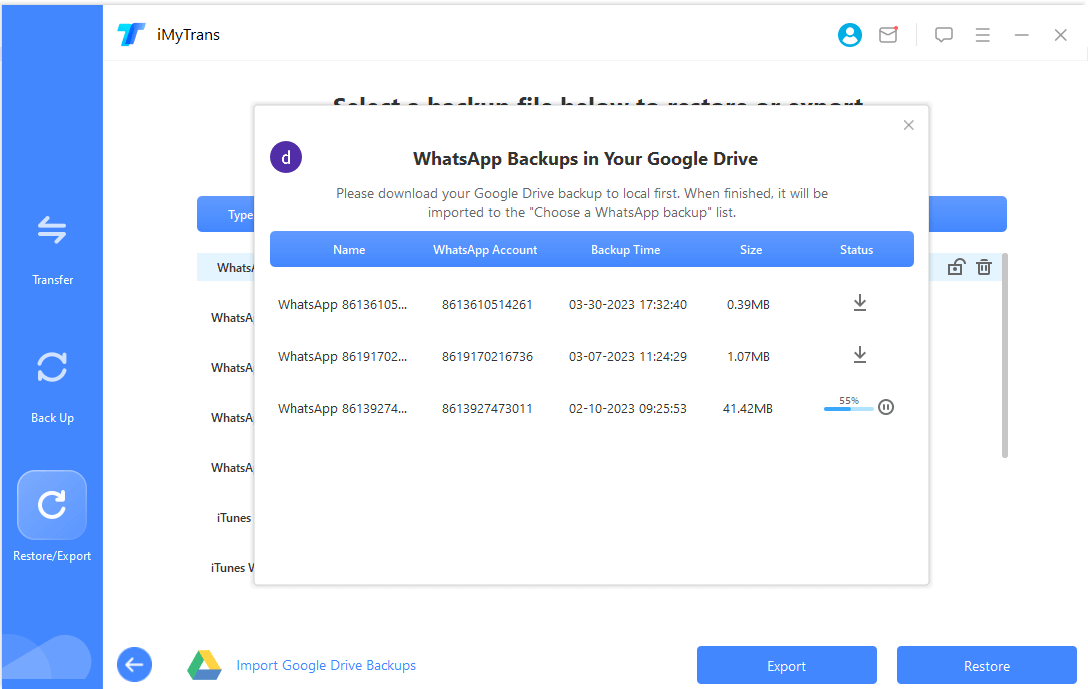 Step 3.You will be asked to enter your phone number and verification code you'll be received. Click on Next if you finish.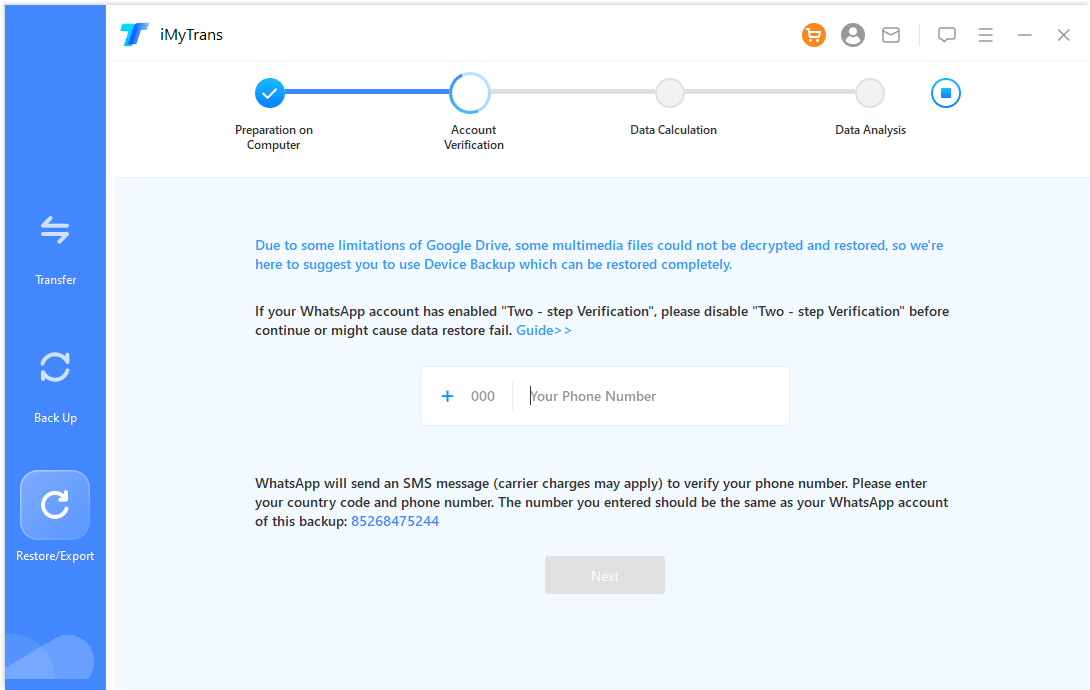 Step 4.Wait for the data analysis process and finally you can preview all types of WhatsApp data you backed up to Google Drive before.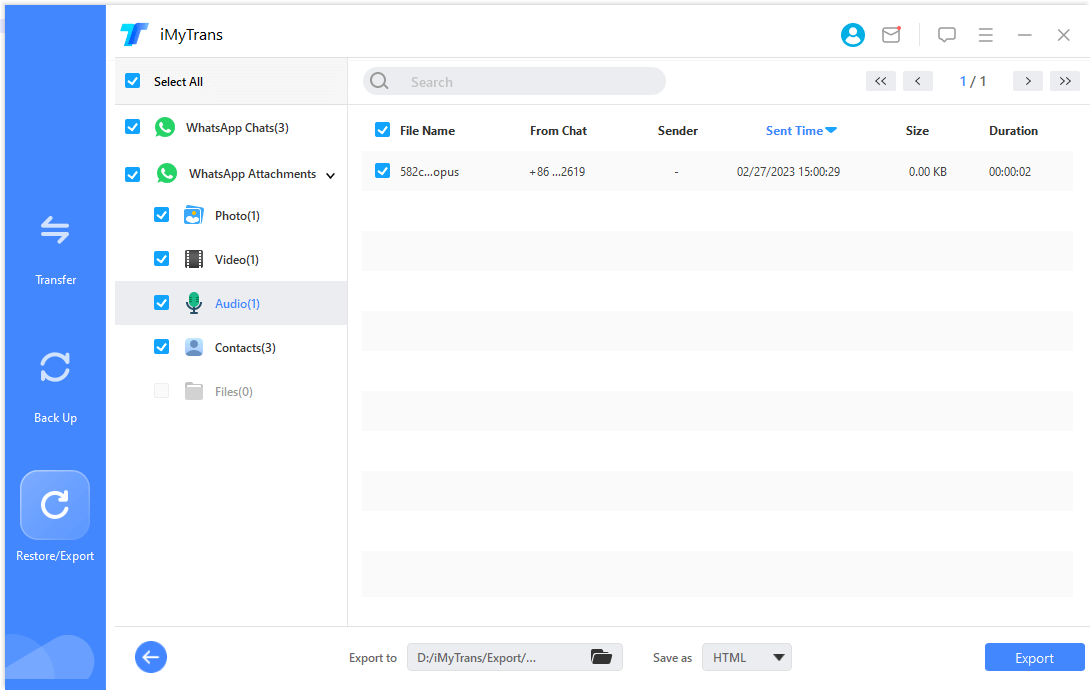 FAQs: More About WhatsApp Backup on Google Drive
1. Why can't I see my WhatsApp backup in Google Drive?
If WhatsApp doesn't detect a backup, it might be because: You aren't logged into the same Google account. You aren't using the same phone number that was used to create the backup. Your SD card or chat history is corrupted.
Go to Google Drive's web version.
Click on the gear icon on the top-right corner. Then you'll go to Settings.
Choose Manage Apps, then scroll down to WhatsApp Messenger section.
Conclusion
It's critical to determine what's causing the issue, after which you can test different solutions for WhatsApp backup google drive problems one by one until you discover anything that works. Installing specialist data transmission apps on your smartphone and using them for WhatsApp backup may be the best way to protect yourself from difficulties like these. Please feel free to share this article with your colleagues if you enjoyed it. If you are unable to backup WhatsApp to google drive, read this post.