User Concern
"Does anyone have any ideas, on how to transfer/ migrate whatsapp media from iOS to Andriod. Google Drive isn't an option and i cannot see to find any other way to transfer this across. Can anyone recommend a program or method that's free or paid that may do this."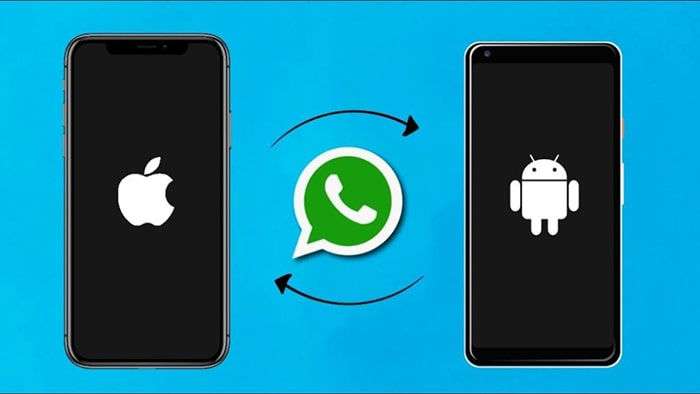 It is a really common thing when you update to a new phone, especially when you are changing Android to iPhone or iPhone to Android. One of the most common situations our customers met will be the WhatsApp data transfer between them. This detailed article will cover the different perspectives of how to transfer WhatsApp from iPhone to OnePlus. I believe your problem will soon be solved after reading this. If you are transferring to a different Android phone, the guide broadly about transferring WhatsApp from iOS to Android might be more useful.
Can you transfer WhatsApp from iPhone to OnePlus 7t directly via iCloud/iTunes?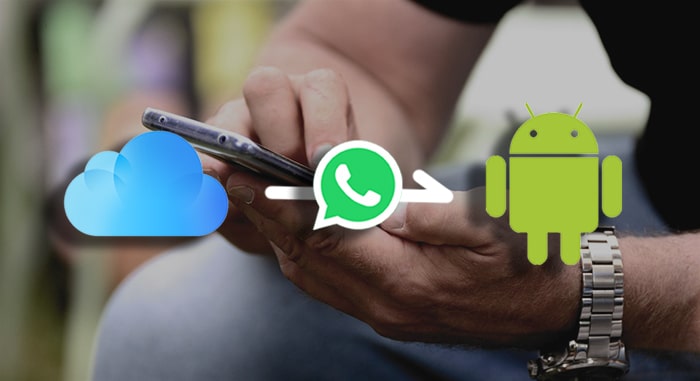 The straight answer is no. WhatsApp officially doesn't support cross-platform data transferring. You can only restore WhatsApp backup from iPhone to iPhone device via iCloud storage. It is because OnePlus 7t is an Android-based smartphone. So Android's version of WhatsApp is not compatible with iCloud. You are not able to transfer WhatsApp data between different operation systems via the official way.
However, there are some tools/methods that can help you with this problem.
How to Transfer WhatsApp From iPhone to OnePlus 7t Directly?
There are two possible ways that facilitate you to transfer WhatsApp successfully. The first one is a free method but with some limitations. And the other one is a robust way to transfer WhatsApp among cross platforms.
(Free) Method 1. Transfer WhatsApp from iPhone to OnePlus via Email
Here is the simplest method of how to transfer WhatsApp from iPhone to Android. You can consider it an official or a native feature for transferring WhatsApp data. This method doesn't need any third-party software involvement. Follow the steps below to transfer WhatsApp from iPhone to OnePlus:
Run your WhatsApp on your iPhone.
Select the conversation that you want to send via email.
Slide that conversation and tap on the top of it.
In the popup, you can access Contact Info including the Export Chat option on the bottom.
Tap on the Export Chat option.
Next, you will be prompted whether you want to attach media files in the conversation or not.
Simply tap on your desired option and enter your email address to send the conversation.




WhatsApp will send a zip file if you choose media attached option, and text file with without media option. Open the files on your OnePlus so that you can read the entire conversation!
Cons of backing up data via Email
You can create a backup via email free of cost but there are a lot of limitations using this method. If you are OK with these limitations, you are good to go. Here are a few cons you must consider:
First and foremost, you need to do a lot of manual work to send all conversations via email. Because emails allow you to send data just in a limited size. So if you have a huge dataset, it can be a headache for you.
You receive your backup data in a text file. It can create readability issues.
Furthermore, you can't restore this data in your WhatsApp account.
---
Method 2. The absolute method to Transfer WhatsApp via a Third-party Tool
iTransor for WhatsApp is a tool designed exactly for WhatsApp data. It provides WhatsApp backup, restore and transfer solutions between iOS and Android devices, which means that you can make a backup and restore it to another Android or iOS device later, or you are also able to transfer WhatsApp from iPhone to Android phone directly. This app supports both the regular version and Business version, so no worries if you are using WhatsApp Business.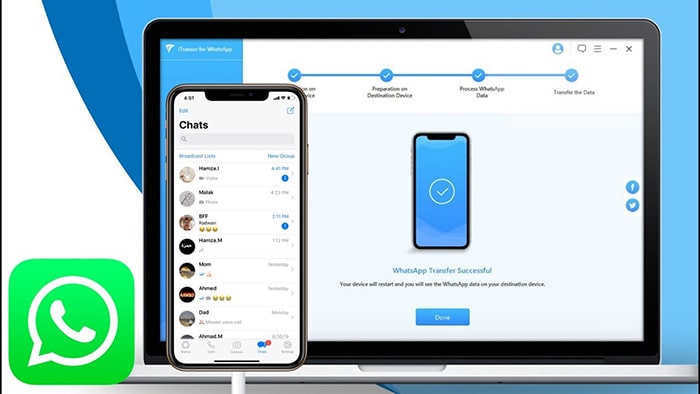 Use iTransor to Move WhatsApp from iPhone to OnePlus 7t/7t Pro
If you hold both iPhone and OnePlus at a time, we recommend this method for transferring your data. Let's learn how using this step by step guide:
Install iTransor for WhatsApp on your PC.
Connect both Android (OnePlus 7t/7t Pro) and iPhone to the computer.
Make sure that your iPhone device should be the source and OnePlus should be the destination device. Otherwise, switch both devices.




Press the Transfer button. It will start data transferring. This process erases the previous WhatsApp data on the target device.




When the process completes, you will see all conversations including photos, videos, and other media in your new OnePlus device.



iTransor for WhatsApp is compatible with all iOS versions and Android devices. So you can transfer your data easily without any frustration.