Question
I want to turn off WhatsApp notifications because there are too many messages received all the time, I can't focus on my work, what should I do?
WhatsApp is one of the main messaging apps worldwide, but it is annoying to receive many notifications in our daily life. So learning how to turn off WhatsApp notifications is a useful way to disconnect you from all these messages.
In this post, I will show you how to mute WhatsApp notifications for different interactions. This way, you will be able to avoid accumulating thousands of unwanted messages. Let's move on.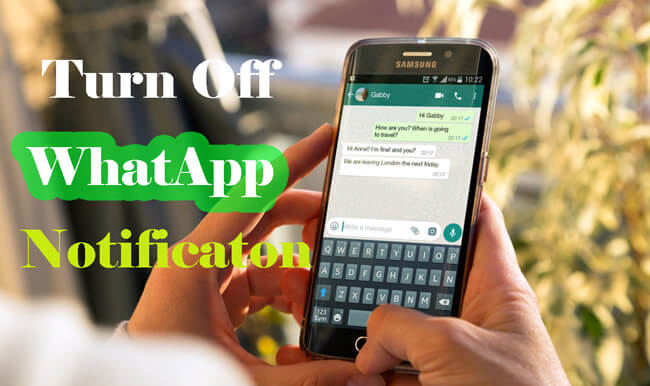 What Does Invisible Notification in WhatsApp Mean
An invisible notification is someone's notification from WhatsApp that you will not see. WhatsApp will not show you that notification since you disabled it. You will not receive them on your phone.
How to Turn off WhatsApp Notification?
01

Disable All WhatsApp Notifications on Your Phone
You can turn off all the notifications altogether on your phone. In this case, you need to open the application to see any new message or interaction:
Step 1.Launch WhatsApp on your phone and open the Settings.
Step 2.A dropdown menu will open. Choose Settings > Notifications.
Step 3.Toggle the option off, and now you will not receive any more notifications on your phone.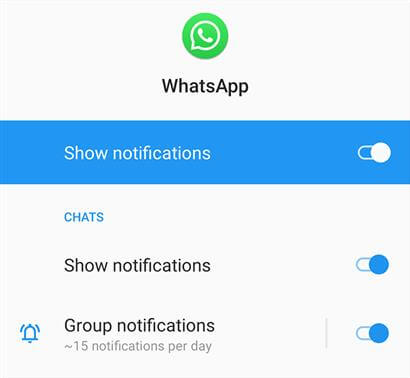 ---
02

Disable All WhatsApp Notifications on Web
You can synchronize your WhatsApp chats with your browser using the WhatsApp web extension. You can turn off WhatsApp notifications for the WhatsApp Web, just follow the steps below:
Step 1.Open WhatsApp on web. Then click on the Settings menu.
Step 2. A dropdown menu will open, and you can proceed to choose the Settings option.
Step 3.Then click on the notifications tab.
Step 4.You will see four checks alternatives. Turn all the notifications off, and check the last item that says "Turn off all desktop notifications".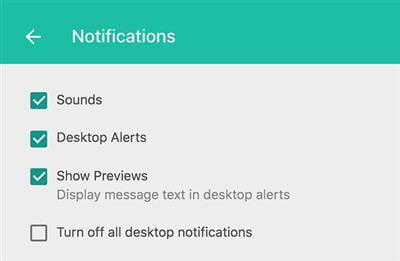 ---
03

Turn off WhatsApp Notifications
To block the WhatsApp notifications on an Android device, you need to adjust the phone settings. It is a quick process if you follow these steps:
Step 1.Open the Settings Apps, then search and select "App Sections".
Step 2.Scroll down and select WhatsApp. You will open all the app information.
Step 3.Go to the "Notifications" to block WhatsApp notifications.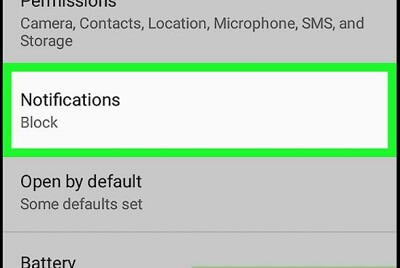 ---
04

Mute Notifications Individually
You are free to adjust your notifications. You can personalize which notifications are shown on your phone or WhatsApp web. For example, you can adjust the notifications for a single chat. See how to do:
Step 1.Open your WhatsApp on the phone or web. Proceed to open the chat you want to disable the notifications.
Step 2.Tap on the Settings at the upper right corner and tap on the option "Mute notifications".
Step 3.Choose the lapse of time you want to mute the chat for. You can choose to Always mute the chat. Once you choose your option, tap on Ok and you will no longer receive notifications from this chat.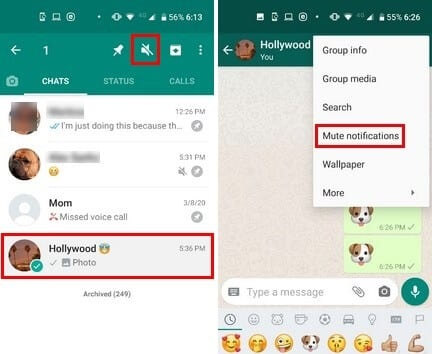 ---
05

Turn off Notification Light
Some phones support light notifications. You can configure the colors of these notifications depending on the app or chat. So, you should turn off the notification light follow the steps below also.
Step 1.Open WhatsApp on your phone. Then tap on the three dots icon at the upper right corner of your screen.
Step 2.Then tap on the Settings > Notification.
Step 3.Select the Light option on the notification tab. And choose the color of the light notifications or select the None option to turn off the light notifications.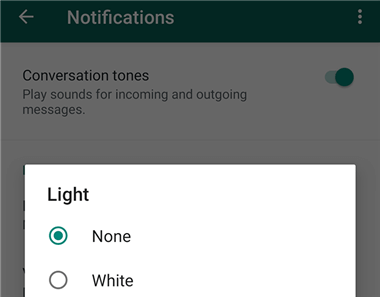 ---
06

Force Close WhatsApp to Stop Receiving Notifications
WhatsApp is always running in the background on your phone. So we may need some measures to force close it:
Step 1. Go Settings on your phone and tap on the Apps & Notifications section.
Step 2. Select WhatsApp from the app list.
Step 3. Tap on the option Force Stop. WhatsApp will not run in the background and you can stop receiving notifications.
---
07

Disable Data for WhatsApp to Prevent Notifications
Another alternative to turn off WhatsApp notifications is to disable the access of this app to your internet connection:
Step 1.Go Settings > Apps & Notifications section.
Step 2.Tap on the Data usage control > WhatsApp. Then choose the Forbidden option to stop its connection to the internet.
In this way, WhatsApp will not use any more data and prevent WhatsApp notification.
Frequently Asked Questions about WhatsApp Notification
1

Does WhatsApp have Do Not Disturb?
No. You can turn off all notifications from the app but the developers have not released this mode yet. You can always download a third-party app that will block all the notifications with just one button.
2

How do I turn on WhatsApp notifications?
Depending on your WhatsApp platform, you need to follow the same steps you used to turn off WhatsApp notifications. The only difference is that now you will turn them on.
Conclusion
Getting notifications all day can be exhausting. Hopefully, you now learned how to turn off WhatsApp notifications and now you will have better management of your phone notifications. By turning off WhatsApp notifications you will be able to take proper breaks from your chats application.