Have you decided to switch between an iPhone and a OnePlus smartphone? Now, you might be looking for how to transfer data between iPhone and OnePlus. While many think this process is not easy, it is easier than you think if you select the right solution. Below are our top 4 ways to transfer your data across these two devices.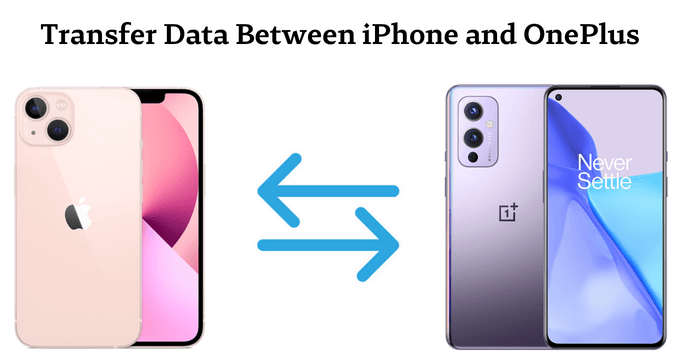 Part 1. Transfer Data from iPhone to OnePlus with OnePlus Switch App
If you have an iPhone and you want to move your data to OnePlus, then the first option that you may use is the OnePlus switch app. It is available for iPhones, where it lets users transfer their data seamlessly to their OnePlus smartphones using high-speed 5G technology.
Using the OnePlus switch app means that you can transfer everything to OnePlus present on your iPhone, including the following:
Images
Videos
Contacts
Messages, etc.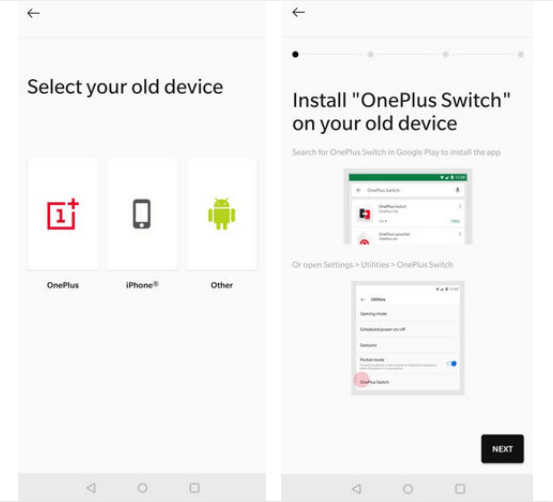 Remember that this app provides transfer speed as per 5G speed without needing any internet connection. However, due to the security reasons on an iPhone, you do not get a lot of options to transfer data apart from the ones listed above. So, if you are thinking of transferring your files or music, you may need to use another solution.
OnePlus Switch app is supported with all iPhone models, including 5 and above, and those that run on iOS 9 and above. Thus, you can easily get all the data from your old smartphone. While this app lets you get your data out of such old devices, the user experience and transfer speeds are always up to the mark.
Part 2. Transfer Data from OnePlus to iPhone with Move to iOS App
Those who want to shift from their OnePlus device to an iPhone cannot use the OnePlus switch app. Instead, the right choice for them is to use the Move to iOS app provided by apple. It is available on Google Play Store, where you can download it on your OnePlus smartphone. While there are a few requirements like having a charger in both phones and having the Wi-Fi turned on, the overall experience is good with the Move to iOS app.
Start setting up your new iPhone and tap Move from Android when you are on Apps & Data screen.

Open the Move to iOS app on OnePlus and connect devices with the given code.
Now connect your OnePlus to the temporary Wi-Fi created on iPhone.
Select the content you want to transfer and continue.
Now you only need to wait for the process to complete, and then you can set up your iPhone. This way, all your files will transfer from OnePlus to your iPhone over Wi-Fi without needing an internet connection.
Part 3. How to Transfer Contacts Only Between iPhone and OnePlus
If you only need to transfer contacts between iPhone and OnePlus, the overall experience will be much simpler. There will be no need to download any tools or to make any backup. It is because for transferring contacts, we will be using the cloud sync method that is not only convenient but it is extremely quick as well. There are 2 main ways you can use and below are the details of each of them.
1

Transfer Contacts via Google Account
The first option for you is to use Google Account to transfer your contacts between 2 devices. Google Account is amazing when managing contacts as it can keep them up to date in real-time between all your devices. So, completing this process once means that your contacts will always stay synchronized on the devices with your account on them.
Take your device with all your contacts and turn on contact sync with your Google account in the contacts settings.

Now move to the second device and log in with the same Google account.
Now connect your OnePlus to the temporary Wi-Fi created on iPhone.
Go to contacts and turn on contacts synchronizing, and you will have your contacts from the other device here.
The best part is that adding a new contact on any of your devices with that account will sync it on the other device.
2

Sync Contacts via iCloud
You can also use iCloud for the same purpose as a built-in service with your iPhone. The free 5GB storage will be more than enough to transfer all your contacts.
Open your iPhone and go to Settings, then to Contacts.

There go for accounts and set up your iCloud account to sync your contacts.
Now open the iCloud account on the PC and export those contacts as a VCF file.

Export that file to your OnePlus, and you will have all your contacts there.
Part 4. How to Selectively Transfer WhatsApp Between iPhone and OnePlus
The last type of transfer you may want is transferring WhatsApp selectively between your iPhone and OnePlus. As these are running on iOS and Android, there will not be any built-in options to transfer WhatsApp. However, iTransor for WhatsApp gets the job done here with its intuitive features and easy process.
Features
You can use it for bidirectional WhatsApp transfer between iPhone and Android smartphones.
Easily create a backup of WhatsApp on your PC from any smartphone.
Export your WhatsApp backup in different file formats like PDF and CSV.
Restore WhatsApp from cloud service.
It is available for both Windows and Mac.
Steps to Transfer WhatsApp Contacts Between iPhone and OnePlus
Step 1.Open iTransor for WhatsApp on your PC. ChooseTransfer WhatsApp between Devices and connect both smartphones using USB data cables.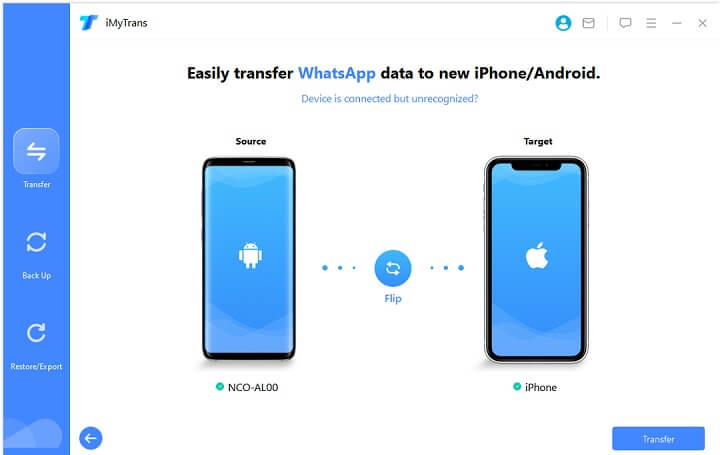 Step 2.Click on Transfer. It will install a customized WhatsApp as it will help the phone to access the program and won't affect your data.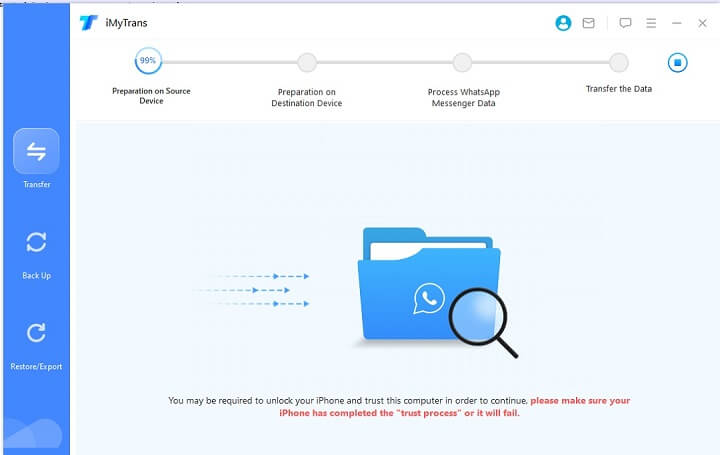 Step 3.Follow any instructions the program shows. Keep devices well connected and all the WhatsApp data including WhatsApp contacts will be transferred.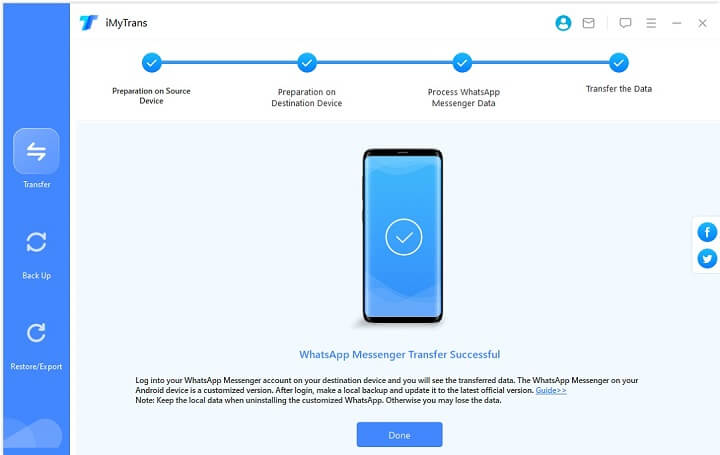 Conclusion
Transferring data across 2 devices is not that hard when both are on the same OS. However, when you transfer data among 2 devices running on different OS like iPhone and OnePlus, things can be a little problematic. So, you can make things easier by taking the right steps, like following one of the methods discussed above.