As one of the most popular social media applications, WhatsApp is useful as a communication tool for both personal and professional reasons. Therefore WhatsApp data can contain valuable information making it necessary to transfer the data to a new device when you switch devices. This has given rise to WhatsApp transfer software designed to help you transfer WhatsApp data from one device to another.
The following are the top 5 WhatsApp Transfer software in the business;
1. iMyFone iTransor for WhatsApp Transfer Software
The best WhatsApp transfer software for WhatsApp data management is  iMyfone iTransor for WhatsApp. This is because it allows you to do so much more than just transfer WhatsApp from one device to another. With iTransor for WhatsApp, you can transfer WhatsApp from Android to Android, Android to iPhone, iPhone to Android, iPhone to iPhone. It also offers a great way to back up your WhatsApp data to your computer and restore the backup when you need to.
Pros:
It can be used to transfer WhatsApp data across platforms, making it very easy for you to switch devices.
Back up iPhone/Android WhatsApp to computer (FREE), and then directly restore them to iPhone/Android.
You can do the transfer for both WhatsApp and WhatsApp Business with just one program.
The program has a simple to use interface that is easy to navigate and easily locate all the tools you need.
It supports all iOS devices and all Android devices as well as all versions of iOS and Android OS.
Cons:
It's a desktop program so it is not so convenient compared to a Wi-Fi transfer app.
You will need two USB cables to make the transfer.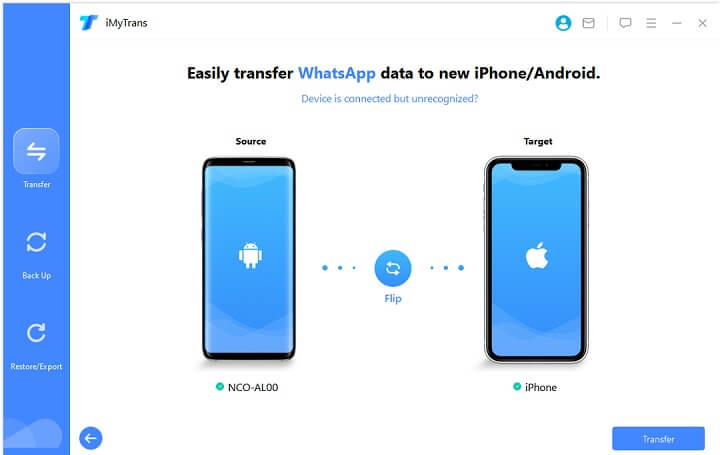 2. Backuptrans Android iPhone WhatsApp Transfer+
As the name suggests, this is a tool that primarily focuses on transferring WhatsApp data between Android and iOS devices. Along with transferring WhatsApp data across devices, it is also ideal for backing up WhatsApp data on the Android or iOS device to your computer. It supports a wide range of Android devices and all iOS devices but the interface may not be the friendliest, making it rather difficult for beginner users.
Pros:
It allows users to transfer WhatsApp data across platforms such as from Android to iPhone or iPhone to Android.
It can also be used to backup and restore WhatsApp data to computer.
Supports numerous Android devices and all iOS devices.
Cons:
The user interface is not very friendly.
It takes a while for the program to detect connected devices.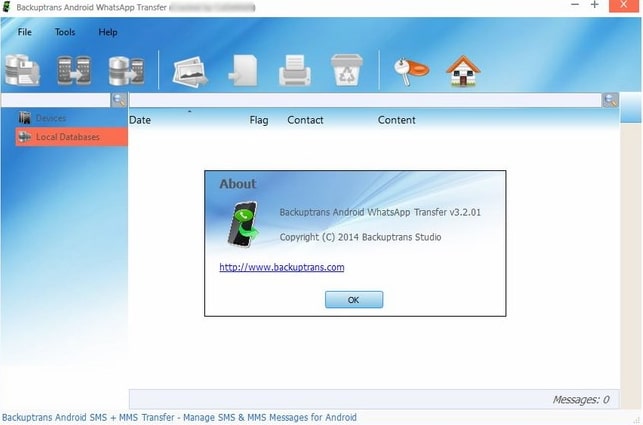 3. Move to iOS
Move to iOS is another reliable tool that you can use to transfer not just WhatsApp data but also other types of data like calendar, bookmarks, contacts, mail accounts and even messages from Android to iOS.  All you have to do to use this utility is connect the device to Wi-Fi network and then simply move these types of data between two devices. As soon as you launch the app on your Android device, it creates a private and secure Wi-Fi network to safely transfer data to the iOS device.
Pros:
It is an easy-to-use solution to transfer WhatsApp data across devices when you don't want to use a computer.
It is compatible with all Android devices running Android 4.0.
Cons:
Transferring the data using Move to iOS is a lengthy and time consuming process.
The app uses Wi-Fi, increasing the possibility of pairing with the wrong device.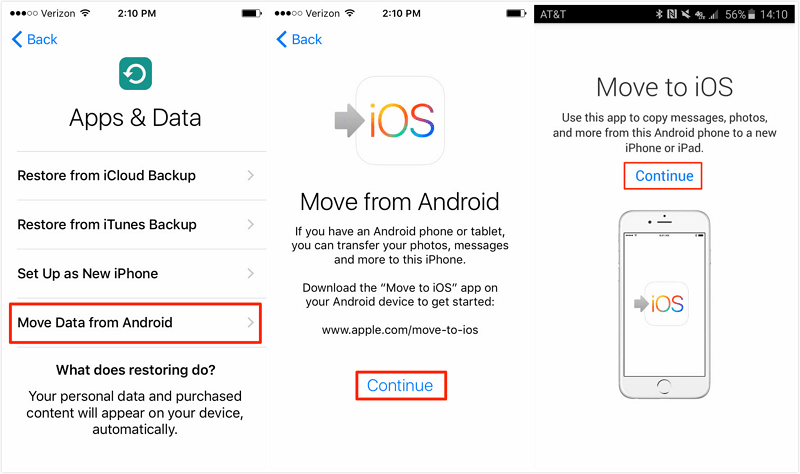 4. Wazzap Migrator
Wazzap Migrator is program that is compatible with both Windows and Mac that allows you to transfer WhatsApp messages from iPhone to Android. It is popular because the wizard can be very easy to use. It is useful for the transfer of both messages and media such as images and videos as well as other types of data on your device.
Pros:
The transfer wizard makes it very easy to transfer data from Android to iOS.
It is compatible with both Mac and Windows.
It also has a companion Android application that is also very useful.
Cons:
It may not work for all devices or versions of WhatsApp.
There is no iOS companion app.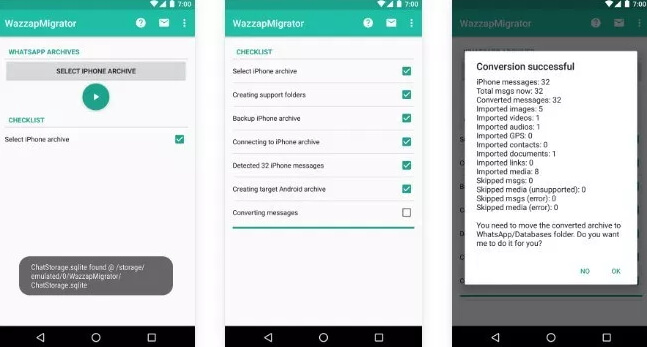 5. Mobo Play for PC
Mobo Play for PC is a free phone manger that can also be used to transfer data like WhatsApp data across devices. It is not exclusively a WhatsApp transfer tool, but can also be used to synchronize different types of data between devices.
Pros:
It is an app manager, download and installer all-in-one.
It can be very useful in creating backups of the data on your device and also sync data across multiple devices.
Cons:
You need a PC to use the program.
The risk of data exposure when using this tool is very high.
It may not work for iOS data transfer.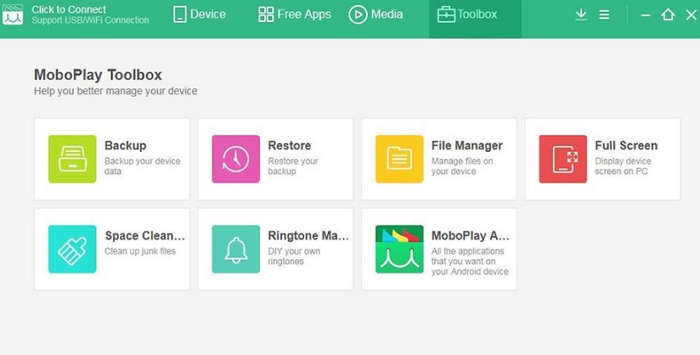 The above WhatsApp transfer programs can all be useful when you need to move WhatsApp data from one device to another. Most of the offer additional options including backing up and restoring WhatsApp data in addition to data transfer. Select a tool you trust to work for you and your needs and share your thoughts with us in the comments section below.
Hot Guides About WhatsApp Transfer: