"Hi, I usually prefer drafting my emails with Outlook, but recently my Outlook keeps going offline. Can I get a lead on what could be the cause? How can I rectify this?"
My Outlook is offline. How do I switch it back online? If you are asking this question, you are not alone. About 1 in every 5 Outlook users have experienced this problem at one time. Sending and receiving emails is one cool feature of Outlook, but it can be annoying if it keeps going offline. There are various reasons why this may happen, from poor internet connection to enabled offline setting. Here you'll learn how you can fix this issue and also other problems like data loss on Outlook.
My Outlook Is Offline, How Can I Set It to Start Online

There are several reasons why Outlook may start offline as we mentioned above, it may be due to a bad internet connection, or other purposes. Below are some effective methods to fix this problem.
Fixes to Outlook Keeps Reverting to Offline Mode
1

Check Your Internet Connection
If Outlook is always starting offline, make sure you have an active internet connection. Poor internet connection is one of the main reasons why Microsoft Outlook may go offline. Try reconnecting network cable or restart your WIFI connection. If you are sure your internet connection is faultless, then you can try the next fix.
2

Disable Offline Setting
If your internet connection is right, then it could be that Outlook may be set offline. You should disable offline setting using the following steps:
Open Outlook on your PC, click the "send/receive" tab.
Then click on the "work offline" command, so it can no longer be highlighted. Afterward, Outlook should start in online mode.
3

Exchange Server Accounts
If you've disabled the offline setting, and Outlook is still offline, then use the following steps to exchange server accounts.
Click on the "file" menu, choose "Account settings", then click on "Account setting" again.
Select the name of your Microsoft Exchange Server account under the email tab.
Click "change", the "more settings".
Click on "manually control connection state" then select "connect with network".
Hit "ok" to close the settings dialog. Then click "next" and " finish" to remove the change account window. then click "close"' to exit the Account settings window.
Note: The above two methods only work with Outlook 2013/2010.
4

Build A New Profile in Outlook 2010/2013/2016
If your Outlook starts Offline, building a new profile in Outlook 2010/2013/2016 may fix this. Just follow the steps below for Outlook 2010/2013/2016.
Step 1: Click on the start menu, search for "Control Panel".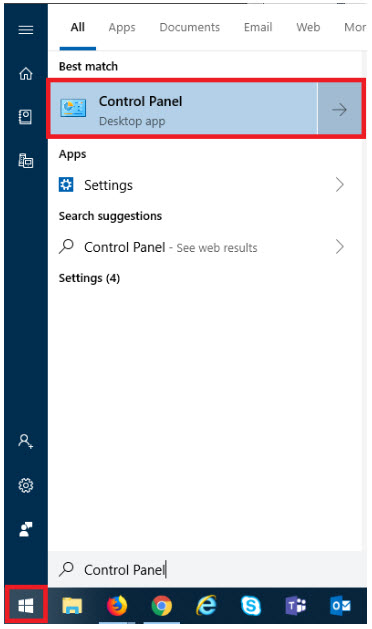 Step 2: Click on the "control panel" , ensure the "view by" option is set in large icons. Then click on mail (32-bit).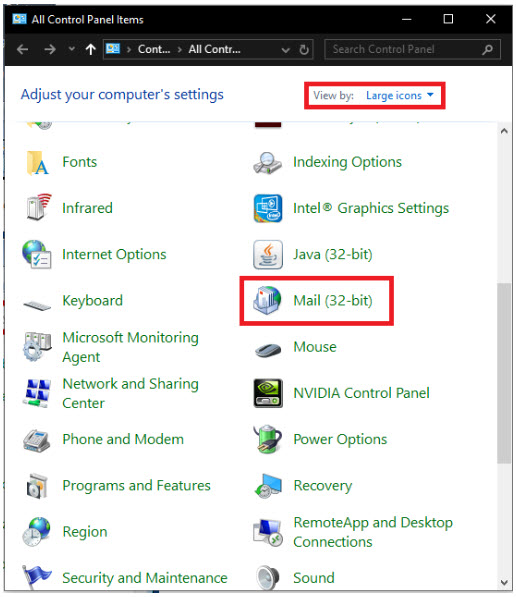 Step 3: Click on show profiles, click on "add" then type in your new profile name. Then click "ok".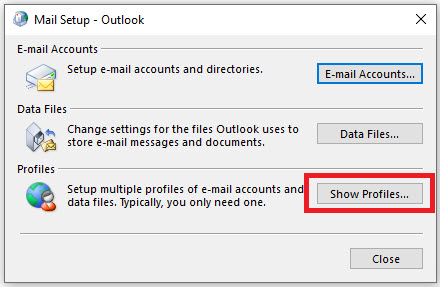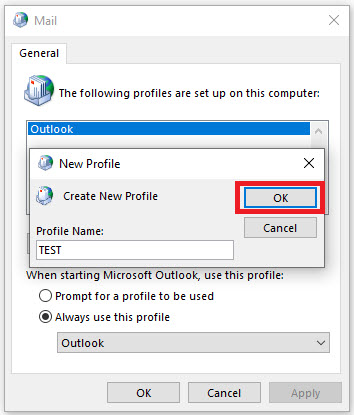 Step 4: Check for the option "Always use this profile" and select the new profile name, then hit "apply".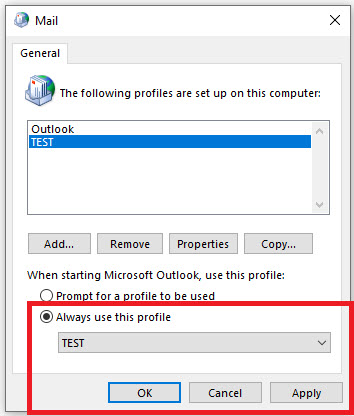 Re-open Outlook, it should open with the new profile.
How to Fix Outlook Data Loss Issue

Is your Outlook file corrupted or lost? There's an easy way to fix this problem using the Outlook repair tool - iMyFone ScanOutlook. ScanOutlook is a highly efficient repair tool for Outlook files that can repair and recover all damaged or lost Outlook files such as documents, emails, or folders, quickly no matter how the data was lost. It has a very high recovery rate with user-friendly interface.
Key Features of iMyFone ScanOutlook:
Repair corrupted Outlook PST/OST files.
Repair and recover files lost in any scenario, from a virus attack or system crash to deleted or formatted drive.
Converts OST to PST file.
A straightforward search process that enables quick data recovery.
Supports Outlook from 2003 to 2019 version.
How to Repair/Recover Outlook File with ScanOutlook?
Step 1. Download and launch ScanOutlook on your PC.
Step 2. Select one of the following options to choose the files you want to repair/recover.
Select default PST/OST: will automatically load the Outlook files in the default location.
Select PST/OST manually: you can choose this option if you know the location of the lost Outlook. Click on "Browse" to locate the file manually.
Search for PST/OST: if you don't know the location of the file, you can choose this option. Click on the "Search" button, then select a folder by clicking "Browse".
Step 3. After selecting the file, choose either the "Quick Repair" or "Deep Repair" option, then hit "Repair".
Step 4. After the repair process is finished, all your Outlook files will be listed out. You can preview and select the specific data you want to recover.
Step 5. Click "Export Selected" to recover and export your Outlook files to its original location.
Conclusion

My Outlook is offline; how do I set it online? This is one question you won't have to ask anymore as we've pointed out several ways you can fix Microsoft Outlook offline problem and also how to recover and repair damaged/lost Outlook files using ScanOutlook, the top Outlook data repair tool available today. We hope you found this piece helpful. Cheers!