"So recently I had a crucial task to complete for the company I work for, I kept procrastinating now its deadline day. I opened my Microsoft Outlook, attached the documents, typed the message and hit the send button, only to see 'Outlook Cannot Send Email' staring at me…. How do I fix this problem?"
The above scenario can put you in a temporary state of confusion, especially if you have no clue what to do. Here you will learn about what to do anytime you get the "Outlook Cannot Send Email" error message.
How to Fix Outlook Can't Send Email in Outlook 2019/2016/2013/2010

There are five simple ways to fix the issue. You can try any of the following:
1

Resend the Message
It's easy as "A, B, C"? Use the following steps to resend message:
Right-click the email stuck in the Outbox, Click on Drafts folder.
Click the Drafts folder and click Send.
Check the sent folder. If the message can still be found in the outbox, proceed to the next step.
Check if the recipient email address is typed correctly. If you misspelled the recipient's email address, it could stop Outlook from sending.
2

Check Your Connection
Outlook will not send emails if you are not connected to the internet. Make sure you have an internet connection.
To check if you are connected to the internet, check the lower right-hand side of the Outlook screen. If it says "Working Offline", "Disconnected", or "trying to connect", you have not connected to the internet.
Here's what to do:
Disconnect and reconnect your internet connection.
Make sure you have an active internet connection.
Click the Send/Receive tab.
Confirm that the email has left the Outbox folder and is in "check to see if the message is now in the Sent folder or still in the outbox.
3

Create a New Email Profile
Creating a new email profile is easy. You can delete the old email profile if you wish. This can be done in less than 5 minutes. The first thing to do is to Exit Outlook, then follow these steps carefully to create a new profile:
Step 1: Type "Control Panel" in Windows search and click Control Panel.
Step 2: Click "User Account", then click "Mail".

Step 3: When the Mail window opens, click "Add".
Step 4: Enter a new profile name and click on "OK".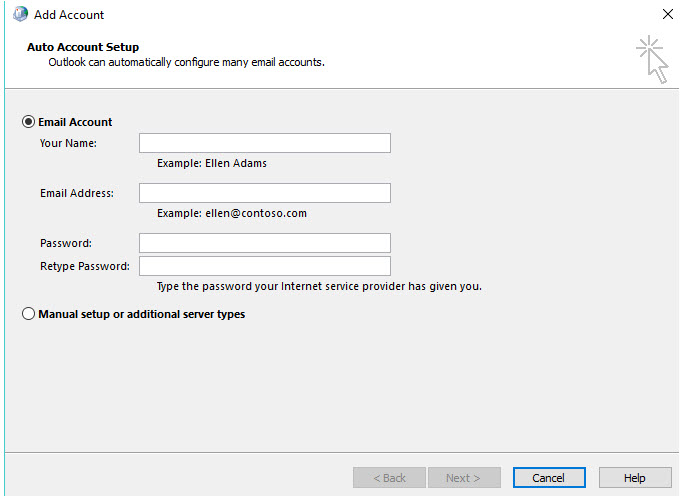 Step 5: Click "Manually Configure Server Settings." A new window will appear, click on internet email and click on the "Next" button.
Step 6: Next a dialog box with the name "Internet E-mail Settings " will appear.
Step 7: In the Account type settings set POP3 as the parameter.
Step 8: Hit "Next" and click finish to complete the settings.
Step 9: To use this profile in Microsoft Outlook, launch Outlook, click mail.
Step 10: Click on profiles, select the profile you created and click "OK".
The above procedures will fix the issue. You can go ahead and send your mail to see if it will send this time around.
4

Turn on Authentification
Turning on authentication in Outlook is another way to fix "Outlook cannot send email". To turn On Authentification:
Go to Internet Email Setting in Outlook.
Select the Tools menu in Outlook.
Go to Email Accounts.
Click View or change existing e-mail accounts.
Click "Next".
Select an email account.
Click on Change.
Click on More Settings a new window will appear.
Click the Outgoing Server tab.
Check the option "My outgoing server (SMTP) requires authentication".

Click "Use the same setting as my incoming mail server" and then click "OK". Click "Apply" and Click "Finish" to complete the setup.
At this point, you should be able to Send Email in Outlook. However, if "Outlook cannot send email" issue still persists, then what you need to do is to repair Outlook.
5

Repair Outlook
To repair Outlook, we recommend you use this Outlook Repair tool: iMyFone ScanOutlook software. iMyFone ScanOutlook is an easy to use Outlook Repair tool that repairs corrupt/damaged outlook data files (.pst & .ost) and recover Outlook mailbox data from Microsoft Outlook.
Key Features of iMyFone ScanOutlook:
It can repair corrupted/damaged Outlook PST/OST file.
It helps you recover deleted Emails, Attachments, Contacts, Calendar, Tasks, Notes, and Journals.
iMyFone ScanOutlook supports PDF, HTML, PST, EML, RTF, and MSG file formats.
It supports the recent and previous versions of Microsoft Outlook.
It supports Windows 7, 8, 8.1, and 10 OS.
How to Use iMyFone ScanOutlook
Step 1. Launch ScanOutlook on your computer; choose the files you want to repair. There are three options available for selection.
Select default PST/OST: You can Select Default PST/OST to automatically load the Outlook data files in the default location. This option is recommended for you.
Manually Select PST/OST: If you know the location of the Outlook data file you want to repair, click the "Browse" button to locate it, and open the files manually.
Search for PST/OST: If you don't know the location of the file you want to repair, click the "Search" button. Then click "Browse," then select a folder (or volume). Then click "Search" to search for all the Outlook data files in the selected folder (or volume).
Step 2. After selecting any of the three options, you need to select "Quick scan" or "Deep scan" in the next section before clicking "Repair". We advise you use deep scan if you can't find files you want to repair or when you know the files are corrupted.
Step 3. When repair is complete, the recovered and repaired Outlook data files would be displayed at the left panel. You can click to preview and check your files.
Step 4.
To export the repaired and recovered files, select the folders/files and click the "Export Selected" button.

Choose the location where you want to export your files to.

Choose the right file format before clicking "Export". You will have to wait a few minutes to complete the process.
Conclusion

Now you can see that fixing "Outlook cannot send email" is very easy, and it can be done in less than five minutes. Now that you have read this post, you will not need a tech guy to fix it for you. All you need is is to apply any of the 5 simple techniques we explained above. Don't forget to get iMyFone ScanOutlook software. It is the most effective tool you will need when your Outlook cannot send email.