While scores of people know much about the blue screen in Windows, a large portion is still dark regarding Windows 10 green screen of death. This is because the green windows is rare and only appears when you are running an Insider Preview. When Windows 10 green screen lands on your computer, it signifies that something has gone extremely wrong. Nevertheless, please don't fret or think it is the end of your precious computer. In this article, we will take you through a complete guide on how to fix Windows 10 green screen with ease and speed and how to recover data if necessary.
Why is My Screen Green?
Green screen of death in Windows 10 is something you don't want to encounter. It is more often a result of a serious issue on your computer - a software or hardware-related issue that causes critical Windows failure. Unlike normal Windows 10, the Insider Preview frequently experiences crashes and bugs. In fact the major cause of the Windows 10 screen of green is the bug in the unstable build. Another common cause is a malfunctioned system hardware driver.  
How to Fix Windows 10 Green Screen
Now that we've known about the basic information and possible causes of green windows, then how to fix it? Next let's move on to the solutions.
Disconnect Peripherals
Some peripheral devices like mouse, keyboard, USB drives, and external power cords could cause Windows 10 green screen. Therefore, to solve the problem, first disconnect the peripherals from your device and see whether the problem disappears. If it persists, try another fix.
Update Your Drivers
Outdated drivers can trigger Windows 10 green screen problem. Check your drivers and see if they are up to date. If not, update them and see whether the problem is fixed. Remember that you will have to restart your computer in safe mode before updating your drivers.
Once you have entered the safe mode, go to Device Manager to access the internal components list. Select each listed device and then right-click to find the "Update driver" option. Click this option on each component to update your drivers.
Get Rid of Third-Party Antivirus
Antiviruses are known to slow down your computer and even cause the Windows 10 green screen. So if you have a third-party antivirus program, remove it and see whether the problem is cured. Navigate to System Settings > Apps > Apps and Features. Now select the third-party antivirus and click the "Uninstall" option.
Reinstall Windows 10
When all the other options fail to fix the Windows 10 screen of green, the last resort is to reinstall Windows 10. This is like a general cleanup as it wipes out all factors causing your system to crash. 
To reinstall Windows 10, just go to System Settings > Update & Security. Locate and click the Recovery option to enter the Recovery panel. Here, select the "Go back to the previous version of Windows 10" option, then click "Get started".
Protect Data in Your Computer While Fixing Windows 10 Green Screen
If you choose to reinstall Windows, there are some risks of data loss. To protect your data and make sure nothing valuable will get lost, you need an appropriate tool to extract the data from your computer first. Fortunately, you don't have to go far because iMyFone AnyRecover is the ideal tool.
AnyRecover is a powerful all-in-one program to recover lost data from various devices in a simple while efficient way. It doesn't matter under what circumstances your data gets lost because AnyRecover retrieves lost data under any scenarios, such as format device, damage hard drive and empty trash.
Advantages of AnyRecover:
Capable of retrieving lost data of over 1000 different file formats in various circumstances.
The combination of all-round and deep scan feature helps find and recover all the lost data, which ensures a high recovery rate.
Preview feature enables users to preview files before finally retrieving them.
Equipped with unique algorithms, AnyRecover scans at a fast rate.
This program has a simple and straightforward data recovery process.
It has a file filter feature for users to search for target files specifically.
With the free trial, every user can scan, preview and recover 3 files for free.
How to Recover Data From Crashed Computer With AnyRecover
Step 1.

Make Preparations

Get another working computer and a blank USB drive or CD/DVD.
Step 2.

Create a Bootable Drive

1. Download, install and launch AnyRecover on the working computer. Choose "Recover from crashed computer" and click "Start".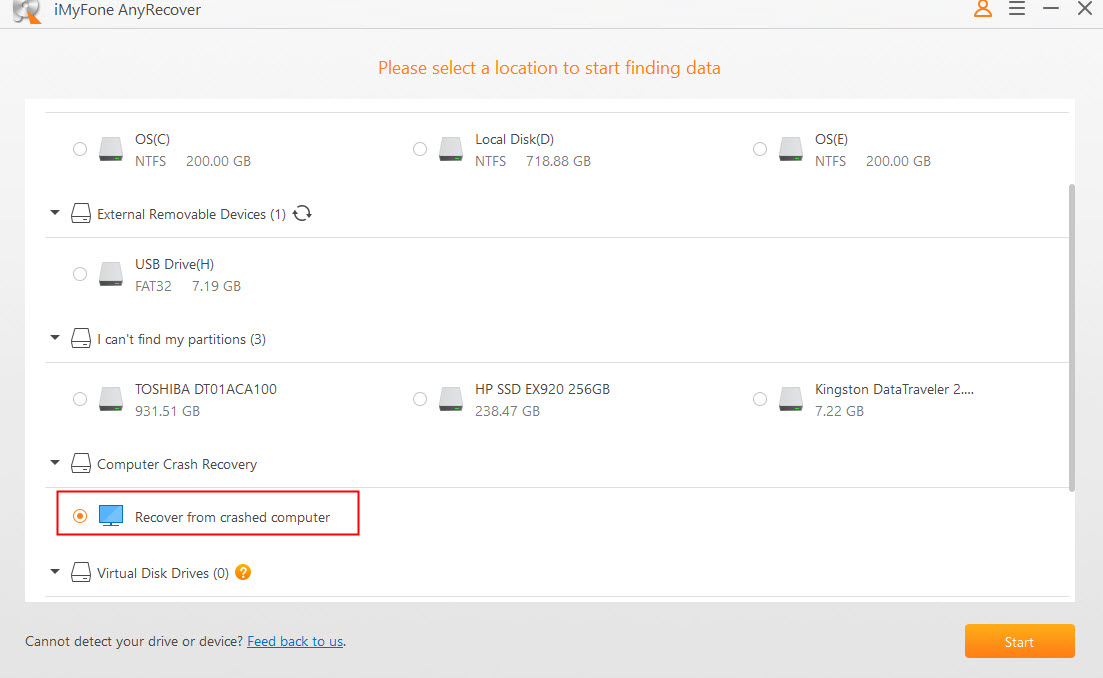 You'll soon get a message saying "create a bootable drive to recover data when Windows system is unable to launch". Make sure the USB drive or CD/DVD is connected to the working computer. Hit "Start"to proceed.
2. From the two options for creating a bootable drive, select one and click "Create" to start the process.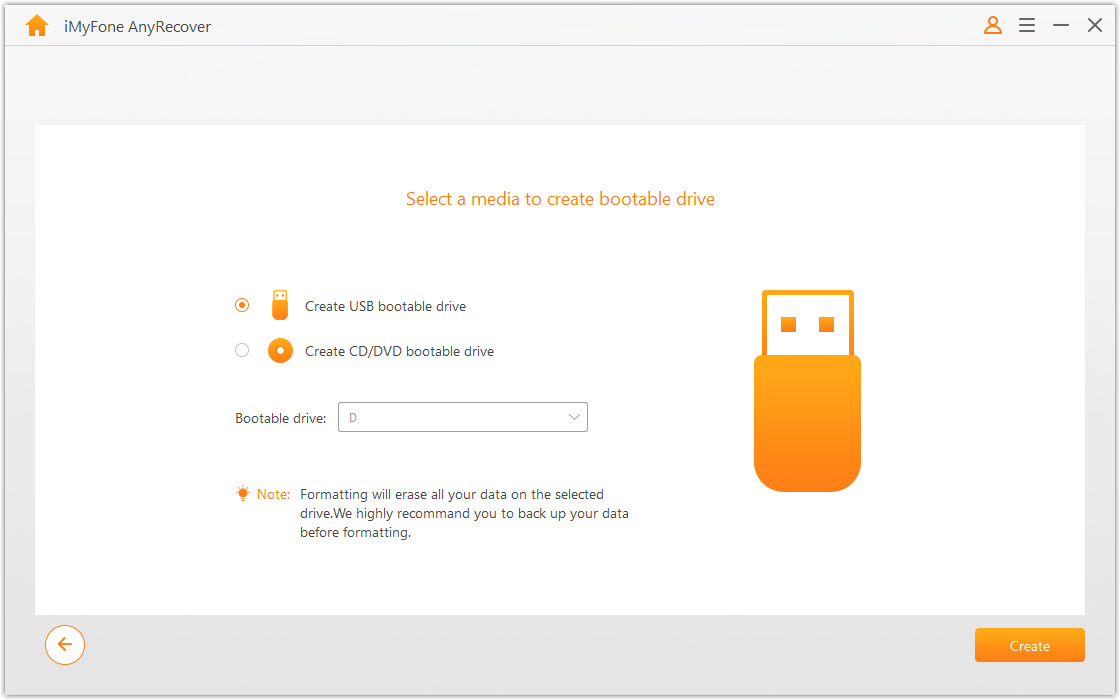 3. A message will then appear, alerting that this operation will format your USB drive. Comfirm that by clicking "Format".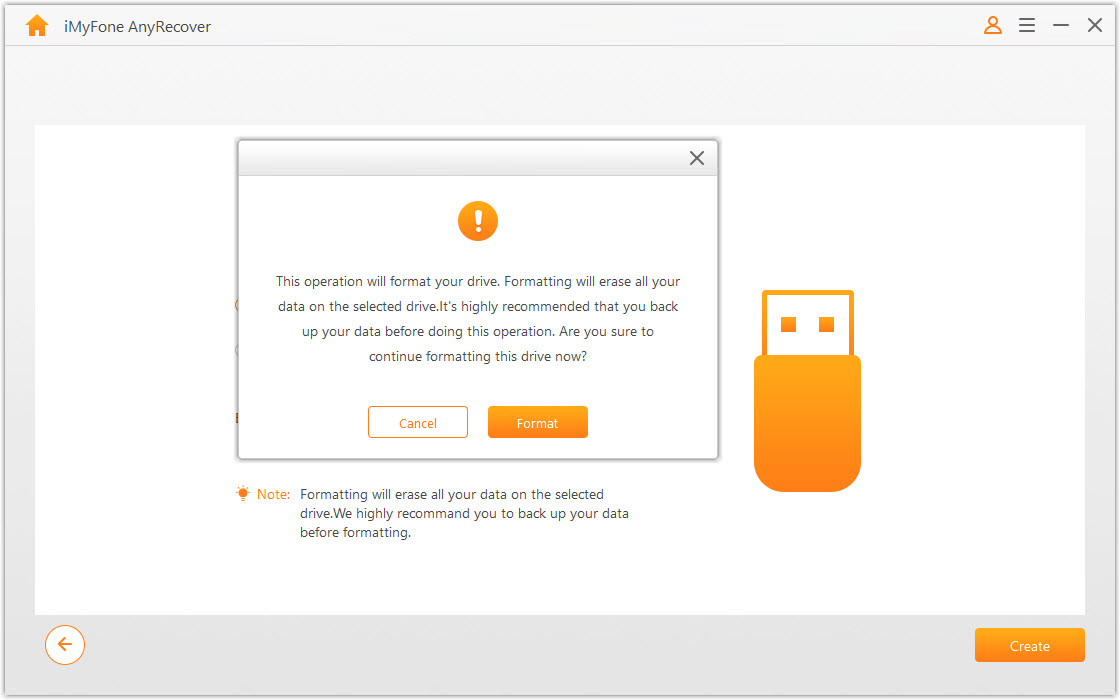 4. When the formatting is completed, it will start to create bootable drive. Afterwards you can move on to restart your crashed computer following the steps listed on the interface.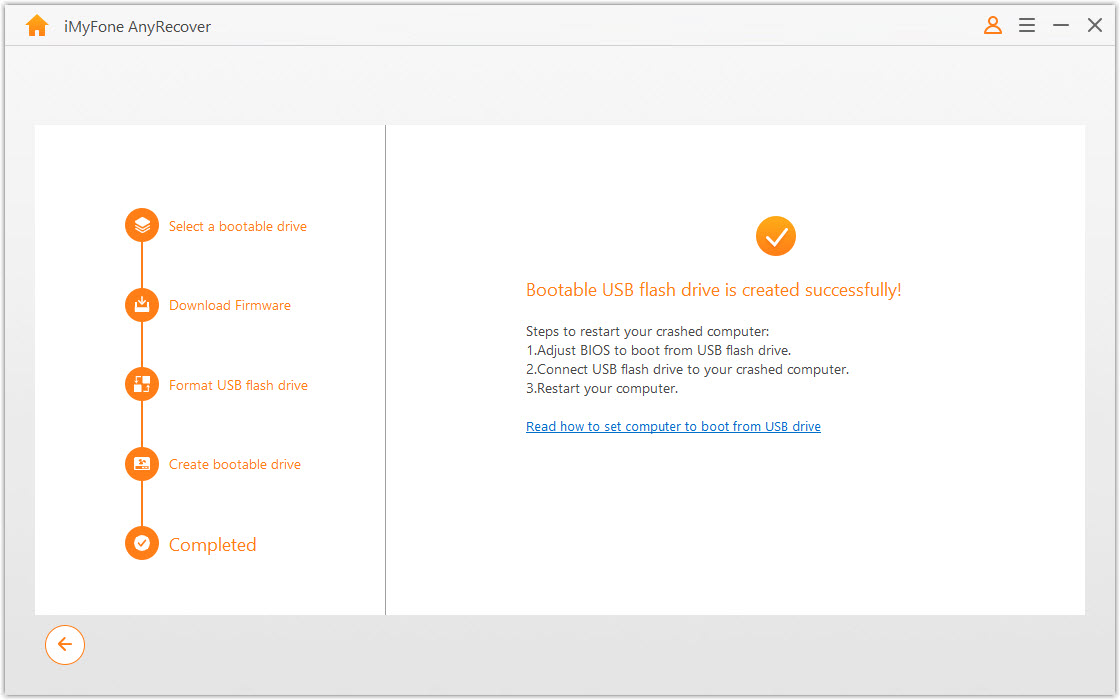 Step 3.

Retrieve Data from Crashed Computer

1. Select a location where you want to recover your data and click on the "Start" button.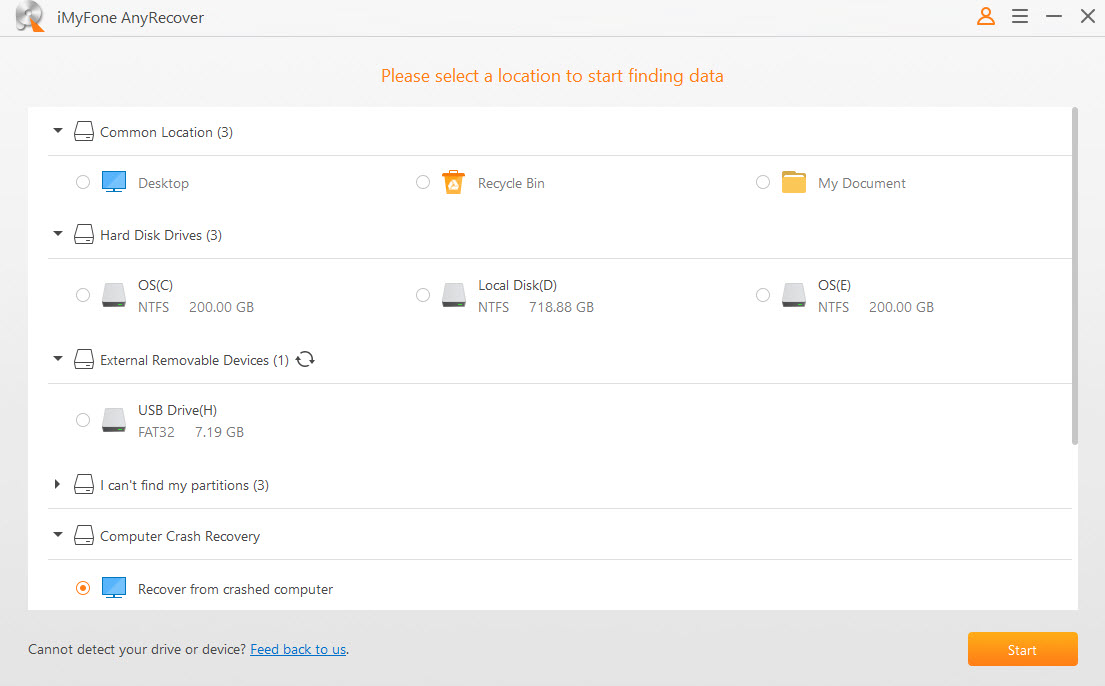 2. AnyRecover will then begin to scan the location.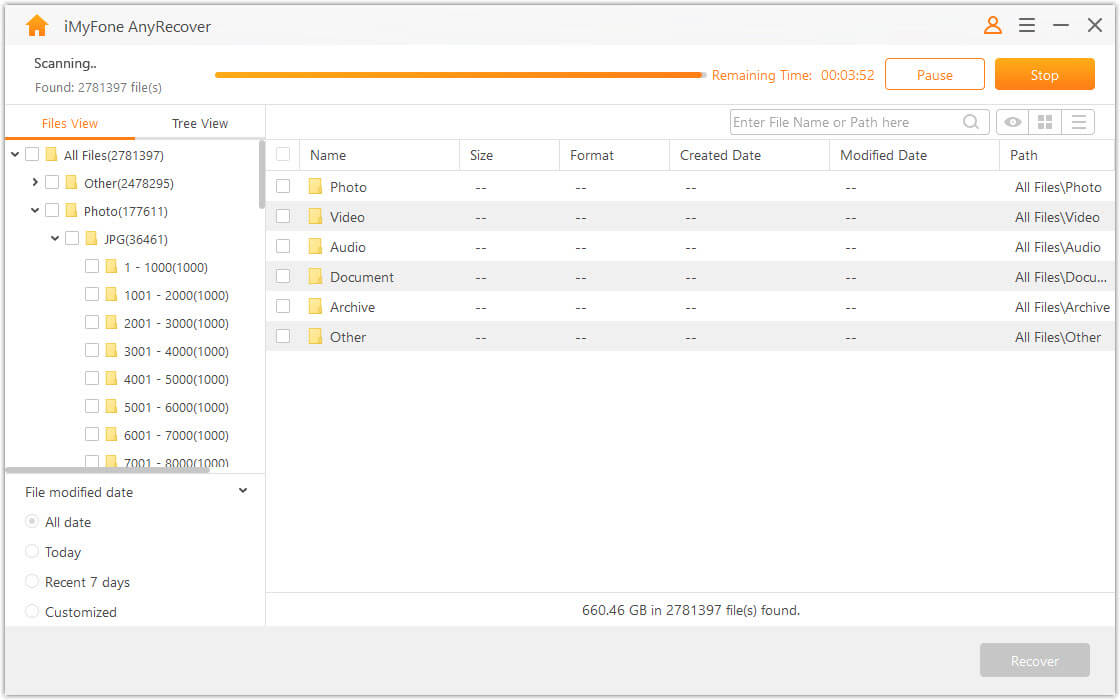 3. All the data recoverable will be displayed. Preview the files and select what you want to recover.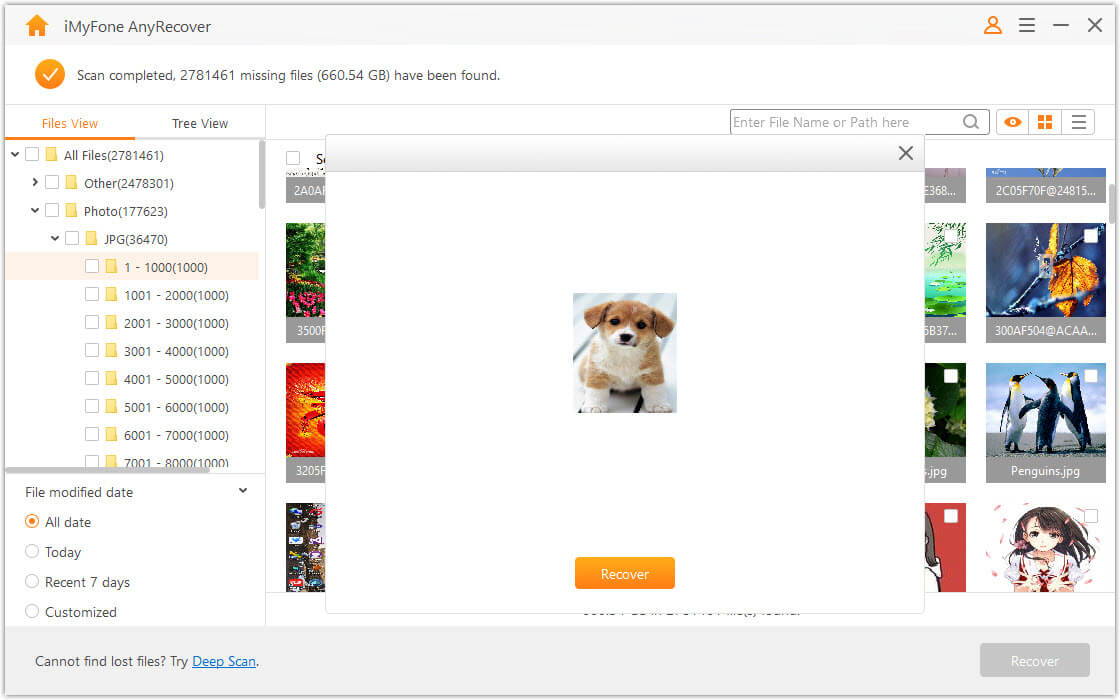 Note
Remember to select a removable device or another location to safely store the recovered data.
Conclusion
Fixing Windows 10 green screen is possible but your personal files can get lost during the process, especially if you have to reinstall Windows. Luckily we have iMyFone AnyRecover here to help us. As expounded in this article, it has everything you need from a perfect data recovery tool. Download and install AnyRecover today to retrieve your data in an easier and more effective way than ever.