Free, effective and efficient ways to unlock Android devices like LG Stylo 4 are still available in forms of online services and software solutions. If truly these solutions exist, then no one will agree to spend a dime online services or offline software solutions.
Therefore, if you need a free and effective solution to unlock LG Stylo 4 smartphone, then this article is for you. In the following paragraphs, we will introduce an efficient software solution and other solutions for unlocking LG smartphones.
Part 1. How to unlock LG Stylo 4 MetroPCS/Boost Mobile – Free Trial
The free (trial) version of  iMyFone LockWiper (Android) is a powerful tool for unlocking Android devices of all kinds, and it works perfectly on LG Stylo 4 smartphones. This tool offers 3 dynamic unlock functions: remove Google FRP from some Samsung devices, remove screen lock from Android devices, and remove screen lock from some Samsung devices without losing data.
With all these features and functions, you may be wondering how we provide these services for free especially when other software developers are offering the same service at an exorbitant rate. The answer is simple, we felt it would be nice to provide people with the option to enjoy LG Stylo 4 Unlock even when they can't afford the service.
Features of iMyFone LockWiper (Android)
Remove screen lock for all Android devices including LG stylo 4/metropacs/boost.

Unlock all screen loccks, including passcode, pattern, password, fingerprint, or irises in 3 clicks.

Completely bypass Factory Reset Protection (FRP) locks on Samsung devices.

Unlock LG screen passcode within 5 minutes and easy to use.
Steps to unlock LG Stylo 4 without passcode via LockWiper (Android)
Step 1: From the Home interface, select the "Remove Screen Lock" mode and click "Start" to begin the process.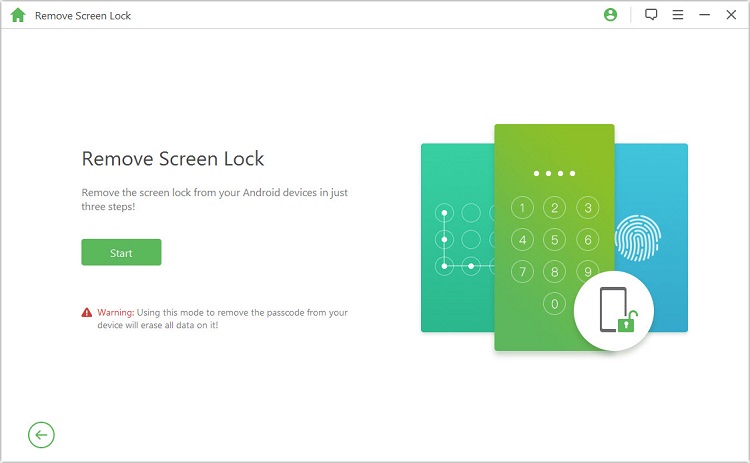 Step 2: Now, connect your LG Stylo 4 smartphone to your computer via a USB cable.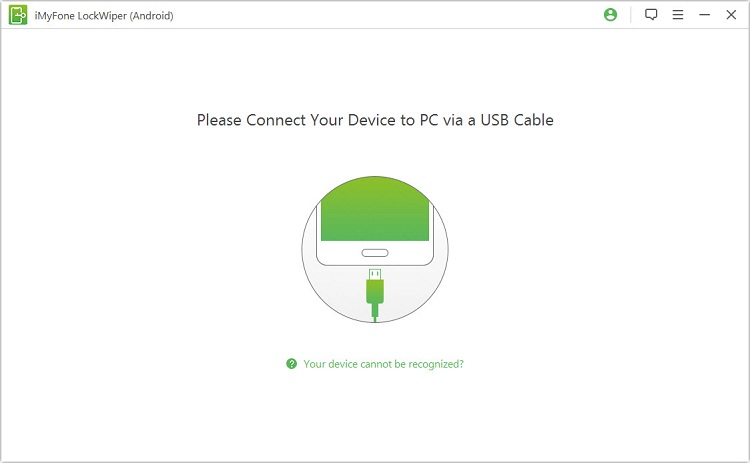 Step 3: Select your device information and click "Start to Unlock".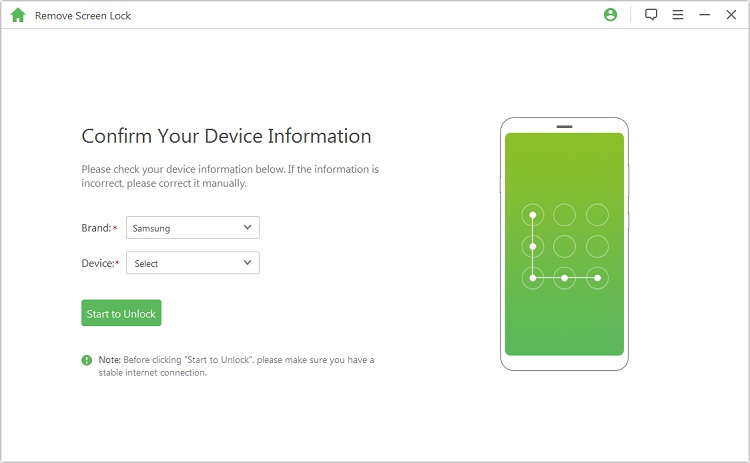 Step 4: Wait for the program to complete the unlock process.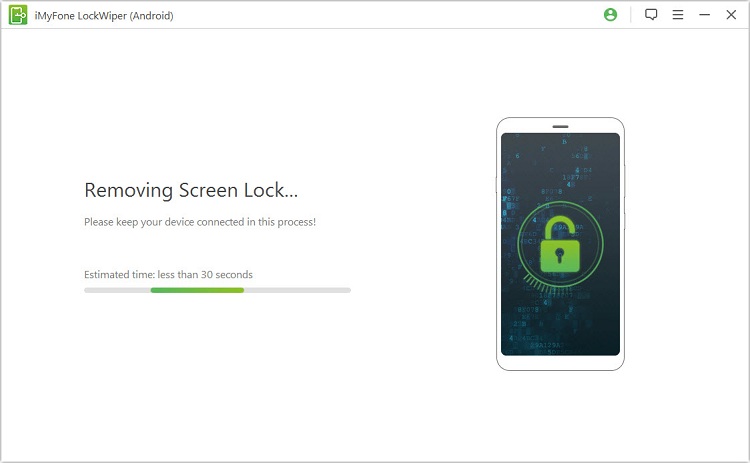 Step 5: Once it completed, your LG Stylo 4 will be unlocked successfully. You will be free to use the LG device again.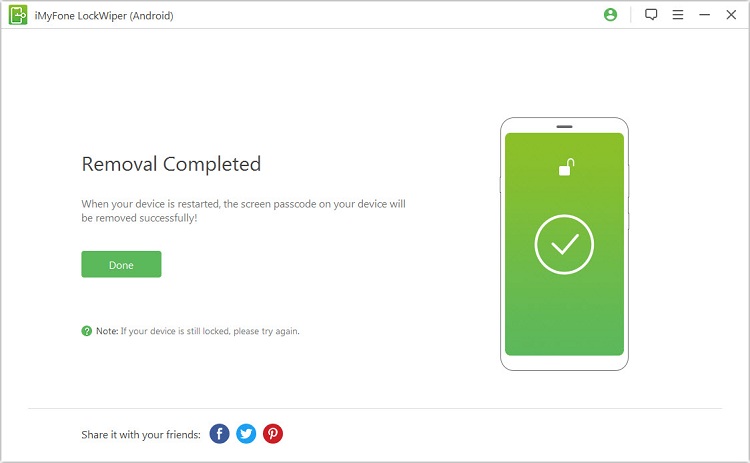 Part 2. How to Unlock LG Stylo 4 MetroPCS/Boost Mobile for Free Via ADM
Google Inc. rolled out an online service to manage (track, lock, and wipe) Android devices and called it Android Device Manager (ADM). This service works on all Android phones and is accessible through the web interface "https://www.google.com/android/devicemanager" or through the Find My Device app.
Steps to use ADM
Step 1: Visit https://google.com/android/devicemanager on any browser.
Step 2: Sign in to the service using your Google credentials (i.e. username and password).
Step 3: Ensure your location service is switched on, then choose any of the three options:
Ring: make the phone play a sound).

Lock: Lock the device remotely).


Reset: wipe all the data and locks on the device).
Step 4: Set up a temporary passcode (PIN) for your device by entering the new PIN 2 times.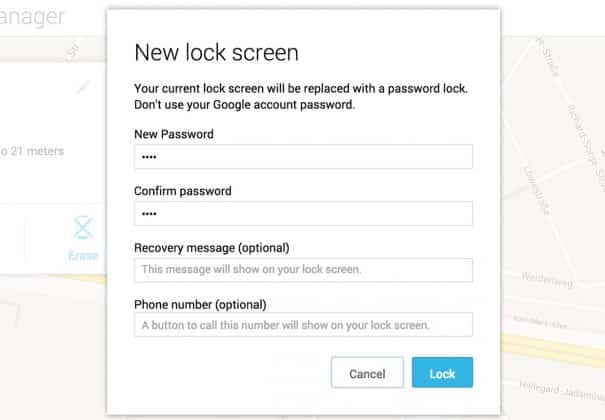 Step 5: Use the temporary PIN to unlock your device.
Step 6: Change the PIN to a new one from your Settings app.
Part 3. How to Unlock LG Stylo 4 MetroPCS/Boost Mobile for Free via Recovery Mode
Recovery mode can assist you in unlocking your Android device if factory reset protection is not enabled in the device. Follow the steps below to unlock your device using safe mode:
Step 1: Press and hold the Power button, and the Power option will be activated on the screen.
Step 2: Choose the option for restarting with Safe mode is on the screen. This should unlock your device.
Note: using this method to factory reset your LG phone will also erase all the data on it.
Part 4. How to Unlock LG Stylo 4 MetroPCS/Boost Mobile for Free via Unlock Code
Unlock-Free is a good option for unlocking SIM locks on LG phones and the steps are quite simple. You may be able to use the free trial version to unlock your phone.
Step 1: Go to the Unlock-Free website. Locate the phone model name, enter your LG phone model number and click "Unlock Phone" tab.
Step 2: Enter the required information on SIM availability, country, and carrier network.
Step 3: Make payment and the SIM unlock code will be sent to you. Insert the unlock code to remove your SIM lock.
---
In all, the solutions we've shared in this blog are rich enough to solve your unlock need. More so, ensure you get a copy of iMyFone LockWiper (Android)  to unlock your device now.