Smartphone prices seem to shoot up year after year, and thankfully, you can pay for these devices using several payment options, one of which is by a monthly contract when buying from network carriers. These contracts ease the purchase of these expensive toys, but if you for some reason need to use your phone with a different carrier from the one you are contracted to, issues will arise.
Do not confuse this for sim card locked, which is caused by entering a wrong sim pin repeatedly. The next section will spell out the difference between these two sim card locks, and the subsequent parts will show you the best methods of how to unlock a locked SIM card.
Part 1: Which Situation Are You In?
Check the following situations to decide which methods should you use to unlock SIM card. You may need to know how to unlock a locked SIM card or how to unlock network locked SIM card. Go through all the cases first before you seek for the solutions.
A. SIM Card Locked:
Some people like to use the sim card security feature known as a SIM PIN. You must enter this pin to use your phone, as it prevents unauthorized use of your sim card. If you enter a wrong sim pin three times, your sim card will be locked, and to unlock your sim, you need a pin unlock key (PUK). You can get this from your carrier.
B. Network Locked SIM Card:
Your contract with your network carrier means that the smartphone will only be work with their sim card, at least during the period of your contract. With this, your phone is locked to their network, and no other sim card should work on your phone.
To use another network on your phone, when you travel or simply wish to switch carriers for whatever reason, you will need to unlock the sim card. This is not necessarily a complex operation and should go smoothly if you follow the guides contained in this short article.
Is Your Phone Already Unlocked:
You already know now that to unlock sim card, you will need a PUK. If you receive a PUK from your carrier, do take caution while entering this key. If you have a phone that you are not sure if it is network unlocked or not, then the fast way to check is by trying a different SIM card in it.
Part 2: How to Unlock A Locked SIM Card
1. How to Unlock SIM Card Manually?
You can easily unlock sim cards manually, if they are not network unlocked, by following the straightforward steps listed below:
Call your wireless carrier's customer service number. Make sure you have your account's password handy because they will need you to confirm this before giving you a PUK.

Turn on your phone. On booting, you will be prompted 'SIM locked' or to 'Enter PUK.' Follow the prompt and input the PUK code sent by your carrier. Press OK.

Enter a new PIN code (usually four to eight digits) and press OK.

Verify your new PIN code by typing it in again when you see the prompt. Press OK once again, and your SIM becomes unlocked.
2. How to Unlock Network Locked SIM Card?
I know you might be thinking the networked unlocked sim cards are probably impossible to unlock, but that is far from true, thanks to tools such as DoctorSIM. Unlocking network locked sim cards is obviously delicate, so you should not use any random method you come across, DoctorSIM has been tested on many models and found to work correctly.
Features of DoctorSIM
The industry leaders trust this tool. If these big players use Doctorsim, then you definitely have nothing to worry about.

They offer free 24/7 technical support for various issues. You can contact them via their live chat, email, or their special AI system.

Lowest price guarantee. If you find a cheaper network unlock tool offering the same services, this company will match that price.

Only an email address and a stable internet connection are needed. You need no special tools or tech knowledge to use this software.

Legal and safe way to unlock sim card.
Follow the steps below to unlock your SIM card:
On the web browser of another device or computer, open www.doctorsim.com.

Select or type in the brand of your device.

Check your email after a few minutes, and you will find that doctorsim has sent you your SIM network unlock pin and proper step-by-step instructions for using this pin.

Follow the steps you received and input this unlocking pin on your phone.

Part 3: Get Help from Your Carrier to Unlock Network Locked SIM Card
On the contract you have with your carrier, some criteria are highlighted, which you must meet for them to unlock your device from their network. You can reach out to your carrier to see if you have met these criteria. If you have, then they will terminate the contract, but note that most carriers charge a certain termination fee, if you have not met the criteria. The most common requirements include the following:
You must pay for your smartphone fully.

The device must be up to 3 to 6 months old (depending on the specific carrier).
Follow these steps below:
Power off your phone.

Insert the new carrier's SIM card.

Boot your device.

When prompted for a sim network unlock pin, type in the code your network carrier gave you.
Bonus: Unlock Any Screen Locks on Android Devices
If your Android device is locked by PIN, passcode, pattern, fingerprint or facelock,  iMyFone Lockwiper (Android) can help you right now. It takes only minutes to remove the screen lock from your device and it won't lead to any data loss. It can also help with the Google account lock when you forgot your account information.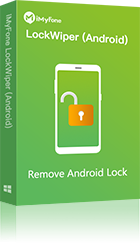 1,000,000 Downloads
Features of iMyFone LockWiper (Android)
Unlock any screen locks on Android device without knowing the password.

Remove Google account FRP lock without password with ease.

Have total control of your device and enjoy the whole functions and services.

It's easy to use with friendly simple interface.
---
We always point out repeatedly, that unlocking sim card is a risky operation, so you need the best and most stable tools for this. All the methods contained in this article have been tested with many models and brands of Android devices and have been found to work correctly. Follow the guides highlighted in this article, because if you miss one step or fail to carry one out properly, you risk losing your device or violating your contract terms.
If you want to unlock sim card, after following this guide, boot your phone. If you are not asked to enter the sim network unlock PIN, you are in luck because your phone has been successfully sim unlocked!