Theoretically, the activation lock has to be lifted by the original owner with the iCloud ID. However, if you can no longer get in touch with the original owner, you can also try some tricks or tools to lift the activation lock by yourself. Among them, the DNS Server bypass is one of the most popular ones. What is activation lock DNS bypass and how to use it? Keep reading and you'll know it all.
Part 1: What is Activation Lock DNS Bypass?
Whenever you set up your iPhone following a factory reset or restore, your iPhone will send an activation request to Apple's server to process the new device setup process. Activation Lock DNS Bypass is a method that allows you to avert the iCloud Lock mechanism. You can change the activation path sent to Apple's server if your device is iCloud locked by using the Domain Name System (DNS) method. By changing the DNS address of your device, you can have the request be sent from Apple's original server to an iCloud Bypass DNS server for authentication, effectively bypassing the activation lock through iCloud.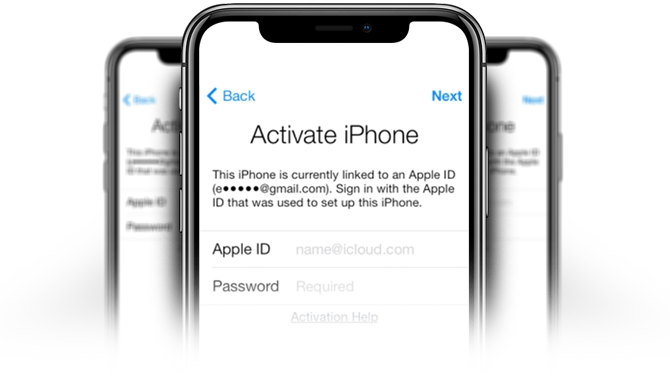 Part 2: How to Bypass Activation Lock with DNS Server Bypass?
In case you are wondering, bypassing the activation lock with DNS Bypass is simple to accomplish. The following process is easy to follow and has a high success rate and efficiency. One thing you need to know is that, prior to starting bypass activation lock with DNS server bypass, you need to ensure that your device has a SIM card installed. Now onto the magic. To bypass the activation lock with DNS server:
Step 1: Once on the activation lock screen, press the home button and select "Start over".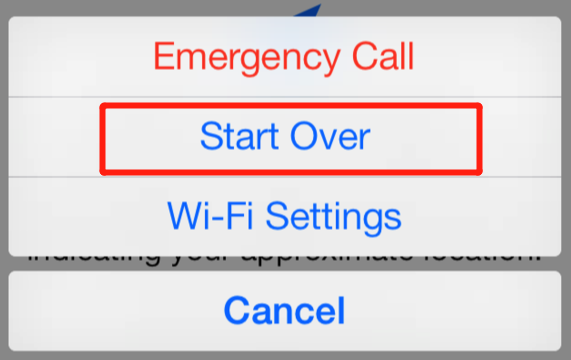 Step 2: On the next screens, select your preferred language and country or region from the menus. The next screen will proceed to your WiFi settings. If you are already connected to a WiFi network, you will need to disconnect from the network by selecting "Forget this Network". This can be accomplished by pressing on the "i" next to your connected WiFi network.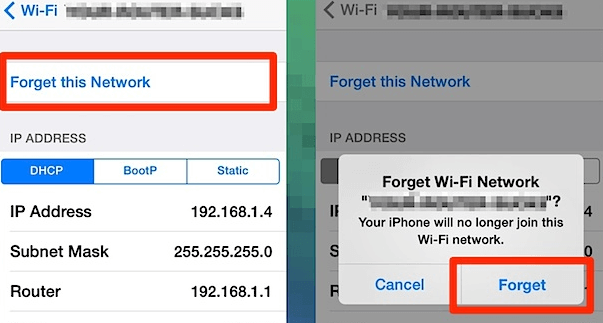 Step 3: After that, click the "i" next to your desired WiFi network and paste the custom DNS Server IP Address as specified by iCloud Bypass below. This will be the custom DNS used to get into the proceeding unlocking phase.
USA: 104.154.51.7
South America: 35.199.88.219
Europe: 104.155.28.90
Asia: 104.155.220.58
Australia and Oceania: 35.189.47.23
Other continents: 78.100.17.60
Step 4: Click back and connect to your WiFi network by entering in the network's password. Login and wait. The activation screen will pop up and ask to go to the Next page. Press "Back" in order to avoid this screen and get to the iCloud Bypass screen.
Step 5: Scroll down the page and select "Activation help" to open your host of apps, music, internet, camera, etc.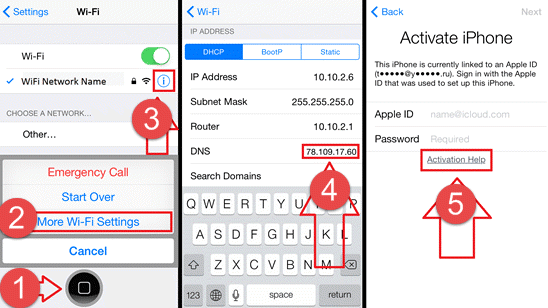 By following the above, you will be able to successfully bypass the activation lock with the DNS server method and can now enjoy a collection of apps and services from you newly unlocked device.
Part 3: Is DNS Server Bypass the Best Way to Bypass Activation Lock?
Now that you know how to use DNS server bypass to bypass activation lock, let's discuss whether you should use this method or not. Well, it indeed is a wide spread trick to bypass activation lock, but there are also a couple of drawbacks to this method that should be noted along with the benefits. So now let's have an overview of the pros and cons of this trick:
Pros:
This method is verified to successfully bypass the activation lock.
It is quick and easy to follow.
It is free.
Cons:
You will only have partial access to your device with limited features.
There is no assurance that this method will work 100% of the time to unlock your device.
This method does not work for all iOS device versions. While effective for iOS 8 to iOS 10, it may not function for other iOS versions.
While DNS Server Bypass does bypass the phone activation lock screen, it is merely a hack and not a complete unlock of your device.
With these in mind, it may not suit all the requirements you are looking for in an unlock method. So now it brings up another question: Are there any good alternatives to the DNS server bypass solution? Well, there certainly are. Now let us look at some other methods to bypass activation lock without using DNS server bypass.
Part 4: More Reliable Alternative Methods to DNS Bypass Server
So, DNS Server Bypass mentioned above is not the only method to bypass the lock activation screen and gain access to your device. We will explore three alternative methods that can unlock your device and look at the pros and cons of each of the methods.
iMyFone iBypasser
The first alternative solution to activation lock DNS bypass is using a professional activation lock bypassing tool iMyFone iBypasser. iMyFone iBypasser is an iCloud activation lock bypass tool that can be used to access your locked iPhone, iPad, or iPod. Regardless of your situation with a second-hand iPhone, forgotten activation lock password, or hacked Apple ID, iBypasser can bypass the lock screen easily and effectively.
Key Features:
Bypasses iCloud activation lock completely without password.
Supports most iPhone models and systems.
Gives you access to most functions of your devices without Apple ID or passwords.
Allows you to sign in with a new Apple ID to access to APP Store.
Disables the tracking and erasing function from the previous Apple ID.
Unlike DNS Server Bypass, iMyFone iBypasser can give you access to most apps and functions on your phone after the bypass. Also, the success rate is high, and the security of your device is guaranteed. To use iMyFone iBypasser for the activation lock bypass, just follow the steps below or check out this explanation video.
Step 1: Download iMyFone iBypasser for free with the links above, install the program and then connect your iPhone to your computer. After having done all that, click the "Start" button to start.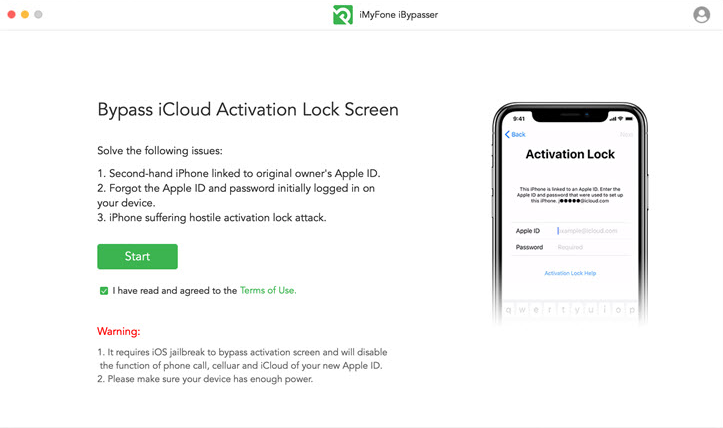 Step 2:Then the program will start downloading a jailbreak package and install it for you. Wait for a few seconds.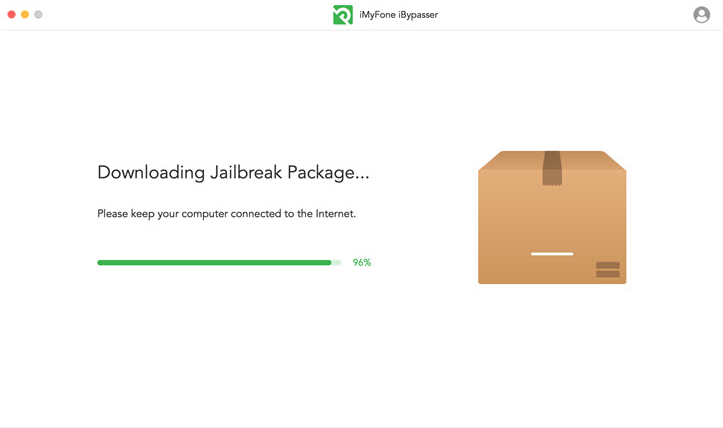 Step 3: Once the jailbreak process finishes, simply click "Next" to proceed.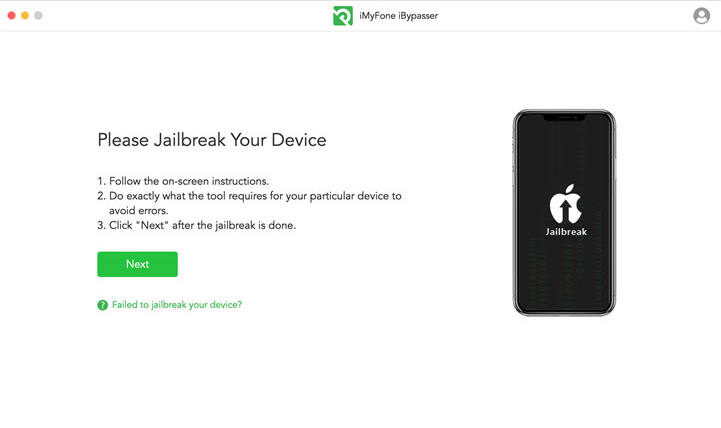 Step 4: Then iMyFone iBypasser will start bypassing the activation lock on your device. After a few minutes, you can gain access to your device.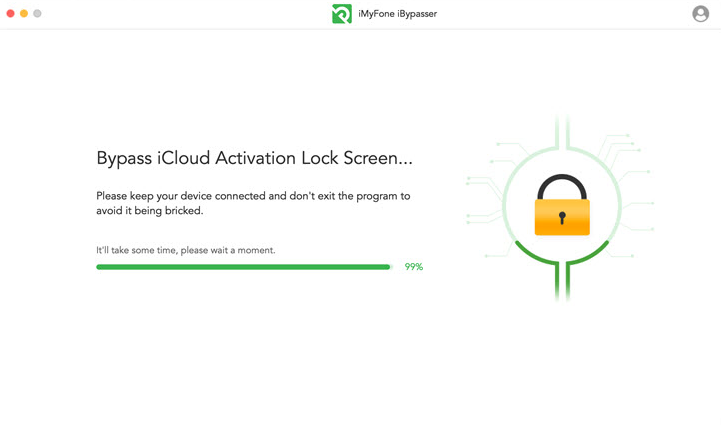 You can also watch the video in 0:54 to bypass activation lock easily.
Note
The iMyFone iBypasser solution has a lot of advantages over the DNS Bypass Server solution and other solutions. First of all, there is a free trial version to check whether your device is supported or not. Besides, the success rate and compatibilaty of the product are both excellent.
Emergency Call
Using emergency call to bypass activation lock is also a wide spread trick. you can activate your device by using the emergency call feature through the following steps:
Step 1. When your iPhone displays the "No SIM Card Installed" error message, press the home button. Select the "Emergency Call" option on the screen.
Step 2. Dial 112 or 999 and immediately press the power button on your device to disconnect the call.
Step 3. A window will pop up on your screen – press "Cancel" and end the call. Your device should now be activated successfully.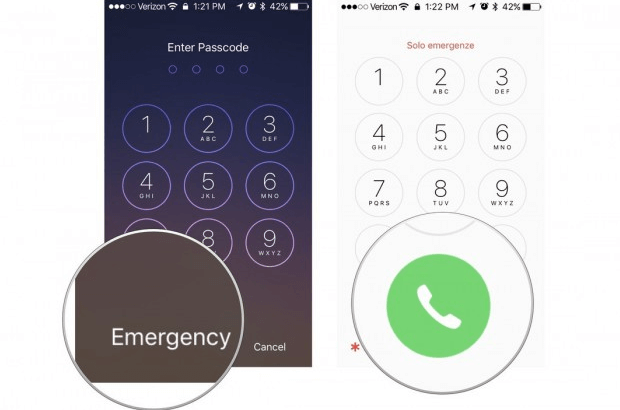 Note
The pros of this method are that, like iBypasser, it is free to use and is quick and simple to accomplish. However, this method does not have a 100% success rate. Additionally, since you are using the emergency call function, do note that the police may break into your place of residence as a response to this method. Take caution before proceeding forth with this method.
AppleiPhoneUnlock
A top scoring service by the market, AppleiPhoneUnlock is yet another service that can unlock your device. Although expensive and no money-back guarantee, this method is still a highly rated activation lock bypass solution on the internet. Here is how to access it:
Step 1. Navigate to AppleiPhoneUnlock.uk and selected the model of your iOS device. Enter the IMEI number as well.
Step 2. Click the "Unlock Now!" option to be sent to a secure checkout page to enter your email address for contact purposes.
Step 3. Click "Continue" and provide your payment details for the service.
Step 4. The AppleiPhoneUnlock team will assess whether your device can be unlocked and will provide confirmation of your order and a request for payment if your device can be unlocked.
Step 5. Sit back as the AppleiPhoneUnlock team unlocks your device. Your device will be ready to set up with your own iCloud account and to be used like any other unlocked iOS device
.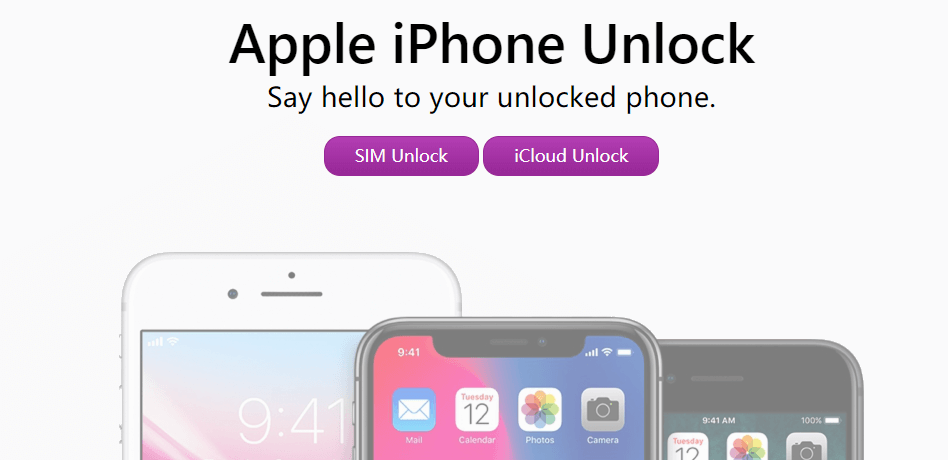 Note
The pros of this method are that it is completely hands off and no technical expertise is required on your end as the end user. However, this method is not free and does charge around $60 for a single time bypass. The actual cost of the service varies depending upon the model of your device. Also, the service requires you to make the payment upfront, which could leave some users in doubt and make the service looks less trustworthy.
Part 5: DNS Bypass and Activation Lock: FAQs
Q

The DNS Bypass Doesn't Work. Why?
The DNS bypassing method is highly dependent on the stability of the DNS bypass server you choose, which is indicated by the IP address you specified in the process. If the DNS method doesn't work, it's probably because the DNS bypass server is currently not available. Since most DNS bypass servers don't last for long, if you want to go with this method, you probably have to constantly look for new DNS bypass servers.
Q

Do I Need a Sim Card For DNS Bypass?
A Sim card is not required in the DNS activation bypassing process. You only have to make sure you have a stable Wi-Fi connection. However, if your device is linked to a certain carrier, a Sim card may be needed if you want to use the device normally.
Q

If I Successfully Bypassed Activation with DNS Bypass. What's Next?
After successfully bypassing the activation lock with DNS bypass, you can get access to the functions provided by the DNS server. That usually include some basic functions like weather, clock, and apps like YouTube and web browser. But it's only temporary. The functions could be cut off once you lose the connection to the server or reboot the device.
Q

Is Jailbreak Required for Activation Lock Bypass?
Since the DNS bypass method is only temporary, you don't need to jailbreak your device. But if you need a solid removal to the activation lock with software like iBypasser, you need to go through the jailbreak process as guided in the app.
Q

Should I Pay for an Activation Lock Bypass Tool?
The DNS bypass method is free, but not very effective, so are most other free activation lock bypass tricks and methods. If you need a solid removal of the activation lock, a professional activation lock bypass tool is highly recommended. But never pay for such a tool or service before you can test the compatibility of it. Download the app for free with the links below to try it free before you decide whether you need it or not.
Conclusion
When you get stuck in the activation lock situation, the DNS Server Bypass solution could sometimes solve your problem and get you the access to your phone. However, comparing to other solutions, the DNS Server Bypass is obviously not the best way to solve the problem. Unlike iMyFone iBypasser, which gives you access to most functions of your phone within minutes, DNS Server Bypass requires a lot of operations and only gives you the very basic access to your phone. Of course, the emergency call trick and AppleiPhoneUnlock are also worth trying. If you still have other questions regarding to the activation lock problem, check out our other related posts or leave a comment below!