In today's world, one of the most important technologies that help you make your life simpler is the mobile phone. It is where everyone stores all of their essential information, be it dozens of contact details, thousands of memorable moments in the form of pictures and videos, and vital documents, all of which are stored in this one device.
Have you ever considered what you would do if all of your data were lost? There is no need to worry as we will teach you how to recover deleted call history or call recording in Oppo this article.
Part 1. How Can I Recover Deleted Call History or Call Recording from Oppo Phone
Many individuals appear to be facing this issue. Because they accidentally clicked the wrong button. Some people will also lose their call logs due to system upgrades, factory resets, format, virus infection, and other factors. Hence, the question arises can you recover such data.
Today's blog will go over how to recover deleted call history or call recording in Oppo using the best data recovery software.
1.1 Can I Restore Deleted Call History from Oppo Phone without Computer
Yes, the answer is yes. If you have a backup of photos, and call history, then you can use the backup to restore your files. You can complete this process without a computer.
If The backup is not available, then you'll have to use third-party software like iMyFone D-Back for Android on your PC. We've discussed all the methods below. Apart from recovery of call history and media, we'll also answer how to recover deleted call recording in oppo.
Before moving on to the solutions, let's discuss the causes.
What Causes Data Loss
There are numerous reasons for data loss:
Deletion by Accident: Sometimes data is deleted by mistake. It can cause you to lose your important data.
Factory Reset: A factory reset will also delete all the data from your Oppo phone. When we change the devices, we normally use this option to remove all the previous data.
Lost / Theft: In case of theft, we may also lose access to the data.
Infected Other Tools: Obtaining files from infected tools may also negatively impact and result in data corruption.
Phone broken or damaged: When the phone is dead due to some software or hardware issues, it can also cause loss of important data.
Above, we mentioned some causes, but whatever the above case is, the iMyFone D-Back for Android can restore your data.
1.2 How to Retrieve Deleted Call History/Recording in Oppo
There are numerous advanced data recovery tools that explain how to recover deleted call history in oppo. However, one must select software with an easy-to-use interface and compatible with a wide range of devices.
The iMyFone D-Back For Android is the ideal data recovery software for recovering deleted call history/recording in Oppo. With this Software, you can recover deleted data from almost any type of storage media.
iMyFone D-Back Android Data Recovery Expert has the following features:
An intuitive, user-friendly interface that simplifies recovery for inexperienced users.
Allow you to preview files before recovering them.
The higher the success rate of recovery.
Supports all file types and data recovery from formatted and lost drives.
The steps below will walk you through how to get back deleted call history from Oppo through iMyFone D-back For Android.
Step 1: Setup
Download and install iMyFone D-Back For Android on your PC. Select the Recover Phone Data Mode to start the process.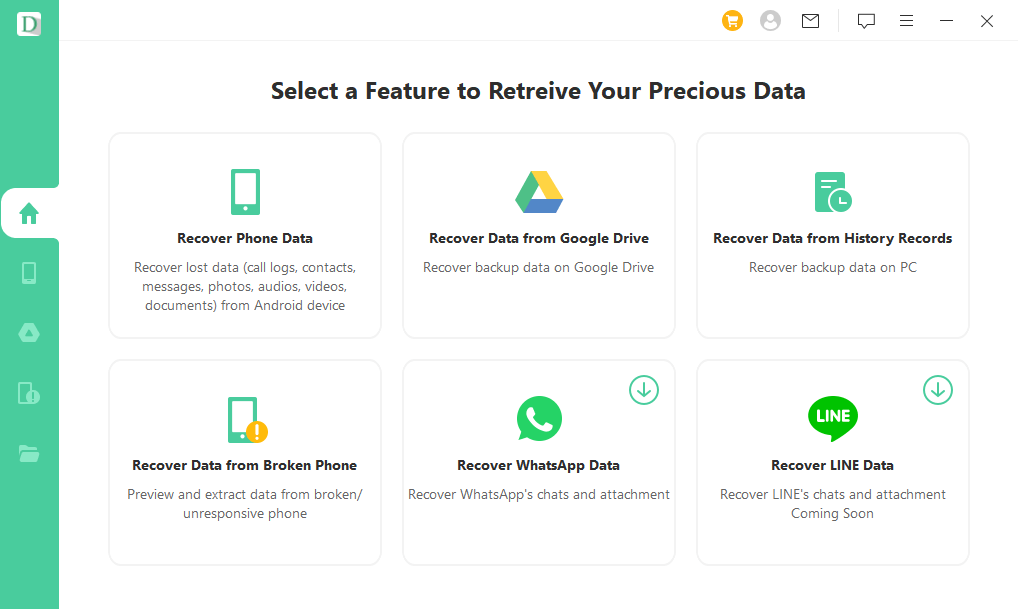 Step 2: Connect Your Device and Scan.
Connect your Oppo device with the PC. Mention your device name and model. It will download the data package and share the locations that can be scanned.
Select the required location and click on the Recover button.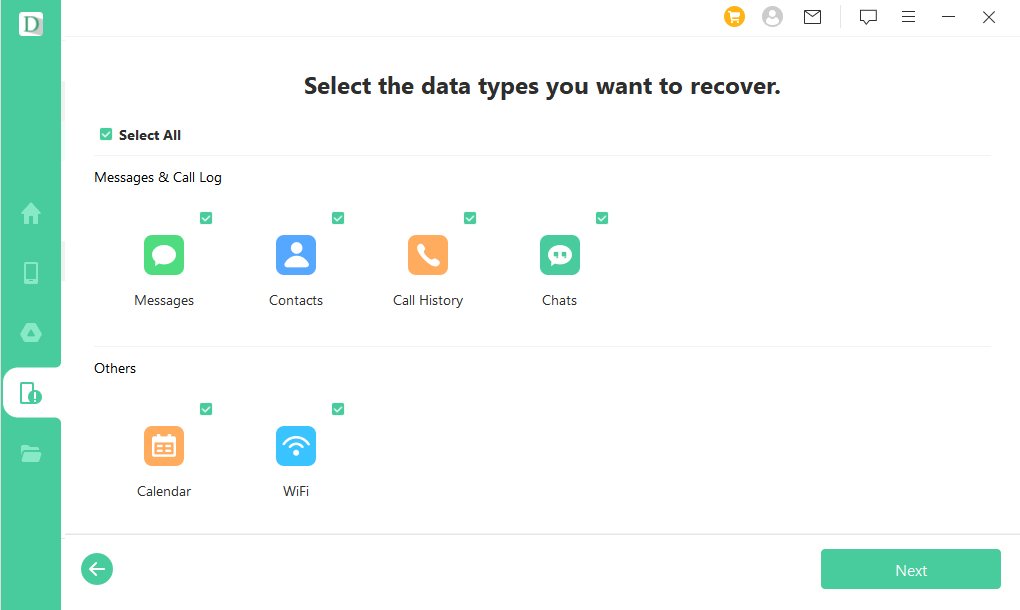 Step 3: Recover
Choose the files to be recovered and click Recover to save them to your computer.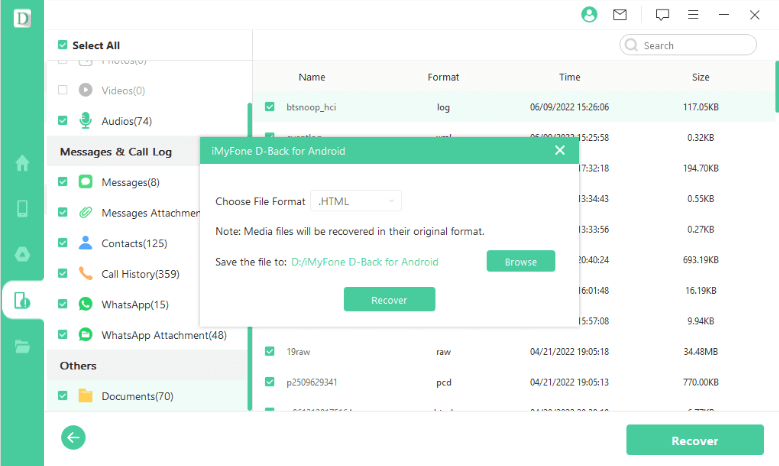 Part 2. FAQs about Oppo Call History Recovery
2.1 How to recover deleted WhatsApp messages on Oppo
If you wonder how to recover deleted WhatsApp messages on Oppo, this is for you. The most ideal method to recover deleted WhatsApp messages from an Oppo Android Phone is to use iMyFone D-Back for Android. It can help you restore your WhatsApp messages in 3 simple steps.
2.2 How to recover deleted videos from Oppo phones
You can use the iMyfone D-Back for Android if you're searching for how to recover deleted videos from oppo phone. You can connect your device with the PC, Scan and Recover the files. That's it.
Oppo devices also have built-in features to restore the media. But, this is for a limited time period.
You can follow the below steps to do so:
Go to Photos / Gallery from your OPPO phone's home screen.
Scroll to the bottom and select the Recently Deleted option.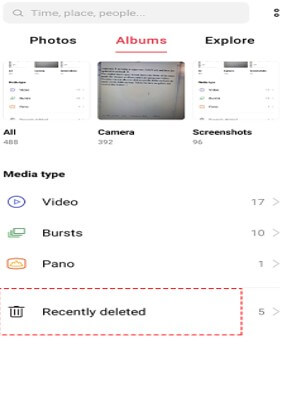 In the top right corner of the screen, tap the Edit or Select option.
Choose the photos or videos to be restored.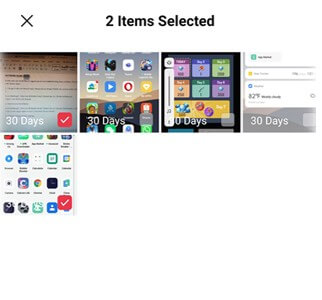 Select the Restore option in the bottom left corner of the screen. The chosen photos or videos will be restored to the album where they were saved initially and will not be deleted.
2.3 How to recover data from a broken Oppo phone
The iMyFone D-Back for Android is the perfect solution on how to recover data from broken Oppo phone. It can restore data from damaged or dead devices.
Conclusion
In the article, we discussed the solutions to data loss recovery and provided a step-by-step guide on how to recover deleted data from Oppo phones. If you didn't back up your Oppo Phone, you can still recover your data using iMyFone D-Back for Android without any hassle.
The iMyFone D-Back For Android is a tool that allows Oppo Android Phone users to recover their data without difficulty. This Software will assist you in retrieving deleted/lost data from your Oppo Android Phone.